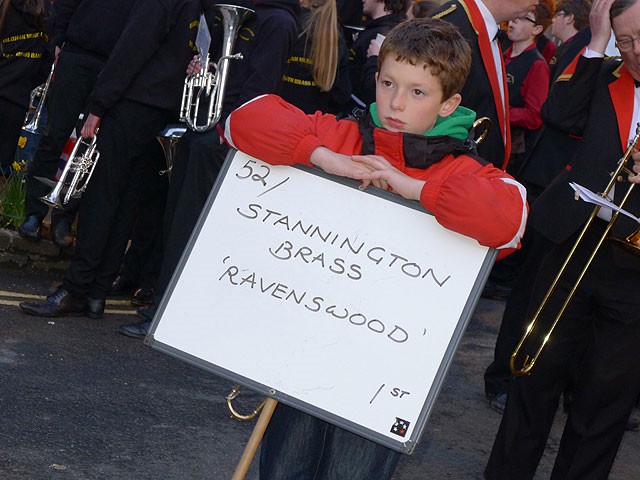 Waiting a bit longer than usual this year...
All Pictures: Ian Clowes of Goldy Solutions
It's been a long time coming this year, but due to the historical oddities of the religious calendar, Whit Friday is finally upon us.
That said, heaven only knows what Friday 13th will have in store for some of the band's praying for a bit of divine contesting intervention.
The forecast is for a sunny day, so hopefully no rain will fall on the biggest parade of the contesting year - physically or metaphorically, given the problems venues now have to overcome to get the greatest free show on earth up and running.
One of the constants of Whit Friday is the inconsistency of the British weather, so fingers are crossed that the hard working volunteers and helpers whose dedication brings these remarkable events into being are blessed by a golden globe of radiant light to beat down on their efforts.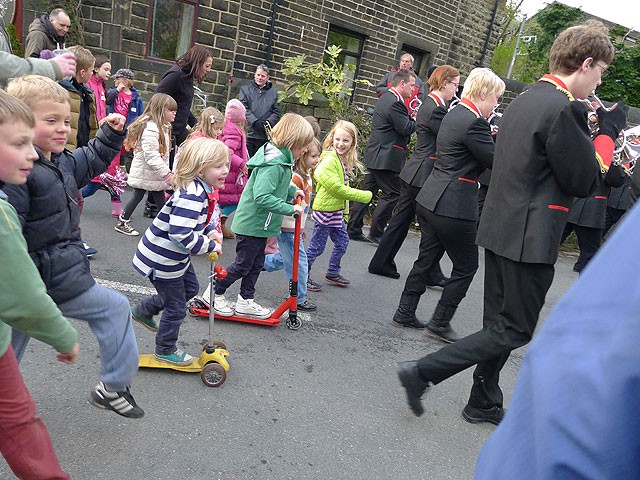 Come follow the bands...

Financial support
In what are still austere times, it's an amazing achievement that organisers in Saddleworth and Tameside have once again been able to secure substantial prize funds - much, much more than the traditional 'beer money' player rewards of yesteryear. For many bands, having a decent Whit Friday can make for a financial lifeline.
Once again, the contests in Saddleworth & Oldham gains invaluable support from Oldham Council and Saddleworth & Lees District Partnership, whilst Tameside Council continues to receive welcome private sponsorship from 103.6FM Tameside Radio and BMS Motorist Superstore.
Privilege

Mercenary competitors should remember that getting your mitts on some hefty prize money isn't a contesting right; neither is it a sinecure or free ticket to claim an undeserved dip in other prize pots either - despite the regular protestations.
Rather, it's a privilege that has come about through well over 100 years of community endeavour and passion for brass bands. That's what makes the Whit Friday contest unique - and utterly brilliant.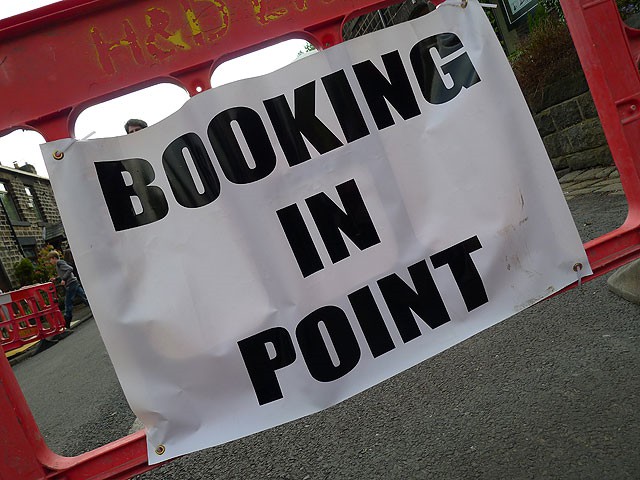 Book early...

Big Money
That said, there is still the attraction of big money to be won: £1,000 first prizes are on offer in the usual haunts of Delph, Greenfield, Uppermill, Stalybridge Labour Club, and for the first time at Denshaw.
Whilst most of the contests get under way at 4.00pm, bands can register at Diggle from 3.30pm, but cannot start performing until 4.15pm, whilst Denshaw is offering a £100 bonus for one band that registers to compete during the traditional 'quiet hours' between 8.00pm and 9.30pm.
Keep your eyes peeled for 103.6FM Tameside Radio, who will be broadcasting during the evening with a reporter spending the night with Ashton-under-Lyne to bring a different perspective to what it's like getting round the venues.
Tweeting
It's also great to see that a number of contests have taken on board the 21st century world of social networking, and Twitter updates can be found for @CarrbrookWhitFr, @DBBAwhitfriday, @Denshawcontest and @digglecontest amongst others.
4BR is also following the action, so keep an eye out for updates and any tasty bits of gossip and breaking news.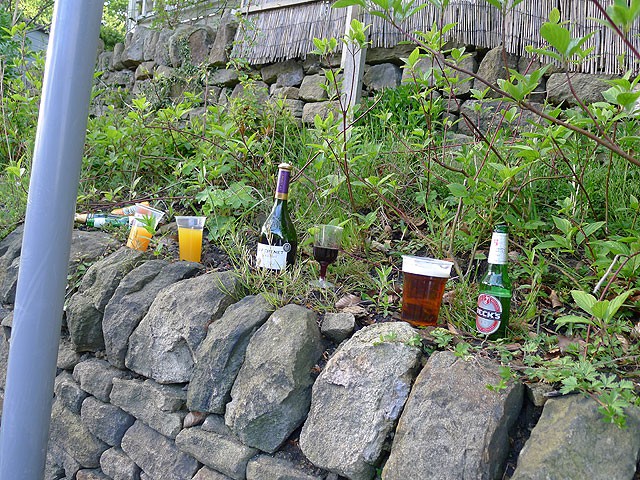 Do not drink and drive....

Care on the roads
People may well have a moan amount the requirements of 'Health & Safety', but unfortunately there have been some major (and at least one tragic) accidents on the roads in the last few years, so be aware that Oldham Council and Greater Manchester Police have again issued a reminder to coach drivers to keep to the designated speed limits.
The warnings have been given (to the pedestrians too), so not all local coppers may be wearing an accommodating smile if they have to deal with reckless stupidity or drunkenness.
The day will start with the traditional Processions of Witness in Saddleworth and Mossley at 9.00am, before the band coaches take to the roads later in the afternoon.
Out and about?

As always, there is the added interest as to who will be out and about?
The reigning Saddleworth champion, Brighouse & Rastrick will be resplendent in their Whit Friday tunics and led by guest conductor Allan Ramsay in their bid to retain the title, whilst rivals Black Dyke will be making its bi-annual appearance under Professor Nicholas Childs.
Two regular prize winners in Hepworth and Marsden will be out in force once more, as will Rothwell Temperance, although it appears two other Yorkshire heavyweights in Carlton Main Frickley and Grimethorpe Colliery will not be out this year.
Milnrow and Wingates are two form bands ready to take a scalp or two, as are the likes of Cheltenham qualifiers City of Bradford, Elland Silver and Mossley.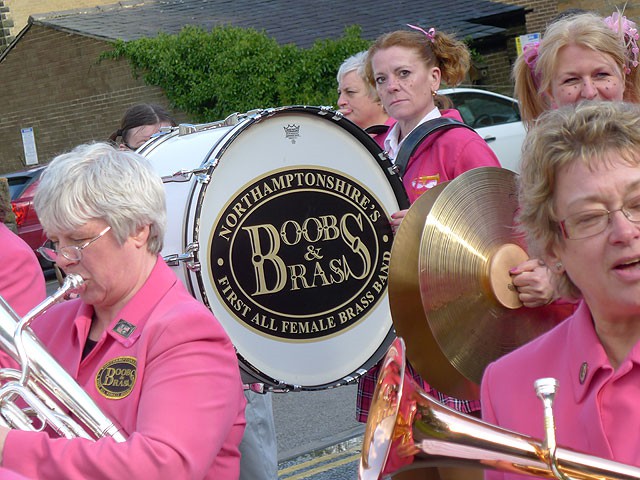 Tickled pink - the girls of Boobs & Brass

12 out of 13

Foden's will no doubt be keen to claim a twelfth Tameside title in thirteen years, although the determined forces of North West Area champion Fairey and Leyland will surely be pressing them hard.
Rumours are that at least one of the trio is to concentrate on Tameside and not take a detour to compete on the Saddleworth circuit, whilst adding to the contesting spice is the appearance of the British Army's Band of the King's Division directed by Captain Justin Matthews, who will donate any winnings to service charities.
Support

As always there will be plenty of other top notch contenders, a host of ambitious lower section scalp hunters, a great array of youth bands (exam timetables permitting) and more under rehearsed 'scratch' bands than can be found at an X Factor audition. Make sure you also support the two 'Boobs & Brass' Bands by emptying your pockets of loose change in their well endowed cups...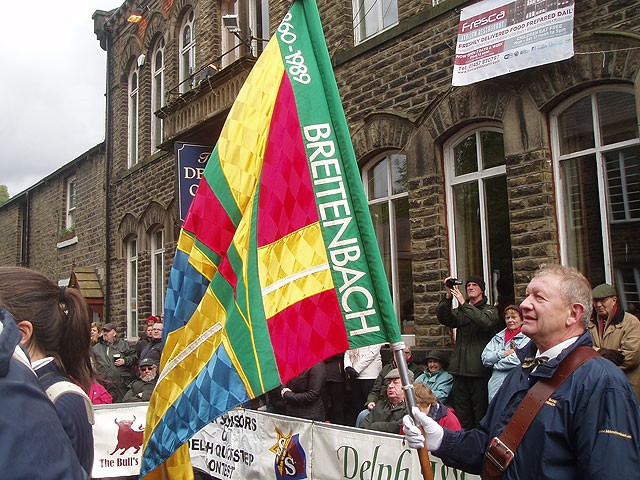 Welcome visitors...

Overseas challenge
Once again the evening will see some wonderfully enthusiastic overseas bands, with at least one participating in the morning Walks of Witness.
Multiple Danish champion Lyngby-Tarrbaek will be joined by Risch-Rotkreuz from Switzerland (who will also play a concert in Uppermill on the Saturday night with Fairey) with the gloriously crazy Dutch of De Spijkerpakkenband also enjoying themselves.
However, making without doubt the longest journey will be Neo Brass from Japan, who will be in concert with Hammonds Saltaire on the Saturday evening. Don't miss them.
It's also good to report a host of first contest organisers - none more so than the new hosts at The Bush Inn in Droylsden.
Meanwhile, those who have given a lifetime's commitment will also be remembered too – with Upper Mossley paying its respects to Stanley Ashworth, who passed away earlier this year. Stanley led the bands to the contest arena in Mossley for a remarkable 65 years.
Results
4BR will aim to publish the results as soon as possible over the weekend, including the identity of the overall champions in Saddleworth and Tameside. Please be patient though - as it does take some collating.
Malcolm Wood
---
Saddleworth & Oldham District:
Area Open Champions: £2,500, 2nd: £1,000, 3rd: £750, Youth: £250
Local Area Champion: £750, 2nd: £600, 3rd: £400
The Saddleworth & Oldham Contests are supported by Oldham Council and Saddleworth and Lees District Partnership
Delph:
http://www.delph-whit-friday.co.uk
Contest: 4.15pm - 10.30pm
Main Prize: £1,000 from a total prize fund of £4,000
Adjudicator: Mike Kilroy
Contact: Mr R. Rodgers (01457 874354)
Denshaw:
http://www.denshawcontest.co.uk/
Contest: 4.00pm - 10.45pm
Main Prize: £1,000 from a total prize fund of £3,690
Adjudicator: Allan Holdsworth
Contact: A. Baxter (07920763979)
Diggle:
http://www.digglebandcontest.co.uk
Contest: 4.15pm - 10.30pm
Main Prize: £800 from a total prize fund of £2,615
Adjudicator: Simon Kerwin
Contact: B. Cliffe (01457 873901)
Dobcross:
Contest: 4.00pm - 10.00pm
Main Prize: £750 from a total prize fund of £2,995
Adjudicator: David Horsfield
Contact: Gavin Roberts (07877015169)
Friezland:
3rd, 4th & Youth Sections only
Contest: 4.30pm - 10.30pm
Main Prize: £200 from a total prize fund of £475
Adjudicator: T. Newbigging
Contact: J. Barrett (01457 870612)
Greenfield:
Contest: 4.30pm - 10.00pm
Main Prize: £1,000 from a total prize fund of £4,000
Adjudicator: Chris Wormald
Contact: Frank Rothwell (07802938270)
Grotton:
Contest: 4.00pm - 10.00pm
Main Prize: £600 from a total prize fund of £2,000
Adjudicator: Ian Brownbill
Contact: Graham Talboys-Smith (07761 593342)
Lydgate:
Contest: 4.00pm -10.30pm
Main Prize: £800 from a total prize fund of £3,000
Adjudicator: Derek Southcott
Contact: Ronnie Kershaw (07710867737)
Lees and Springhead:
Contest: 4.30pm - 10.00pm
Main Prize: £500 from a total prize fund of £1,755
Adjudicator: Alan Fernie
Contact: W. Cullen (0161 6267625)
Scouthead and Austerlands:
Contest: 4.15pm -11.00pm
Main Prize: £800 from a total prize fund of £3,680
Adjudicator: Tom Davoren
Contact: D. Needham (0161 6520341)
Bands waiting on the night number: (07880 743876)
Uppermill:
Contest: 4.00pm - 10.30pm
Main Prize: £1,000 from a total prize fund of £2,660
Adjudicator: David Marshall
Contact: Pam Byrne (01457 820149)
---
Tameside:
Area Open Champions: £2,500, 2nd: £1,000, 3rd: £750
Local Area Champion: £750, 2nd: £600, 3rd: £400
The Tameside Whit Friday Contests are supported by 103.6FM Tameside Radio and BMS Motorist Superstore.
Audenshaw:
http://www.clubbz.com/club/4633/manchester/aldwinians_rufc_brass_band_contest_2010
Contest: 4.00pm - 10.30pm
Aldwinians Rugby Club
Main Prize: £600 from a total prize fund of £2,525
Adjudicator: Paul Holland
Contact: Sylvia Donley (0161 336 6814, 07947 018175)
Broadoak:
Contest: 5.00pm — 10.30pm
Broadoak Hotel
Main Prize: £500 from a total prize fund of £1,600
Adjudicator: Duncan Beckley
Contact: Robert Frost (0161 3302764)
Carrbrook:
http://www.carrbrookvillage.users.btopenworld.com/band.htm
Contest: 4.30pm - 10.30pm
Carr Rise
Main Prize: £600 from a total prize fund of £1,535
Adjudicator: John Davies
Contact: Tony Williams (07792070504)
Denton:
Contest: 4.00pm - 11.15pm
Main Prize: £250 from a total prize fund of £1,285
Adjudicator: Mike Lyons
Contact: Mrs Joan Emery (0161 2925319)
Droylsden:
Contest: 4.30pm -11.00pm
The Bush Inn
Main Prize: £500 from a total prize fund of £2,475
Adjudicator: Ryan Breen
Contact: Sheila Bowater (0161 3702811)
Dukinfield:
Contest: 4.30pm - 11.00pm
Tame Valley Hotel
Main Prize: £400 from a total prize fund of £1500
Adjudicator: Dave Chapman
Contact: Brian Hill (0161 3390072)
Heyrod:
http://www.heyrodbandcontest.com
Contest: 4.30pm -10.30pm
John Street
Main Prize: £600 from a total prize fund of £1,745
Adjudicator: A. McLaughlin
Contact: Bob Lear (0161 338 2003)
Hurst Village:
Contest: 4.30pm - 10.15pm
Ashton United FC
Main Prize: £300 from a total prize fund of £1,275
Adjudicator: Richie Howard
Contact: Denise Pinder (0161 308 4076, 07789392856)
Stalybridge:
Contest: 4.30pm - 10.30pm
Stalybridge Labour Club
Main Prize: £1,000 from a total prize fund of £2,600
Adjudicator: Adrian Morris
Contact: Councillor George Roberts (01613048734)
Stalybridge Celtic:
Contest: 4.30pm - 11.00pm
Stalybridge Celtic FC
Main Prize: £400 from a total prize fund of 1,250
Adjudicator: C. Evans
Contact: Gordon Greenwood (07770 433336)
Upper Mossley:
Contest: 4.30pm - 10.00pm
Mountain Street
Main Prize: £600 from a total prize fund of £1,875
Adjudicator: M. Tweedle
Contact: Paul Harrison (07876214425)
---
Find the venue:
To enable bands to plan their routes and find the contest venues, visit the following link:
http://www.www.tameside.gov.uk/brassband/whitfriday/
Further details:
Further details for the Tameside Contests are available from: http://www.tamesidebrassbands.org