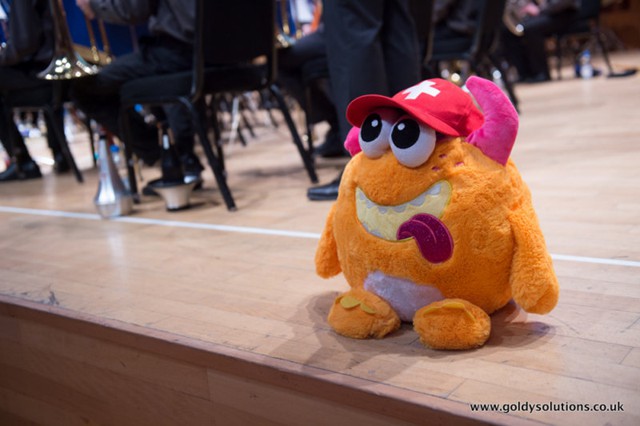 There was plenty of competitive enjoyment on show in Perth

Despite the overwhelming sense of competitive enjoyment on display throughout the inaugural Youth Day that rounded off the weekend in Perth, EBBA will do well to take its time to scrutinise the findings of its post contest review over its possible future inclusion as part of the European Championship Festival.
Highly encouraging

It was certainly a highly encouraging resurrection of a contest that has been an important part of the youth banding calendar when hosted regularly in Scotland around 20 years ago, but it also highlighted the inherent problems that arose two decades later in trying to create a new, European wide, competitive environment.
With vastly different 'youth' age criteria (anything up to 25 or more in some countries), education restrictions and time tables to consider, EBBA will be faced with a very difficult decision; and that's before potential entrants look at the financial implications of shipping, flying or driving up to 70 young players and adults over vast distances to compete at a contest that currently offers no financial reward in return.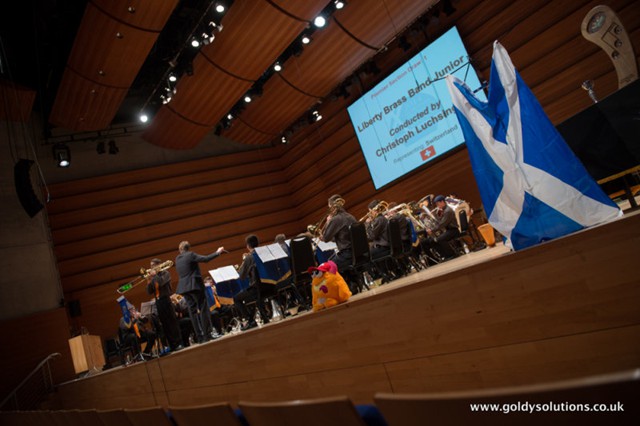 The Scots did a fine job in hosting the contest day

Fine job

The Scottish Brass Band Association did a fine job in hosting the two competitive sections, boosted by well chosen set works, open adjudication, the added attraction of an aperitif concert by Eikanger Bjorsvik and the European Youth Band, and the pre-results offering from the Band of the King's Division.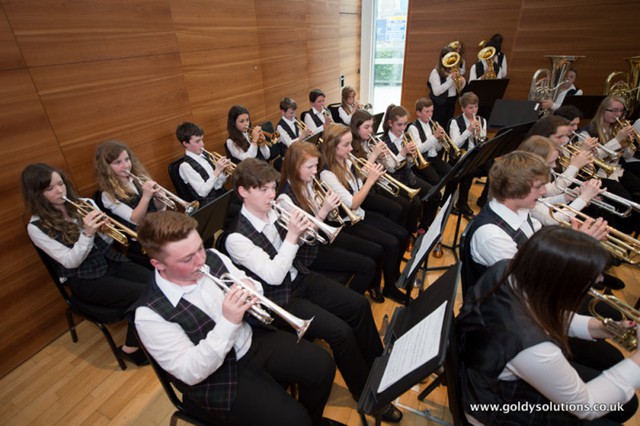 The massed ranks of Moray Concert Brass

Once every four years

However, the contest still only attracted eight bands from five European countries - and three of them were from the host nation.

The highly supportive audience was healthy enough in numbers, but the hall wasn't packed out and contained few neutral listeners drawn to Perth simply to enjoy the great playing on show.
At present then, it seems unlikely given the long term planning required, that the event could take place annually: Perhaps adding it to the rotation of Composer, Conductor and Soloist competitions to see it take place once every four years may be the more sensible option.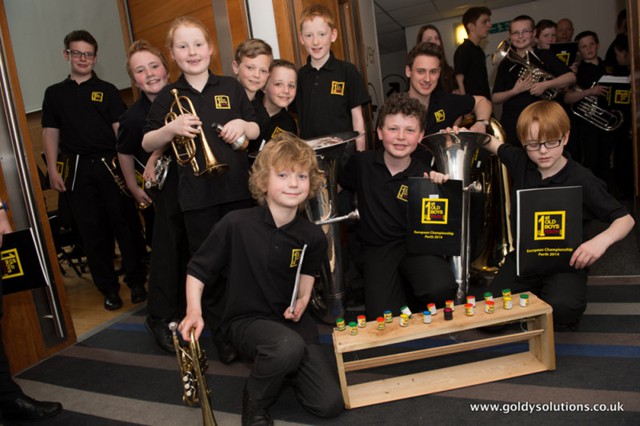 The youngest set of Old Boys in banding....

Bottle delight

That though is for EBBA to review and decide upon; although if they wanted to find an easy way to secure the long term future of the European Championships as a whole, they would do well to incorporate a regular competitive youth event in some shape or form.
If they could also bottle the delight shown on the faces of the young players in the Development Section as they strode onto the Perth Concert Hall stage, then they would have no problems at all: Beaming smiles masking razor sharp concentration as each of the five contenders showcased their talents.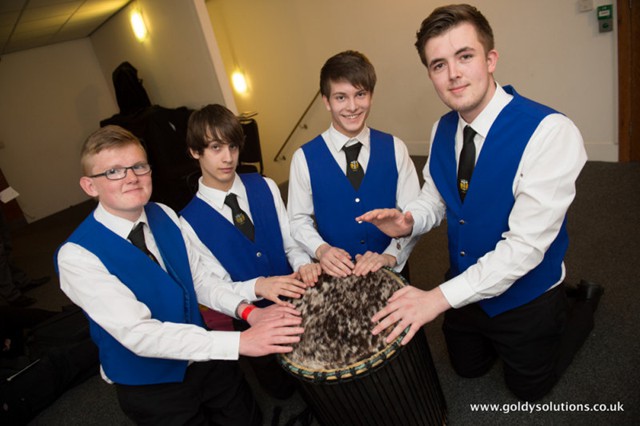 Now that's where my cat went.... Rochdale drum up support

Remarkable youngsters

Northern Ireland couldn't have asked for better representatives than the remarkable youngsters of 1st Old Boys Youth (which must the most incongruous title ever for a youth band!), whilst the same applied to Dalmellington Juniors, led by the ball of energy and infectious enthusiasm that is Ian Taylor.
Rochdale Borough Youth showed that it continues to be a real hot bed of musical talent under Steven Walsh's direction, whilst there can be nothing but plaudits for the youngsters of Moray Concert Brass from the wilds of North West Scotland, who played with such verve and spirit under Glenn Monro.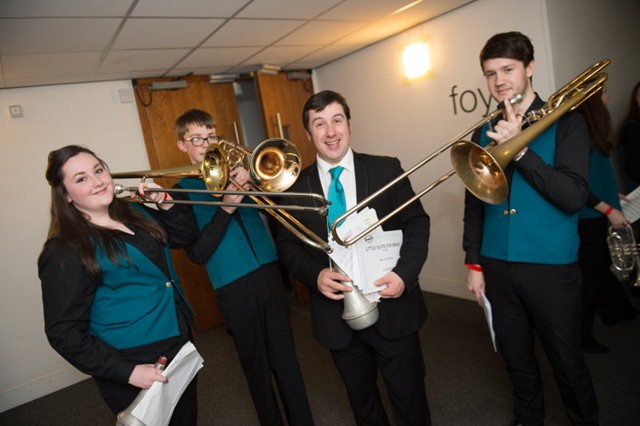 E = Ian Taylor2 - Dalmellington's wonderfully energetic MD and troms

Inspired Norwegians

However, it was the truly remarkable young players of Manger Skulemusikklag from the Bergen area of Norway that fully deserved their title success - one that mirrored their European Youth Championship victory in Falkirk way back in 1990.
With all the players drawn from a single school of just 150 pupils, and led by their inspirational MD, Thorgeir Thunstveit, they were eye poppingly good - from the linguistically challenging, 'Kjnagutter og Raevediltere' (given a brave phonetic introduction by compere Alaitair Hutton) to a controlled performance of the set work, Malcolm Arnold's 'Little Suite for Brass' and the closing 'Fanitullen'.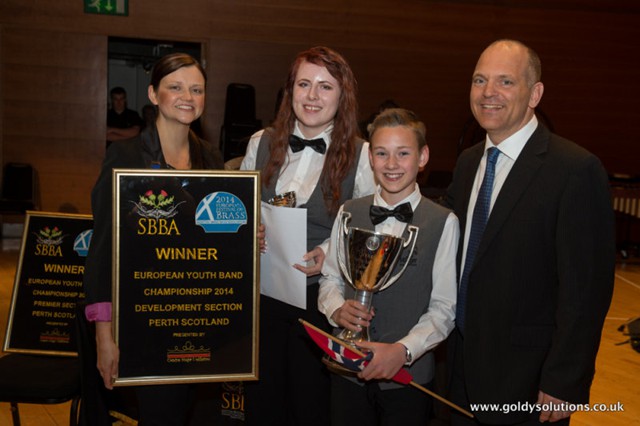 The magnificent Manger Skulemusikklag take the Development title

Sublime

However, it was the sublime rendition of John Golland's 'Peace', played with subtly tenderness by 'Best Soloist' winner Ingvild Aagaard-Nilsen that was one of the highlight of the entire European weekend. It brought tears to the eyes of many in the hall - including the EBBA President Ulf Rosenberg.
The Nordic celebrations were joyous and deserved - if not as loud as the Swiss a little later!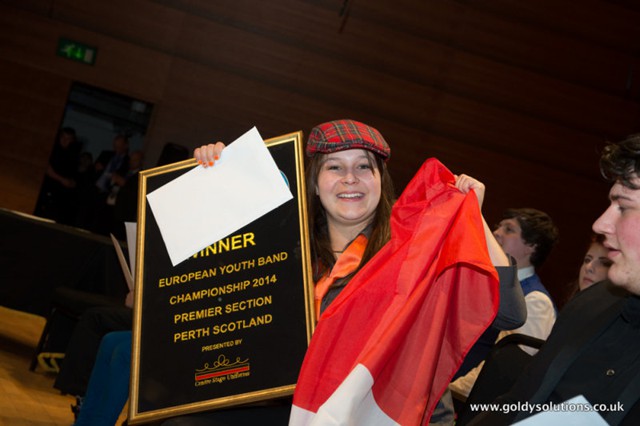 Liberty Fanfare with a Scottish twist for the brilliant winners

Euro Double

There were high hopes that Scotland would be able to celebrate a European home victory in the Premier Section that followed, but despite a wonderful effort from Carnoustie & District Youth, it was Liberty Brass Band Junior who made it a historic 'Euro- Double' for Switzerland.
The organiser's choice of Eric Ball's 'Resurgam' as the set work may have been surprising on the face of it, but it was also turned out to be rather inspired - especially given the emotional control it elicited from the young Swiss players under their MD Christoph Luchsinger.
A bravura 'Bluebells of Scotland' trombone solo from Sandro Oberholzer and the exotic 'Vertex' by Stephan Hodel showcased a band of remarkable maturity and focussed musicality, that decided to forgo the usual 'bells and whistles' approach to claim a deserved title success.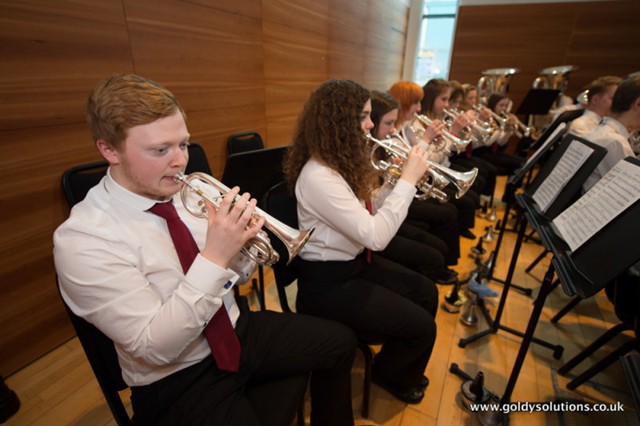 Carnoustie pulled out all the stops in their bid for glory

Classy

It may just have been Carnoustie's attempt to inject a little bit of 'shortbread tin' patriotism that was their undoing on the day - as up until 'Dundonell' from 'Hymn of the Highlands' they seemed to have had one hand on the splendid Kathryn Neale trophy.
After a the fizzing 'Enter the Galaxies' opening was contrasted with the classy, 'Best Soloist' rendition of 'Gospel' from 'Salt of the Earth' by tuba soloist Ross Knight, and a solidly portrayed 'Resurgam', there was no real need to top it all with a rousing highland fling: It seemed oddly out of place.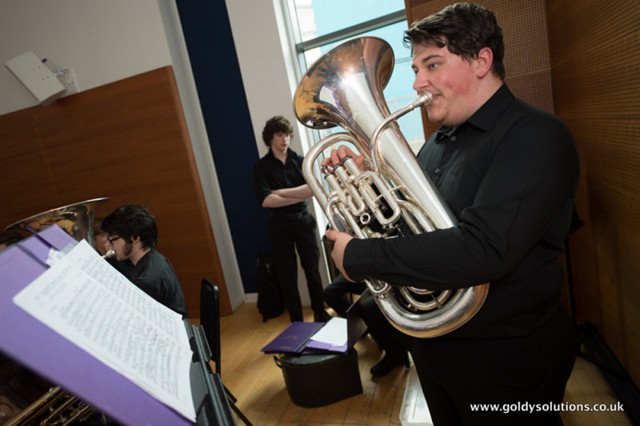 Smashing: Northamptonshire euph solo Martyn Hoffman

Cracking

Meanwhile, ambition may just have got the better of Northamptonshire Youth Brass in their opening 'Peel Park' - which never quite sounded totally under control despite the obvious relish it was played, although a tasteful 'Resurgam' (aided by some wonderfully lyrical soloists) and a cracking (literally) 'Dance Zeibekikos' featuring their splendid euphonium soloist Martyn Hoffman kept them within touching distance of their rivals.
The remarkable musicianship, undiluted enthusiasm and sheer passion on show throughout a highly enjoyable day of contesting will be the strongest selling points the event can present to EBBA to persuade them to keep the European Youth Day as an integral part of future championships.
However, whether that is enough to see it repeated any time soon is still open to a great deal of debate and scrutiny. Let's hope it is.
Iwan Fox