Class apart: Friary Guildford take one step closer to Symphony Hall

There is always one thing about the Spring Festival in Blackpool that stands true: It certainly doesn't offer an easy way for a band to get to the British Open.

Since becoming a three tiered event in 2002 with the introduction of the Senior Trophy, only Beaumaris and Milnrow have claimed the title and subsequently gone on to appear at Symphony Hall - with the Welsh band already heading back towards its starting point.
Illusion

The Open organisers certainly know how to entice bands with the possibility of challenging the likes of Cory, Back Dyke, Foden's and Tredegar just three years from taking to the stage at the Winter Gardens, but just like the garish slot machine arcade shop fronts on the Golden Mile, the promise of future riches is invariably just an illusion.
That was certainly the case as bands walked through the stage doors to the Spanish Hall to play Frank Wright's arrangement of 'Les Francs Juges': Reality kicked in from the word go.
Sternest of tests

This was the sternest of tests at this level; a monochrome work that had caused plenty of problems at the National Finals just a few years ago, resurrected to create cold blooded kaleidoscopic carnage amid the exotic plaster cast castles and Iberian vistas that looked down on the competitors.
Too often it made for uncomfortable listening (not helped by a chilly room temperature) as honest, hard working bands struggled to overcome the technical hurdles a trickily pitched score presented.
Clemency

The Vehmic 'Secret' judges, not known for their displays of liberal minded decision making would have licked their lips in pleasure as band after band presented their error strewn accounts in the hope of gaining a reduction in their long term Blackpool sentences.

In the end, four were giving a promotion clemency to the Senior Cup, but only two really walked away from this particular musical court after delivering their cases with the type of stylish aplomb that would have sent the shivers up the spine of old Robespierre.

Others had the type of close shave with Madam Guillotine that ranged from a close shave to being cut in two like Debbie McGee in a Paul Daniels end of pier magic show.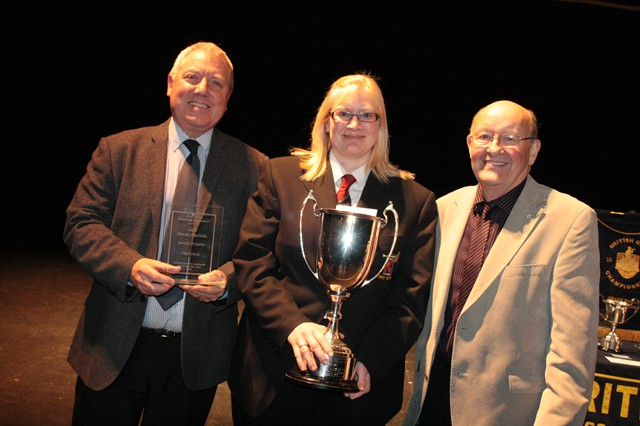 Making the judges smile: Friary claimtheir reward

Class apart

Although suffering the odd painful nick or two, both Friary Guildford and City of Cardiff (Melingriffith) were a class apart; the London & Southern Counties band in particular producing the type of authoritative performance that could well see them take another step closer to Symphony Hall next year.
Where other MDs misread the acoustic, the dynamics and tempi to produce messy, incoherent renditions that were splattered with the viscera of unforced errors, Chris King laid out his case with the skill of Rumpole of the Bailey.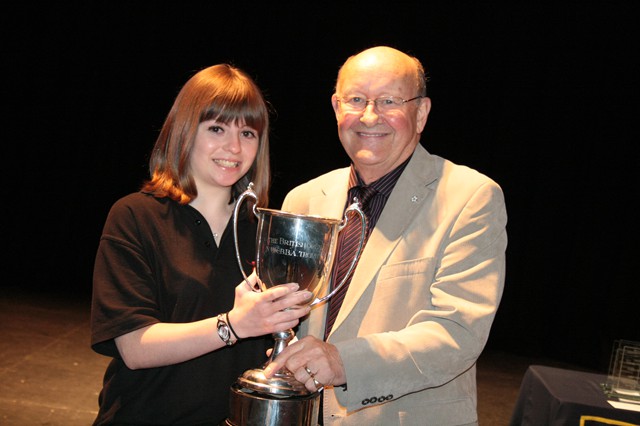 Excellence from Cardiff takes them to the Senior Cup as runner-up

Refined

There was a refined, controlled elegance about the playing - deliberately so it appeared, as the mysterious opening made way to a free flowing, but not over pacy Allegro, and bold, euphoric close; the MD keeping a tight leash on the ensemble with his neat directions.
With no stamina issues (many bands simply faded away as lactic acid took its toll) and the ability to conjure up that essential Berlioz pulsating drive to the finale, Friary rounded off the contest with a flourish that fairly romped to the title:
It was the type of last minute intervention of compelling musical evidence that would have gone down well in a Perry Mason courtroom, let alone one on the Golden Mile. They are a band to keep a lasting eye on.

Despite the rather long winded judgement of Mike Kilroy and the more precise analysis of David Horsfield, the eventually result was never in doubt: A very eloquent, expertly presented case had gained its deserved reward.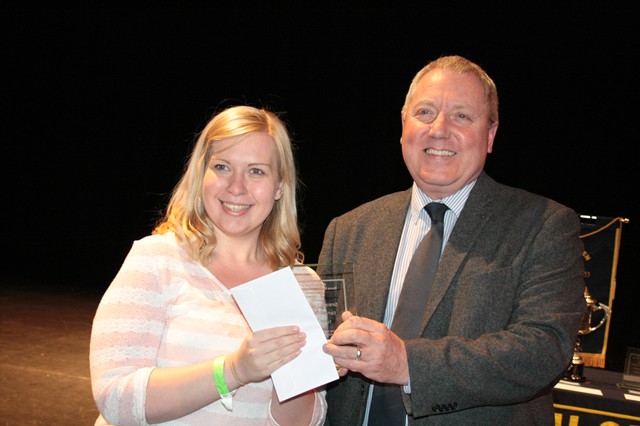 Drighlington takes their step into the Senior Cup for 2015

Engaging

The same could also be said of City of Cardiff (Melingriffith) who produced an equally engaging account under Gareth Ritter that certainly sounded as if he had taken on board the advice of Russell Gray at the recent convention of the National Association of Brass Band Conductors.
In another life the Scot could easily have a career as a QC, such is the lucid way he can present a case for judgement, and the Welshman showed that he had certainly picked up tips from his learned friend as an atmospheric opening led into an optimistic Allegro (aided by the 'Best Instrumentalist' contribution of Martyn Moxon on soprano) and pile driving close.

It may have just lacked that extra refinement of the late winner, but until then it was head and shoulders above its rivals.
Elementary problems

The familiar stanzas and motifs of 'Judges' also made for all too familiar, and at times rather elementary problems for MDs who seemingly did not take the required forensic look at the detail it presented.
Rhythmic inaccuracies (especially soprano cornets who skipped along in compound time), wrong notes and entries are inexcusable at the best of times at this level, but downright fatal if you want to try and take a step closer to Symphony Hall.
Despite its age and rickety construction, 'Judges' is still a tricky test piece that demands substantial preparation work. Far too many bands simply caused their own downfall - not helped by trying to camouflage inadequacies by volume and overbearing percussion.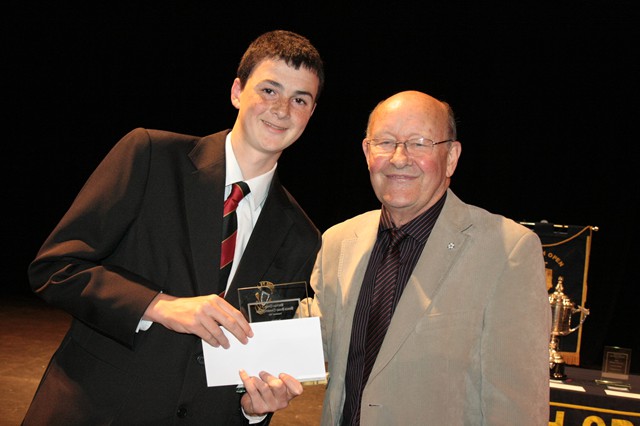 Cornish smile as St Dennis get a step closer to Symphony Hall

Emerging potential

The delight of Drighlington and St Dennis will be tempered by the thought that they will be faced with an even sterner test of character in the Senior Cup next year, although under the batons of the vastly experienced Jim Davis and the vibrantly engaging Darren Hawkin, the duo look to be already heading in the right musical direction. These were performances of emerging potential.
Behind them, Dalmellington and Oldham (Lees) showed both quality and fragility in taking the remaining top six places, although others such as Kidlington, Spal Automotive, Rainford and Unison Kinneil put forward cases for serious consideration. All though were playing for minor places.
Troubling

Elsewhere it was troubling to hear so many performances blighted by error and misjudgement - especially as it was not really a question of interpretation (Berlioz overtures are fairly straightforward in that respect), but of basic contesting requirements.
It would have been pretty difficult for any of the bottom six finishers to mount a successful appeal to Strasbourg on this one.
For Friary and Cardiff, the difficult first step towards a future appearance at the British Open has been overcome with a fair amount of style and authority.
However, they will know that it won't be getting any easier from here on in though.
Matthew Shaw