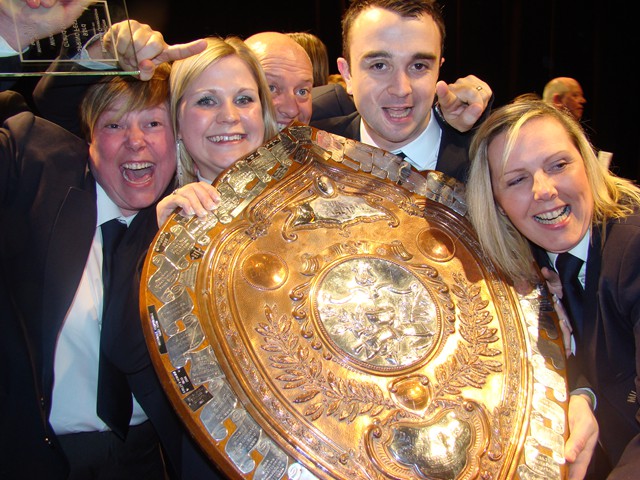 Who will be enjoying the celebrations like Milnrow this time around?

Grand Shield
Venue: Opera House
Test Piece: On Alderley Edge (Peter Graham)
Commences: 10.30am
Draws: 9.30am & 1.00pm
Adjudicators: TBA
---
No wonder 'On Alderley Edge' is such a prescient choice of test piece for this year's Grand Shield contest.
If you ever want to find an example of the precarious, operatically inspired nature of top flight banding, then it's been summed up perfectly by the dramatic harum-scarum going-ons at Tongwynlais Temperance.
The recent Welsh Area champion, British Open contender and top-four finisher at the Nationals was one of the decent bookies each-way bets for a top six finish or better at the Winter Gardens - all just a week before the biggest contesting day of their lives at the Europeans in Perth.
Schadenfreude

However, before any rival starts imbibing on the bittersweet taste of schadenfreude too much, they had better beware:

The Grand Shield has a regular habit of biting the backsides of any band that arrives in Blackpool with a misplaced air of smug over confidence, more painfully than any fang toothed lycanthrope hiding in the dark recesses of Weber's Wolf's Glen.
Satisfied

In fact, don't be surprised if the Welsh band leaves the Golden Mile more satisfied than many others come Saturday night.

Theirs may be the most public example of the perilous uncertainties of contesting ambition, but you can bet your bottom dollar, quite a few others have been walking pretty close to the edge of disaster in the past few weeks too.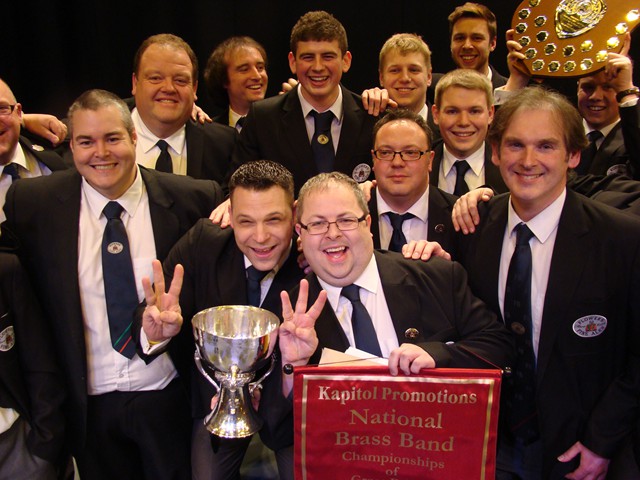 Will Flowers make it four out of four this weekend?

Aquavit

Co-operative Funeralcare North West's hopes of a British Open appearance fell in the abyss a few weeks ago, whilst rumours of the uncontrollable influx of foreign brass band workers set to fill the principal job vacancies in other bands may see the UK Independence Party handing out election leaflets at the entrance to the Opera House.
It will be interesting to see just how many bands here haven't utilised the generous registration rules to their benefit. Any post contest celebrations may well have to include a few orders of Belgian lager, Norwegian Aquavit and Swiss white wine.
Tricky test

The set work will certainly hold great hope as well as grave doubts for all the 19 contenders: It's a very tricky test of musical nerve as well as character.
Inspired by the local legends, myths and folklore that surround the imposing 600 foot wooded escarpment known as 'The Edge', it is a series of expertly crafted 'time pictures' which draw upon the Germanic opera tradition, most readily found in Weber's 'Der Freischutz'.
There are wizards and doomed seafaring Spaniards, mythical touch stones, sleeping armies, monstrous machinery and that mystical bit of lycanthropic devil worship.

Right or wrong

Highly descriptive and accessible to the ear, its technical hurdles are troublesome for the likes of the soprano, euphonium, cornet and horn in particular, whilst a great deal of control and balance is required in the detailed ensemble work.
Get it right and the music is imbued with an evocative sense of dark atmosphere: Get it wrong - and it will simply send a band's chances of success plummeting over another type of precarious edge.
---
So who will win?
The hardest top flight contest in the banding world to call, especially as the field contains no less than seven National finalists - all more than capable of adding a Symphony Hall appearance to their CV.
Flowers are the stand out candidates after a season that has seen them victorious at Butlins, Yeovil and Torquay, whilst a rejuvenated Rothwell Temperance showed a welcome return to top class form at Bradford.
Whitburn will need to rid themselves of the propensity for self inflicted wounds if they are to gain a huge qualifying boost ahead of their European assault in Perth, whilst Woodfalls and the solid pairing of Reg Vardy and Marsden Silver are confident ensembles that should have the overall quality to push into the final reckoning.
Others to look out for could be East Yorkshire Motor Services and Aldbourne, both of whom who have the happy knack of making a musical mark on judges at present, and the hard working pair of Jaguar Land Rover and Hammonds Saltaire, who are also more than capable of raising their game to potential British Open levels.
Our dark horse, not surprisingly given the circumstances and the Grand Shield's usual record of throwing up a surprise or two, is Tongwynlais.
---
4BR Prediction:
1. Flowers
2. Rothwell Temperance
3. Whitburn
4. Woodfalls
5. Reg Vardy
6. Marsden Silver
Dark Horse: Tongwynlais Temperance