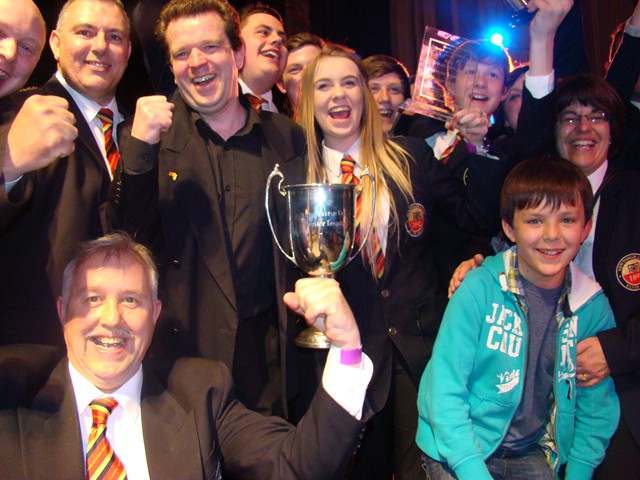 Who will follow Newtongrange to the title this year?

Senior Trophy
Venue: Spanish Hall
Test Piece: Les Francs Juges (Berlioz arr. Frank Wright)
Commence: 11.15am
Draws: 10.15am & 1.30pm
Adjudicators: TBA
---
Never can there be a more appropriately named test piece for a brass band contest than old Hector Berlioz's 'Judges of the Secret Court'.
Nobody will quite know exactly what goes through the minds of the arbiters of subjective musical opinion tucked snugly away from prying eyes in the box, but you can be sure they will have plenty to ponder over before they decide the contesting fates of the 20 well matched contenders.
Inventive best

The orchestral overture is youthful Berlioz at his brilliantly inventive best - although it has to be said, the rather dated Frank Wright arrangement is decidedly monochrome in comparison - based more on pitch than texture.
Berlioz wrote the overture in 1826 as the prelude to an opera inspired by the trials and tribulations of those found in the grasp of the secret 'Vehmic Judges' of medieval Germany, whose rather arbitral form of 'free' justice was to be repeated in revolutionary France.
Never performed

The young Berlioz was influenced by the same febrile kernels of imagination that Weber showed in 'Der Freischütz' - and although the opera was never performed and was subsequently abandoned, the composer did pinch more than a few of its motifs and ideas to form parts of other more well known works.
Despite the music's fantastic uplifting brio and barnstorming close, the final judgement of the court was invariably the same: An unhappy close shave with Madame Guillotine.
Hopefully, there won't be too many performances heading for disaster so to speak in the ornate surroundings of the Spanish Hall - although any band that attempts to win over the approval of the judges through volume alone in what is a pretty lively acoustic, will surely be cut off in their prime.
Tricky problems

The Frank Wright arrangement is still full of tricky problems - not helped by the awkward key signature; from the famous soprano solo and taxing horn filigree work to the mysterious opening and stamina sapping pulsating drive for home.
When it was used at the National Finals in 2006 it lopped off more heads than the Queen of Hearts -so bands better beware.
It is a work that revels in its sense of tension, passion and foreboding: Play safe and the excitement of putting your neck on the line is lost. Risk all though and it could either be death or glory.
---
Who will win?
Despite its brevity, 'Les Francs Juges' remains a tough test piece to play and play well.
Much will depend on the ability of bands to gain clarity and security without losing the sense of excitement and tension, so the MDs will also have a difficult balancing act to perform in terms of tempo and dynamic.
Looking at the line up, there are quite a few contenders in pretty decent form of late, with Albert Hall qualifiers Friary Guildford up against strong looking opposition from the North West in Rainford and Oldham (Lees).
Scotland sends an inspired Dalmellington, whilst Hatfield Colliery from Yorkshire won't feel out of place against top flight opposition after their fine showing at Bradford.
Spal Automotive Sovereign Brass from the Midlands wasn't far off an Albert Hall berth in the Midlands, whilst Bournemouth Concert Brass from the West of England, will know that they can't afford to shoot themselves in the foot as they did at Torquay if they are to push for a top six place or better.
Behind them it's a bit more hit or miss, with City of Cardiff (Melingriffith) due a bit of contesting luck after the Areas, whilst Drighlington is another band that could well make a significant mark if things go their way.
A close contest in prospect then, but an inspired Sovereign may just have the edge on their rivals if they continue to show the form displayed at Bedworth, with Friary Guildford, Rainford and Dalmellington possibly joining them one step closer to the British Open next year.
---
4BR Prediction:
1. Spal Automotive Sovereign Brass
2. Friary Guildford
3. Rainford
4. Dalmellington
5. Hatfield Colliery
6. Oldham (Lees)
Dark Horse: Bournemouth Concert Brass