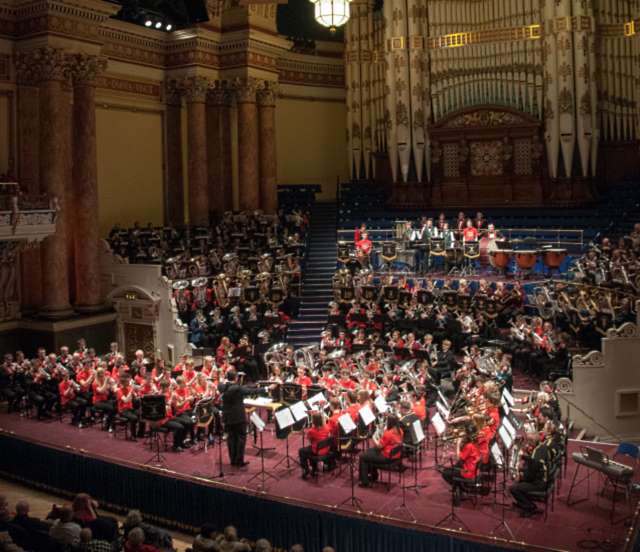 Squeezing everyone in: The massed ranks take to the Leeds stage

Black Dyke may soon have trouble finding a venue big enough to accommodate the number of players that wish to take part in its annual Brass Festival, after this year's event surpassed even the Queensbury band's ambitious expectations.
The afternoon Gala Concert that rounded a hugely enjoyable day off at Leeds Town Hall saw no less than eight bands on stage, with over 250 performers from Armthorpe Elmfield, Blackley, Delph, Kirton, Tewit Youth, Trentham, and the Yorkshire Youth Band joining the English National champion in a musical extravaganza that couldn't have been bettered if it had been organised by Cecil B De Mille.
Workshops

Earlier, a series of workshops led by Black Dyke's principal players was a startling example of the sheer enthusiasm the opportunity to work with the world's most famous band creates.
Around 50 cornet and flugel players joined Richard Marshall and special guest tutor Kirsty Abbotts, whilst the lower brass benefitted from the expertise of euphonium and tuba stars Gary Curtin and Ben Dixon.
Jonathan Bates ensured the middle of the band didn't miss out with 50 horn players enjoying a great time of it - including what must have been a world record performance of Roy Newsome's classic 'Hat Trick' feature in the concert itself.
Integral part

Black Dyke Director of Music, Dr Nicholas Childs told 4BR that the Festival has now become an integral part of the band's educational outreach programme.
"The importance and popularity of the Festival grows each year. I feel it is essential that Black Dyke continues to pioneer such an inclusive event that benefits as many players as possible.
Passing on expertise and experience, as well as further developing the obvious enthusiasm for the love of playing in a brass band is a long term legacy that we are fully committed to alongside our partners, Besson Musical Instruments and the Royal Northern College of Music."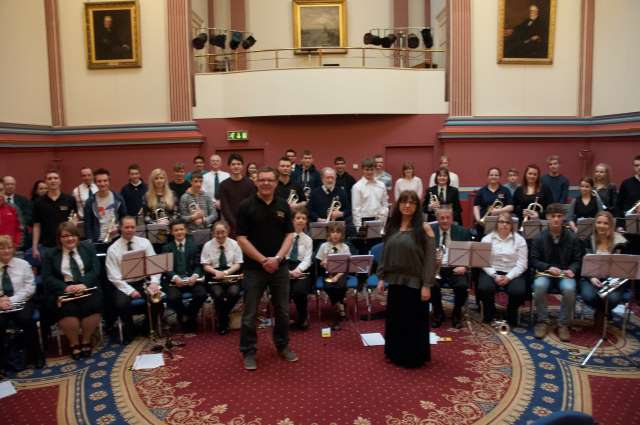 Cornet expertise with Richard Marshall and Kirsty Abbotts

Cornet spotlight
The cornet players of all ages certainly didn't want to miss out on the opportunity to learn from two of the finest in the business, as Richard Marshall and Kirsty Abbotts led a three hour masterclass that simply flew by.
This was the chance to ensure that the building blocks of quality practice routines were firmly embedded in the minds; from tips on warming up and breathing techniques to intonation and phrasing - all aided by cleverly chosen musical exercises that featured works such as 'Cornet Carillon' and Anthony Plog's irregularly rhythmic 'Suite for Six Trumpets'.
Kirsty Abbott's wonderful modesty could not hide the fact that she remains a performer of the rarest musical beauty and her thoughtful advice was certainly taken on board as she showcased her ability to make the most of the simplest solo line.
With Richard also highlighting areas where players could make immediate progress, it was little wonder the sound of players putting their tips into immediate action were heard right up until the time they took to the gala concert stage later in the afternoon.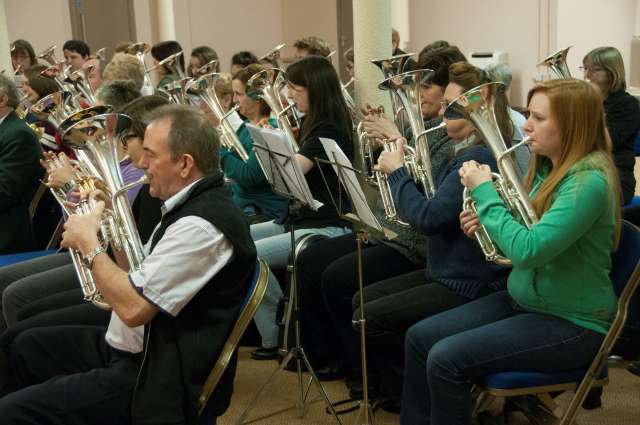 Tenor horn rennaisance led Jonny Bates

Tenor horn masterclass
There is something of a tenor horn renaissance going on at the moment in the banding world, and that was certainly shown by the amazing response to the masterclass workshop led by Jonathan Bates.

Delegates travelled from as far as Cornwall to enjoy an inclusive morning of activities and music making, with a wide range in ages and abilities on show (one adult player had only taken the instrument up in the past six months).
Jonny was assisted by fellow Dyke horn players Helen Varley and Alison Childs, who ensured each player got that little bit of extra individual 'one to one' time throughout the session - enabling them to gain confidence within such a large group.
As a result, each player took home a little piece of priceless practical advice that could be worked on and enhanced in the coming months.
The inventive approach also kept minds active too (from buzzing techniques to four part harmony), with further insight offered into the importance of good communication, self development and motivation.
Invaluable

It certainly gave the playing an extra sheen of polish - with the technicalities of Roy Newsome's tricky 'Hat Trick' overcome with a mix of bravura and enthusiasm, whilst the close harmony of 'Blaenwern' enabling the players to produce the most wonderful ensemble sound.
That was certainly something Karen Griffiths of the Cheshire Constabulary band certainly thought as she told 4BR: "The sessions were invaluable and offered practical suggestions that anyone can implement whatever their level.
I was incredibly apprehensive prior to the event, but Jonny, Helen and Alison were so encouraging and welcoming, I soon forgot my nerves and felt able to just enjoy the day.

It was a fabulously inspirational opportunity to be part of something special."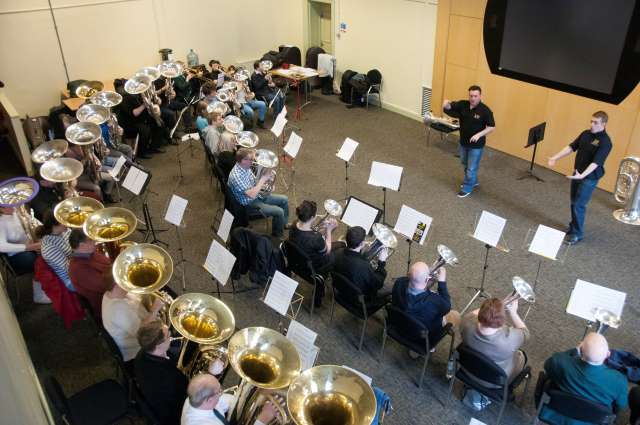 Stretching things out with Gary Curtin and Ben Dixon

Lower Brass
Not wanting to miss out their chance, over 40 lower brass delegates enjoyed a great workshop led by Gary Curtin and Ben Dixon.
The inventive approach ensured that by addressing the very basics, the players gained confidence in, and appreciation of, their individual needs.
Unexpected

As one delegate Guy Osborn told 4BR: "I play Eb bass and studied music at the University of Salford.
The initial stretching exercises were unexpected, but it soon became apparent why they were so important, as Gary explained that before practising it helped to release tension within the body and promotes better breathing. The positive effect was immediate."
Further exercises on how to improve breathing technique, mouthpiece buzzing and maintaining accurate personal tempo - the 'the internal metronome' - led into the ensemble playing, which included Eric Whitacre's 'Lux Aurumque' and the opening theme from, 'Robin Hood - Prince of Thieves'.
As Guy added, "The pieces we played certainly incorporated the four main areas we covered in preparation - and the results were obvious. It was challenging but also so rewarding to see 50 players all using the advice to such a great effect.

I'm sure we all left better players."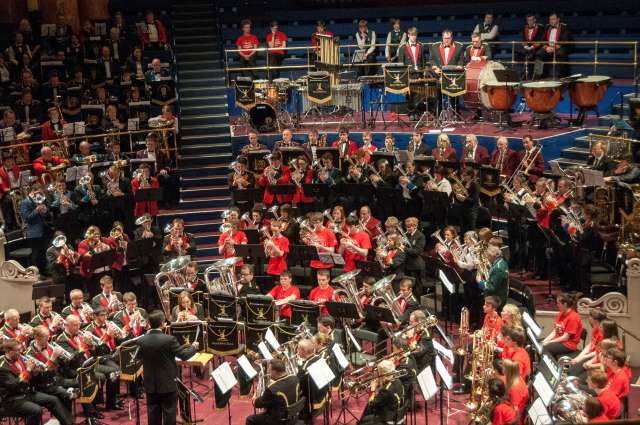 All inclusive: Packed in like musical sardines for a wonderful finale

Incredible

That was certainly the feeling of the players 4BR talked to throughout the day - as one proud parent told us.
"Our thanks go to Black Dyke for a brilliant day. My daughter attended the tenor horn spotlight and loved it. She was so inspired by the whole event and said it was the best day she has had playing her horn.

She thought the youth band were incredible and loved being a part of it."
Dream come true

As another added with a beaming smile; "I have to thank Nicholas Childs and Black Dyke for making my dream to come true to play alongside the world's best band!"
No wonder the Black Festival may need to find a home big enough to cater for an ever increasing demand in the years to come, especially as it continues to surpass the expectations of all those lucky enough to attend. .
Tom Sutcliffe