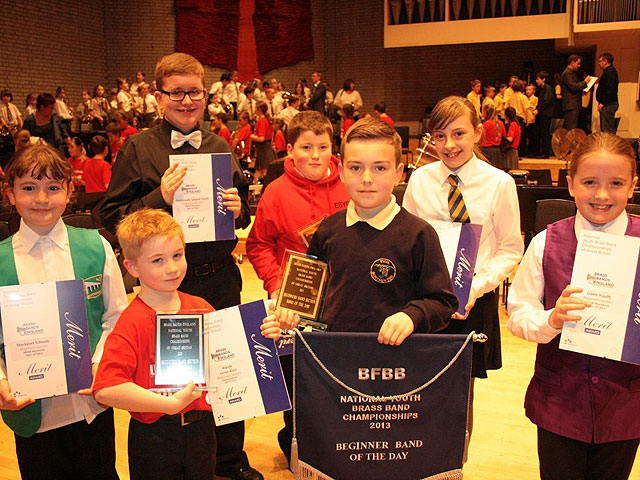 2013 Marathon winners...

There will be two highly demanding, but equally rewarding brass band marathons undertaken this Sunday.
First up, the Huddersfield Marathon Band will be giving it their all as they tackle the 26 miles or so around the streets of London as they look to reclaim the world marathon marching band record.
Meanwhile, up in Manchester one of the great long distance brass band events takes place at the University of Salford, with the annual National Youth Championships, organised by Brass Band England under the expert training eyes of contest controllers Arnold Tattersfield and Gary Walczak.
Cracking alternative

With renovation work at the Royal Northern College of Music still in progress, Salford came to the rescue to offer a cracking alternative venue that can easily accommodate the eager bands and supportive audiences that are always attracted to the event.
It says a great deal for the way in which Arnold and Gary (as well as Brass Bands England) have administered this important competition over the years that despite the move, the trouble getting a non-conflicting date (both with other contests and the National Youth Band this year) there was no way the contest would not take place.
BBE (and the two gentlemen in particular) deserve an awful lot of credit for their perseverance and commitment, which is reflected by the support they gain in return from the competing bands. The fabulous atmosphere of the RNCM in Manchester will be hard to better, but it won't be for the want of trying.
Loyal following
Those loyal bands this year include a couple of welcome débutantes in Elland Silver Starter and Pembrokeshire Schools, with the return of Great Western Youth after fours absence under John Winterflood along with one or two other contenders under slightly different names.
The re-structuring of the sections in recent years has proved to be a success, and so too has BBE's progressive and inclusive stewardship, whilst the standard of playing is a delight - from the brilliant Beginners Section through to the excellence in the Championship Section.
Challenging tests
The Championship and Intermediate Section contenders will once again have to include set works in their 20 minute programmes, with the four top flight rivals facing the prospect of 'Five States of Change' by Philip Sparke - a work initially used at the Fourth Section Dutch National Brass Band Championships in 2011.
The composer states that the idea for the piece came when he was reading an article about a branch of Chinese philosophy which is abbreviated as Wu Xing; which has no exact translation but can literally mean five elements, five phases or five states of change.
Meanwhile, the eleven bands in the Intermediate Section have to include Philip Harper's three-movement 'A Colwell Suite', which should be a stern test.
The emphasis in the Beginner and Junior Sections is all about the joy of performing - so there is sure to be a ready supply of Kleenex tissues on hand for proud families and supporters as their young charges take to the stage to deliver their 15 minute programmes.
Progressive approach
As always the BBE has continued with its progressive approach to adjudication, with a panel of judges the competitors both know and respect.
Richard Evans and Katrina Marzella will surely enjoy every minute of the Beginners Section, as will Brett Baker and Michael Dodd in the Juniors.
Steve Pritchard-Jones and Mareika Gray will take on the Intermediate challenge, whilst Alan Morrison and Richard Marshall are on duty to decide the destination of the Championship title.
Spoilt for choice
It all starts at 9.00am with the Championship Section in the Maxwell Hall, which will be followed by the Intermediate Section. Everything there should be completed by around 6.00pm.
Meanwhile, the Beginners Section in Peel Hall commences at 9.35am, followed by the Juniors which starts around 1.15pm and should be concluded before 6.00pm.
The temporary home of Salford University ticks all the boxes from an organisational point of view, so why not take the opportunity and get along and enjoy the experience for yourselves.
Adults: £10
11-16: £5
10 and under: £2
---
Championship Section:
Maxwell Hall
Commence: 9.00am
Adjudicators: Alan Morrison and Richard Marshall
Own Choice programme of 20 minutes playing time that must include the set test, 'Five States of Change' (Philip Sparke)
Results Ceremony: 11.35am
All players must be 20 years of age or under on the 31st August 2014
Competitors:
Greater Gwent Youth (Chris Turner): Gold, Championship Section, 2013
Lions Youth (Nigel Birch): Silver, Championship Section, 2013
Oldham Council Music Centre Youth (Jonathan Leesdale): Bronze, Intermediate Section, 2012
Youth Brass 2000 (Chris Jeans): Runners-up, Gold, Intermediate Section, 2013
---
Junior Section:
Peel Hall
Commence: 1.15pm
Adjudicators: Brett Baker and Katrina Marzella
Own Choice programme of 15 minutes playing time that must include one piece of music composed for brass band and two verses of a hymn tune from
Results Ceremony: 5.35pm
All players must be 16 years of age or under on the 31st August 2014
Competitors:
Blackpool Youth (Brett Warren): Bronze, Junior Section, 2013
Chalford Youth (Steve Tubb): Merit, Intermediate Section, 2013
Denbighshire Area Junior (John Powell): Silver, Junior Section, 2013
Elland Silver Training (Samantha Harrison): Débutantes
Fred Longworth (Helen Robinson): Winners, Gold, Junior Section, 2013
Gwynedd & Mon Junior (John Gwynn Jones): Runners-up, Gold, Junior Section, 2013
Hade Edge Academy of Music Junior (Michael Crowther): Bronze, Junior Section, 2013
Lions Junior Brass (Tom Hancock): Bronze, Junior Section, 2013
Macclesfield Youth Junior (Tim Grindey): Merit, Junior Section, 2013
Stockport Schools Intermediate (Owen Garbutt): Third Place, Gold, Junior Section, 2013
---
Beginners Section:
Peel Hall
Commence: 9.35am
Adjudicators: Richard Evans and Michael Dodd
Own Choice Programme within 15 minutes playing time.
Results Ceremony: 12.30pm
All players must be 11 years of age or under on the 31st August 2014
Competitors:
Denbighshire Area Training (Helen Powell): Débutantes
Elland Silver Starter (David Armitage): Unplaced in Beginners Section 2013
Hade Edge Acadamy of Music Training (Carolanne Duncan): Unplaced in Beginners Section 2013
Lions Youth Beginners (Christopher Thompson): Unplaced in Beginners Section 2013
Macclesfield Youth Training (Liz Hudson): Unplaced in Beginners Section 2013
Stockport Schools Junior (Steven Cavanagh/Marianne Garbutt): Unplaced in Beginners Section 2013
Ysgol Bontnewydd Primary (Dylan Williams): Winners in Beginners Section 2013
---
Intermediate Section:
Maxwell Hall
Commence: 12.15pm approx
Adjudicators: Steve Pritchard-Jones and Mareika Gray
Own Choice programme of 20 minutes playing time that must include the set work 'A Colwell Suite' (Philip Harper)
Results Ceremony: 5.45pm
All players must be 18 years of age or under on the 31st August 2014
Competitors:

Cardiff County & Glamorgan Youth (Charles Maynard): Bronze, Intermediate Section, 2013
Enderby Youth (Trevor Hounsome): Bronze, Intermediate Section, 2013
Great Western Youth (John Winterflood): Bronze, Intermediate Section, 2010
Hade Edge Academy of Youth (Simon Wood): Silver, Intermediate Section, 2013
Macclesfield Youth (Louise Renshaw): Silver, Intermediate Section, 2013
Milton Keynes Youth (David Rose): Merit, Intermediate Section, 2013
Pembrokeshire Schools (Matthew Jenkins): Débutantes
Poynton Youth (Mike Eccles): Bronze, Intermediate Section, 2013
Stockport Schools Senior (Tim Dines): Silver, Intermediate Section, 2013
Tewitt Youth (Dave Smith): Silver, Intermediate Section, 2013
Wardle Academy (Lee Rigg): Winners, Gold, Intermediate Section, 2013