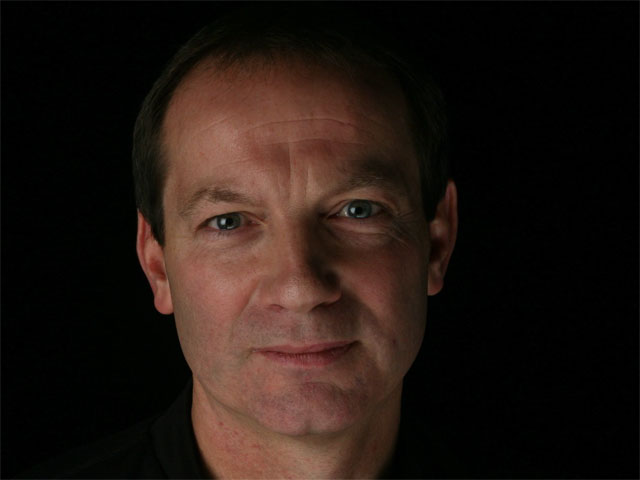 The best yet to come from Nigel Clarke

Chris Thomas: Turning to your brass band music, you have now written several major works and concertos.
What continues to fascinate you about writing for brass band and what specific challenges do you feel it presents?

Nigel Clarke: If you write for brass and wind band you have numerous possibilities to write for open-minded musicians and with considerable potential for performance.

To have music performed with such extraordinary commitment is a privilege and there is the added luxury of being able to write whatever I want, as there are no technical constraints.

In saying that, it seems to be only in continental Europe that bands will take a chance on original programming. Where would we be without the commissions and opportunities that the European Championships bring?
A good example of this is Thomas Doss's masterwork 'Spiriti'.
As far as I personally am concerned I still think the best is yet to come but I have to be disciplined and make every piece count!
---
Chris Thomas: In the 1990's you spent a time as Composer in Residence at Black Dyke working closely with James Watson.
How did he inspire you and what are memories of him as a musician?

Nigel Clarke: Jim was an inspiration; all he touched turned to musical gold. I firmly believe that to this day, the brass band world still has no idea how fantastic he really was.

He was principal trumpet of the Royal Philharmonic Orchestra at 24 of age, also playing in the London Sinfonietta, the Orchestra of the Royal Opera House, the Philip Jones Brass Ensemble and LSO Brass.
From his early 20's he was absorbed in music making with both players and conductors who were world-class talents. How can that not rub off on you?

When it came to conducting Elgar Howarth's 'Songs for BL' in the National Brass Band Championships in 1995, he understood how Howarth's difficult musical language worked and of course, this resulted in another win for Dyke.

Imagine being at the Royal Opera House conducted by Sir George Solti or Sir Bernard Haitink, with artists such as Domingo singing.
High-level music making was just the norm for him. Jim's premature death has left a huge hole for all of us that knew him or were taught by him.
---
Chris Thomas: For a time after your association with Black Dyke you turned away from writing for brass band.

Was there any particular reason for this?

Nigel Clarke: Put simply, it was my loyalty to James Watson.
How could I continue once Jim had left the movement permanently?

Dyke's new Musical Director Nicholas Childs, was very understanding and wrote me a kind letter (which I still have) to acknowledge my resignation.

But the truth is that this was the end of my venture into brass band music. I suppose it was a case of out of sight, out of mind.
To be fair, you need to be very committed to take on my works. They are certainly not pieces you can rehearse for a competition a few weeks before.
---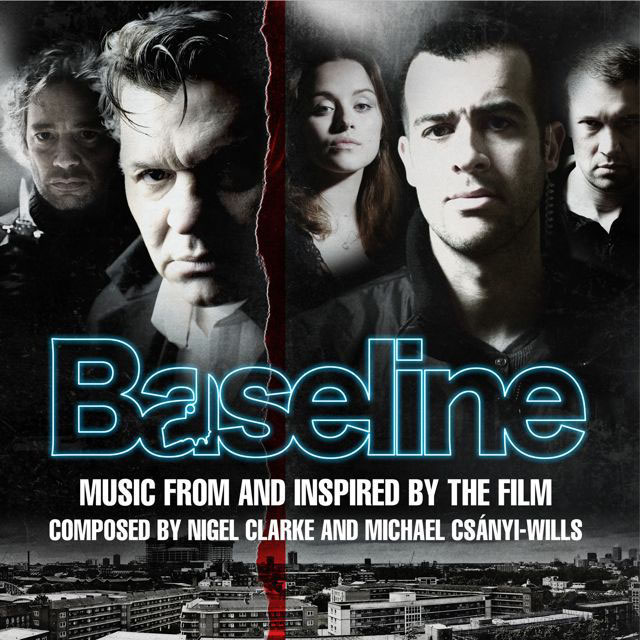 New works and new areas of composition

Chris Thomas: One non-musical challenge that you have faced is your battle with dyslexia.

Could you tell us a little about how dyslexia has affected you musically?

Nigel Clarke: Dyslexia is a double-edged sword, which I live with daily.
It is what makes me work hard in an attempt to prove myself after early failures at school. It makes me understanding of other people's problems and the help they need. Dyslexia for me is not an excuse.

However, it does sometimes result in other people having to help me to solve written problems.

I can give you two examples of this.
My wife Stella will have read and corrected every word before I sent you the answers to this interview.

I spent a day with 4BR Editor Iwan Fox covering the Swiss Brass Band Championships in Montreux. I took notes and then dictated my thoughts on all of the performances to Iwan who kindly typed everything that was posted!

What is curious is that I do not make many errors when writing music. The danger is only when I add words on the score. That's the bear trap that is always waiting for me.

If only Sibelius had a spell check!
---
Chris Thomas: Has music helped you to come to terms with your dyslexia, and if so, how?

Nigel Clarke: In short yes. I believe that dyslexia can give back in unexpected ways. Or if you like, strengthen other aspects of your intellect.
---
Chris Thomas: You have now lived in Brussels for several years. Could you tell us a little about how you find the brass band scene generally in Belgium?

Nigel Clarke: Actually this is a myth. I spend lot of time in Brussels, as that is where our family house is, as my wife works for the European institutions.

But I am firmly based in the UK and that is where I pay my taxes.

The brass scene is impressive in Belgium with many good bands and talented conductors. They punch above their weight!

The scene is much less partisan than in the UK, but perhaps this is true for most of continental Europe.
---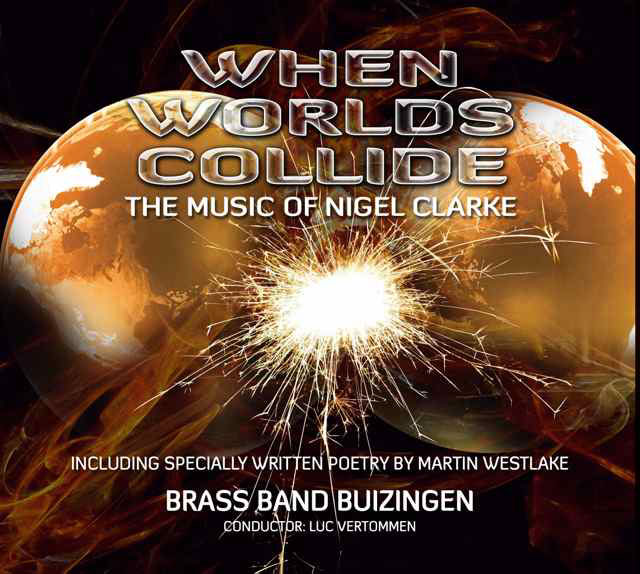 The award winning When Worlds Collide

Chris Thomas: I'd like to finish by turning to the recent CD of your music recorded by Brass Band Buizingen and Luc Vertommen.
As composer in residence with the band, how has your close relationship with and knowledge of the players impacted on your music for Brass Band Buizingen?

Nigel Clarke: As with my relationship with Peter Sheppard Skaevard, I have always enjoyed the act of collaboration and that is how I see my role with Brassband Buizingen and Luc Vertommen.
Of course it's a joy to work with a band that has talents like Harmen Vanhoorne, Glen Van Looy and Sébastien Rousseau, to mention but a few.

Every piece I write is uniquely for the band and I never go back over old ground, which is the only aspect that makes it hard being an Associate Composer. If I repeated myself they would be the first to notice.
Perhaps one of the problems I am noting in other composers work at the moment is the repetition of ideas. What is great for me with BBU and Luc is that they are open-minded when it comes to my crazy ideas in the sketch stages of composition.

I am convinced this has been the core to a united success.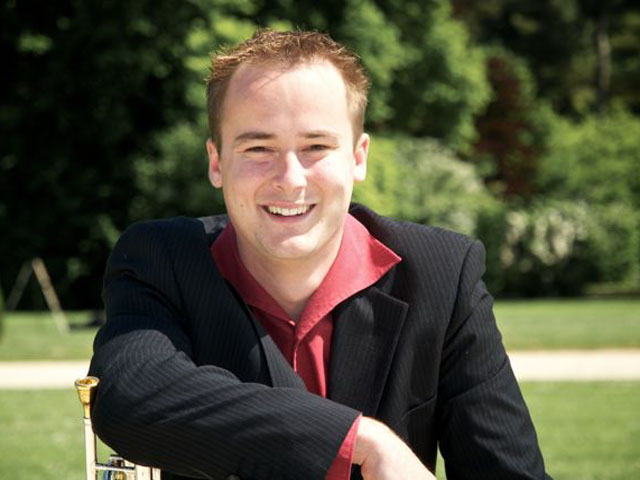 The outstanding player of his generation: Harmen Vanhoorne

Going back to my piece for Harmen Vanhoorne for instance, I had been looking for sometime for a subject with Belgium at its core as a basis for a concerto to showcase Harmen's magnificent talents; in my opinion he is the player of his generation and is furthering the repertoire for his instrument.
Already an array of young talent has written for him including Stan Nieuwenhuis, Peter Meechan, Tom Davoren and Paul McGhee.

I have always believed hanging out with musicians is the best possible way to learn.

To quote Beethoven in his Tagebuch: 'note to self'…."Every day share a meal with musicians, where one might discuss instruments and techniques and such...." (1812).
---

Not quite little green men, but spaceship troopers in Switzerland

Chris Thomas: 'When Worlds Collide 'created quite a stir when Buizingen played it at the European Championships, partly on account of its subtitle, 'Little Green Men in Intergalactic Spaceships with Rayguns and Phasers'.
Despite the quirkiness of the title however, it's a seriously virtuosic piece, both creatively and for the band. Could you tell us about the inspiration for the piece?

Nigel Clarke: Where do I begin!
The subject that I chose for this work was the world of American Sci-Fi B Movies from the 1950's. In fact the title of my piece comes from a film, Rudolph Maté's 1951 movie 'When Worlds Collide'.
The subject gave me so much scope to let my hair down and write a work for brass band that comes across as fresh. For example, the band members play kazoos at the beginning and there is a siren similar to that used by Edgard Varèse in his seminal piece 'Amériques'.

The percussion get to use some DIY power tools. The performance directions also encourage many theatrical effects such as dry ice smoke and bubble guns releasing clouds of bubbles.
There are two occasions where the band can deploy remote control flying saucers above the audience. The work ends with a number of canons showering confetti onto the audience.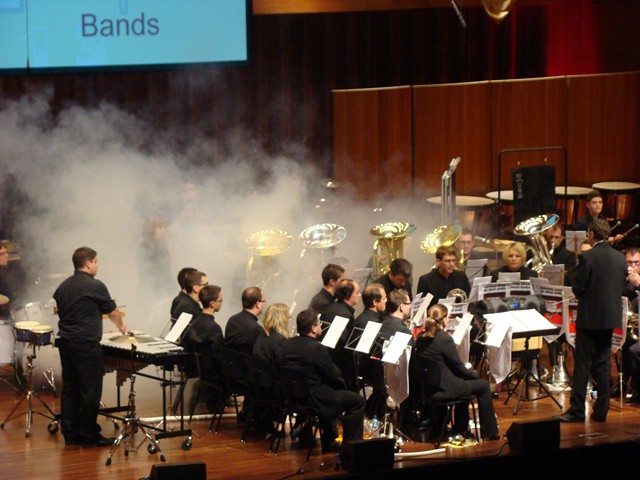 Plenty of smoke but no mirrors....

The music itself mostly counterbalances the theatre by being serious and demanding. My aim is to emphasise that a performance is more than just an aural experience; it is about the total experience.

The other slightly unique quality of the work is that the conductor can make a number of creative choices with the aim of making each performance personal and unique.

I was very proud of Luc and BBU's 4th position in the 2013 European Championships when they played `When Worlds Collide' in the own choice category.

I would love to see a major championship take on the challenge of this work with every performance being totally different from the next. It would also be an extraordinary challenge for the jury as it could not and should not be closed.

At the end of November, Ensemble de Cuivres Jurassien under the baton of their conductor Blaise Heritier, performed `WWC' with all of the theatrical effects in the Swiss National Championships. The response of the audience was beyond my wildest dreams!
To give the reader a better idea here are two You Tube links to ECJ's recent performances, one a tryout concert and one an unofficial film of their contest performance.
Link1: https://www.youtube.com/watch?v=AxzcrCgo_is
Link2: https://www.youtube.com/watch?v=DNdxpDXD7A8
---


Buizingen line up....

Chris Thomas: Given the technical abilities of the players in Brassband Buizingen, is it a liberating experience knowing that there are few, if any constraints on you whilst writing?

Nigel Clarke: This yet again is a double-edged sword: it is liberating to be able to write absolutely anything for these extraordinary players, but they are looking for challenge as well as originality.
My problem therefore is to keep both conductor and band interested. So when I write, to use a metaphor, I flash a little bit of ankle to keep them interested!

In many ways this is the biggest challenge of being a composer attached to any organisation.

The moment you start to repeat yourself is the moment you either need to stop writing or move on.
---
Chris Thomas: 'Earthrise' is another piece that drew its inspiration from space travel?

Nigel Clarke: Actually the first work I wrote on the space travel theme was for wind orchestra and called 'Gagarin', a piece I wrote at the request of conductor Prof. Matthew J George and the University of St. Thomas Wind Ensemble in Minnesota, USA.
---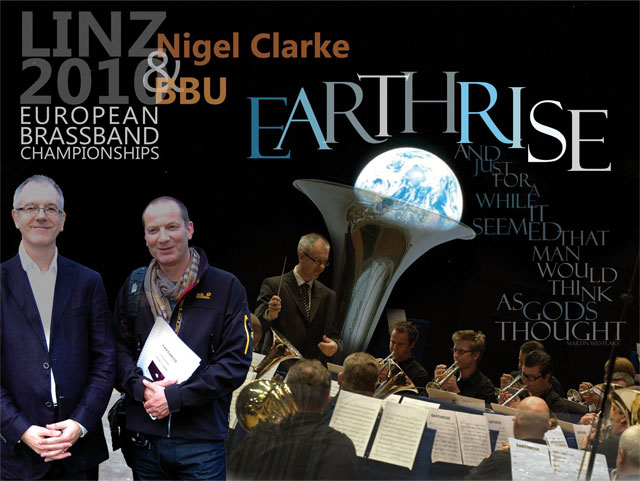 Another out of this world composition

Chris Thomas: The pieces on Brassband Buizingen's disc span a period of over fifteen years. Do you feel that your music has changed during this time and if so in what ways?

Nigel Clarke: To a certain degree yes, my music has changed but I believe that it is still the same old me that is coming through.

By that I mean that my music continues to be virtuosic, sometimes violent, rhythmic, colourful and sometimes bleak and occasionally playful.

I write each work as if it is the last time I am going to write for this genre. I believe that this can make me a difficult composer to commission as I am only really interested in writing on a grand canvas and it requires a certain type of conductor to take on one of my pieces. I am absolutely not interested in short-term popularity.

I believe a composer should sound like an individual and not like another composer; there are plenty of sound-alikes in our movement. I have always been drawn to composers of integrity that sound like themselves.
As a listening musician, I enjoy the work of composers who occasionally write for brass band like Edward Gregson, Martin Ellerby, Derek Bourgeois, Thomas Doss, Oliver Waespi, Philip Wilby and from the past, Wilfred Heaton and Gilbert Vinter.

To answer the original question in short, I see myself as being in a constant state of evolution.
---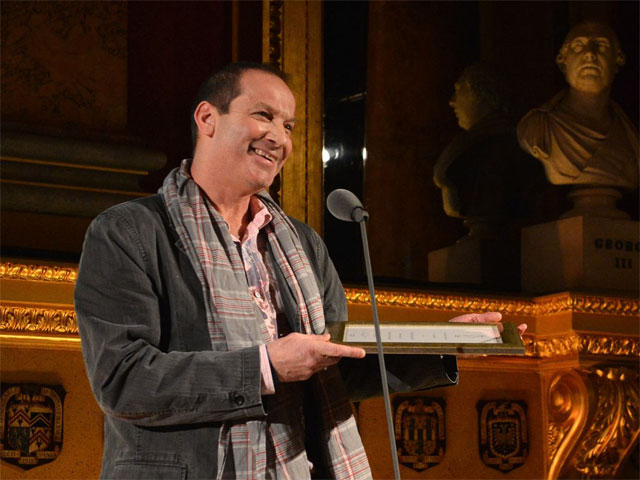 British Composer Award winner

Chris Thomas: And finally. What can we expect from you in the near future?
Do you intend to continue writing for brass band?

Nigel Clarke: I can only continue writing for brass band if people are interested enough in my work to ask me but I certainly do not want to be just a brass band composer.
I am at my strongest when working in many different genres. This is what I can bring to the party and I hope that this has come through in my earlier answers.

Now over to Stella to check the English!
---
4BR Interview: Nigel Clarke - Part 2: http://www.4barsrest.com/articles/2014/1443a.asp#.U4B3OvldUg8
4BR Interview: Nigel Clarke - Part 1: http://www.4barsrest.com/articles/2014/1443.asp#.U1Y_pvldUg8
For more information about the composer go to: http://www.nigel-clarke.com