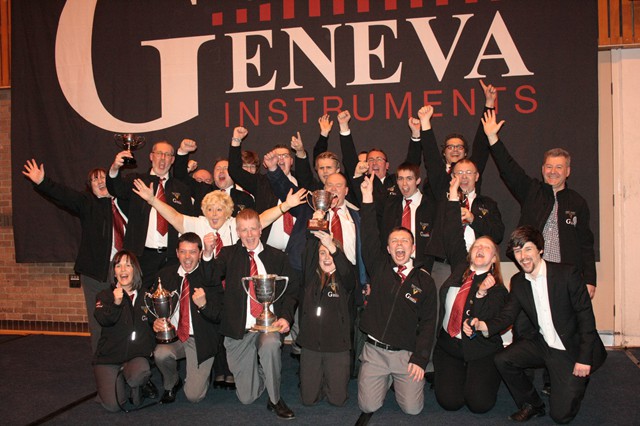 A record 34th success for Reg Vardy

Having already won the North of England Area title a record 33 times in their history, the Reg Vardy Band has had to get used to not seeing the attractive Regional Championship Challenge Cup in their trophy cabinet of late.
It was therefore a very determined band that took to the stage of the Dolphin Centre under Russell Gray on Sunday afternoon, as they sought to fill that yawning gap of visible disappointment for the first time since 2011.
Expectancy

There is always a great deal of expectancy weighing on the shoulders of Reg Vardy with this contest in particular, but it was certainly made the heavier this year as they also seek to regain their lost British Open status in Blackpool in a few weeks time.
However, that burden was significantly lightened by the way in which they claimed this 34th title success; producing the type of confident winning account that if repeated at the Winter Gardens could well see them having to book Autumn B&B in Birmingham in addition to Kensington in October.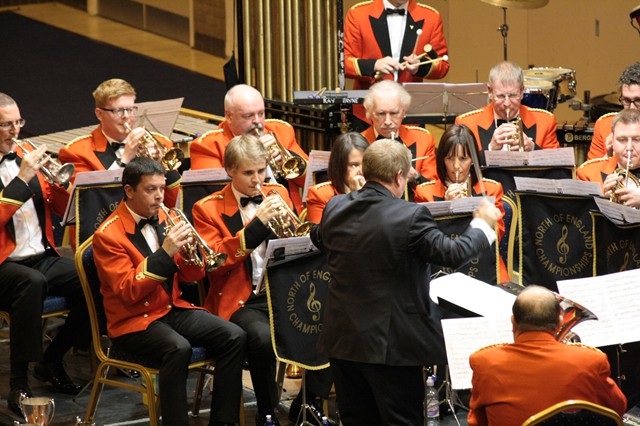 Russell Gray out the puts the winner through its paces

Hard working

It was an admirably hard working 'St Magnus' (that had echoes of their Albert Hall performance last year with Russell Gray at the helm): a no frills, solidly constructed rendition that set out its musical aims to meet its contest objective, with few non-essential extrovert touches of misplaced over-confidence.
In a contest that was earmarked by performances that were also inspired by good musical sense and sturdy technical virtues, it enabled the MD to clearly display to adjudicator David Hirst each layer of his precisely set out 'St Magnus' with transparent purpose.
Job done

The minor imperfections didn't tarnish the overall musical picture as he sought subtle changes in pace and dynamic, aided by fine individual contributions from the prize winning soprano, principal cornet, euphonium and percussion section (which added texture rather than volume in the unforgiving acoustic).
By its close it had done the job: Not a jaw dropper, or a performance to send a shiver down the collective spine, but certainly a very persuasive bit of high class title winning quality. With Blackpool just around the corner, Reg Vardy is in impressive form.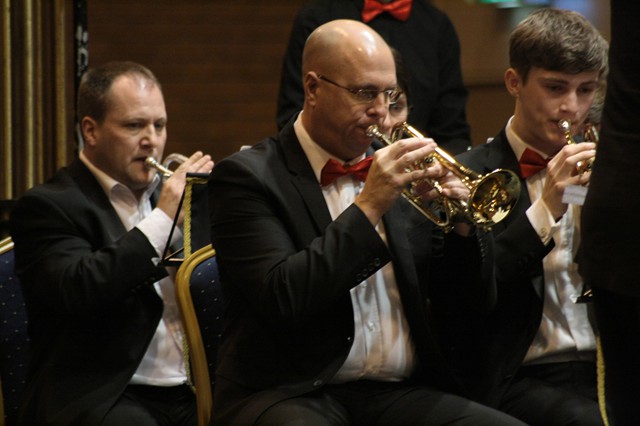 London bound for EYMS

Precise construction

Another band that will make its way to the Grand Shield brimming with confidence will be East Yorkshire Motor Services, as they confidently displayed their solid top flight contesting credentials by securing the second qualification place under Alan Morrison's baton.
The draw gave David Hirst the ideal opportunity to compare and contrast the two bands - with the more robust account from EYMS that immediately followed Reg Vardy just lacking that extra sheen of polished certainty their rivals managed to project.
However, the MDs precisely constructed interpretation ensured that his band's strengths were displayed in full: from a super trombone lead by Mark Unsworth, to a formidable lower brass foundation that gave their 'St Magnus' such a sure underpinning throughout. Blackpool can't come soon enough either.
Little problem

Although the margin between the qualifiers and the rest of the competitors was not as great as that witnessed in other Areas this year, David Hirst would have had little problem picking out Reg Vardy and EYMS from the rest of competitive field.
Behind them, Felling, directed by Stephen Malcolm, delivered a 'St Magnus' that spoke of hard grafted preparation, good common sense and just the right pinch of engaging adventure.
That meant it got a little raw and edgy at times, but it also brought purpose and drive to a performance that held rich promise for band that continues to develop along the right musical path under an admirable MD.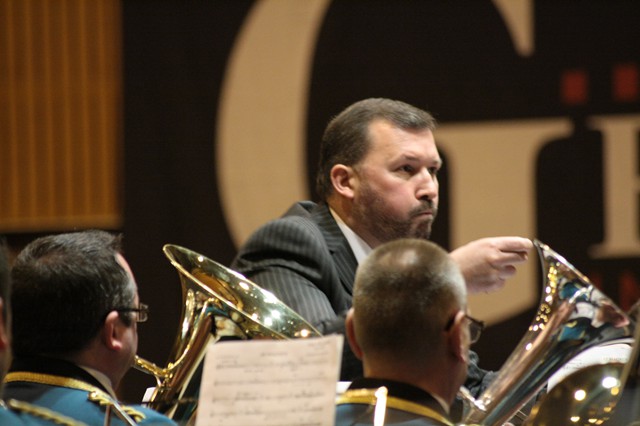 Hard graft for Felling and Stephen Malcolm

Hard

With the two fancied contenders delivering such purposefully worked accounts, it was always going to be hard for the lyrical, and occasionally more fragile 'St Magnus' of NASUWT Riverside to make it back to Kensington.
Ray Farr certainly brought something different out of the score - layering even the most demanding technical passages with a veil of elegant musicality that was rich in qualification potential but ultimately become snagged on a high minor error count.
The delight of their tuba player when picking up the 'Best Basses' Award was wonderful to behold, but was perhaps a bit too premature as David Hirst's carefully chosen analytical pre-results words were shown to apply quite clearly to those bands who finished above them.

Something diffeent from defending champion NASUWT Riverside
Clear minded

Much the same applied to Fishburn, directed with clear minded efficiency by Allan Ramsay, as the excellence of a number of individual elements couldn't quite mask the slightly less secure ensemble as they ended fifth.
The final trio of paces were a little further off the pace - although each had extended sections when the musical and technical elements married together well.
Demanding

A great deal of credit goes to the conductors, with Richard Wilton expertly freeing just enough slack in the tempo and dynamic leash to allow some fine playing to flower with Shepherd Group, and Phil Rosier doing the same with Easington Colliery to see the music retain a sense of purpose and flow, despite some noticeable difficulties.
Having come up to the Championship Section this year, Craig Ratcliffe's Harrogate may have found Downie's work exceptionally demanding, but their spirit and determination was nothing short of superb.
The shortcomings on this occasion were obvious, but they never beat the band into submission thanks to the MDs intelligent appraisal of his available resources.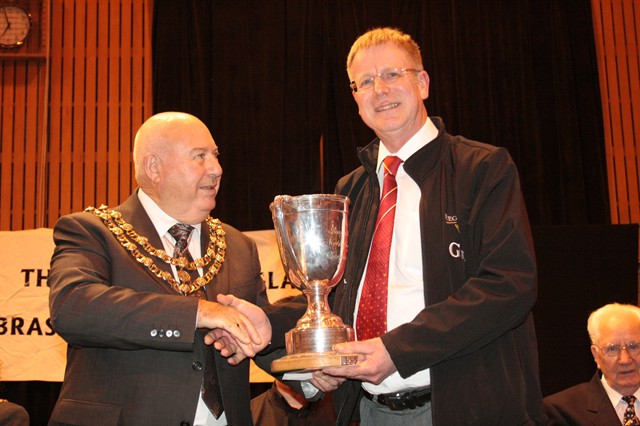 A two year gap now filled in the trophy cabinet...

More room

The North of England Regional silverware may have been returned to the Reg Vardy trophy cabinet after a two year absence, but it was the way in which they achieved it that will have pleased their ardent band of supporters.
On this form they may well have to make room for the return of the Grand Shield too.
Malcolm Wood