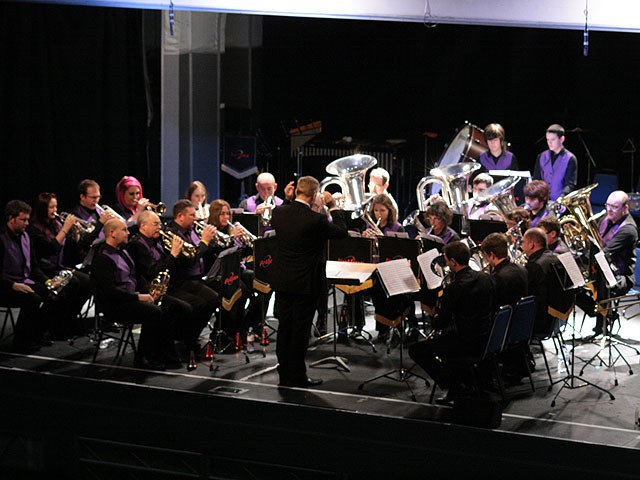 Wantage build on Butlins progress to take maiden Area victory

Championship Section banding in the London & Southern Counties remains in a highly enjoyable state of contesting flux, after Wantage Silver 'A' became the third new name to appear on the Area trophy at Stevenage in as many years.
That may be because the overall quality of contest gentrification in the region has certainly been enhanced by a host of competing bands; with Wantage perhaps the most compelling and comprehensive example of it in action.
Raft building

Their maiden Area victory has been built on a raft of increasingly solid performances both here and at other secondary 'majors' such as the All England Masters and Butlins: Those in the know have been predicting a possible victory for a little while now.
However, whether or not it will now lead to an extended period of domestic Area supremacy remains to be seen; the result also providing persuasive evidence that there are a clutch of rivals able to produce performances of high class substance - even on a piece as demanding as 'St Magnus'.
No dominant band

At present there is no dominant band: Wantage and fellow qualifiers Friary Guildford continue to mature impressively after years of careful nurturing under talented conductors Phil Bailey and Chris King, whilst Redbridge remains in the early stages of long term redevelopment under MD, Alan Duguid.
Zone One continues to flourish utilising their unique competitive model, whilst Aveley & Newham and East London Brass currently seem to be experiencing the frustrations of contest life; much better bands than stark results suggest.
Add into the mix the rejuvenated ensembles of Kidlington Concert and Staines Brass (defending champion Regent experienced an off day) and you can see why contest real estate values are on the up. We could be entering one of the most competitive periods of top flight banding here for many years.
Stacks up at Blackpool

How it all stacks up against the rest of the UKs banding prosperity will be tested in Blackpool in a couple of week's time.
Unfortunately, Wantage won't be there after losing their Spring Festival status last year. They won't return until 2015, whilst Redbridge was the only one of the 12 contenders who took to the stage at the Gordon Craig Theatre to notionally be one step away from the British Open.
Aveley and East London are currently in the second tier Senior Cup, with Friary, Kidlington, Medway and Regent looking to battle their way out of the bottom rung Senior Trophy.
With no Masters to look forward to, the process of gentrification, although real, may take a little while longer before its registers completely with the speculators in the more distant regions of the banding country.

Looking forward now for Phil Bailey and Wantage

No Wantage worry

For the moment that will not unduly worry Wantage after they produced a quality rendition of 'St Magnus' that would have more than held its own against the vast majority of regional opposition.
Philip Bailey's intelligent approach to dynamics and tempos allowed his ensemble that extra millisecond or two to overcome the technical hurdles with comfortable purpose, with a lovely unimpeded flow in the lyrical interludes.
It also enabled the solid stable of soloists to showcase their impressive qualities - most notably principal cornet Sara-Jane Humphreys, who was wonderfully composed and assured throughout to take the 'Best Cornet' award.
Deserved champion

It was a performance that certainly resonated in the box: Graham Jones and Stephen Roberts felt it was 'a clear winner' - although given the quality of performances from other well drilled rivals on the day, that may have been just a little generous in its assessment.
A worthy and deserved champion without a doubt, but supporters of Friary Guildford, Redbridge and Aveley & Newham (who finished seventh, but seemed to have won the audience vote) will have wondered just how clear they actually were.
Number 1 headache

Friary produced the type of marker off the number 1 draw that gives adjudicators a re-occurring headache throughout a contest day. Bold, confident and solidly delivered, it became a reference point of quality that more than held its own until Wantage, eight bands later.
Chris King's neat direction permeated to his players (Nigel Stevens on 'Best Horn' winning form) with careful consideration given to displaying clarity and precision in the deadened acoustic of the Gordon Craig Theatre.
By the time they opened up the gunnels for a rousing finale there was little doubt it had raised expectations for supporters and concerns for rivals (many of who were in the hall): Both of which were very nearly met in full.
They return to the Albert Hall a much stronger, more compact contender than they were last year, and to the Senior Trophy as a bit of a dark horse to claim a potential promotion place.
Unlucky

Pre-contest favourites Redbridge may count themselves a little unlucky they didn't join them in Kensington, although their mature ensemble sound was pockmarked with noticeable minor flaws.
At times the intuitive connection between MD and players, that was a hallmark of the band at their most commanding in previous years was a little frayed, but despite not being at their very best to reclaim the title on this occasion, they sound a good bet to pose a serious challenge at the Grand Shield.
It's a pity Zone One won't be there, as Richard Ward continues to produce minor miracles with his eclectic band of travelling musicians.
They did sound a couple of rehearsals away from a qualification place at times as the ensemble lacked precision, but they remain one of the most interesting bands to listen to on a contest stage; thanks to the MDs generosity of musical spirit towards his players.
Pleased

Elsewhere, Kidlington and Staines will have left Stevenage well pleased with their efforts, as Duncan Wilson and Jonathan Pippen directed free flowing accounts that kept the listener engaged despite the minor solo flaws and ensemble imperfections (although John Storey of Staines was nigh on perfect to take the 'Best Euph' prize)
Better luck

Not so happy you suspect was Aveley & Newham and East London Brass. Both produced solidly portrayed accounts (although with noticeable minor error counts) that captured both the sharp edged vibrancy and cultured lyricism of the score thanks to persuasively laid out interpretations from Melvin White and Jayne Murrill.
Somehow though they didn't capture the imagination of the men in the box, to end seventh and eighth (with ELB facing possible relegation as a result): They were two improving bands that will surely enjoy better luck on their travels north to Blackpool on this form though.
Overall hike

The bottom four bands struggled to varying degrees – with Regent giving a brave but error strewn defence of their title to end eleventh.
With the overall hike in the quality here in past year or more, it was a pertinent reminder that the resultant flux has the ability to turn contesting fortunes around very quickly indeed.
Regent may want that to continue: You can be assured Wantage won't.
David Ruel