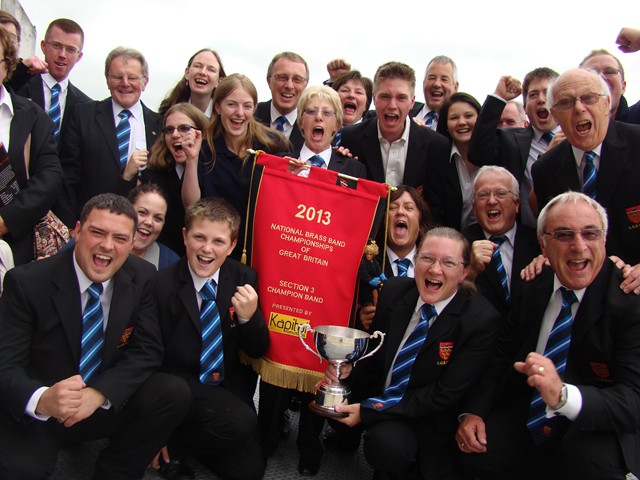 Punching above its weight: Another National Champion in LGB Brass in 2013

The final triptych of the 2014 Area series takes place this weekend with the Stevenage Arts & Leisure Centre sure to be packed to the brim with the huge mass of banding humanity that compete at the London & Southern Counties Area Championship.
In fact it is bigger than both Wales and the North East put together (84 bands to their 44 and 39 respectively) so the work put in by Dave Hobbs and his team of hard grafting helpers is nothing short of miraculous.
It may not have the fevered throb St George's Hall or nationalistic pride of Llandudno, but there is still a great atmosphere to enjoy if make your way to a venue that does its job rather well.
Action shared

The action is shared by two auditoriums - the cavernous main hall playing host to the Third and Fourth Sections and the Gordon Craig Theatre welcoming the Second, First and Championship contenders, with the top flight contest rounding off what is invariably an enjoyable, if exhausting weekend.
Much is made of the relative standards of the bands here, but in the last few years the Area has certainly punched above its weight - especially in the lower sections where eight National titles have been won since 1992 - four times more than Scotland and the North of England and the same as the Midlands.
An Albert Hall victory may be the stuff of fantasy at present, but with LGB Brass winning the Third Section, Kidlington gaining a First Section podium finish and Epsom & Ewell coming sixth in the Second at Cheltenham last year, there is a growing potency to the bands that other Area qualifiers may do well to keep an eye on come September.
---
Fourth Section:
Sunday 16th March
Main Hall
Draw: 10.00am & 12.00 noon
Start: 11.00am
Adjudicators: John Doyle & Mike Kilroy
As always there is a big field of competitors to provide the marathon 'Spanish' inspired entertainment in the Fourth Section, with the boomy acoustic of the main hall auditorium sure to provide difficulties for those that opt to impress by volume alone.
Mike Kilroy was in the box at Torquay (also held in the same type of sports hall complex) but made the point that what impressed him was the ability to capture the different musical styles of each of the three movements.
The best bands managed to make the music, in his words, 'stand out of the score' - from the brooding opening and the subtle give and take of the waltz to the brio and pomp of the finale.
Those who try to bash the sense out of the music like a Spanish copper hitting an errant English nightclubber on the bonce with a rubber truncheon (beware overdoing the trills and leaden Pesante) won't gain reward, but if you opt for the lightness of touch a Costa del Sol pickpocket's fingers, then B&B in Cheltenham may well await.
Who will win?
Now you are asking aren't you?
Such an open field of bands and with a piece that could reward an inspired MD, the three qualifying places are really up for grabs.
That said, we opt for Brighton & Hove City, Regent Community Brass and Royston Town to fill the top three, with Witney Town, Woodbridge Excelsior and Jubilee Brass (Oxford) as our top six finishers.
Our dark horse could well be Wantage Academy Brass.

4BR Prediction:
1. Brighton & Hove City
2. Regent Community Brass
3. Royston Town
4. Witney Town
5. Woodbridge Excelsior
6. Jubilee Brass (Oxford)
Dark Horse: Wantage Academy Brass
---
Third Section:
Saturday 15th March
Main Hall
Draw: 9.00am
Start: 10.00am
Adjudicators: John Doyle & Graham Jones
Another well packed field of solid contenders tackle Philip Wilby's wonderfully nostalgic 'Postcard' work that has proved to be both testing to play and thoroughly enjoyable to listen to around the country.
It should be the same here, especially if the spies have also been finding out just what has been tripping bands up in each of the expertly constructed movements.
It's the eternal contesting conundrum of consistency that is proving the key to success, with judges in each of the Areas pointing out that they have enjoyed one, two or even three of the sections - but only rarely all four.
Philip Wilby is very specific about what he wants a band to achieve with his score directions (as Frank Renton pointed out at Torquay), so it may be a good idea for MDs to respect that and do what it says on the tin instead of opting to reinvent the musical wheel.
The imposing 'Towers & Chimneys' and fleet footed 'Lord of the Dance', seem to be well handled, but it's the lilting beauty of 'Sunday Afternoon' that is proving so troublesome - with MDs either losing the flow of the music or nerves and poor intonation causing havoc.
By the time the breezily patriotic 'Coronation Day' finale comes around, the flags of glory are either ready to be unfurled in triumph or are ready to be packed away as limp as a wet rag.
Neither John Doyle nor Graham Jones has been in the box elsewhere this year, so are ready to be impressed.
Who will win?
Another hard one to call, but with four bands showing decent form at Butlins and others with pretty good pedigrees it should be a contest to savour.
A couple of bands stand out for us, with Norfolk Wherry Brass and defending champion Amersham two we think may fancy their chances of getting to Cheltenham.
They should be hard pressed by the likes of Cold Ash Brass, promoted Simon Langton Brass, Waterbeach Brass and Hangleton for us, with our dark horse of Olney Brass.
4BR Prediction:
1. Norfolk Wherry Brass
2. Amersham
3. Cold Ash Brass
4. Simon Langton Brass
5. Waterbeach Brass
6. Hangleton
Dark Horse: Olney Brass
---
Second Section:
Sunday 16th March
Gordon Craig Theatre
Draw: 8.30am & 10.30am
Start: 9.30am
Adjudicators: Linda Cole & Lyn Morgan
'Chaucer's Tunes' has been the pick of the test pieces played around the country this year.
Elegant, refined and beautifully constructed, it has also brought the best out of the competing bands and their MDs too - rewarding those who have sought to bring musical character from the score rather than rely on contest bluff and thunder.
The secret to success is simple - control.
Keep the lid on dynamic and tempos excesses and the music comes to life - and if you can add a touch of warmth, wit and waspishness to boot then all that literary inspiration will not only have benefitted your band, but may well see you book a trip to Cheltenham in the process.
The dislocated rhythms of the opening 'Intrada' lead into the simple beauty of the hymnal 'Alma Redemption Mater', before the troubling, but whimsical tale of promised fidelity in the 'Wife of Bath' segues into the bold splendour of 'Es ist ein' Ros' entsprungen' and the chase for home.
There has been an admirable consistency about the adjudicator's remarks around the country too - all emphasising the need to bring character to the music rather than mere technical solidity.
There are two experienced musicians in the box, neither having been seen on the Area circuit this year, so bands may have to be wary of trying to second guess their intentions.
Who will win?
Three places up for grabs and 18 bands all with a pretty decent chance of filling them.
Two that stand out though are defending champion and former National Champion Hitchin and Epsom & Ewell, who did so well at the finals last year. Any repeat of that type of form and they should both heading back once again.
The final qualification slot may well be a close old scrap, with the appropriately named Battle Town perhaps the band to claim it ahead of last year's Third Section National title winners LGB Brass, Soham Comrades and Wantage Silver B.
Our dark horse is Fairlop Brass
4BR Prediction:
1. Epsom & Ewell
2. Hitchin
3. Battle Town
4. LGB Brass
5. Soham Comrades
6. Wantage Silver B
Dark Horse: Fairlop Brass
---
First Section:
Saturday 15th March
Main Hall
Draw: 2.15pm
Start: After Third Section results
Adjudicators: Mike Kilroy & Stephen Roberts
Those who wish to attempt to climb the highest musical peaks possible in the future must first overcome Howard Lorriman's colourful, but underwhelming trek up Alpine slopes with 'Cry of the Mountain'.
The piece has certainly done its job in separating the Sherpa Tenzings from the Sherpa van hires, but as much as the tricky opening section (in terms of intonation) and the thunderous free flowing 'Avalanche' is testing, both should be within the comfort zone for those who harbour real top flight ambitions.
The best bands around have shown their class and qualified impressively, although plenty more have come a cropper; with the quiet opening seeing everything from duvet covers to bath towels shoved down bells to try and make it sound like the snow covered peaks of the Himalayas rather than a fly buzzing council tip on the outskirts of Bromley.
Hopefully the fifteen well matched contenders should be inspired more by Hilary than Hillbillies in their approach, and with lots of experienced MDs at the helm we could be in for a fine assault to see who plants their flag on the Cheltenham bound summit.
Who will win?
There is obvious strength in depth here with Butlins champion Sandhurst Silver and Thundersley Brass looking the most likely to impose their quality if they really hit top form.
Haverhill, Becontree, Ware and Cawston could be left to battle it out for a hard earned podium slot, whilst our dark horse is City of Cambridge.
4BR Prediction:
1. Sandhurst Silver
2. Thudnrsley Brass
3. Haverhill
4. Becontree Brass
5. Ware Brass
6. Cawston
Dark Horse: City of Cambridge
---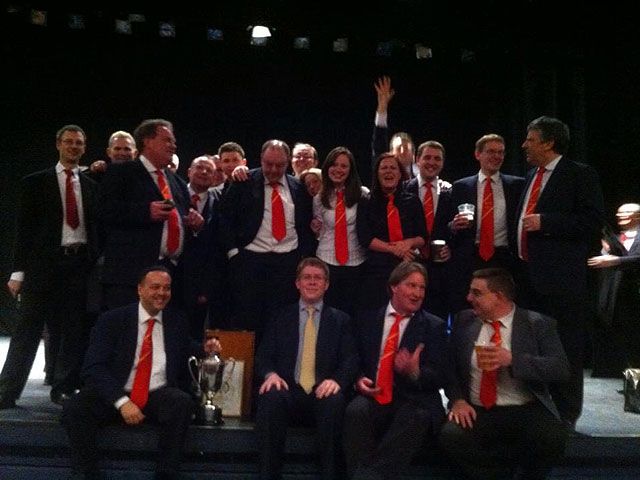 Can the Regency reign continue in 2014?

Championship Section:
Sunday 16th March
Draw: 2.00pm
Start: Following Second Section results
Adjudicators: Graham Jones & Stephen Roberts
There was a time when you could almost confidently predict the outcome of the top section contest in these parts. Not now.
The twelve years from the start of the Millennium only saw Redbridge and Aveley & Newham as winners, but in the last two it's been a bit of a free for all, with first Zone One, and then last year, Regent Brass claiming the title.
This time around it's up to Graham Jones and Stephen Roberts to decide the destination of the title (the region finally giving up on 'one man one vote' in the box), so will we have another surprise winner?
In a strange way, not really.
Redbridge is no longer such a dominant force, Aveley & Newham is still rebuilding and Zone One is up against the usual time constraints in getting their eclectic personnel together.
Reigning champion Regent hasn't exactly set the contesting world on fire since their triumph last year, whilst East London Brass and Wantage had a bit of a reality check when they came up against a decent, but certainly not overtly strong field of rivals at Butlins.
'St Magnus' is one heck of a test piece to master, so which of these bands can do just that?
Who will win?
Experience and the ability to utilise resources may be the key to success - and with that in mind none come better than Melvin White with an emerging Aveley & Newham.
Richard Ward and Zone One could be the other band that makes the most of their opportunities to shine with Redbridge close behind.
After that it could well be a scrap between East London Brass, Friary Guildford and Wantage Silver A with our dark horse of Staines Brass.
4BR Prediction:
1. Aveley & Newham
2. Zone One Brass
3. Redbridge
4. East London Brass
5. Friary Guildford
6. Wantage Silver A
Dark Horse: Staines Brass