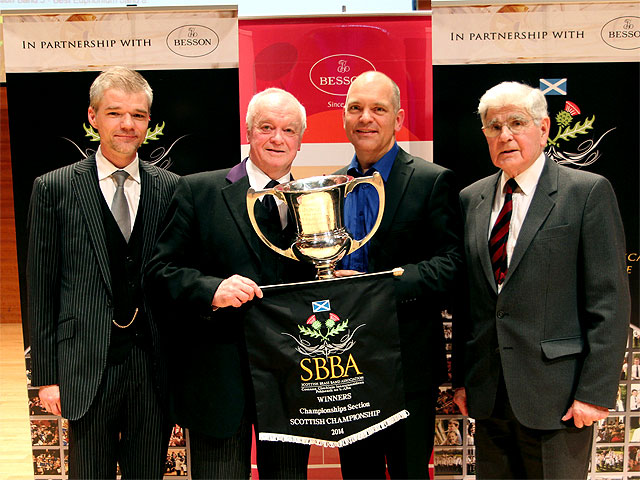 A return to stunning the opposition for Co-operative Funeralcare

With its excellent facilities and compact auditorium, the competing bands at the forthcoming European Championships in Perth should enjoy an inspirational contesting atmosphere in which to showcase their title winning aspirations.
However, after winning the Scottish Championship with such an authoritative stamp of quality, supporters of Co-operative Funeralcare will be left wonder 'what if' as they listen from the sidelines, as their band produced a stunning rendition of 'St Magnus' that on this form wouldn't be out of place amid the cream of the continent's elite talent.
Bilderberg group

This was a victory re-confirming the Co-op's ability to bridge the gap that exists between the merely 'very good' and the 'very best' - a cleft that has been broadened over the past few years by the existing members of banding world's Bilderberg group which have monopolised the top six finishes at major events - the European included.
Contesting class

At the conclusion of this intriguing contest there was little doubt that Co-op would emerge triumphant; their 21st title secured with a stark degree of comfort that emphasised their contesting class over well beaten rivals, and elicited the remark from adjudicator David Read MBE that it would in his opinion, have comfortably figured in the top four at Yorkshire: He wasn't wrong.
Dr Nicholas Childs elicited a finely crafted, deliberately measured performance that seemed to give his players extra time and space in which to shine: The ensemble work in the faster sections was sparkling, whilst the soloists displayed security as well as artistry.
It was also the Co-op displaying the type of contesting ruthlessness that was once their norm.
Ice cold

Nowadays it surfaces less often, but the ability to drip feed ice cold adrenaline through stage veins is never quite lost: It was a chilling reminder to the rest of Scottish banding that deep within their competitive psyche there remains a deep seated desire to dominate.
They were a class part here; a band showing their credentials to make further marks of distinction in Birmingham, London and even Freiburg.
Sloppy form

Whitburn is currently looking towards a much closer European horizon: However, on the sloppy form shown in defence of their title they will have to perform considerably better if they are to make any sort of mark on the judge's consciousness back here in a few weeks time.
This was a performance that could have been scored by Robert Louis Stevenson – a 'Jekyll and Hyde' rendition that flirted with error and even disaster far too often in its first third to be able to make up the acres of lost ground on their rival.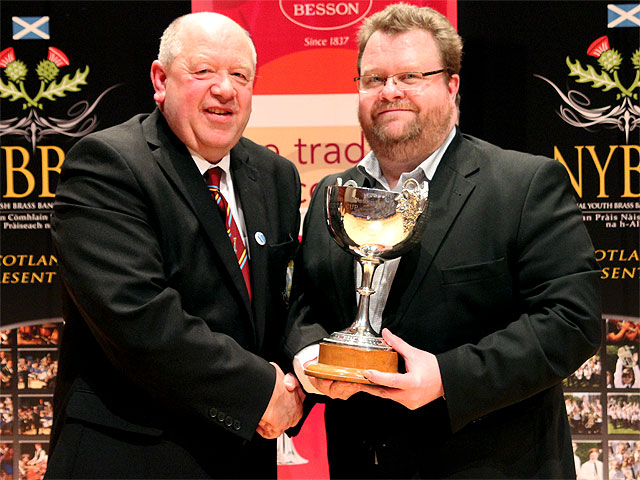 Squeezing through for Whitburn

Frustrating

At its best it was wonderfully, elegantly composed - but at its worst, it bloodied its knuckles on the stage floor: No wonder MD Ian Porthouse wore a look of tempered exasperation as he left the stage.
Never mind the elite of Europe in May: Whitburn will do well to beat the best in the Grand Shield if they can't rid themselves of the frustrating propensity to every now and again quaff a draft of contesting cyanide as they did here.
It also meant that their supporters were left to fidget uncomfortably in their seats for well over 20 minutes, with a 'what if' conundrum on their minds, as David Read and Michael Dodd pondered their fate following Dalmellington's inspired bit of musical sci-fi; playing out of their collective skins under Richard Evans.
Tragedy

It was as if the great man was determined to lead the band in a performance that personally made up for the one great musical tragedy in their close history together; a return to the Albert Hall, 36 years after fate so cruelly denied the pair an appearance there after winning this title in 1978.
That it eventually missed out was of little consequence in the greater scheme of things, as the result closed a chapter but not the book on the memories of all those years ago.
Joy

The sheer joy and deep seated emotion the MD brought out of the score (which had precision and vibrancy from start to finish) will live long in the collective consciousness of everyone involved: They were a hairsbreadth away from that long overdue trip to Kensington.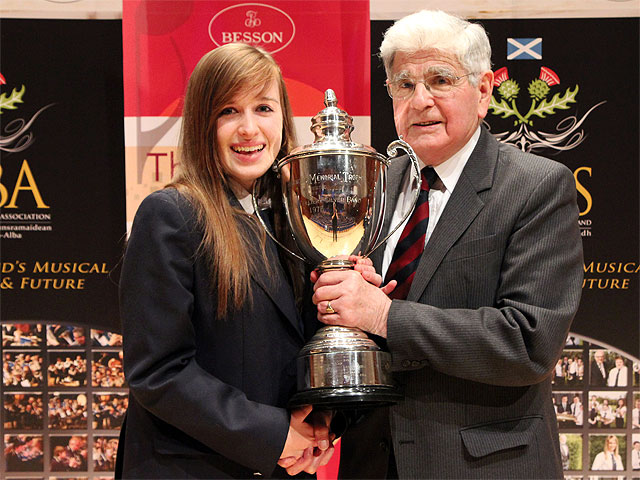 Dalmellington come third...

Jekyll and Hyde

Behind the top three the contest also unfolded in a slightly 'Jekyll and Hyde' way itself: The trio of pre-contest favourites for a podium finish in Kirkintilloch, Kingdom Brass and Newtongrange producing uneven, and at times, over robust performances that failed to find appeal in the box, although they had plenty of support in the hall.
It allowed Clackmannan's intelligently led account (which featured some wonderful sop and cornet work) under Paul McKelvie to sneak into fourth place, with Kirkintilloch Kelvin Brass claiming fifth, to beat their older sibling for the first time ever at the Scottish Championship.
Lochgelly and Johnstone will know just how difficult 'St Magnus' is after their brave accounts finished in eighth and tenth respectively.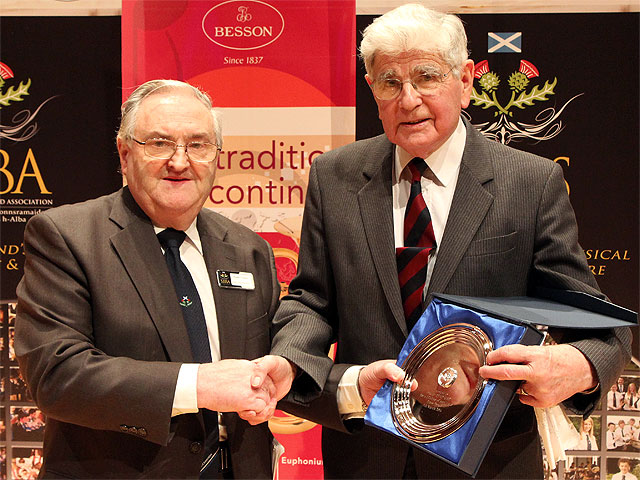 Grateful thanks: David Read MBE is thanked by Peter Fraser of SBBA

Good and bad
Each had their moments good and bad so to speak: Neil Philip of Kingdom Brass showing his lyrical quality to take the 'Best Euphonium' prize against stern opposition - although the other individual awards were swept up in the tsunami of Co-operative Funeralcare brilliance.
Repeat dosage

If there were any European scouts on a spying mission in the audience in Perth, then they certainly left knowing that if their bands are to prosper in the lively acoustic of this hall, they will have to temper dynamic excesses and any sense of overt aggression if they are to produce a performance that had the overall quality shown by Co-operative Funeralcare.
They in turn will know that any repeat dosage come the British Open, National Finals and Freiburg in 2015, and they could well be celebrating even more memorable title successes.
Gordon Simpson