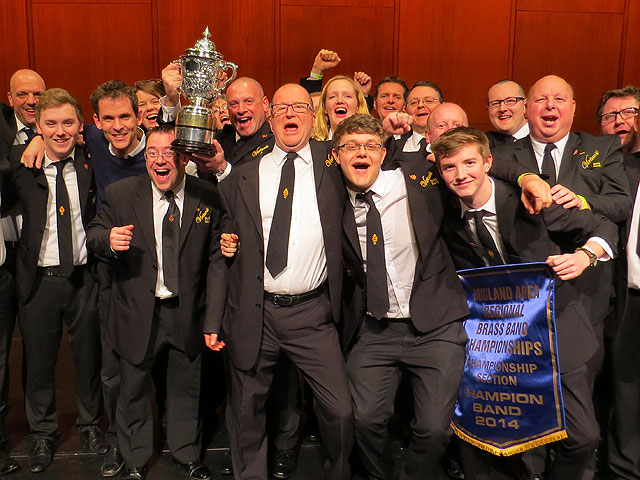 A very different impression for Area champion Virtuosi GUS

As melodramatic as it might sound, occasionally there comes a moment in a talented conductor's career that can singularly formative; a performance in which aspiration and study are distilled into a concentrated snapshot of inspired musical interpretation.

And in contesting terms at least, that could well have occurred for Adam Cooke at Bedworth, as he steered Virtuosi GUS to their first Midland Area title since 2011.

In doing so he certainly laid to rest any lingering doubts that surrounded his band's lack lustre title defence at Butlins.

Profound

In comparison to their Skegness set work performance, their excellent rendition of Kenneth Downie's 'St. Magnus' could hardly have created a more profoundly differing impression; permeated throughout with a classy aura of substance from the beautifully enunciated sounds of the opening stanza to the glorious full throated final chord.
With adjudicators Brett Baker and David Horsfield commenting on the number of bands unable to produce a clean or even tuneful mezzo piano opening, the sweetly intoned statement by Martin Britt and James Fountain set the standard for an account that brimmed with drama and detail.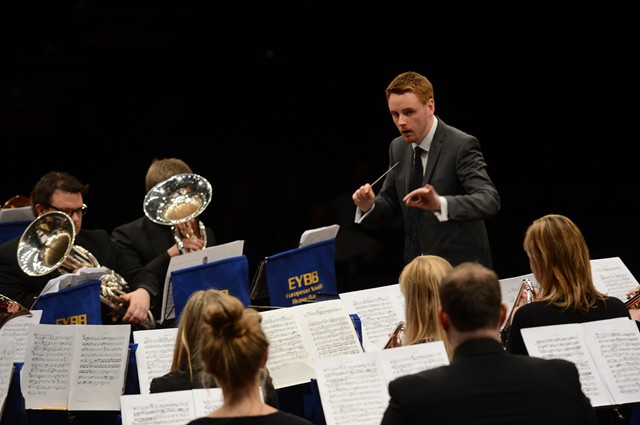 From Euros via Butlins to Area triumph for Adam Cooke

Top class

Further top class individual contributions from the likes of Andy Hicks on euphonium, saw Virtuosi GUS emerge as the only band to comprehensively master the detail of the faster variations with pristine precision and transparency.
Finding subtle nuances of colour and texture in the finely shaped slower variations, Adam Cooke's intuitive control of pacing and appreciation of cumulative impact ensured this was one of the most emphatic Championship Section winning performances heard at the Area for some time.
Symbiotic

On this form, this maturing symbiotic partnership will be one to watch during the coming contesting year.

Joining Virtuosi GUS in London will be a forthright, if occasionally scruffy Desford, who made sure their Bedworth return following an Area sabbatical, was worth the wait.
Usual debate

Although prompting the usual debate amongst the audience as to who might figure within its ranks, Russell Gray directed a performance that veered from brilliance to untidiness - all with the ultimate sense of the almost perennial Desford frustration: Close to something special, but not quite.
However, it was still one of those occasions when you were left with a wry smile at their almost nonchalant desire to do things their own way.
Hard graft

For third placed Derwent Brass under Keith Leonard, their quietly hard grafted rise up the rankings in recent years has gone almost unnoticed; yet their best ever finish in Bedworth might just change that.

Blessed with an engaging sense of pioneering spirit, Derwent's 'St. Magnus' seemed to mirror their overall musical aspirations: It was a bit 'seat of the pants' at times as they admirably threw caution to the wind.

Although occasionally wayward in precision, the sheer commitment of the players to Keith Leonard's impressive grasp of the score's architecture stood out.

However, perhaps crucially for the judges was the warmth of emotion that was palpable in the slower sections, shaped with fluidity and abundant colour.

Flawless it wasn't, but for sheer guts, it was a performance that couldn't be faulted.

Contrast

In contrast, fourth placed Spal Automotive Sovereign, with David Maplestone directing an adrenalin-fuelled account, compensated for what they lacked in accuracy with extreme excitement and drama.
There were times when it threatened to run out of control, but at its best, proved to be a clear reminder of Sovereign starting to return to its very best form.
For a band that has been through its fair share of difficulties, but with former Foden's stalwart Phil Green re-installed in the bass section, Sovereign will be hoping that this encouraging result signals better times ahead.

Energy and drama

Thoresby Colliery last qualified for London in 2011, but never quite felt as if they would be returning in 2014 after a 'St. Magnus' that shared Sovereign's feel for energy and drama, yet was too often lacking in precision under Brian Grant.
Meanwhile, Newstead produced an account that never quite fulfilled its obvious promise, despite featuring a fine solo euphonium and some beautifully turned phrases under Duncan Beckley. A nervous start and ensemble inconsistency proved fatal for their chances for an Albert Hall return.
Daunting

With 'St. Magnus' presenting a daunting challenge to newly promoted contenders, Foresters Brass 2000 conducted intelligently by Peter Collins can take great heart from a performance that although a touch panic stricken at times, was marked by glowing colours, confident solo contributions and a cool head in the middle.

That left Jackfield (Elcock Reisen) and Championship Section rookies Hathern to prop up the field.

Neither band was really able to cope with the extreme rigours of such a demanding work (despite the excellent direction of their MDs), although it would be only the coldest of hearts that didn't feel for Hathern, whose ultimately unsuccessful battle with Kenneth Downie's music was undertaken with such brio from the number one draw.

Talking point

With the destination of the Midlands Regional Trophy in little doubt following the formidable quality shown by Virtuosi GUS, the other main talking point of an engaging, if inconsistent contest came with the news that defending champion Jaguar Land Rover had eventually finished a lowly ninth.
Directed with focussed purpose by Dave Lea, the glory of victory in 2013 and two consecutive appearances at the Albert Hall must have felt like a lifetime ago, as they delivered a performance that although admirable in structure, malleability and colour, was prone to a growing error count in the faster variations.

Ninth was certainly harsh though, even if the players and their admirable MD will have known they had perhaps left a performance worthy of their reigning champion status in the bandroom.
Not a problem

That will not now be a problem faced by Virtuosi GUS, as with the cheers of supporters and joyful players still ringing around the Civic Hall, Adam Cooke stood modestly back and soaked up the atmosphere; a beaming smile the only sign of deserved self satisfaction that could be detected on his face.
One suspects that his rapidly developing bond with this most famous of bands has considerably more competitive fruit to bear in the not too distant future.

Christopher Thomas