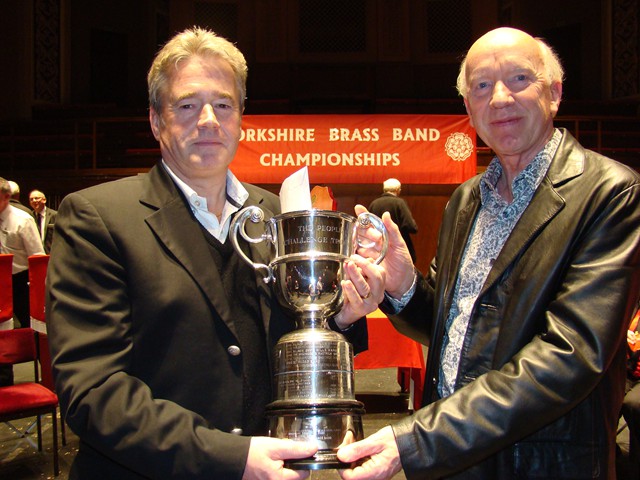 Wry smile of success for Paul Beaumont with composer Kenneth Downie

The wry smile of satisfaction that appeared on the face of Brighouse & Rastrick Band President Paul Beaumont when he turned towards the press cameras at St George's Hall told you everything you needed to know.
It hid the unspoken message of victory to beaten rivals: Undisputed Yorkshire champion.
Heavyweight champ

And with the People Challenge Cup to be prominently displayed in the trophy cabinet of the West Riding bandroom for the rest of 2014, it will also mean no one will be left in any doubt of just how important it is to be seen to be the heavyweight title holder of the most famous banding area in the world.
Those lucky enough to have had a ringside seat on Sunday night in Bradford will long remember this intoxicating battle for regional supremacy; where to be merely brilliant simply wasn't good enough.
Clear cut

Brighouse didn't quite land a comprehensive knockout blow over their rivals, even though, according to the judges, it was a clear cut triumph on 'St Magnus'.
That was because the 'out of this world' verdict of David Read MBE and Stephen Roberts on the playing on show applied not just to the winners; but also to the other three bands that eventually ended up beaten but unbowed in their challenge - Grimethorpe, Carlton Main and Black Dyke.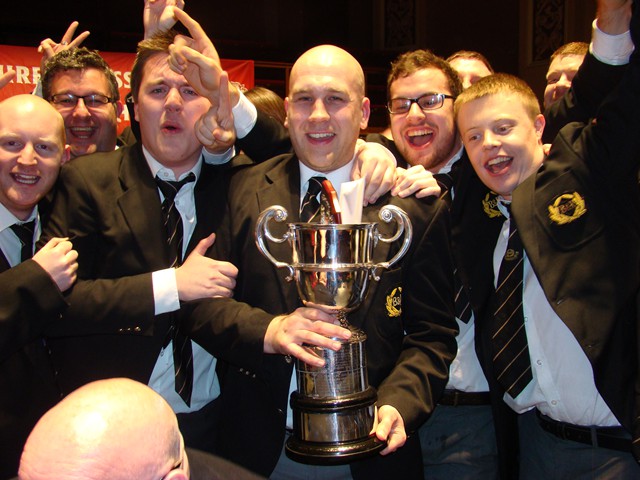 Out of this world for Brighouse...

Stratospheric playing

In fact, there was some pretty stratospheric playing on display from start to finish - with Rothwell Temperance stoking up the excitable atmosphere in the old hall with a ferocious opening round assault that left the audience catching its collective breath at its conclusion.
It is hard to think that there will be too many better non-qualifying performances around the country in the next two weeks.
Even the usually rock solid Hepworth was left reeling by the lingering sniff of high octane Rothwell adrenaline that still permeated the air. They were never able to recover their usual poise after wobbling from their opening bell to finish rather forlornly in 10th place.
Sniffing blood

Eager punters sniffed blood; especially after Black Dyke swaggered onto the stage to deliver a southpaw strategy that at times left musical orthodoxy in its wake: It was very much their own take on the Queensbury rules.
The playing was precise, detailed and sparkling - although it was a very particular bit of ring craft inspired by an MD who exhorted his players to almost pummel their rivals into submission.
It eventually finished fourth - the polished veneer not quite thick enough to hide the real workings of its internal preparation from the judges.
With Hammonds Saltaire displaying its growing heavyweight poundage to end a fine seventh, the increasingly rabid audience burst into sweaty acclaim with the arrival of Brighouse & Rastrick; their Australian MD casually dipping through the ropes to take his place centre stage.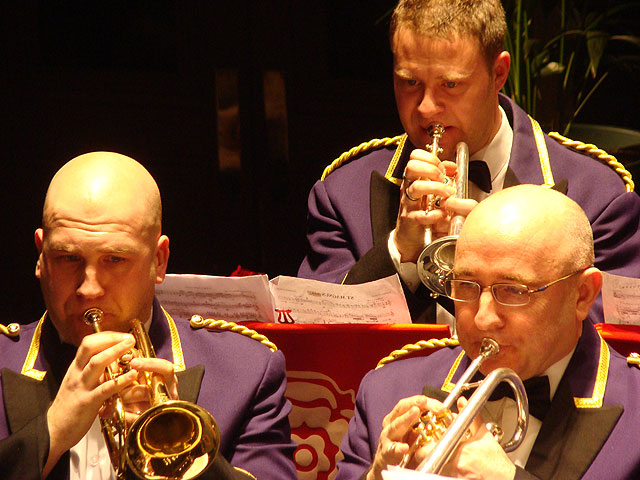 Shadow boxers... Messers Bannister, Lingard and Webster

Boxing feint

The high stakes risk of a shadow boxing feint came immediately: the top two cornets playing the opening stanza as the sop lifted his instrument to his lips like Marcel Marceau in purple and gold.
From then on David King took the scalpel to the hopes of rivals; expertly slicing up Dyke's hopes of victory with perfectly ranged counter punches.

The opening variations were played with refinement rather than raw energy (Stuart Lingard on prize winning principal cornet form), the power held back for a final round flourish that sparkled with intensity and drive.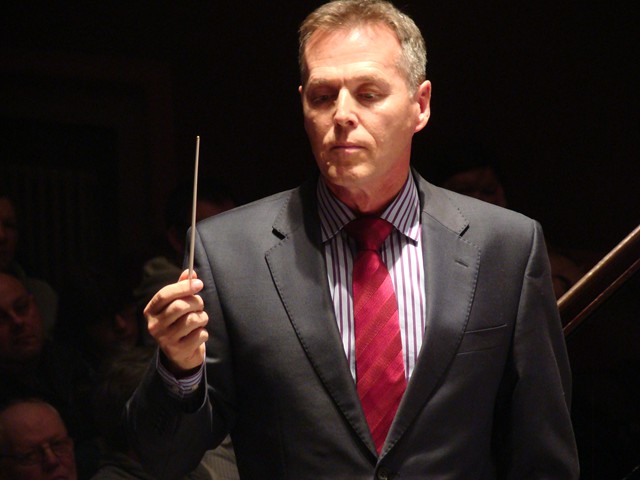 Is this a razor sharp scalpel I see before me...?

Clever and cultured

It was clever, cultured and downright commanding, although not without error and a little uncertainty. However, it was a performance from a heavyweight champion with a razor sharp strategist in its corner; the MD directing contest winning commands into the psyche of his players through the sheer force of his magnetic personality and diamond edged baton.
With the exception of a bold as brass, punchers-chance effort of great courage, skill and passion from an inspired Marsden, the audience sat back to ponder a series of inconsistent undercard bouts.
Pounding

Unite the Union and Yorkshire Imperial delivered hard working accounts that showed their conditioning process for top flight battles had been undertaken with good sense and an appreciation of strengths as well as weaknesses.
Meanwhile, Skelmanthorpe, Hebden Bridge and Drighlington found that 'St Magnus' could be a cruel musical opponent with a cold-blooded eye for quickly pounding inherent weaknesses in conductor's pre-contest strategy and player's on stage approach into comatose submission.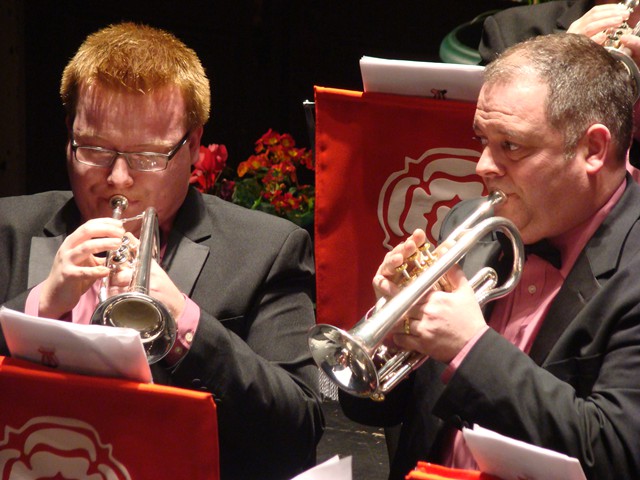 Almost a Rumble in the Jungle moment for Grimethorpe

Comeback

As the contest meandered momentarily, back stage the remaining heavyweight challengers prepared for battle - with Grimethorpe entering the stage to the type of reception favoured fighters get at Madison Square Garden.
By its close Dr Robert Childs had very nearly pulled off the greatest comeback coup since Mohammed Ali won back the heavyweight title at the age of 32 - aided by two brilliant prize winning cornermen in Michael Dodd and Kevin Crockford.
This was Grimey very nearly conditioned back to its best; the clean edged jabs of detail gaining increasing clarity, whilst the power laden hooks of ensemble sound and balance building in ferocity and stamina.
Occasional moments of misplaced endeavour and rusty technique just undermined their chances of a first title success since 2006, but on this increasingly momentum led form, they may have their mitts on other championship baubles by the end of the year.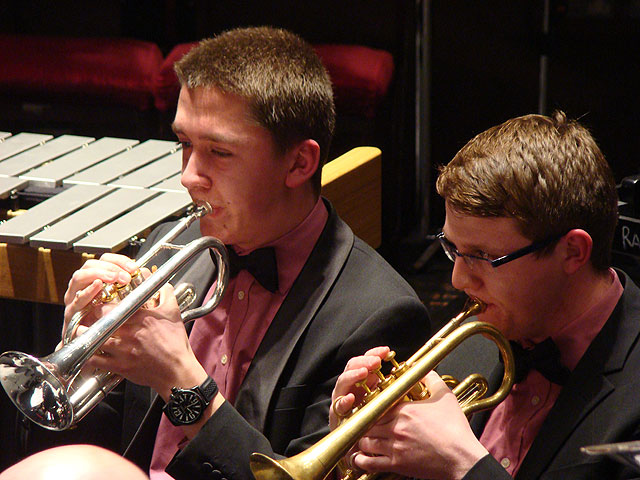 Time at hand...

Nothing brutal

Rather fittingly the last contender to enter the seething and somewhat raucous auditorium (there is no better banding atmosphere) was reigning champion Carlton Main - who produced the most refined defence of their title you could imagine.
This was nothing brutal, bombastic or down-right nasty about the way Phillip McCann's band went about its business: The way in which the MD expertly made things artistically pleasing on the ear was a masterclass in contest preparation and approach -the middle rounds of 'St Magnus' lyricism, sublimely delivered.

No bloodied nose

If it had a weakness, then it was that it just lacked that killer edge of cold blooded intensity - the snap back, head jerking moment when a band shows the punter that they have completely mastered their opponent.
For all the sublime beauty, it was as if the MD just didn't have the musical heart to sully the music with an ugly bloodied nose.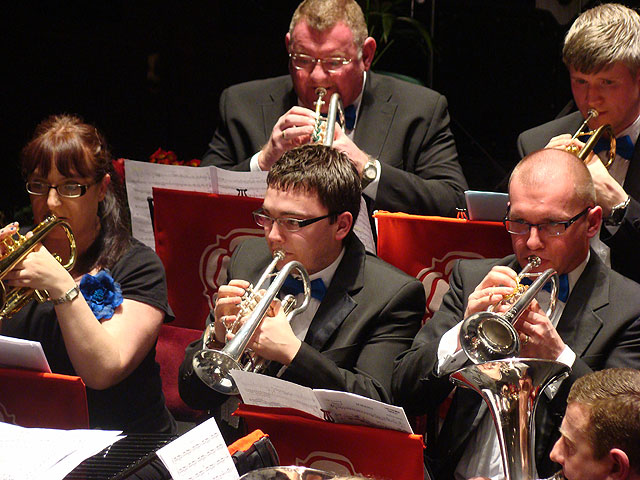 Not a single bloodied nose for Carlton Main

Prizes

With the judges taking their time over their score cards before eventually telling well satisfied punters that they certainly couldn't complain about not having their money's worth, the prizes were awarded.
A deserving Marsden claimed sixth, whilst an unfortunate Rothwell had to make do with fifth.
Blac k Dyke's single minded unorthodoxy saw them do enough to hed to the Albert Hall final eliminator in fourth, before the podium prizes went to Carlton Main's cultured sparring and Grimethorpe's increasingly well conditioned contest pugilism.
British Open

All that was left was for Brighouse & Rastrick's President to accept the plaudits.
And as he quietly raised the silver Yorkshire Regional Championship Trophy on high, he paid tribute to his 'genius' of an Australian trainer (who became the first recipient of the Dr Roy Newsome award as winning conductor) and revealed that he was already making plans on how he can now help his band claim their first British Open title since 1978.
If he does that then Paul Beaumont's wry smile of satisfaction may turn into something else all together.
Iwan Fox