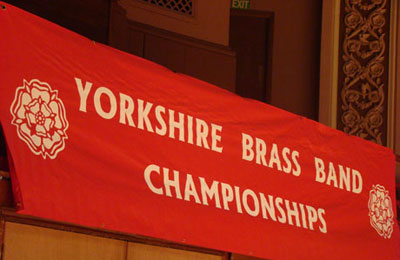 Seconds out...

The bell for the first round of the 2014 Regional Championships will sound at the stroke of 10.30am on Saturday morning at St George's Hall.
From that moment on its seconds out as the slugfest to land a knock-out punch and claim a place in the Championship bouts of Cheltenham and London begins in earnest.
Even old Harry Carpenter would drool at the mouth at the prospect of the Yorkshire version of the Klitschko brothers knocking musical lumps out each other as Robert and Nicholas Childs lead Grimethorpe and Black Dyke onto the stage on Sunday night.
Forget the 'Thriller in Manila' - this could be the 'Battle of Bradford'.
However, before that main event there is plenty to enjoy on the Yorkshire Championships undercard, with strong looking line ups in each of the weight divisions.
---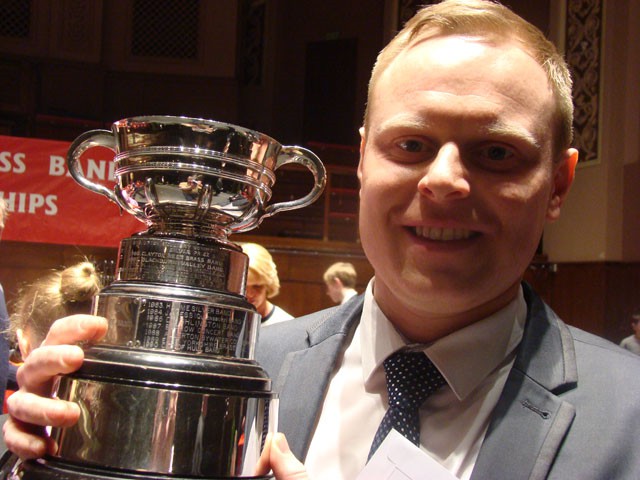 2013 Champion: Barnsley Metropolitan

Fourth Section:
Sunday 2nd March
Draw: 11.30am
Start: 1.00pm
Adjudicators: Anne Crookston & Alan Morrison
Nine rivals compete in the Fourth Section on Sunday afternoon, keen to see if they have been able to overcome the tricky problems posed by Alan Fernie's enjoyable set work, 'Three Spanish Impressions'.
Interested listeners will also be keen to hear whether or not the multitude of printing errors have been eradicated too - after the publishers allowed a pretty shoddy bit of work to be sent to the competitors.
Anne Crookston and Alan Morrison may have to allow a little leeway then if there are a few Iberian gremlins still lurking about in the score, although there are still plenty of technical as well as musical challenges to overcome in the trio of contrasting movements.
The 'Impressions' themselves are all about style, colour and texture - each a little masterclass of compact construction; from the slowly brooding opening to the delicate waltz, with its echoes of touching romance, and the snappy fandango finale - all flouncy dresses and swaggering machismo.
Who will win?
A difficult one to call, but Maltby Miners was a bit unlucky at Butlins, so we are opting for them to claim the honours ahead of Clifton & Lightcliffe B and Gawthorpe '85.
The other top six places could well be filled by Thurcroft Welfare, Deepcar and Oughtibridge with our dark horse of Rockingham.
4BR Prediction:
1. Maltby Miners
2. Clifton & Lightcliffe B
3. Gawthorpe '85
4. Thurcroft Welfare
5. Deepcar
6. Oughtibridge
Dark Horse: Rockingham
---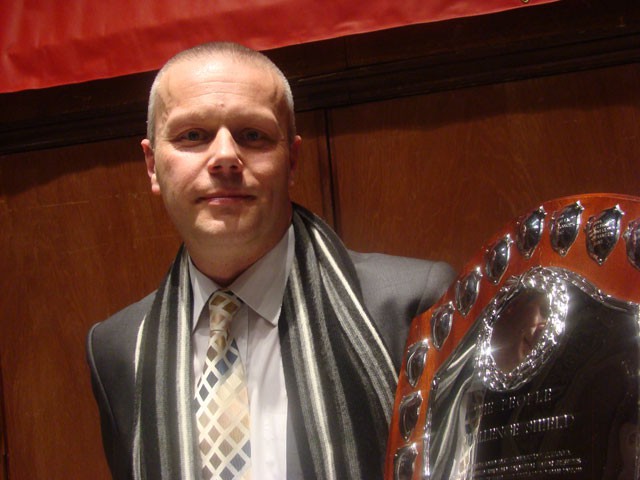 2013 Champion: Dronfield CMW

Third Section:
Saturday 1st March
Draw: 9.00am
Start: 10.30am
Adjudicators: Stan Lippeatt & Alan Morrison
The 11 Third Section competitors also have a work full of character to master early on Saturday morning, with Philip Wilby's evocatively detailed 'Partita - Postcards from Home'.
It's also a superbly constructed work, full of affection and nostalgia – although tempered with challenging up to date rhythmic passages and lyrical expression; from the imposing 'Towers & Chimneys' and fleet footed 'Lord of the Dance', to the lilting beauty of 'Sunday Afternoon' and the breezily patriotic 'Coronation Day' finale.
Who will win?
Much then for Stan Lippeatt and Alan Morrison to ponder - and it could well turn into a bit of a three-way battle between the likes of Slaithwaite, Dinnington Colliery and Lofthouse 2000 for the podium spots.
Worsbrough Brass, Linthwaite and Barnsley Metropolitan could well be snapping at their heels with our dark horse Garforth.
4BR Prediction:
1. Slaithwaite
2. Dinnington Colliery
3. Lofthouse 2000
4. Worsbrough Brass
5. Linthwaite
6. Barnsley Metropolitan
Dark Horse: Garforth
---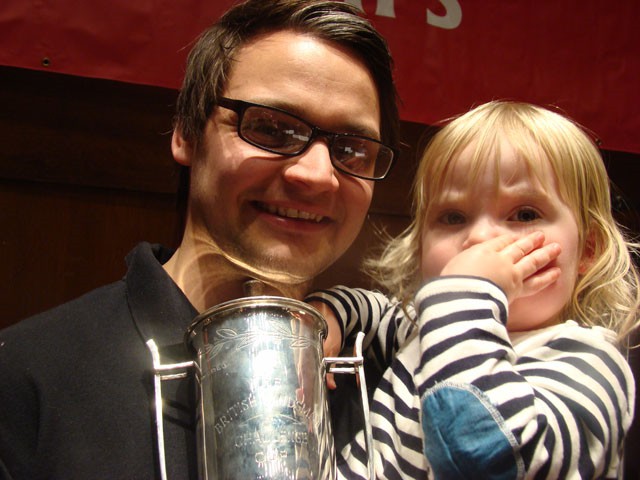 2013 Champion: Cornerstone Brass

Second Section:
Sunday 2nd March
Draw: 8.00am
Start: 9.00am
Adjudicators: David Horsfield & Dennis Wilby
David Horsfield and Dennis Wilby will have to recall school day memories of a classic piece of English literature in the Second Section, as 11 bands tackle Michael Ball's colourful 'Chaucer's Tunes' - a later version of an original work written for wind band.
Whether the MDs have been inspired to read Geoffrey Chaucer's 'Canterbury Tales' as a result of each of the four movements is another matter, although they should have certainly gained a better insight into some of the characters that are so cleverly brought to life.
The bouncy dislocated rhythms of the opening 'Intrada' lead into the simple beauty of the hymnal 'Alma Redemption Mater', before the troubling, but witty tale of promised fidelity in the 'Wife of Bath' segues into the bold splendour of the Christmas carol, 'Es ist ein' Ros' entsprungen'.
Who will win?
Another difficult one to call as there are a number of contenders here more than capable of making it through to Cheltenham.
We've gone for a strong looking trio of Elland Silver, Dronfield Genquip and Kippax as the bands to fill the podium slots, with Old Silkstone, Dodworth Colliery and Knottingley close behind. Our dark horse is Horbury Victoria.
4BR Prediction:
1. Elland Silver
2. Dronfield Genquip
3. Kippax
4. Old Silkstone
5. Dodworth Colliery
6. Knottingley Silver
Dark Horse: Horbury Victoria
---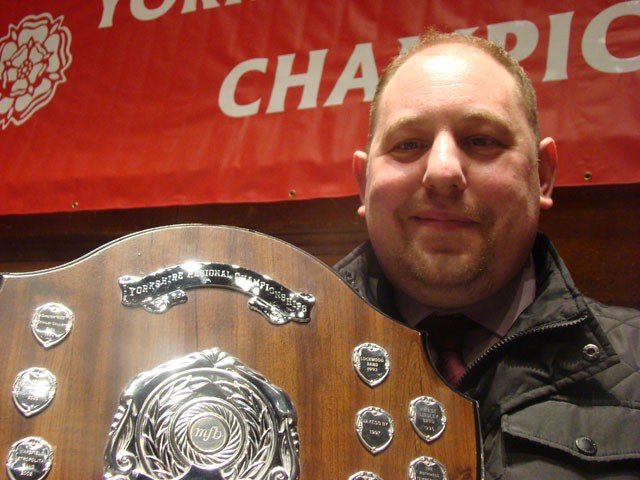 2013 Champion: Hebden Bridge

First Section:
Saturday 1st March
Draw: 1.15pm
Start: 2.45pm
Adjudicators: David Read MBE & Mike Kilroy
Howard Lorriman's 'Cry of the Mountain' hasn't really captured the imagination of the competing First Section bands round the country - although it could well be a piece that gains increasing respect from conductors and players alike the closer they come to putting on the musical crampons on contest day.
For bands with the ambition to eventually try and conquer the Everest-like challenges of 'St Magnus', its represents more of a demanding trek up Ben Nevis, although those who under estimate the severity of each of its four movements could well be crying out for Mountain Rescue well before they reach the summit.
There are enough nods of appreciation to musical Alpine inspiration throughout; from the opening 'Awakening' and craggy 'Snow, Ice & Glaciers', to the panoramic views of 'Vistas & Distant Peaks' and the frightening instability of the final 'Avalanche'.
Who will win?
This really is a piece that is well within the grasp of these twelve well matched contenders - so David Read MBE and Mike Kilroy should be able to ponder more esoteric considerations than mere brass band basics.
The likes of City of Bradford, Cornerstone Brass, Strata Brass and South Yorkshire Police may be the short priced bookies favourites to battle for the two qualification spots on offer, but the experience of Norman Law at Meltham & Meltham Mills, Kevin Wadsworth at Stannington and Stan Lippeatt at Hatfield may just see them lead a last gasp assault on the summit.
4BR Prediction:
1. City of Bradford
2. Cornerstone Brass
3. Strata Brass
4. South Yorkshire Police
5. Meltham & Meltham Mills
6. Stannington
Dark Horse: Hatfield
---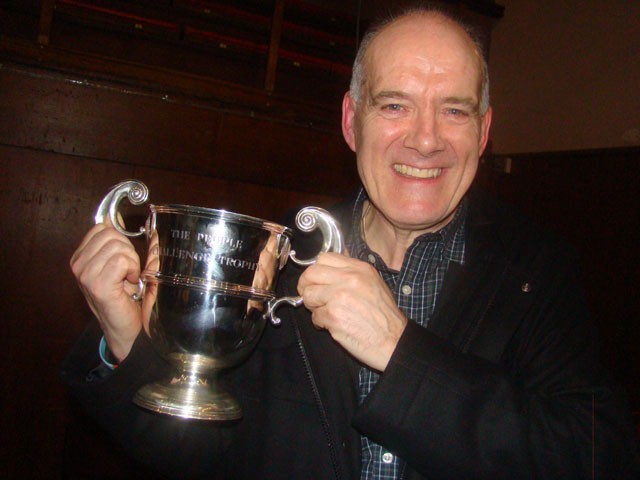 2013 Champion: Carlton Main Frickley

Championship Section:
Sunday 2nd March
Draw: 3.00pm
Start: 4.30pm
Adjudicators: David Read MBE & Stephen Roberts
With all the preliminary bouts out of the way, the weekend will be rounded off with the heavyweight challengers squaring up to each other on 'St Magnus'.
For some bands though this is like going into face Mike Tyson at his peak with a dodgy below the belt protector and ears coated in his favourite bite sized crisp flavours.
No surprise then that a few challengers may well be trying to hide the musical equivalent of a horse shoe in their gloves to assist chances of success thanks to their Sibelius inspired training regimes.
However, despite whatever help is a hand so to speak, quality and class should still win through - especially as the refs for this bout are David Read MBE and Stephen Roberts.
Who will win?
With Carlton Main and Brighouse & Rastrick already through to the final eliminator in London, there may be a little bit of pressure taken off the other bands desperate to make the weigh in at Kensington Gore come October.
That said, there will surely be no quarter given between Black Dyke and Grimethorpe to see who can claim the Yorkshire version of a Lonsdale Belt, whilst Brighouse and Carlton Main won't be showboating their way through the five rounds of saintly variations either.
Hepworth and Rothwell also enjoy their annual scrap here, whilst Marsden may just be the band to spring a doughboy surprise punch or two.

4BR Prediction:
1. Grimethorpe Colliery
2. Black Dyke
3. Brighouse & Rastrick
4. Carlton Main Frickley
5. Hepworth
6. Rothwell Temperance
Dark Horse: Marsden Silver