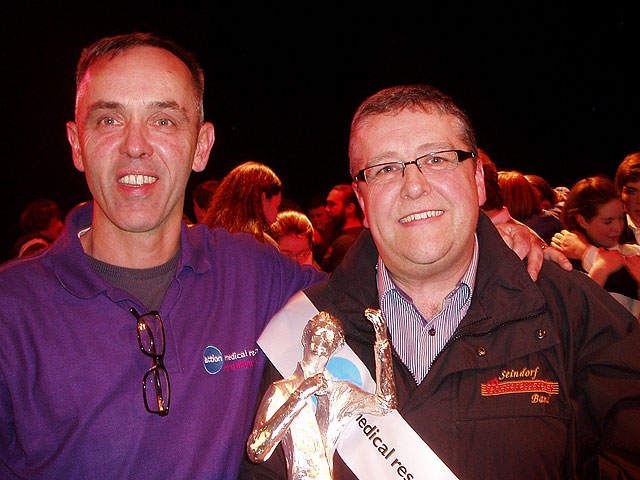 Breathless success for Seindorf Beaumaris and MD Gwyn M Evans

The Opera House stage at the Winter Gardens has played host to all sorts of superb entertainment talent over the years.
You only have to look at the 'honours' board as you walk into the main entrance to see the list of the great and good who have performed here - from Gracie Fields to the Chuckle Brothers - although you would be hard pressed to have enjoyed them as much as the competitors at the annual Action Medical Research Youth Entertainment Championship.
And this year was as good, if not better than any in the 30 year history of the event – thanks to the ever improving performances of the bands and the ever creative thinking of their MDs.
There seems to be absolutely no limit to what can be achieved here.
Superb
The overall quality of the competition was excellent – superb at the top end of the results table, where on any other day, both Elland Silver Youth and defending champion Youth Brass 2000 could have justifiably taken home the title.
Sunday, wasn't any other day though, as Welsh banding continued its contesting dominance through the emergence of a powerhouse youth band called Seindorf Beaumaris.
The North Walians are not unfamiliar with this event – winning it back in 2004, but with 85% of the current band, with an average age of just 14, not having even competed before, what they produced in claiming the title was nothing short of breathtaking.
Nobody knew
As the penultimate competitor of such a well organised day, Gwyn M Evans and his young tyros produced a fabulous display of thematic programming; underpinned by playing of a quality that left you gaping open mouthed in admiration.
The MD's 'Celtic' quartet of pieces was as good as anything that can be heard at Brass in Concert (which they will now grace later this year), with the clarity and precision of the ensemble in the opening 'The Ships of Caernarfon' and breezy 'Celtic Cocktail', leading into a tub thumping finale 'Tonnau'r Cawr' (enhanced by violin and dancing accompaniment) in the style Philip Sparke's 'Dundonnell' from 'Hymn of the Highlands'.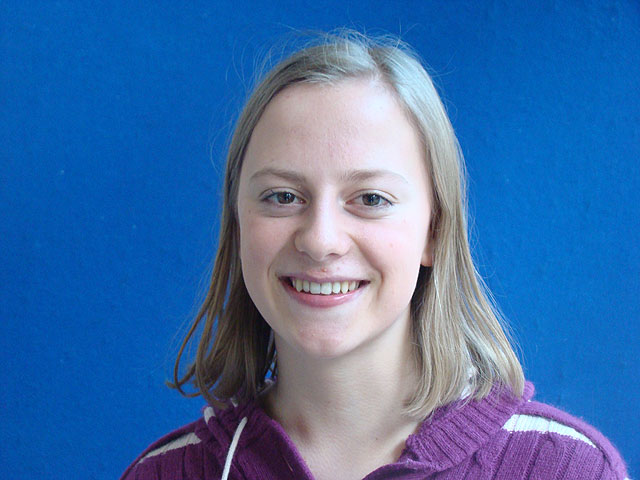 Winning Scourse: Best Soloist winner Pippa Scourse

Pocket dynamo
At its core though was a stunning rendition of 'Carnival of Venice' by principal cornet Pippa Scourse, that sparkled with such artistry that it brought people to their feet in the hall. Not surprisingly Pippa deservedly won the 'Best Soloist' Award.
The cynics who were not in Blackpool may harbour doubts as to how good an overall performance this was (the euphoniums also won their individual prize).
However, when Chris Jeans, who perhaps knows more than anyone about high class youth band standards, tells you (before the results) that it was perhaps the finest playing he has heard at an event such as this in his thirty years of experience, then that should be more than enough to shut them up.
You would be hard pressed to disagree: It was without doubt the finest ensemble playing at an entertainment youth contest that 4BR has heard - so make sure you get a copy of the souvenir DVD that will soon be on sale.
Terrific
Elland Silver Youth and Youth Brass 2000 will of course have left the Golden Mile disappointed that their outstanding efforts just fell short on this occasion, although both will have plenty to be proud about.
Samantha Harrison's former champion opted for a clever 'party' theme (acknowledging the 30 years of the contest) made up of eclectic repertoire that allowed them to let their hair down (deservedly winning the stage deportment award) as well as display their playing talents in full (gaining the 'Best Horn Section' award) to come runner-up.
From Brotherhood of Man and Bucks Fizz to the Vienna Woods, it was classy and polished.

Irish theme
Meanwhile, for defending champion Youth Brass 2000, three contest wins in four weekends in 2014, wasn't meant to be - although they gave it their all.
Their 'Irish' theme, led by the MD in green shirt and wig, bristled with energy and precision - from his own arrangement of 'Bally Castle Bay', (which took the march prize) to 'Breakout', from 'Cry of the Celts', complete with Irish dancers.
It was a wonderfully spirited title defence that also saw them gain the 'Best Soprano' award.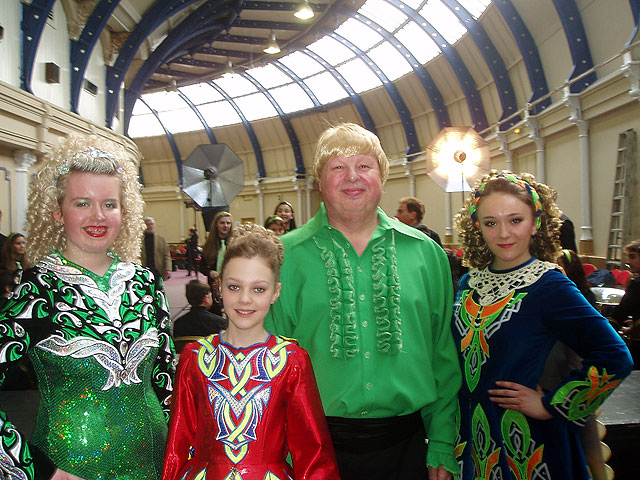 Chis O'Jeans and his brilliant Irish dancers

Colourful
Off the number 2 draw, Rochdale Borough Youth under Steve Walsh set the high marker for rivals to topple - eventually being placed third by music judge Mike Fowles and fifth by entertainment judge Colin Hardy to come fourth overall.
Their colourful trip to the Iberian Peninsula was neatly constructed and delivered - and showed that their contesting future in safe musical hands.
Holiday memories
Just behind them, Houghton Area Youth made the trip down from the North East to produce a well thought out set based on memories of Blackpool holidays past through the eyes of a retired couple.

From the Beatles to Victorian music hall and the splendid 'Best Entertainment item' 'Whitley Bay', it gave them a deserved fifth place overall.
Enderby Youth also opted to take a trip to Spain – although via Paris in a neatly thought out and delivered set under Trevor Houseman, whilst Poynton Youth cleverly mixed and matched 'Bare Necessities' to the music from the film 'Backdraft' with well played items in between.
Icons

Meanwhile, Macclesfield Youth's homage to icons from Lady Diana to Nelson Mandela via St George and Laurel and Hardy seemed to sum up the ethos of the contest to a tee - enjoyment and entertainment - and deservedly won them the 'Band with most Potential' Award.
Egglescliffe, Wardle Academy Junior (who won the 'Best Basses' Award) and Hammonds Youth Brass also showed that they are bands to watch out for in the future with well chosen repertoire that highlighted strengths without ignoring the need to work on weaknesses.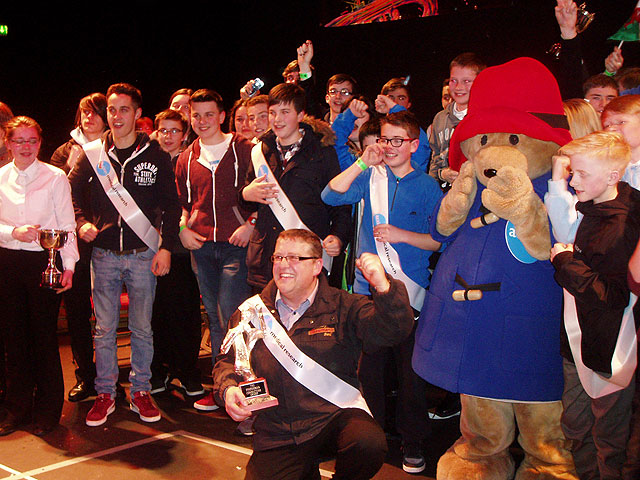 Celebrations begin for Beaumaris...

Interesting

Egglescliffe's 'Veni Immanuel', Wardle's 'Football Crazy' and Hammonds' 'Divine Mysteries' were cracking examples of excellent MDs using their experience (although they were not exactly old!) to tap into something a bit different, challenging, entertaining and interesting.

The nature of the competition meant bands had to be placed in order, but as Michael Fowles admitted at the results ceremony, those who did not win on this occasion should not have left down hearted: Their time will come.
For the moment though the time has certainly come for Seindorf Beaumaris Youth and their MD Gwyn M Evans, following a day you suspect many of the young players and those lucky enough to have been present to hear them perform, will not forget for a very long time.
Malcolm Wood