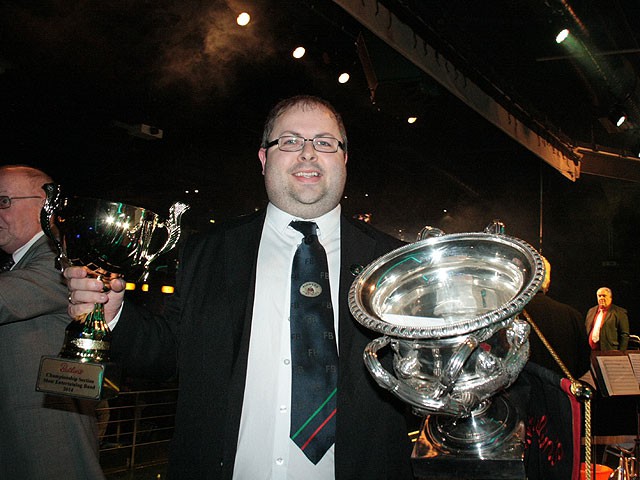 Pots of money for Flowers
You can't really measure contesting success in pounds, shillings and pence. If you could, then over the last few years Flowers would most probably be the number 1 ranked band in the world.
Since 2011 they have scooped up over thirty grand at Butlins - the latest tranche of £11,000 being deposited in their bank account after producing a brace of high class performances to claim their third Mineworkers' title in four years.
Open return

However - despite their fine record of hefty early season successes, they are yet to engineer a return to the British Open or secure a top six finish at the National Finals or Brass in Concert. In top flight banding, money alone can't buy you all you wish for.
On this form though success at the forthcoming Yeovil Entertainment contest (worth two grand) is a short priced bookies certainty, whilst the West of England Area and the Grand Shield offers the realistic prospect of considerably more cache than hard cash.
If Flowers are to be seen as serious contenders for the prizes that offer much more prestige than mere pounds, then a return to Symphony Hall or a mention off the stage at London or Gateshead will be priceless.
After this weekend they will be confident of achieving at least one or more of them this year.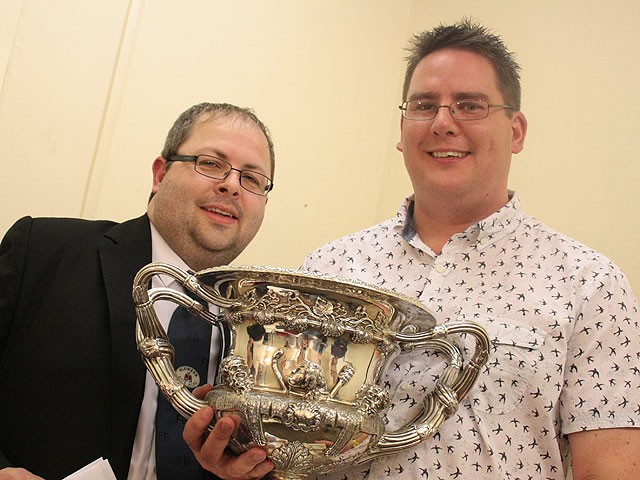 More silverware to come in 2014?

Assuredness

The assuredness of their victory spoke volumes of their continued development under MD Paul Holland. And they don't yet seem to be the finished article either.
'Energy' was given a no nonsense performance - one that bore the hallmarks of intense preparation and collective concentration.

The ensemble security (an essential element for success on the piece) was admirable; the neat solo interventions, played with delicacy; the pace increased incrementally without discernible loss of underlying momentum.
Musical essence

Alongside Desford's powerful, more symphonic approach under the impressive Tom Davoren, these were the only renditions that fully captured the intellectual musical essence of Robert Simpson's cerebral composition.
They may have been closely matched, but as a pair they were some margin ahead of the rest of the field - a fact later confirmed by the judges, Derek Broadbent and David Read, who also confessed to having been a little disappointed in the overall standard.

An impressive mass of energy from Desford

Inconsistent

That may not have been surprising given the inconsistent accounts from the fancied contenders of Virtuosi GUS and Carlton Main, although EYMS showed further evidence of their rapidly improving championship level credentials to end third, ahead of an admirably led Unite the Union and the solid duo of Woodfalls and Thoresby.
Redbridge were perhaps a little unlucky that a stylish, well paced account didn't register, but overall you could not really argue against the adjudicator's findings.

GUS in particular was left to rue an opening that stuttered in ensemble precision (and they repeated the same mistake the following day), whilst Carlton Main never sounded at ease.
Elsewhere, musical energy dissipated long before the end in renditions that lacked accelerated control, to leave the destination of the biggest pay day in banding poised between two clear leaders, with the rest playing a forlorn form of catch up.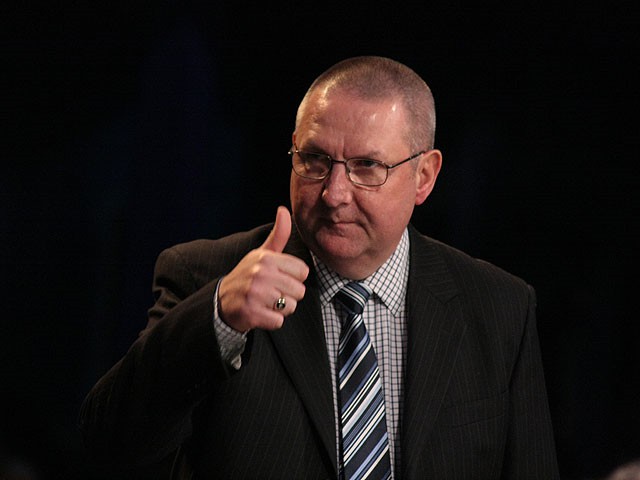 Thumbs up for Morrison and his rapidly improving EYMS

Marathon day

The following day was a marathon.
Nearly ten hours of eclectic, (just the one piece repeated) enjoyable entertainment was provided by the 14 bands - the vast majority, well thought out, prepared and executed.
The contest entertainment genre has thankfully moved on a great deal here since David Read spoke of the need to become much more musically inventive and less reliant on frothy, high energy visual pap.
Panache

His thoughts have certainly been taken on board - and whilst there were a couple of tenuous themes and mix and match programmes that didn't come off, the majority of sets were slick, well rehearsed and delivered with touches of real panache.
The overall quality of the playing wasn't Brass in Concert standard for sure - but then again it didn't need such an earnestly prepared approach, given the less detailed, much more easily understandable adjudication system employed.
Ian Porthouse and Derek Southcott had to pick the band they thought played their entertainment programme the best, whilst the separate fun and games element was chosen by Chris Dean, the lead trombonist of the Syd Lawrence Orchestra.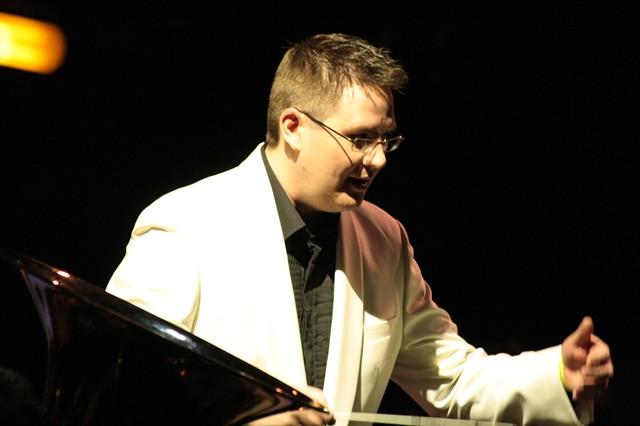 Its all in black and white in the record books for Paul Holland and Flowers

Stood out

The best bands still stood out, although Flowers rather tenuous 'Europe' theme was saved from possible UKIP intervention by the high class ensemble work and outstanding solo contributions (chief amongst them David Childs who took the 'Best Soloist' Award with a masterclass in tasteful virtuosity) that were on show throughout their set.
If there was a question mark over the programme balance (it was a surprise it won the £1,000 'Most Entertaining prize for sure) it was dispelled by the quality of the delivery. They were a most worthy champion.
Close

Desford once again pushed them close in the judge's opinion (a few others had them ahead - 4BR included) with a balanced powerhouse set that featured a stunning solo from Jonathan Pippen and clever marimba duet from Emily Cumby and Becky McCrystal.
Just a hint of untidiness in the delivery of 'O Magnum Mysterium' may have cost them on the day - although overall it was good to hear a committed, classy and (dare one say it without tempting fate), well prepared Desford on such good form again.

One little angel and one little Desford devil....

Class

Elsewhere Carlton Main and Virtuosi GUS finally showed their class despite the occasional misplaced entry and misinformed appreciation of style in sets that were based on their 2013 Brass in Concert programmes, whilst EYMS wowed with a high energy 'Americana' theme that had everything from MD Alan Morrison dressed as Colonel Sanders with red, white and blue haircut to a witty new take on the old classic euphonium solo 'Rule Britannia'.
Woodfalls once again showed their consistency with a solidly delivered 'Salute to the Gods' theme to end fifth, whilst the undoubted talking point came from Thoresby, who took us on a splendid trip into the darker recesses of the musical mind under the baton of Steve March.
Massacre

It is hard to think of any brass band entertainment piece that has engineered such a wonderfully creepy, instinctively uncomfortable and brilliantly manipulative intake of genuine apprehension from an audience than that felt (and it did send a real shiver down the spine) with Paul McGhee's crepuscular take on 'The Teddy Bear's Massacre'.
The deliberately discombobulated treatment of the famous Henry Hall tune accompanied by a 'Blair Witch' video and the appearance of a drum playing clown walking across the stage was something Alfred Hitchcock would have been proud of.
All that not a single shot of a poor teddy with its guts ripped out...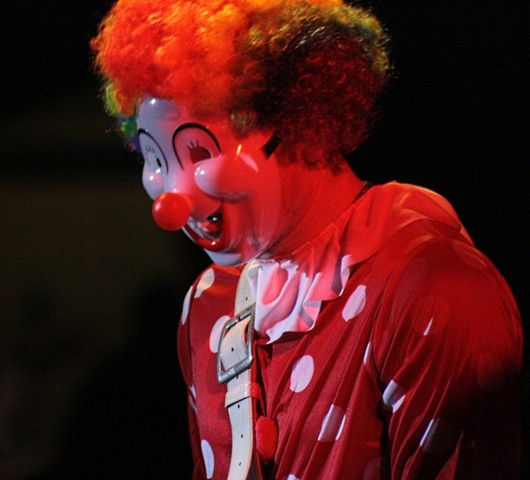 Sending a shiver down the spine with Thoresby

Much to enjoy

Elsewhere there was much to enjoy with Aveley & Newham playing with all things fire, Redbridge tickling the musical grey cells in typical Jeremy Wise fashion, East London Brass raising the red flags of revolution, Wingates going mob handed, Unite seeking God via Latin America and Wantage finding Delius mixing with Moldovan jazz.
In retrospect, Yorkshire Imps homage to Billy Butlin was perhaps a theme better celebrated by the redcoats themselves.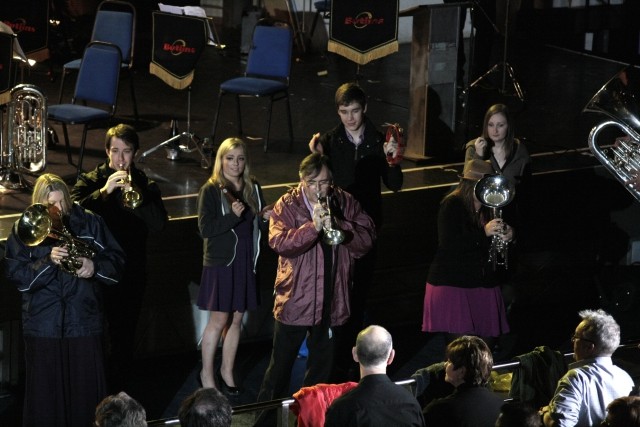 Wingates go mob handed...

Worth every penny

All the bands cleverly showcased their obvious strengths without recourse to overplaying misplaced humour, although the current trend for steamy Latin American features is starting to become tiresome. That said, the quality of the video work that many bands employed was excellent.
In the end it all amounted to an exhausting but highly enjoyable day of entertainment: Well worth every penny.
A bit like Flowers victory in fact.
Iwan Fox