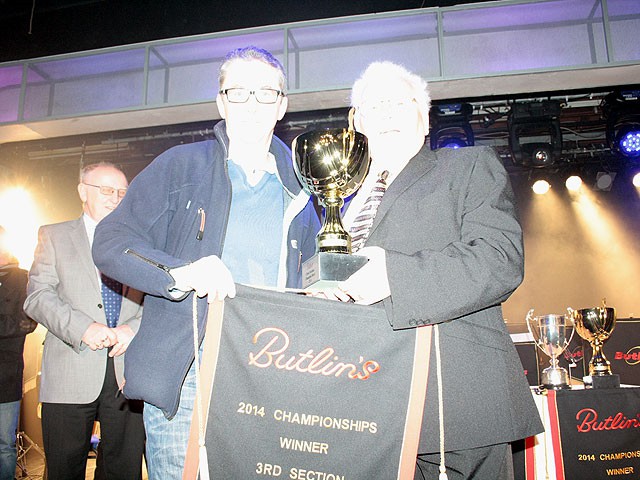 Shedding a bit of contest winning light on BMP Goodshaw!

Third Section:
The one contest that caused quite a bit of debate in the late night bars of the Skyline Resort came in the Third Section.
A host of thoroughly competent performances that benefitted from intelligent direction, solid solo contributions and balanced, tuneful ensemble, made it easy for rival supporters to come up with persuasive arguments to why their bands did or did not feature in the prizes.
Opinions

And as entertaining as those opinions were (although not helped later by the posting of some ropey old illegal recordings on the internet) the age old fact of the matter remained: There is only one opinion that really counts - that of the judges in the box.
Two experienced musicians listened to all 18 performances (and not many did that at the Royal Arthur Suite) and eventually plumbed for a solid early marker produced by BMP Europe Goodshaw.
Others may have disagreed (4BR included) - but given the overall quality had relatively small variances in consistency of execution between a broad number of contenders, it was a decision that brokered little argument.
Not rogue

Barry Thompson and Mark Walters knew what they wanted and rewarded those that gave it to them: Some bands felt hard done by - but that's contesting for you. It certainly wasn't a rogue result.
Philip Sparke's test piece, 'Music for a Festival' was an ideal choice - with all the essential ingredients for good basic brass band playing contained within a framework that expertly balanced technique and musicality.
Merit

Each of the 18 rivals left the stage after producing performances of merit - some better than others of course; but none out of their depth - and none a country mile ahead either.

The majority met the technicalities, played in tune and with ensemble balance, and tried to make the music flow with purpose. Much of the solo playing was first class.
And although others would later take issue, in reality the differences in comparing Chinnor (who we enjoyed, but ended 16th) with Hucknall & Linby (who we also liked and ended 4th) were not that vast.
There must have been a hairsbreadth between the midfield finishers.
Notable performances

The judges were certainly given five notable performances in the first seven from Hucknall & Linby, Dinnington Colliery, BMP Goodshaw, Rushden Town and Boarshurst Silver that caught their ears - and eventually filled five of the top six places.
Only Coppull & Standish, who gave a fine account as the penultimate band managed to break into the frame.
Benefit

In the end they opted for Goodshaw, who benefitted greatly from the nous of Mike Cotter at the helm as much as they did from the quality of their main soloists and compact ensemble.
Behind them John Hudson's experience enabled him to marshal an equally well structured account from Rushden, with Coppull showing their quality late in the day.
Boarshurt's bold hat-trick attempt just missed out - although not for the want of trying, whilst Dinnington wasn't too far behind either. There were prize winning arguments for and against for each of them.
Credit

Others will have left thinking they had done just enough to gain at least a mention (Dunston for us) but these were fine margins - and credit goes to each MD for being able to inspire a performance that certainly gave the men in the box something to think about.
However, in the end it was BMP Europe Goodshaw who left the lasting musical impression on their minds, and even though that meant others cursed their luck, in the opinion of the only two people that count at any brass band contest, they were worthy Butlins champions.
Dave Jack
---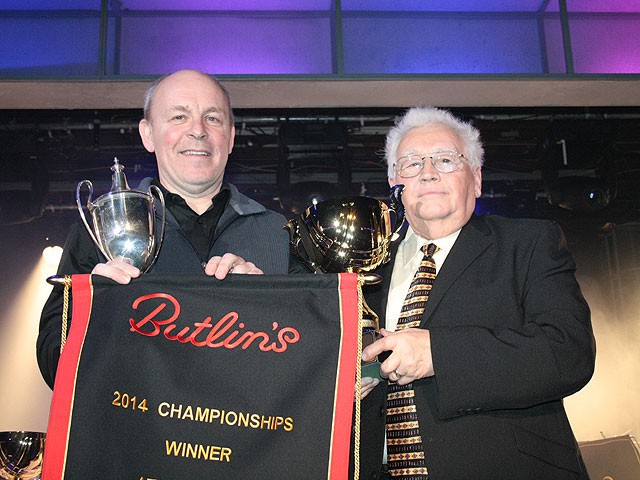 Miracle workers: Ifton claim the Butlins title

Fourth Section:
There cannot have been a more impressive title winner at Skegness all weekend than Ifton Colliery.
Directed by Wayne Ruston they took the £2,000 first prize with such a commanding performance of Goff Richards's 'Three Saints' that it wouldn't have been a surprise if their victory had been announced in Rome with the sight of white smoke billowing out of the Vatican chimney stack.
It was in a different league - one that the rest of a plucky, well led field of rivals simply could not match.
Miracles

There is yet to be a Saint called Wayne, but if Ifton's MD carries on producing musical miracles like this (the first came at Cheltenham where they came in the prizes with a third of the band missing) then the Pontiff himself may come calling.
On this form they will take some beating come the Areas in Bedworth in March.
It isn't that often a band stands so far apart at a major contest such as this, but as the judges Ian Porthouse and Alan Fernie later confirmed, Ifton produced a winning rendition that wouldn't have been out of place a couple of sections higher.
Warmly balanced, musically malleable and consistent in execution, they responded superbly to Wayne Ruston's intelligent direction. Leading lines were neatly shaped, the percussion added colour and the dynamic ensemble contrasts were coherent and contained.
The winner's cheque could have been made out to the band treasurer almost as soon as they walked off stage.
Plenty to admire

Elsewhere there was also plenty to admire with the overall quality of the communion of saintly contenders - with each band producing solidly delivered, well led performances (aided by some cracking solo contributions) on a work that was curiously more earnest than you would have imagined from someone like Goff Richards.
Each of the Saints in question seemed to be a man of rather pious inspiration.
Little to choose

There was little to choose between the prize winners - although both Pleasley and Tewkesbury may have been left wondering just how bad their musical sins were to end seventh and joint 10th respectively.
A confident, robust approach seemed to find favour in the box, with Christine Lippeatt's excellent direction and management of resources seeing her young band at Sherwood Forest Brass eventually come runner- up, with Tom Haslam drawing out a solidly portrayed triptych with Greenfield to end third.
Hearts and minds

Meanwhile, hearts and minds would surely have been elsewhere after Kevin Holdgate did a great job in leading Whitwell Brass into a well deserved fourth place.

Their popular MD Alan Needham is currently in hospital undergoing serious medical treatment, but the players did him proud and will have surely have boosted his recovery by their determined efforts.
Many of the same ingredients were on show with the coherent accounts of Banovallum and Maltby Miners, whilst just behind came a host of purposeful renditions, with many more plus points than minus ones from the likes of Royston Town and Brighton & Hove City Brass - both of which held promise for the Area battles to come.
Indulgences

Although Pleasley and Tewkesbury may have to invest in some contest indulgences from their local parish priests before the Areas after their persuasive efforts didn't quite find the favour, it was good to see a confident debutant in East Coast Brass produce a performance under Paul Speed that should provide a solid foundation for future success.
In the end though it was Ifton who took the adjudicator's blessing with more than a little to spare.
The telephone number to the Papal Palace in Rome is already on speed dial...
Iwan Fox