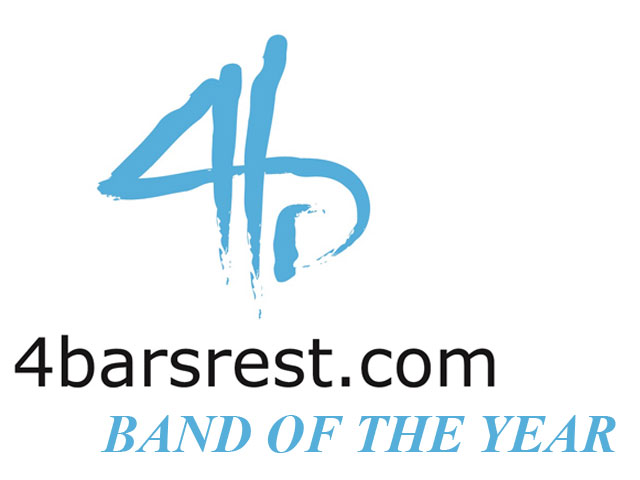 Who are the players (and conductors) who we have chosen to be part of the 2013 4BR Band of the Year?
Some great performers from all around the world have made it into our line up, but do you agree with our choices?

The criteria for inclusion in the 4BR Band of the Year is simple - it is not a question of who are simply the best players in the world, more of those who have performed at the very top of their form during the past twelve months and have made a real lasting impression on us by doing so.
We think we have made a fair selection, and although not everyone will agree with our choices (that's for sure) we believe they make a pretty formidable line up.
As always we could have made up two or three bands without any problems.
---
Conductors:
Don't think there can be any disagreement about the two conductors who have made the most startling impacts with their bands in 2013 - both in the test piece and entertainment genres.
Just have a look at the silverware they now need to polish if you don't believe us.
Philip Harper
Cory
Ian Porthouse
Tredegar
---
Cornet Section:
A year when leadership as well as pure solo showmanship was the key to success. As usual we could have picked at least three sets of cornet players without any discernible drop in overall quality, but these were the performers who really made a mark on the musical mind in the past year.
Having been lucky enough to travel the world a fair bit in 2013 we got to hear some very fine talent from other parts of the banding globe - not just the UK - so it should come as no surprise that the section will be more than a little multi lingual.
Some favourites Brits haven't made it this year - but then again, it wasn't a particularly vintage year of peerless principal cornet playing at the major UK contests. But elsewhere it was a different matter.
The playing we heard from these nine exponents was sumptuous: rock solid, confident, artistic and downright bloody brilliant.
As for the principal's chair?
This year we have gone for a player who we think could soon stand head and shoulders above the rest of his peers.
The rest of the section can be interchanged by the MDs (they are sat in alphabetical order) as they see fit. All performed wonderfully well and enhanced their reputations no end.

Principal Cornet:
Harmen Vanhoorne
Brass Band Buizingen
Kirsty Abbotts
Carlton Main Frickley
Henning Anundsen
Eikanger Bjorsvik
Vincent Bearpark
Valaisia Brass Band
Alexis Demailly
Paris Brass Band
Dewi Griffiths
Tredegar
Anne Britt Hermansen
Manger Musikklag
Tom Hutchinson
Cory
Dennis Vork
Brass Band Schoonhoven
---
Soprano Cornet:
Another year in which picking just one soprano player proved to be a very difficult - there was some stunning high wire playing on show from Butlins in Skegness to the Stravinski Auditorium in Montreux, the Australian Nationals to Brass in Concert.
However, when it came down to it, and despite some wonderful performances from players of amazing brilliance, we thought this young man made a real breakthrough and came of age.
Torstein Holmås
Eikanger Bjorsvik
---
Flugel Horn:
There was plenty of high class flugel horn playing on show in 2013 and we could justify the inclusion of a whole phalanx of exponents.
There was no glaring spotlight on the main test piece challenges, but when it did shine the best players stood out for their ability blend as well as embolden.
However, this performer was the pick of a very impressive bunch.
Zoe Hancock
Black Dyke
---
Horn Section:
Always a difficult task, as not for the first time, the horn was not put in the spotlight all that often - although when it was it asked plenty of demanding questions.
The overall quality of top flight horn playing throughout the banding world varies greatly - but the true home of the traditional brass band horn sound remains centred on the UK. The best horn players take time to master their craft over many years and these three have done just that.
As a result this outstanding trio stood out in 2013 for their combination of artistry and rock solid temperament.
Owen Farr
Cory
Sheona White
Black Dyke/Brighouse & Rastrick
Iain Fleming
Whitburn
---
Euphonium Section:
There are so many top class euphonium players around that you could fill a band with them and still have a subs bench that would make Manchester City green with envy.
Plenty of players who could more than do the job, but these two gentlemen were a class apart in the past year for us - not just for their showmanship and solo artistry, but the way in which they exhibited an insatiable appetite to explore in more ways than one just what the euphonium has to offer.
Glenn Van Looy
Freelance

Steven Mead
Freelance
---
Baritone Section:
This has given us the odd problem over the years, but not anymore, as a whole host of top line baritone players are now strutting their stuff with a brilliance born of unquestioned confidence in their own abilities.
These two very contrasting performers caught our ears in 2013 - both capable of producing stunning solo contributions but also just as impressive as section players able to offer the perfect bridge between the top and the bottom end of the band.
Regis Gobet
Brass Band Fribourg
Natsumi MacDonald
Foden's
---
Trombone Section:
So many top class performers to choose from this year. We could have picked any number of players and still had a reserve list to die for waiting in the wings.
This trio was mighty impressive though, with the ability to sparkle in the spotlight as well as put in a hard shift of section work without complaint too. Their undoubted virtuosity was a given - but there was much more to their playing than that whenever they performed that made the real lasting impression.
Chris Thomas
Cory
Bertrand Moren
Brass Band 13 Etoiles

Josiah Walters
Carnoustie & District
---
Bass Section:
Lots of top class bands now bass ends that provide the foundation stone of sound on which to create a prize winning platform.
The best sections tend to come in pairs though and in 2013 the most impressive came from the fjords for us. These lads were awesome - pumping it out like Marvel comic superheroes.

Eb Tuba:
Magnus Brandseth
Trond Helland
Eikanger Bjorsvik
Bb Tuba:
Øystein Berentsen
Nils-Arne Træland
Manger Musikklag
---
Percussion Section:
Who did we pick to provide all the fun and games at the back of the band then?
There are plenty of wonderful percussion players in just about every top band, but we needed a balance with a tip top kit man, a wizard on the tuned exotica, a team who can handle just about anything and everything and a master organiser.
Mr Sweat is the best kit man we have heard, Mr Pritchard the best tuning expert around and Mr Haukas could organise the marauding hordes of the Mongol Empire into the confined spaces of a Soho jazz club and still have time to strut his stuff without a care in the world.
And any percussion team who can organise a test piece that includes smoke bombs, light shows, ray guns and flying saucers from outer space deserves reward.
Rich Sweat
Brass Band of Central Florida
Gavin Pritchard
Tredegar
Espen Haukås
Manger Musikklag
Lionel Périat
Thomas Brahier
Julien Bendit
Simon Prongué
Ensemble de Cuivres Jurassien