Small, complex and beautiful: The view from across Lake Geneva

Small, multi lingual countries tend to have the most convoluted ways of being run.
Belgium is a perfect example - only recently sorting itself out after a four year political standstill, whilst Wales, is not so much the Land of my Fathers, as the land of more layers of impenetrable government bureaucracy than can be found in a Kafka novel.
Transparency

Both however are beacons of transparency compared to Switzerland, where, because of 500 years or more of peaceful co-habitation between its many ethnic strands, runs its multitude of democratic administrative systems with the complex precision of - well, a Swiss watch.
Unfortunately, that enviable ability to accommodate everyone's needs has meant that it rarely leads the way – invariably managing the mainstream rather heading the pack; gaining a well earned reputation for facilitating rather than forcing its brand of discreet excellence.
About to change

Over the years it has also been reflected in the understated success of its brass bands (Switzerland still awaits its first European champion, whilst the Belgians have been crowned three times and the Welsh five), although that may be about to change if the evidence of the recent National Championships in Montreux is anything to go by.
The experience of providing perhaps the best run European Championship in 2011 has given the brass band community here a collective boost of confidence that has since developed into a much more dynamic, but always admirably polite and welcoming, sense of competitiveness.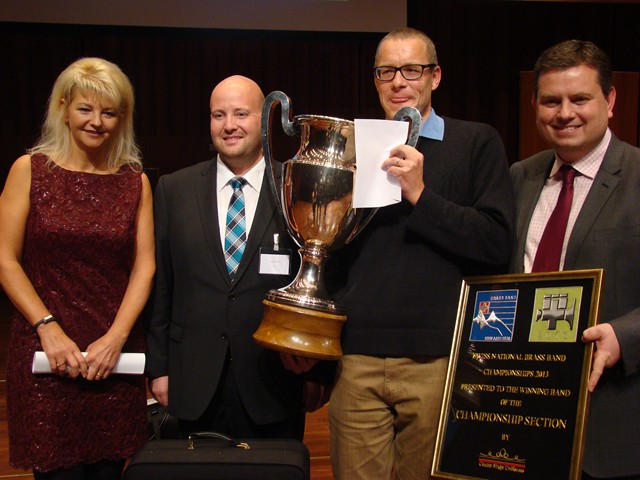 Diplomatic skills to the fore - even at the prize giving...

Come of age

The multi lingual, diplomatic skills of their outstanding President Ariane Brun (above far left) would still make Jose Manuel Barosso of the EU green with envy, whilst the slick organisation at the Montreux Convention Centre was a masterclass in urbane professionalism, but there was also an enjoyable air of brash cockiness about the whole weekend that spoke of a movement that has finally come of age.
Champing

The bands themselves are now champing at the contesting bit - especially at the highest level where they have seemingly been injected with a secret hormone mix of dynamic testosterone:

They now give it as much welly as any top flight outfit from the UK, thanks to a new found appetite for the eye popping, spine cracking mega-blockbuster own choice test pieces.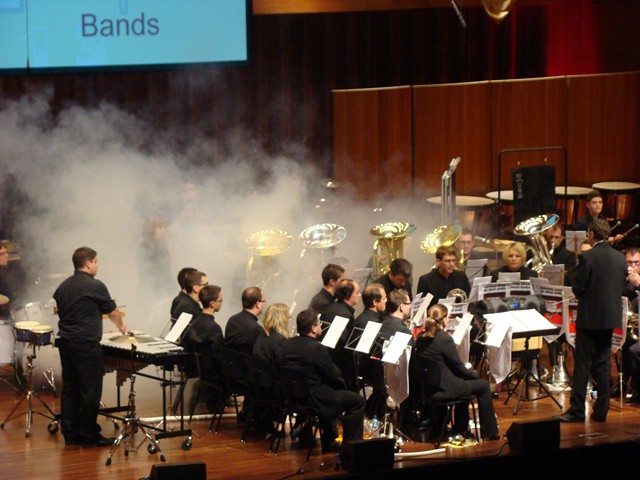 Smoke but no mirrors for When World's Collide

Mothercraft

That new found uber-confidence was summed up with the performance of Nigel Clarke's quite brilliant, 'When World's Collide' - complete with smoke, ray guns and even flying saucers; a piece of musical theatre that just a few years ago a reticent band (and banding public) would have totally shied away from.
When the last note rang out, the audience was already standing in the aisles clapping madly as if trying to summon the ET mothercraft to land.

And if they can't find one they like, they now get them written specially for themselves.

Looking for the mothership - the audience enjoyed themselves all weekend

Kaleidoscopic

On 4BR's last visit in 2010, the top bands appeared to find difficulty getting to grips with 'From Ancient Times' or 'Music of the Spheres' - but no longer:

Now, 100 years after 'The Rite of Spring' was written just around the corner in Clarens, they are coming up with their own epics in 4D Bonkerama widescreen glory - such as the kaleidoscopic 'Arabesque' by Ludovic Neurorh or the fantastical 'REM-Scape' by Thomas Doss.
Even Kenneth Downie, a composer of the most elegant craftsmanship, delivered a bespoke multi faceted thumper with his 'Handel in the Band'.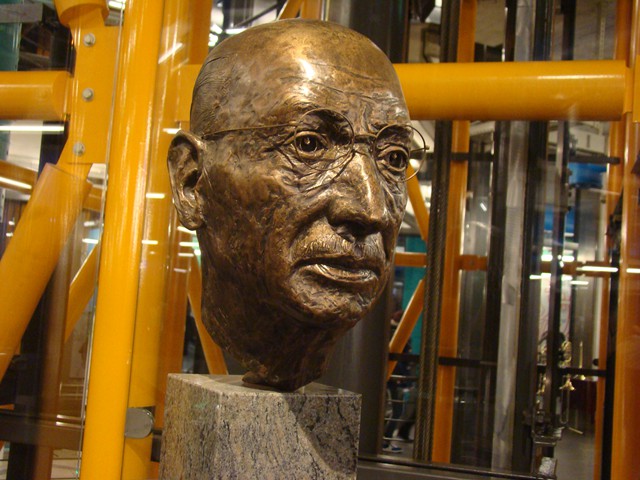 The man who started it all: Igor Stravinski perched by the lifts in Montreux

Motorhead

It's as if the Swiss have had enough of polite brass band diplomacy and are now giving it the full Sir Alex Ferguson hairdryer treatment – through a megaphone.
Forget listening to Horst Jankowski's, 'Walk in the Black Forest' – they are now blasting out Motorhead's 'Ace of Spades'.
Unfortunately, it also meant that some of the performances in both the Championship and First Section were played at a volume, where to deliberately misquote an old Monty Python phrase - even the quiet bits were loud.
And not all of it was good either - only a handful really able to control the tonality at the dynamic extremes, whilst too many simply forgot that you can actually sound louder if you can also play quieter.
British disease

Too often the aural spectrum was narrow and strident, as the lower levels of piano and pianissimo were carelessly discarded.
The British disease of trying to impress by volume alone is a dangerous path to follow – and a quite a few bands here simply lost their dynamic bearings. It is an aspect of contest playing the Swiss need to refine not mindlessly copy.
Technically however the standard was as good as any around the banding world, despite 'Isaiah 40' being a slightly over ambitious set work choice at the very edge of the comfort zone of the 17 First Section bands.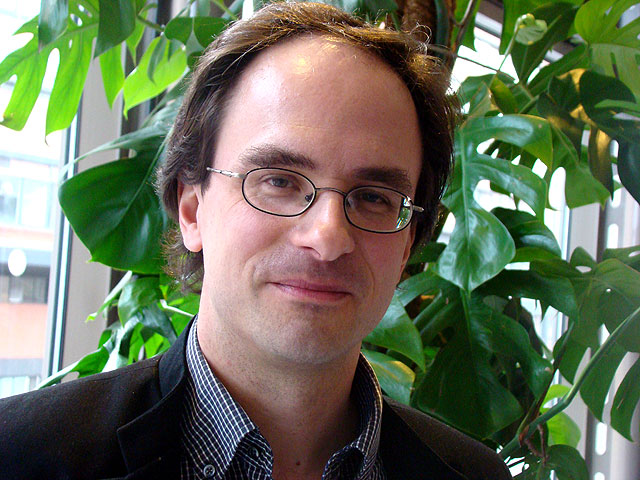 High class talent: Composer Oliver Waespi

High class

In contrast, the Second Section was helped by the use of a wonderful new work from the pen of Oliver Waespi entitled, 'Traversada', which gave scope for intuitive musicality, whilst the Third and Fourth Sections also had works that sternly tested but did not overwhelm abilities.
With its well embedded culture of high class solo competitions Switzerland certainly produces a plethora of stunning young players, led by the likes of cornet star Vincent Bearpark, who held a top D pause in Valaisia's performance of 'Old Licks Bluesed Up' that knocked Philip McCann's legendary top C# effort on 'Contest Music' into a top hat.
He was not alone, as in other sections you heard warmth and lyricism (though oddly not really on 'Isaiah 40') from young players all of whom appeared to have been taught properly in terms of production and posture.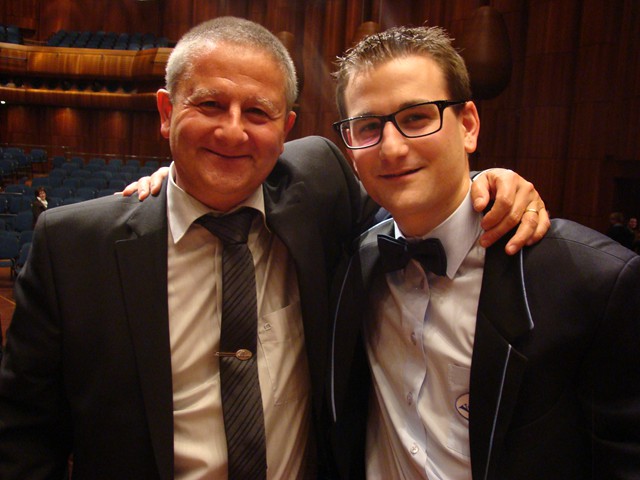 That's my boy! Angelo Bearpark with his talented prize winning son Vincent

Large Hadron Collider

That type of collective confidence has until now been discreetly hidden under the Swiss banding surface, a bit like the nearby Large Hadron Collider, but now everyone is revelling in the opportunity showcase their talents - led by conductors who have also found their musical identities and decided to go all explosive.
Michael Bach's swashbuckling approach is well known to British audiences (he inspired his band to a well deserved victory), as is James Gourlay's wonderfully flexible musicality.
Showboat

However, the likes of Arsene Duc, Frederic Theodoloz, Corsin Tuor and Blaise Heritier, as well as Francois Roh who led AMBITUS to the First Section title, Christopher Luchsinger who won with Liberty Brass in the Second Section and Gian Walker who led Abinchova to victory in the Third, were bold, showy, fearless and downright impressive.
Even the MDs in the Fourth Section weren't afraid to showboat a bit too.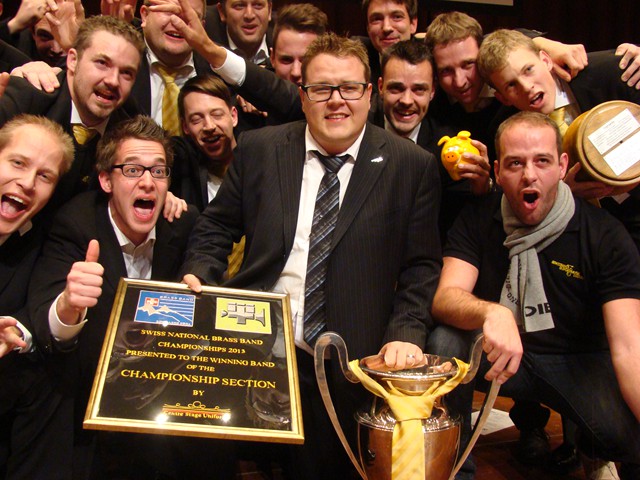 A band to fear in Perth: 2013 champions Burgermusik Luzern

Rivals to fear

What this means for the future of Swiss banding is anyone's guess, but one thing is for certain; Brass Band Bugermusik Luzern will be a rival to fear at the European Championships in Perth next year.
They seemed to sum up that new found confidence and engaging brashness to a tee; vibrant, flexible, technically secure, musically extrovert. They sounded a band on a mission on the weekend – and not just to win the Swiss National title for the first time in a decade either.
The quality of their playing wouldn't have been out of place in Symphony Hall in Birmingham or St George's Hall in Bradford for that matter - and neither would their wonderful celebrations.
Good news

The good news for Swiss banding is that there is also an emerging group of top bands that are now consistently battling for National supremacy, with Luzern the fifth different winner of the impressive National trophy in last five years
UK traditionalists who bemoan the influx of 'foreign' mercenaries into British banding would also be pleased to note that you cannot take part in the Swiss Nationals unless you are a registered resident of the country either. Sales of the Geneva version of the Daily Mail must boom in these parts.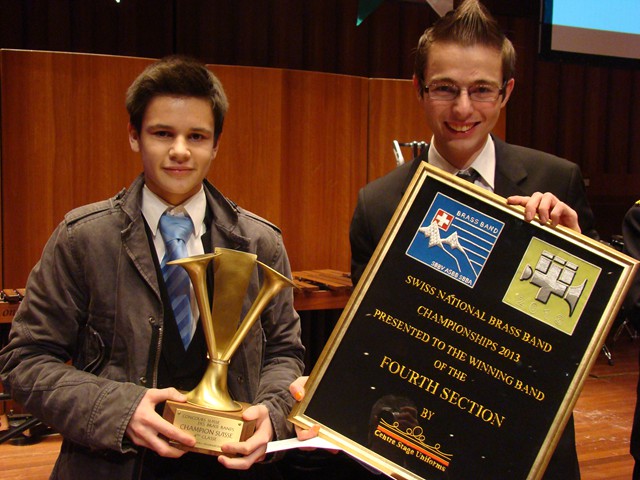 There is youthful talent coming through in every section

Copy

And whilst the 26 Canton areas may be a bit too small to support an even greater number of top flight bands (some rivals are to be found closer up the valley road than Black Dyke and Brighouse & Rastrick), there is a general rule that all players must also turn out for their local village bands too.
Now that is a something larger banding nations may want to copy themselves.
Small multi lingual countries may well have a convoluted way of running their own business, but if the Swiss are anything to go by, they don't half make a good job of it.
Iwan Fox