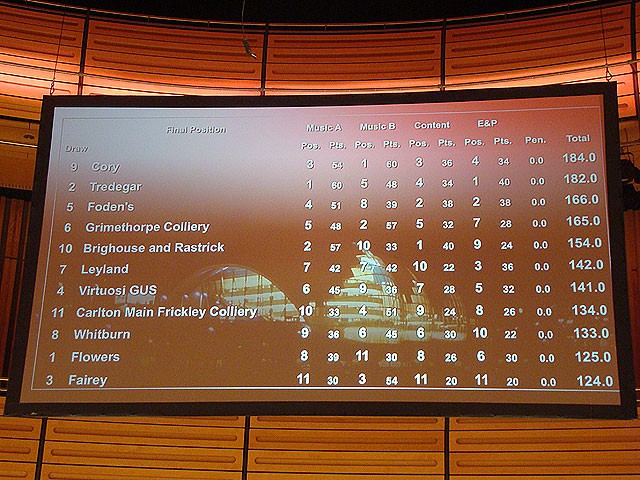 Revealing and concealing the best bits....

The old cliché that statistics are like bikinis; made to conceal as well as reveal the best bits you really want to find out more about, does tend to ring true at Brass in Concert - especially under the new marking system employed at the event.
As a result, even though the final outcome this year was eventually revealed to be narrower than the dental floss g-string clasped between the tight cheeks of Brazilian bathing beauty on Copacabana Beach, it still couldn't stop most people gazing at the alluring statistical figures high above them on the multi-media screen in a state of intrigued bewilderment rather than scrutinising excitement.

Scratching your head

It all rather summed up the contest day in fact: Despite the shapely parade of musical figures from the 11 contenders, this was a Brass in Concert Championship that left you scratching your head rather than drooling at the mouth.
Enjoyable, diverting and at times even curiously intriguing: but somehow, never quite managing to get the blood racing through the musical loins. Even that old louche rascal Frank Renton was a bit subdued.
Half the answer

The stats themselves revealed only half the answer - although it would be interesting to know just why Stephen Bulla took such a fancy to Fairey's operatic musical cat walk when the other adjudicators all turned blind eyes as well as ears to their charms. Divas do tend to be a bit on the Ruebensian bikini side.
Perhaps it was because the other half of the conundrum came from the bands themselves – none of who really played to the top of their form.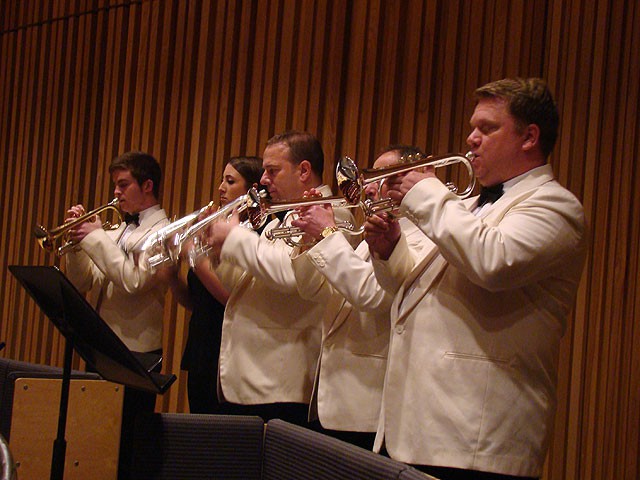 Cory's cornets line up to flex their muscles...

Wimples and Marmite

Not even Cory; who overcame a 'Sound of Music' opening which would surely have led the Nazis to have shot the Mother Superior for masquerading as an overpowering Welsh tenor well before they found the massed ranks of the Von Trapp family hiding under her wimple.
Meanwhile, Tredegar went all Abominable Doctor Phibes as they nearly came a real cropper on Widor's 'Tocatta', and not even Dicky Evans could stop you from thinking that it was perhaps a good job after all that the Beatles didn't go on any longer than they did.
Grimethorpe tried a form of cryogenics to resurrect the corpse of 'Brassed Off' in a new multi-purpose body, whilst the Anglo-Norwegians of Messer's Withington and Winter headed back to the fjords wondering if they had stepped in musical Marmite given the response their efforts gained in tickling the judge's taste buds.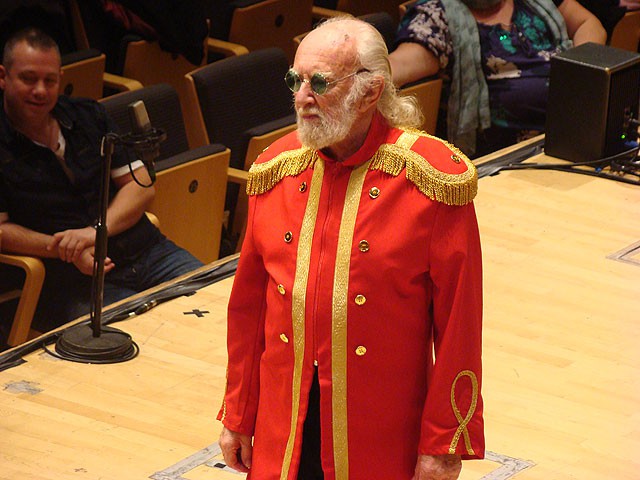 Richard Evans as John Lennon as Sergeant Pepper...

Nebuchadnezzar

Flowers and Carlton Main tried the tested so to speak - and paid the price for lacking invention, whilst Whitburn and Virtuosi GUS opted to look back in history rather than forward in time.

Fairey went so far back you could have carbon dated their programme against Nebuchadnezzar's winning effort at the 640BC Babylonian Brass in Concert Championships.
Strong themes

The bands that invested time and energy in producing strong thematic links, polished by inventive presentation did gain equally strong responses from Jo Wheeler and Mike Kilroy in the Entertainment & Presentation and Programme Content stakes.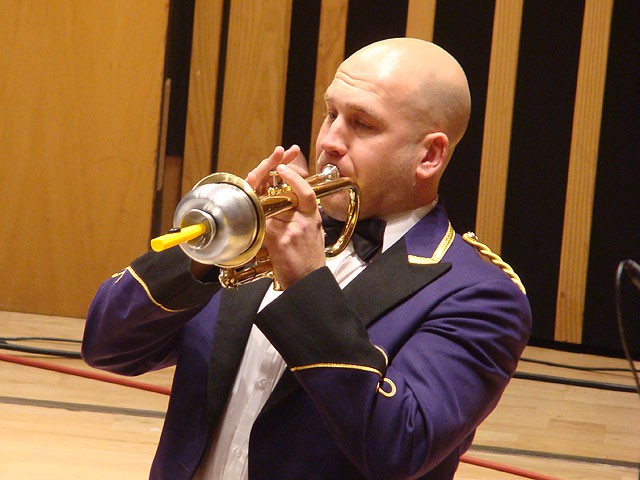 An exotic step too far from Brighouse?

Curiously out of step

Nobody could disagree too much with their final stats, whilst Paul Cosh also reflected the new Brass in Concert mission statement – 'to display, free of artistic restriction, their excellence...reflecting the most current and progressive form of the genre... to appeal to both the general listener and aficionado' – in his Quality of Performance preferences.
It was Stephen Bulla, a musician of immense experience and talent who seemed curiously out of step with his fellow judges.
However, even though his musical statistics may have caused a few grumbles in the bars and band buses late on Sunday night, he was not the sole reason why this year's event didn't quite capture the imagination.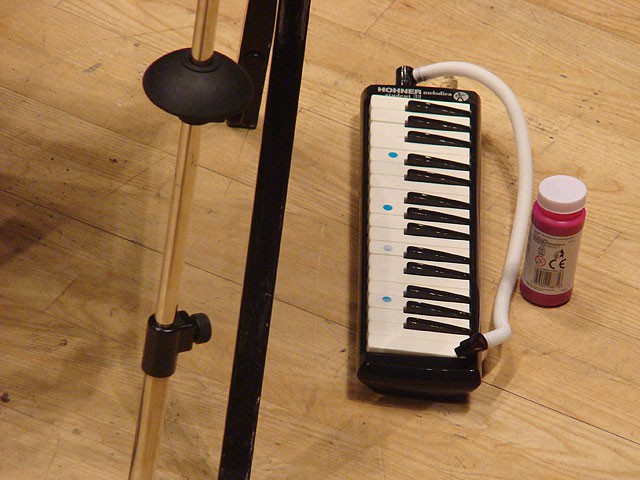 The keyboard to success for Brighouse?

Time to flex the muscles

This was a contest where the sum of the many varied and wonderful individual parts (Kirsty Abbotts for example in winning the 'Best Soloist' prize) never quite amounted to an outstanding ensemble whole.
On this occasion, the bands - some tired, others under prepared, a few unsure of their programme themes were being compared against others who were much slicker in presentation and more inventive in approach, but less secure in execution.
Others, Cory in particular, simply took their time to fully flex their considerable muscles.
When they did, with a virtuosic arrangement of the technical bits of the finale from the Rachmaninov 'Piano Concerto No 3', they finally pushed their noses in front of their Welsh heavyweight rivals to retain their title.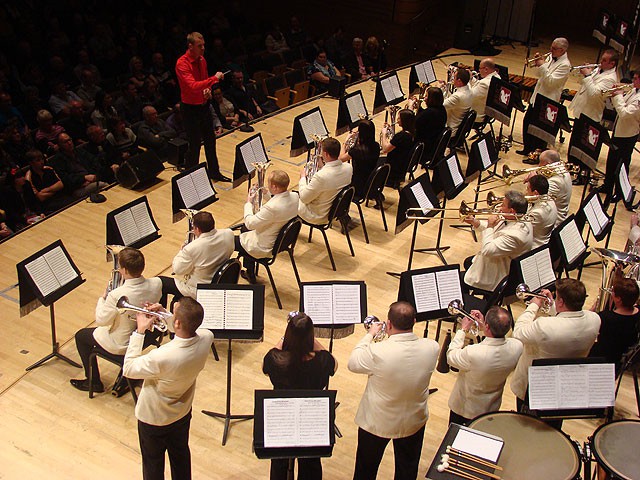 Cory get in title winning formation

Odd photo finish

It was an odd photo finish - closer perhaps than it should have been, but wider than it could have been.
Tredegar opened powerfully only to stumble with the finishing tape in sight, whilst Cory tripped on their vocal chords at the beginning but had just enough stamina to win the dip for the line.
Grant a wish

The gap between the duo and their English rivals was not as contentious though, despite its margin.
The British Open champion was left to ponder if it really was that fragility in their Widor organ work that had cost them so dearly – although if it did you still wondered how it led them to end up behind Fairey in Stephen Bulla's opinion.
In the end it was even beyond the wish granting talents of the pantomime genie they wittily employed in their sparkling opener to turn things back in their favour.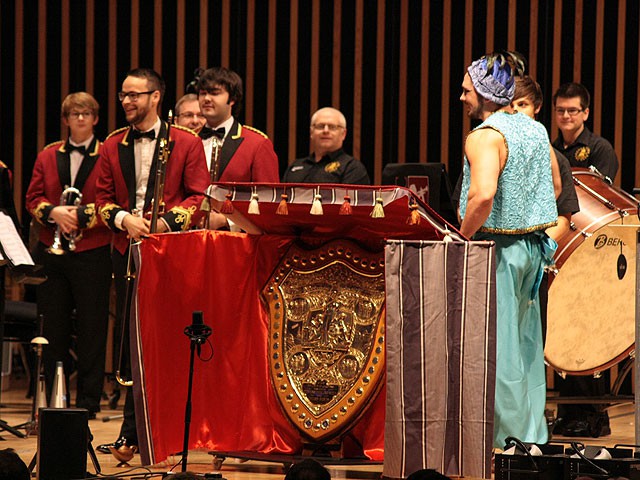 What have we here then Ali Baba?

Wonga loan

Perhaps Foden's could have taken out a local Wonga loan and asked their Welsh rivals if they could have borrowed a free wish after the American had placed them eighth on a programme that was perhaps the most intellectually engaging of the day.
Meanwhile, Brighouse & Rastrick may wonder if even as a musical Marine he still suffered from a form of sea sickness when it came to their nautically inspired programme. Either that or the exotic sounds of downtown Bombay simply wasn't to his taste. It was a programme that divided opinion in the hall for certain.
Brass in Concert has come a long way in the past couple of years, but still the more traditional elements of its audience remain suspicious of exotic single threads of musical inspiration - however expertly they are weaved together.
John Lennon

Grimethorpe was Grimethorpe - although under Dr Robert Childs, much more disciplined and controlled an ensemble than they have been here of late, whilst Leyland was Leyland - or more accurately, Richard Evans was Richard Evans – although on this occasion dressed as John Lennon in Sergeant Pepper attire.
Both did what they do best – but as a result were trying to win a contest with programmes that in their contrasting ways are now past their sell by dates.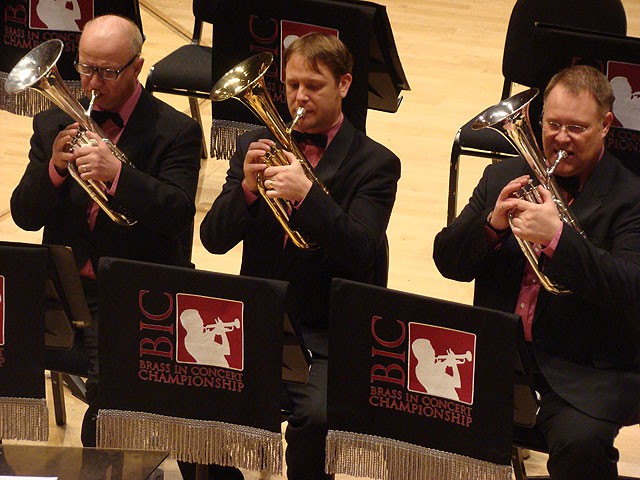 Traditional set up for Grimethorpe

Welded

Behind them Virtuosi GUS played it safe and solid, not wanting to risk losing their hard earned place at the event after just two years.
Seventh place should see them return next year, but perhaps inspired to try something a touch more adventurous (a segue from 'Pastime with Good Company' to 'Mambo' from 'West Side Story' was arc-welded together).
Peerless

Meanwhile, Carlton Main should also be seen again (if only to hear Kirsty Abbotts on such sublime form once more), even if they also need to show more invention with their programme presentation and content to make as much of a mark as their peerless principal cornet. It was good but dated.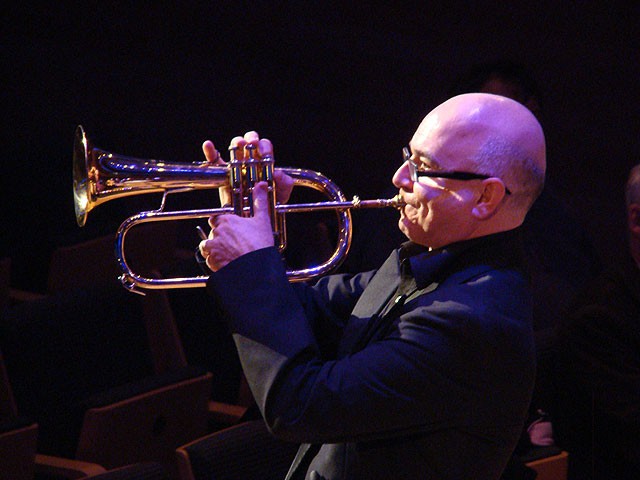 Something different from Chris Bradley and Whitburn
Optimists and realists

As for Whitburn? Once again they tried something different but couldn't balance their sense of invention with a lasting sense of ensemble precision as they tired, whilst the optimists at Flowers may look back at the early draw and rue their misfortune.
The realists however will know that there is still a considerable gap between a competitive Butlins programme and one that can make a real mark at Brass in Concert, however solidly played.
Off day

Whether we have seen the last of Fairey here for a while we will have to wait and see, but they were a shadow of the band that played so well at the British Open just a few months ago.
Every band can have an off day, but with the exception of principal cornet Paul Hughes on superb form, they looked and sounded devoid of inspiration - a real shock given the usual razor sharp musical antennae Garry Cutt usually so successfully employs at the event.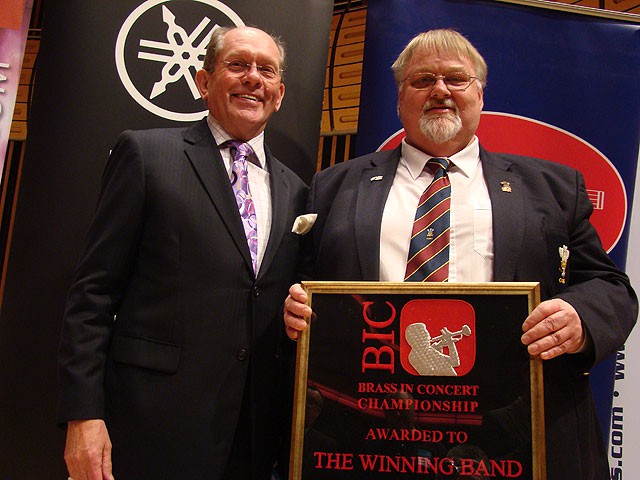 The winners get to smile...

Subjective tastes in bikinis may well vary (as well as their size) over the years, but their ability to just about cover up all the exciting bits whilst still showing us a little too much that isn't that flattering remains their great attraction. That was the case with the bands this year.
And that is perhaps why, despite the odd grumble about the stats, Brass in Concert remains such an eye popping attraction.
Iwan Fox