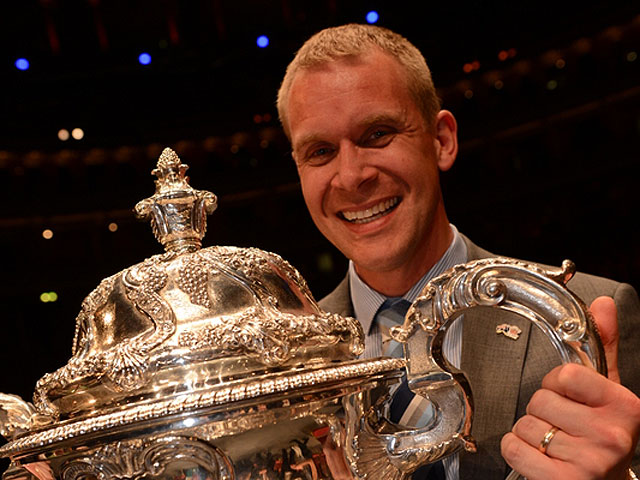 One memory that won't become too distant for some time for Philip Harper

It will take a considerable passing of time before Cory's outstanding National victory becomes a distant memory for those who took part in the Welsh band's triumph at the Albert Hall.
On a contest day when latent echoes of sepia tinted Nationals past were recalled in Kensington, they left an indelible musical mark on the banding history books that will not begin to fade for generations to come.
Complete control

In future their performance of Edward Gregson's 'Of Distant Memories' (Music in an Olden Style) directed by Philip Harper will trigger a recall mechanism of a band in as complete control of its technical and musical skill set as any winner in the long history of the contest.
Subtle dynamic and tempo differentials were clearly defined, whilst the main solo lines were delivered with cultured artistry.

The precise ensemble produced dynamic contrasts that embraced the Lilliputian to the leviathan.
Above all though, the musical picture created by the MD was one of immense character – from the sublime to the stupendous.
Seared with pride

The delight of the players as they raced to the stage to lift the famous trophy on high will also take considerable time to ebb away, whilst their MD has a personal memory that will be seared with pride into his consciousness for ever and a day.
Cory was the most worthy of National Champions on a set work that proved to be a perfect choice for a contest that is recapturing its historical mix of grandeur and populism.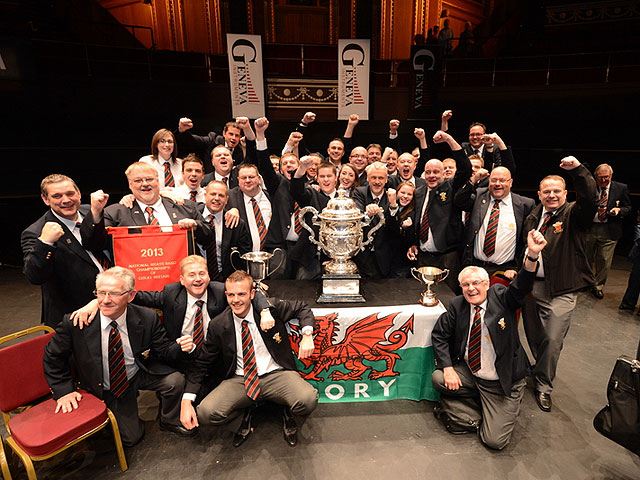 The Cory celebrations begin...

Start delayed

The event may never return to the heyday of John Henry Iles and Crystal Palace, but there was a distinct feeling that Kapitol Promotions have certainly played their part in revitalising a sense of National occasion:

Even the start was delayed by 10 minutes to accommodate the late surge for tickets.
Paying punters eagerly sought their seats, armed with their study scores and programmes as news filtered through that the draw had set up an engrossing contest.
They certainly had their monies worth, with an exceptional composition from Edward Gregson that delighted the purists and gladdened the heart of everyday brass band lovers in equal measure.
Sprinkled favourites

Favourites were sprinkled throughout the field - from Brighouse & Rastrick at number 1 and Open winners Tredegar drawn 5, to European champion Cory at 13 and the final flourish of Foden's, Leyland and Grimethorpe at the tail.
Title winning aspirations followed suit as the 20 performances unfolded in front of David Read MBE, Derek Broadbent and Alan Morrison in the box, with Brighouse setting a substantive marker that caught many people by surprise with its compact dynamic range.
Template

However, it gave the judges the type of comparable template they were looking for from the off, as well as reinforcing the opinion of David King when he later told 4BR that he felt his band had produced their finest performance at the contest under his command – including two past victories.
Even fervent Brighouse fans may wonder about that, but it enabled the West Riding band (aided by a wonderful individual display from David Thornton on euphonium) to claim a pre-qualification place for 2014; a significant achievement given it was the first time since 1984 it had been done off the dreaded Kelly's Eye draw.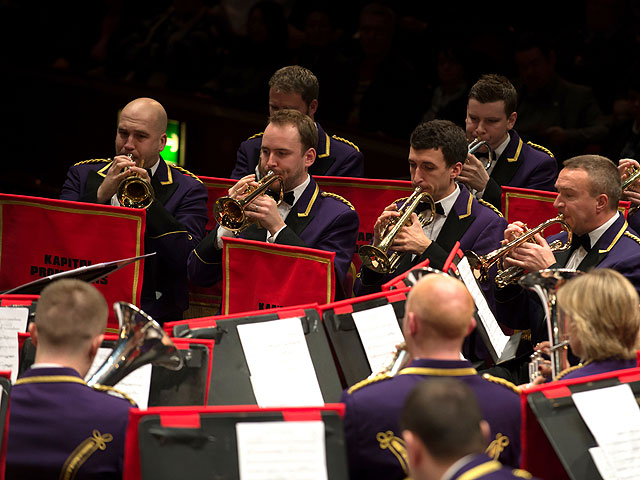 Brighouse provide the high class template

Everyone knew

David Read MBE certainly ensured that everyone knew what the adjudicators thought in what was to be his final pre-result address to the Albert Hall audience.
He touched on the need to observe dynamics and tempo as well as maintaining clarity and detail in an acoustic that can be unforgiving and unwieldy, with the challenging section between rehearsal markings 19-24 certainly giving the trio plenty of opportunity to compare and contrast in performances that varied from cultured to the somewhat chaotic.
The warmth of the response he received when presented with as silver salver to mark the occasion was testament to the respect gained as the movement's top judge over the past 35 or so years.

Not surprisingly, the results bore out their opinions in full.
Reward

As expected, the main solo lines rewarded artistry (especially on the tubas), whilst MD's who opted for a march tempos more suited to rampaging Ghurkhas than the noble Edwardian officer class also came a cropper.
Gregson's subtle skill in revealing ciphers rather than direct quotes also caught many MDs out - as did the shimmering lyricism of the central section, the need to keep ensemble detail transparent at all levels of the dynamic range and the essential requirement of keeping something in reserve for the exhausting final sections.
The best bands combined all of these and more – the rest, a mixture of some but not others.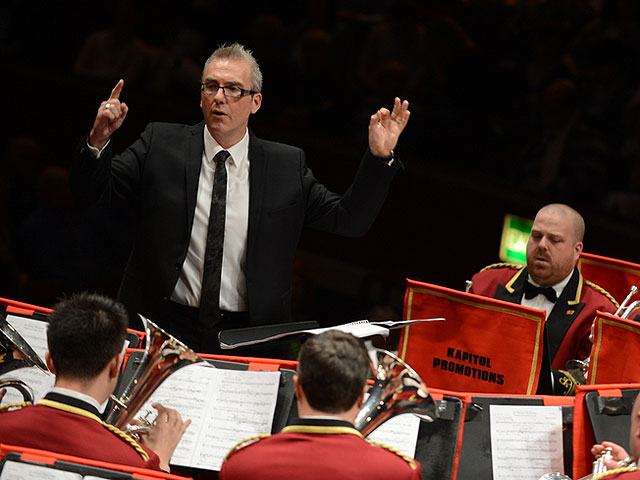 High class runner-up Tredegar under Ian Porthouse

Highest class

Brighouse was eventually beaten by a trio of performances that boldly combined power, precision, warmth, lyricism, character and stamina – the very elements that over the generations have been essential to making an impression at this contest.
Tredegar certainly had them all - displayed in full as they gave everything in their bid to create their own piece of memorable history.
Just the smallest of unforced individual errors saw them leave enough of a gap for their Welsh rivals to steer into later in the day, as Ian Porthouse once again inspired his band to produce playing of the very highest contesting class.
As the judges later revealed, they had come very close indeed to the immortality of a 'Double'.
Lyrical insight

For Carlton Main, yet more memories to cherish as Phillip McCann drew a performance of remarkable lyrical insight from his players to further enhance their major contest winning credentials.
The contrast with Tredegar was marked, yet the same underlying elements were as firmly in place (including an immense work ethic and collective pride), with just a few noticeable unforced errors seeing them eventually finish a couple of lengths behind their Welsh rivals.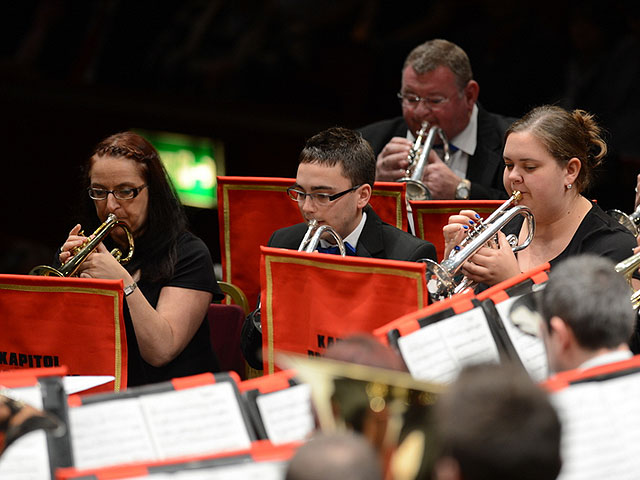 Lyrical excellence from Carlton Main in third

Close

Given the lead up to the event, it would have been perhaps too much of a fairy tale for Grimethorpe to have won the most improbable of titles, but they didn't half come close under the direction of Dr Robert Childs.
Only when the finishing line was in sight did they lose their sense of ensemble discipline, as until then they were undoubtedly in the mix thanks to some wonderful individual contributions (William Rushworth on horn must have pushed David Thornton mighty close for the solo prize) and the MDs inherent appreciation of the composer's musical intentions.
It was a wonderful reminder of just how brilliant they can be when the mood and the collective respect for their MD take hold of them.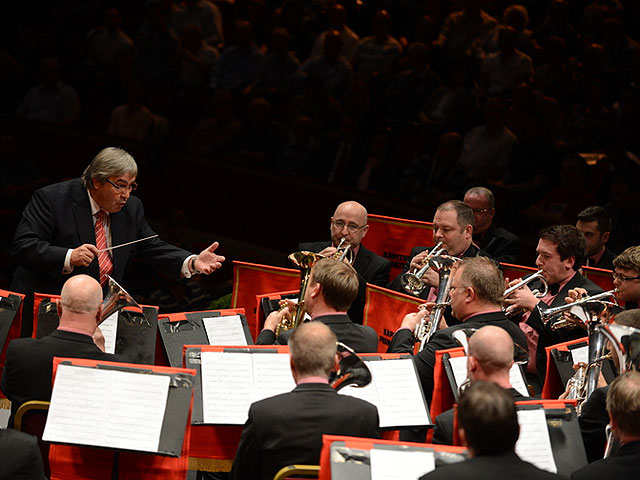 Collective respect from Grimethorpe under Dr Robert Childs

Intuitive

Much the same could be said of Woodfalls, who posted the best result by a West of England representative since 1994.
With Dr Nicholas Childs looking relaxed at the helm, they produced a fine account that benefitted from his own intuitive understanding of the score (the work was dedicated to the Childs brothers), but was also enhanced by secure solo lines and a free flowing sense of lyrical musicality.
There could not have been a prouder band rep on stage than 90 year old Ken Worgan, who played with his band at the contest back in 1975.

He stood like a guardsman from nearby Buck House to have his picture taken to capture their finest National achievement.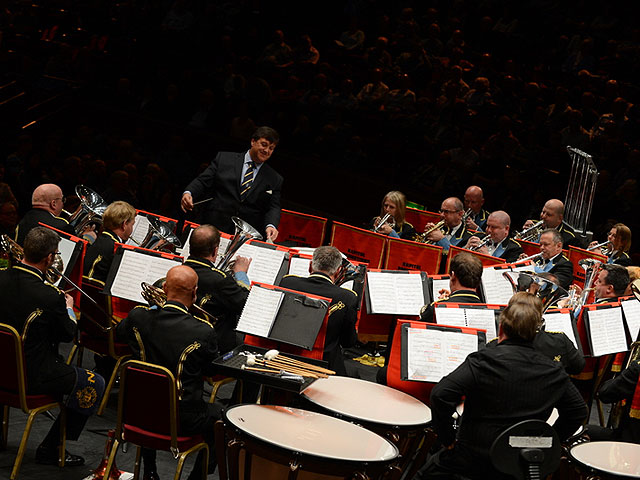 Wonderful Woodfalls make a mark under Dr Nicholas Childs

Expensive

Others will have left the Albert Hall to ponder their fates over an expensive pint or two after the full results were revealed, with supporters of Leyland and Reg Vardy forming a pretty happy retinue of early evening pub goers.
Reg Vardy produced their best top flight performance for some time as Russell Gray's persuasive lyrical intent impressed many, whilst Michael Bach also moulded a musically engaging account from Leyland that banished any lingering disappointment from the British Open.
Deflated

Behind them two Open wannabes were perhaps a little more deflated.
Whitburn's solidly portrayed account under Erik Janssen just fell away in the final stamina sapping sections as a top six place seemed within their grasp, whilst the same damaging infusion of lactic acid took its toll on Flowers, after they produced a controlled rendition under Paul Holland.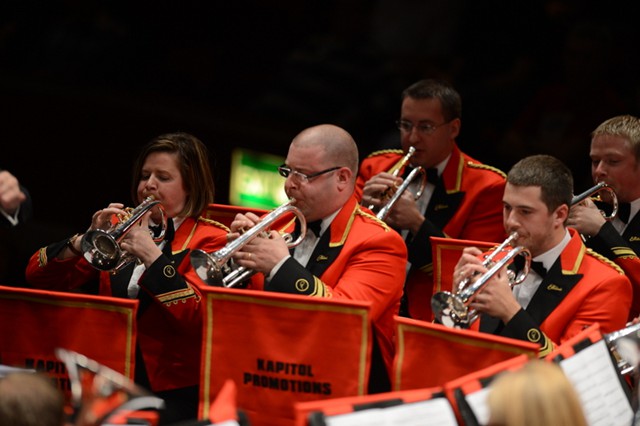 A brave defence form Foden's

Distant memory

For reigning champion Foden's, it will be hoped the contest will soon become a distant memory, as the untimely injury to principal cornet Mark Wilkinson could not be overcome by an uneasy mix and match approach.
Despite the fine efforts of Anna Hughes - Williams, bravery and commitment were not enough in a performance that ebbed away from the prizes the longer it went on. 11th place was an understandable return.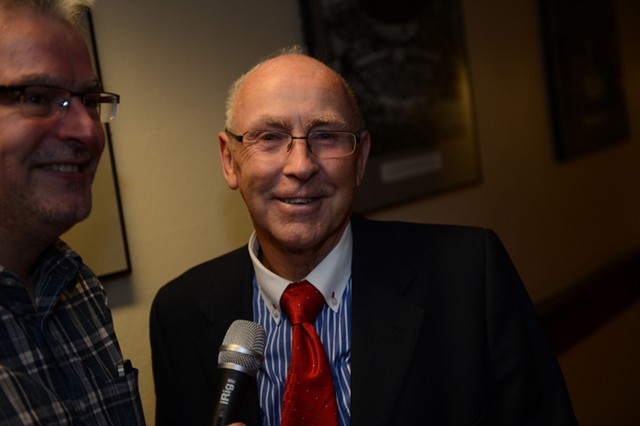 There was an emotional final GUS appearance for John Berryman
Well planned
No medals for simply surviving the top flight trench warfare on this occasion for Milnrow however, as a thoroughly well planned and executed account under Marieka Gray provided further confirmation that they have firmly found their feet at the major contesting level.
The North West Area next March should be one heck of a battle now, especially if the band continues to grow in maturity, as confidence certainly isn't in short supply on this form.
Solid
Behind them came some solid efforts from Jaguar Land Rover and Northop, both of who will have known that they made too many unforced errors to have done justice to fine interpretations from Dave Lea and Thomas Wyss, although NASUWT Riverside will reflect on a performance that took a little while to get going under Ray Farr.

The MD used his years of experience to draw an increasingly musical rendition from his band that by its close thoroughly engaged the senses. It was just a pity it took so long.
Raw emotion

The same applied to Virtuosi GUS - although raw emotion also played a part as they failed to give John Berryman a final appearance to savour, succumbing to a litany of minor clips and ensemble fragility.

The popular MD left the great stage with tears in his eyes, with the drooped shoulders of his band signifying that they perhaps knew they had been unable to have given him a more memorable send off.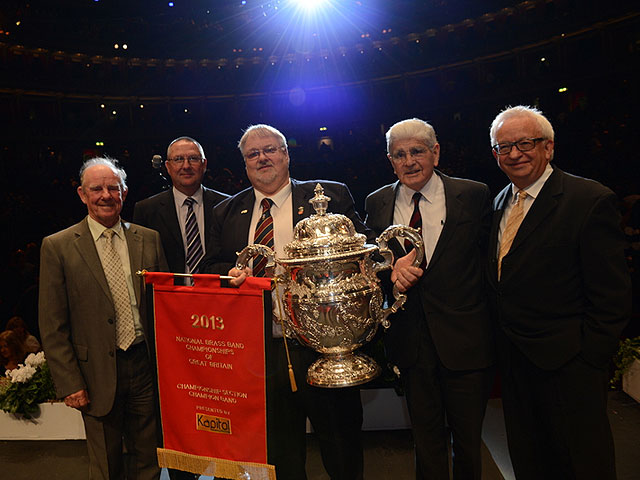 The official presentation of the National Trophy to Austin Davies of Cory

Put pay

Nerves and nascent errors that eventually undermined the musical picture put pay to the chances of Friary Guildford, Kirkintilloch, Tongwynlais Temperance and Regent Brass.
Although the Scots and Welsh will know they significantly underperformed on the day, it will be the London Area representatives that learnt more about the harsh realities of top level contesting.
Their talented MDs will surely return with bands vastly improved by the experience next time round.
Cory will also return – perhaps even better than ever before, as the collective reminiscence of this victory will surely spur Philip Harper and his players to create yet more memorable performances at the Albert Hall for many years to come.
That will be something to savour.
Iwan Fox