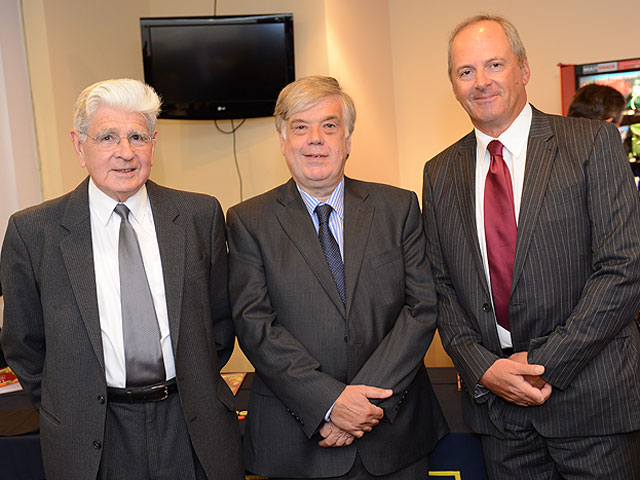 The three men in the box: David Read, Stephen Roberts and Rob Wiffin
---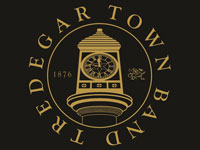 1st Place: Tredegar (draw number 8)
Arabian Nights
Powerful opening and some bold colours.
Small slip in euph 2, but this has lots of very impressive playing.
Lovely solo cornet/euph and quality solos all round. D is a good tempo and the solos are all beautifully played.
Lovely trombone and so much quality in cornets too. Lovely flugel and good balance and musicl shape.
Fabulous swagger at H!
I – Lovely and terrific solo cornet.
Battle calls very authoritative and you really get to grips with the musical drama.
N- Fine trombone (but C# in vibe please)
O – Horns do well
P – Amazing euphs (the perc is all a bit slow, but what the hell...)
Q – Wow!
S - Tubas great. Great perc.
V- Good tempo and fabulous playing into a splendid climax – so well controlled.
Lovely detail in this section.
Great control into CC – stunning playing
Absolutley incredible!!!
I am overcome with how well you played it – unbelievable playing!!
That was a truly great performance.
Stephen Roberts
---
Confident opening – all goes well.
Euph well organised. Solenne – Perfect.
Quality sounds to D. Good flow – all parts are heard as they should be.
Brilliant echo trombone (if that's the correct word!)
Flugel so impressive. Perc – absolutely out of this world – well done.
So artistic solo cornet
Brilliant and thank you solo trombone. Horns fine. P – Euphs magic!
Awe inspiring playing at the very highest level. I sit back and just enjoy it!
What a sound. I am only pleased I have heard it and feel honoured – thank you.
Quality sounds throughout – so well directed.
GP. Beautiful horn entry followed by artistic solo cornet brings to a brilliant close.
David Read
---
Big attack and good bold definition.
A – Good detail – going well- 2nd euph not quite
C – Good detail – chord ensemble good.
4/4 - Nice entry. Enjoying this – nice links to D and good tempo
E – lovely detail and flow – then big lift before F
F – Flugel very good. Solo cornet also. Trom 1 excellent G – 1 minor slip but very good technique.
Excellent link to 3/8 – still going well
H – Good bite without pushing tempo
I – Very well joined
J – Trom/Cornet 5 fine
K – Sense of drama encapsulated – good
N – Vibes should stay on C# throughout here. Trom very good – Horns just a little over the top
P – Euph 1 – D# throughout
Q – Bold drama – huge sound – tempo good
R – Good control – a minor slip
T – Good detail – tuned perc very good. Tempo increase fine
V – Good direction and beautiful
X – Detail fine and strength throughout. 6/4 – huge sound – but controlled and balanced – a s sense of power – liking this.
AA – (tick) 454 – Horn very classy on solo – solo cornet very good – 2,3,4 well blended and in tune.
474 – Bravo – trusting your players
DD – What an ending!
Held back – moved on – Timp! Sop!!!
Truly a stunning performance – great playing and masterly direction
Rob Wiffin
---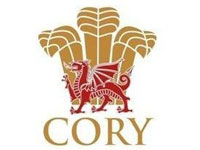 2nd Place: Cory (draw number 16)
Arabian Nights
Opening flows well and you capture the spirit of the music so nicely.
Small slip in Solo Cnt/Euph, the odd slip in solos.
D - Flows well but the odd slip detracts.
F - Well done Flugel and Solo Cornet. Good Trom echo.
G - Has plenty of character.
No gap into flugel solo needed. Good solo euph at I and solo cnt is fine. Bravo!
Battle calls are well executed but some untidy ensemble.
K - Contains fine playing and exciting atmosphere.
N - Well done solo trombone!
O - Great Horns
P - Good euph cadenzas
Q - Is a little quick for the detail to really come through but ff cornets are effective, a great change of mood into R&S.
T - Is impressive and U is exciting. 6/4 is impressive. Well done solo horn and lovely solo cornet.
Beautiful playing at CC - well controlled and so lyrical too.
Excellent build to powerful climax.
You are taking risks but they are coming off. Fantastic!

A fantastic performance - well shaped and brilliantly executed - Bravissimo!

Stephen Roberts
---
Good opening. Euph confident (particularly 2nd!) in bar 15. Theme - sensitive playing but slight lapse occurs.
6/8 slight lapse occurs here.
Trom end - Superb
G - Dances along as it should
3/8 Beautiful playing from Flugel, also Solo Cornet.
Excellent con fuoco each time

Brilliant Trom! Neat Horns
P - So well organised and so well played
2/8 this is playing at the very highest level
All solos superb
Powerful Playing
Storm is superbly portrayed - thank you

A great performance throughout, well directed. Thank You

David Read
---
Restrained and a little clipped in opening statement.
Lots of good detail to B - watch balance between Euphs - neat ensemble in C and soloists do well.
A minor flaw on cornet. Nice detail at D. Good tutti tune before F.
Nice link to G.
H - Good tempo just a couple of splashes but lovely contrast to I - Cornet excellent with J - Trom big and bold.
Cornet 5 actually sounds off stage for once. Good control and contrast into K. Antiphonal sound works well.
N - Trom great control, Horns excellent.
P - Euphs fine.
Q - Brilliant sound then a nice contrast to R - S. Basses good.
T- Lovely detail.
U - Moving on now - great technique
6/4 massive sound and sop excellent on top. Details shooting throughBB
454 - Horn accurate - accent 2 before CC very good - Solo cornet lovely CC - great control - beautiful playing - controlled build 474 - really good to end - huge sound.

So good - a little lacking in fluidity early on but grew into a huge performance of the highest quality.
Congratulations
Rob Wiffin
---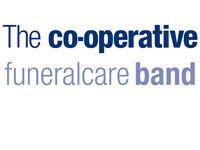 3rd Place: Co-operative Funeralcare (draw number 14)
Arabian Nights
Good opening. Perc in bar 11? Eb?
Chorale is good – be careful of balance.
Cnt/Euph solo well executed. D has pleasing flow.
Flug good, but solo cornet plays wrong note in descent? Untidy at trombone entry. Flugel solo is characterful and engaging.
I – is nicely done and bravo solo cornet. Battle calls are fine, but the odd slip in accomp. Good into trombone cadenza, which is convincing. Horns mix well and euphs play well with style.
Q – is exciting – just some detail lost.
R – Has lovely character and basses do very well. T – is splendid. U – heats up nicely – just the odd 'splash'.
6/4 has good sound – fine trombones – great tome and good balance. Bass trom after AA – Yes!
Wrong notes in perc at 448.
Well done solo horn and cornet into lovely controlled lyricism at CC – Bravissimo!
Splendid climax and dim.
What a fantastic performance – well shaped and lovely sounds. Great control at the end. On another day it probably would have won.
Stephen Roberts
---
Confident start. Euphoniums – well negotiated
Solenne – beautiful balance and tuning
A – Well shaped
D – The music flows well and so well shaped. Good close to G. Nice 'feel' about the music. 3/8 – Well done flugel – very artistic.
Allegro well done. Excellent solo cornet – so confident. The music sparkles.
Excellent trombone cadenza – continued with fine euph/horns before 3/8
The Director shapes the music so well and the band responds so well.
Storm – Confident and awe inspiring – great sounds – all under control
GP – Beautiful horn solo! All players play softly as marked as we proceed – only a little discomfort on high A (cornet)
A fine performance
David Read
---
Strong start A (tick) Euph very good
C – Timp good (low G a little sharp), chords strong. 4/4 – Euph and solo cornet very elegant.
D – Nice flow to tempo
E - Solo cornet and euph good and sop good. Just be careful of not too much sound at the top octave.
F – The music flows and a fine run to G – a few splits at the top of the arpeggios.
3/4 - A little loose in places.
H – Well defined articulation
I – Stylish playing – and although you take some tempo away you give it back
Solo cornet very good
J – 139 – a note breaks.
K – (tick)
L – (tick)
N – Perc good – Trom – generally very secure.
O – Horns (tick)
P – Euphs – a couple of minor flaws
Q – (tick)
R – Good colour change
S – Basses excellent
T – Cornet 1 & 2 not quite balanced – but detail good though
V – Growing well with a sense of purpose
6/4 – Very majestic and good layers. Band has quality and power
BB – (tick) A bit of a mess at 448.
454 – Horn good – and this nicely shaped into CC – lovely control and flow – great dynamics – well into DD.
6/8 to end – good
A very strong performance – a top quality band and a very low error count. Very good. Well done
Rob Wiffin