In general, percussion solos (especially xylophone solos) are still a little bit of a novelty item for most brass audiences.
If they are well played and full of excitement then they can bring the house down.

However, play them badly and you may never be trusted to put mallet to hardwood ever again!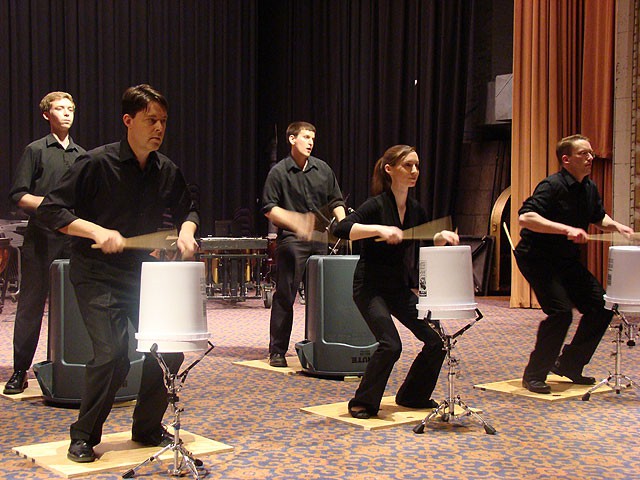 Not all percussion features need to be a novelty...

So what xylophone solo items should you consider to ensure that you are not thought of as a bit of as a musical freakshow before the serious stuff begins again?

And how do you go about picking the right solo to show you are every bit as good as your principal cornet or solo euphonium, who always seem to get the applause...

Best advice

The best advice I can give, is like any soloist, make sure you are fully prepared and know what you can and can't play.
Practice makes perfect.

With xylophone solos especially, start slowly with the help of a metronome, and then gradually quicken things up.
Also, don't just practice bashing out the notes – think of the rhythms and shapes, the groups, phrases and patterns of the solo line.

It certainly helps to create a mental music map of your solo in your mind so you never get lost when you take the big step to perform without music.

Only the lonely... Don't forget the percussion section!

Just a final thought: Don't sit at the back of the band doing nothing!

Go for it!

Ask your conductor or MD to see if you can play a solo or duet. Be bold and be ambitious, and don't care a bit about what an old 85 year old third cornet player may say about percusison being too loud!
Go for it. There is no right or wrong way to perform – just good quality playing.

So don't worry if you look like a demented octopus with arms flying everywhere. Showmanship is great, but remember it's what the music sounds like that's important.
Just enjoy yourself!
---
Beginner:
'The Flyer'- Ridgewood arr. Grant

It may be an oldie, but it's still a great little number for the ambitious young player who really wants to show off a bit.
Two decent reinforced plastic head mallets will give you plenty of volume and much of the solo line is in thirds throughout, so you can keep things tight and focussed.

The octave work is easy to master with just the one mallet moving about.
Put in the practice and you can soon build up a pretty good head of steam, but don't get too ambitious too quickly.



Four hands are better than two for a great duet

If you want to improve your playing with a partner in tow, why not try working on the classic 'Two Imps' – a great showpiece that just needs a bit more work to play the triplet runs.

Again, there is nothing that can't be mastered with some extra practice.
---
Developing Player:
'On the Track' - Simpson arr. Catherall
This great piece is a bit more of a challenge, including wider intervals and more movement around the instrument.
However, if are starting to gain confidence and have been working on working on mastering those patterns, groups and phrases, then this is a cracker.
Also, the addition of a third mallet (two in the right one in the left) in the trio section is a great introduction to getting to grips with multi-mallet technique, as well as being a superb visual attraction to the audience.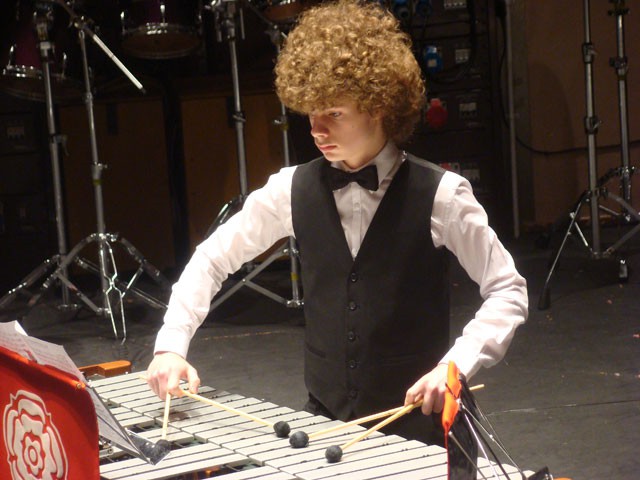 Start to use extra mallets and lots more can be played

Put in the work and the semi-quaver work can be whizzed though at the pace of a Euro Star train.
If you want to try something with a partner then have a look at 'Dueling Xylos', a great take on the famous 'Dueling Banjos' music which can be hammed up a bit to become a real entertainment contest showstopper too.
---
Student:
'Black and White Rag' - Botsford arr. Snell

A real classic - and a piece that can be played by one or two players, depending on the level of expertise.
It's more demanding technically, as there are plenty of notes to master (although remember those groupings, patterns and phrases to help) with some very tricky double-stops (two notes struck at the same time).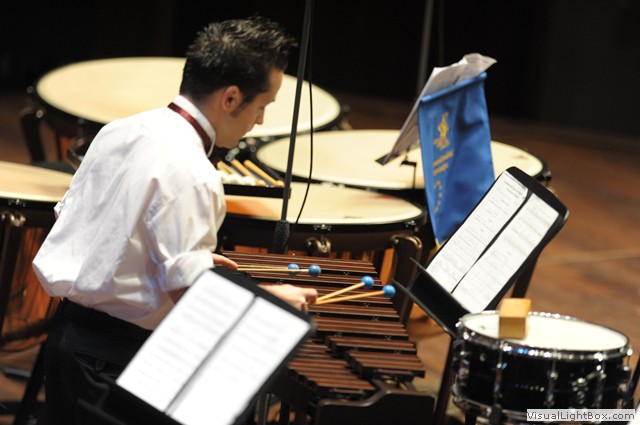 Classic black and white...

If you are at this level of development as a performer then all the basics should be in place, so why not also consider a couple of other great concert classics such as 'Zimba Zamba' or 'Helter Skelter', which can really show off your technique in full.
Making sure you get all the basics in place though before you start to fizz through things on stage (especially without music and with a few little touches of showmanship) will guarantee you bring the house down.
---
Showcase Performer:
'Kopanitsa' - Baker
At this level you should be considering major pieces to showcase your talents – the equivalent of concerto works for brass instruments.
'Kopanitsa' was written by Andrew Baker in 2008 and has since been performed by many top class soloists throughout the UK and Europe.
Rather than a solo just for one instrument, it is written for vibraphone, 7 tuned drums, 4 suspended cymbals and xylophone, so make sure you have a comprehensive selection box of sticks, mallets and beaters.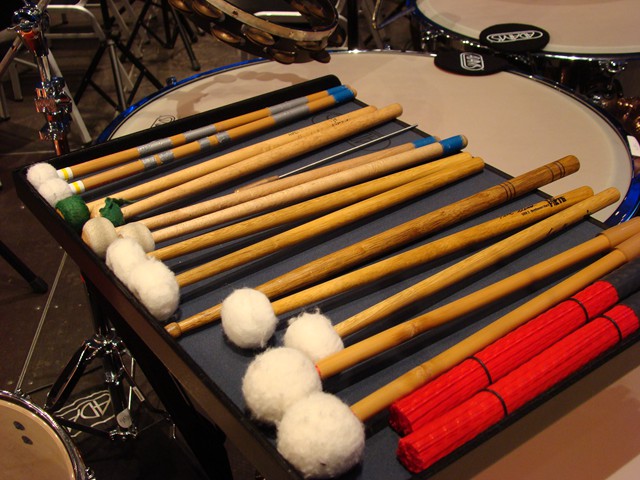 Make sure you have everything to hand...

The vibraphone section introduces the theme and utilises 4 mallets as well as bowed vibraphone (played with a violin bow drawn downwards over the instrument).
The tempo then picks up into a 10/8 section for the drums and cymbals, with the drums playing complex rhythms over the top of the melody, gradually changing pitch to finally play in unison with the main theme.

A further tempo leap then takes the piece into a fast xylophone finale.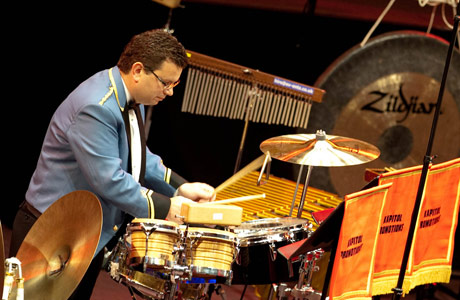 A little bit of everything...

As you can imagine, this is a very, very demanding work, but so rewarding for the performer as it challenges not just technique but musicality too.
If you can perform this well then you won't need any extra advice from me!
---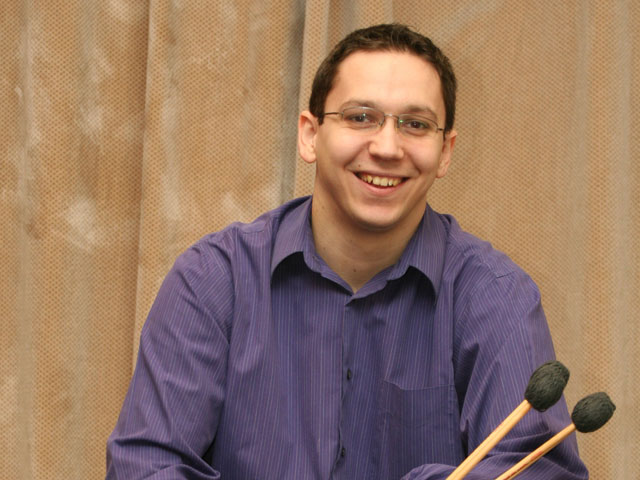 The Author:
Gavin Pritchard currently plays with Tredegar Band, is also a percussion teacher for Rhondda Cynon Taff and Caerphilly Music Services and is a highly sought after Bergerault Percussion Performing Artist.
He is in regular demand with many ensembles, including the BBC National Orchestra of Wales and the Royal Liverpool Philharmonic Orchestra.

On his return to the UK after living in Norway, Gavin has performed as a leading player and soloist with many top British brass bands, including YBS, Grimethorpe Colliery and Cory.
He has also performed recitals, concertos and solos throughout the UK and in mainland Europe with both brass and wind bands.
Gavin also has his own business selling percussion instruments and mallets called GP Percussion.

For more information or to contact Gavin, go to: http://gppercussion.co.uk/