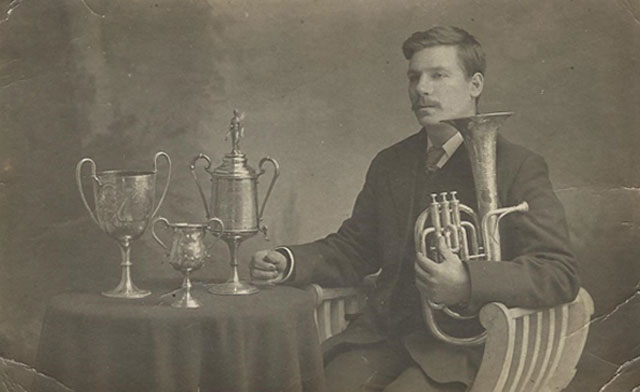 The greatest tenor horn player ever? Arthur Webb with some of his silverware

It was recently announced by Cheshire East Borough Council that the roads on the Elworth Gilbert's Cross housing development in Sandbach would be named after people associated with Foden's Band, who, for 113 years, have rehearsed within a couple of hundred yards of the site.
I felt very honoured when asked to contribute a couple of names to their list; one that includes such greats as Harry Mortimer, Teddy Gray, William Rimmer and William Halliwell.

One of my choices was Arthur Webb (the other Hubert Shergold), stars of Foden's Band for much of the first half of last century.
Soprano start

Arthur Webb was born at 2, Oxford Row, Greasbrough, Yorkshire in 1882. He originally played in the Greasbrough and Parkgate Bands, before eventually settling on soprano cornet for seven years at Houghton Main Band.

Until this point Arthur enjoyed a pretty unremarkable playing career, although he had begun to make a name for himself in the plethora of solo competitions that took place literally every weekend of the banding year.
However, by the time he had reached his late 20s, he aspired to play in a better band, and perhaps, as a result, gain a life away from working in Yorkshire coal mines.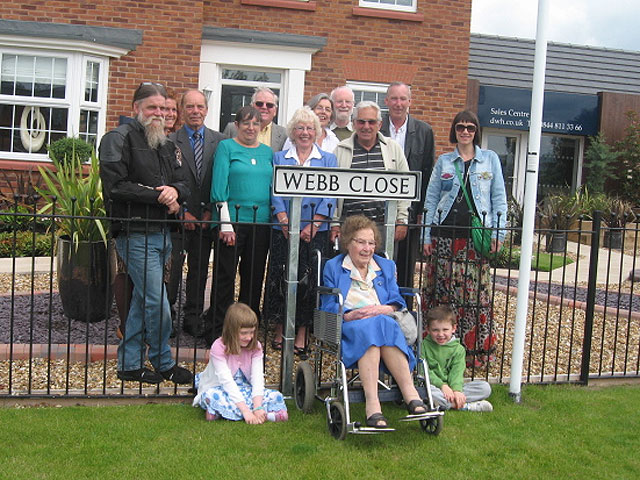 Never to be forgotten by family (above) or Sandbach residents...

Foden's

In 1911, his ambitious eye turned across the Pennines to Foden's Band, who had recently become a pre-eminent force thanks to their British Open victory of 1909 and their historic 'Double' of Open and National titles in 1910.
There was a problem though.
The Foden's soprano chair was filled by Joe Brookes, perhaps the finest exponent of the instrument of his day. As good as Arthur was, there was no way he was going to replace him.
However, not for the first or last time in his playing life, good fortune came his way.
The solo horn position was filled by a player not in the same class as Brookes, and who had been asked to stand own. Determined not to return to a working life in the grime and danger of a Yorkshire pit, he decided to apply for the job.
Iron will

A few eyebrows were raised in Sandbach, but Arthur was no mystery man – and many in the Foden's hierarchy were acquainted with his talent and iron willed determination to be a success.
Just a week before he was granted an audition, Arthur had won a solo contest in Barnsley (with a handy 10 shillings first prize) playing on a borrowed instrument – his brother's Bb tuba.
Now, armed with a borrowed tenor horn he practised every available spare hour before making the trip to Sandbach for an audition that was to mark the start of a remarkable Foden's career.
In the afternoon he played for the great conductor William Halliwell, who in turn told him that he was also required to play for the owners themselves – the Foden brothers, Billy and Edwin. Arthur needn't have worried, as Mr Halliwell had already said 'Yes'.
As a result, the Foden owners knew they were going to gain a truly outstanding employee – and Arthur knew a better, more rewarding life away from the coal mines was his too.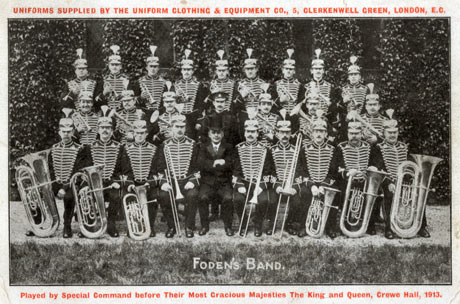 Foden's Band - 1913

Diamond success
His first major contest was the 1911 'Open', where Foden's came runner-up. A few weeks later they were second at the National Finals at Crystal Palace.
For most players it would have been a great start to a banding career, but not to Arthur. He was determined not for it to be repeated the following year.
The 1912 'Diamond Jubilee' Belle Vue contest, coincided with Gorton 'Wakes Monday', and on an arrangement of music from the Auber opera 'Les Diamants de la Couronne' ('Crown of Diamonds'), Foden's claimed victory.
Not only that, but every player was presented with a special gold medal which carried a diamond at its centre.
Arthur's haul of major championship titles had begun, with further Belle Vue wins in 1913 and 1915 to follow.
Hat trick
Then, in 1926, 1927 and 1928, Foden's achieved an historic Open hat-trick and a very special gold medal was presented to each player.
It seemed they were unbeatable at Belle Vue, but with Fred Mortimer's personal distaste for the fun fair atmosphere, Foden's did not return again until 1952.

Heaven knows how many medals Arthur may well have won.



The hat trick year: The Belle Vue programme from 1928
Nationals

Instead, Foden's ruled at the National Championship at The Crystal Palace.
Their 1930 win gave Arthur a silver medal and he added a gold medal to his collection in 1932 with his third National success.
Rather oddly, the double hat-trick victories of 1933, 1934 (Foden's were barred in 1935) 1936, 1937 and 1938 were marked only by bronze medals.

Perhaps John Henry Iles realised he was heading for bankruptcy thanks to Foden's hegemony.
Undimmed

By 1936, Arthur was 54 years old, but his 'qualities of tone, execution and artistry' as Harry Mortimer later recalled, were undimmed.
His playing, in May of that year, of the famous horn solo in the overture 'Poet & Peasant' could not be bettered – perhaps even to this day.
It is recorded for posterity on the two sides of a 10" 78, Regal Zonophone MR 2057. In fact he recorded it three times, because twice the band split notes. Arthur was faultless.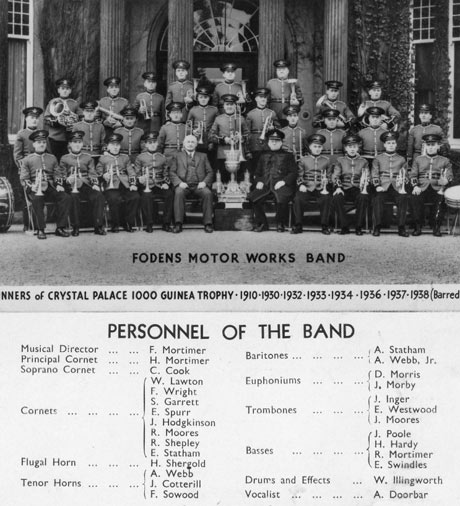 Foden's Band - 1945

Biscuit tin

Particularly in the first two decades of the twentieth century, Arthur sought out any opportunity to enter into a solo competition.

Modestly though, each success saw him place the accompanying medal in an old biscuit tin, whilst the welcome few shillings of winnings were added to his weekly beer fund.

He also enjoyed notable success too as a member of the Foden's No 1 Quartet (twice becoming a National Champion). Membership comprised Harry Mortimer, Bob Shepley, Alex Mortimer and Arthur; it could hardly be termed number two, could it?
Over 200 medals

Eventually, when Arthur's biscuit tin was emptied, it was found to contain over 200 gold and silver medals, cups and trophies.
Well not exactly. They were also a big temptation to his sons, who realised that there were so many that an odd one would not be missed if used in a trade off with a school mate.
One famous story he later told was that a prestigious Accrington solo medal had been swapped for a catapult!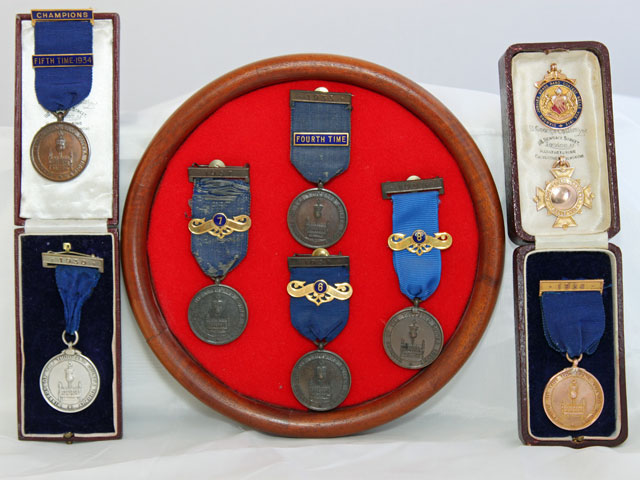 What a medal collection:

Top left: Bronze Medal for winning a fifth National Championship at Crystal Palace in 1934
Bottom left: Silver Medal for winning a second National Championship at the Crystal Palace in 1930.
Top right: Gold Medal with diamond for winning the September Belle Vue 'Open' in 1912.
Right middle: Gold Medal for winning the hat-trick at the September Belle Vue 'Open' in 1928.
Bottom right: Gold Medal for winning a third National Championship at the Crystal Palace in 1932.

Mounted: Bronze Medals for a fourth (1933), sixth (1936), seventh (1937) and eighth (1938) National Championship victory
Diadem finish

Arthur Webb continued to play with Foden's until the 1950's – winning the National in 1950 and again in 1953 (when aged 72) – the latter appropriately enough on 'Diadem of Gold' in a horn section that had a combined age of 199 years!
While I often saw Arthur in the village, I did not know him personally before he died in 1955, aged 73.

One of the last performances in his 43 years of service with the Foden's Band was in a concert in July 1954 in memory of the great Fred Mortimer, under whom he had enjoyed such contesting success.
Playing in the band that day with him was his son, Arthur Webb Jnr, on second baritone.
Retiring

In 1976, when I had become Foden's Band Manager, Arthur Jnr quietly told me that he would be retiring in the summer.
His justification was easily explained. "My Dad played in Foden's Band for 43 years. I have now played in Foden's Band for 43 years. I could not play for longer than him."
Thankfully, the memory of Arthur Webb will not be forgotten in Sandbach, as for generations to come, people will pass by his name close to the very place he called his banding home for over 40 years.
Nothing could be more fitting.
Allan Littlemore
---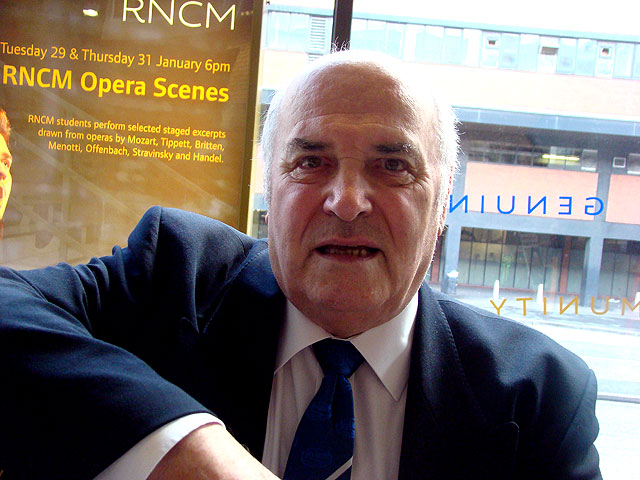 Author:

Allan Littlemore's reputation in the banding world needs little introduction.

He was the highly respected Band Manager at Foden's Band for over 15 years, prior to taking up the same post at Leyland Band during the BNFL era.

Allan also wrote the well received official centenary history of Foden's in 2000, as well as the Rakeway Brass Band Year books of 1987 and 1988.

He has also contributed numerous articles on banding to various publications over the years.

He lives in Sandbach with his wife Janet, and continues to enjoy brass banding in his role as Leyland Band President and through his love of cricket.