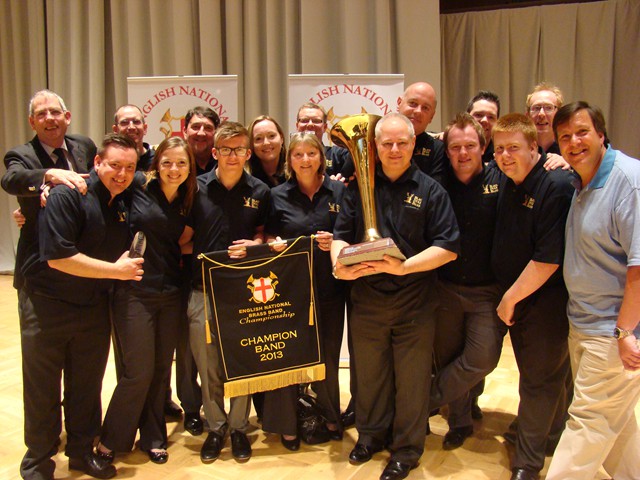 One for the wall: 2011, 2012 & 2013 Champions - Black Dyke

There will have to be a small, but significant re-arrangement of the pictures on one of the walls of the historic Black Dyke bandroom.
Upstairs in their Queensbury headquarters a new framed image of the band will be hung next to the others who have claimed hat-trick victories over the years: It will join the likes of the British Open victors of 1879-1881, National champions of 1975-1977 and European winners of 1982-1984.
Just as important

The current band's trio of English National titles may not yet resonate with the historic cache of some of their predecessor's achievements (although that first Open hat-trick was secured against just five other rivals) but it could well turn out to be just as important.
As a means of qualifying for the 2014 European Championships it was an almost perfunctory victory.
However, the way in which it was secured spoke volumes about the determination the MD continues to instil in his players to once again become the pre-eminent contesting force in European banding.
Signified

That was certainly signified by the determined look on the face of Dr Nicholas Childs as he stepped onto the Elgar Concert Hall stage at the University of Birmingham.
It was also enforced by their pragmatic selection of 'Revelation' to powerfully supplement the melodic refinement of George Lloyd's 'Diversions on a Bass Theme'. It was the second successive time they have played it at the contest.
After earlier producing a free flowing rendition of the set work, notable for its brisk pulse and clearly defined dynamic levels, it also allowed the band to showcase their obvious strengths with a degree of comfortable flexibility.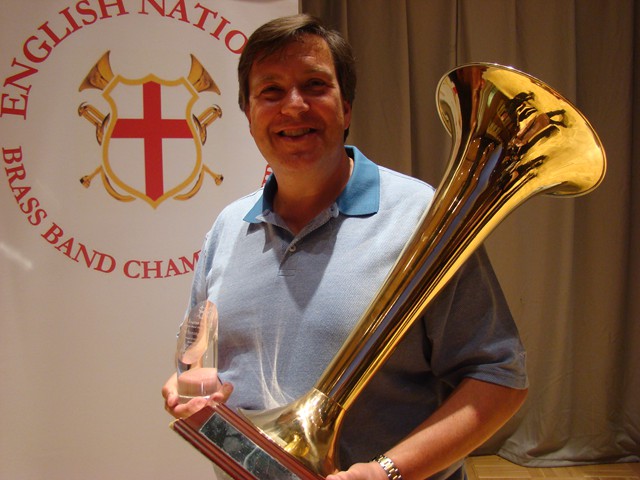 A determined smile of triumph for MD Dr Nicholas Childs

Artistic flair

All the main solo lines were played with artistic flair (notably Sheona White, Zoe Hancock and 'Best Soloist' winner Gary Curtin), backed by a solid ensemble kept on the tightest of dynamic reins.
That initial look of determination on the countenance of the MD was enhanced with just the slightest smile of satisfaction after a performance of the Wilby leviathan that brought tears to the eyes of the composer sat in the audience.
Like the majority of people in the compact Elgar Concert Hall, deep down he knew Black Dyke had shown that they were a class apart.
Whether the same applies come the British Open and Perth next year remains to be seen, but on this form the first nail to hang a future hat-trick picture on may already be in place.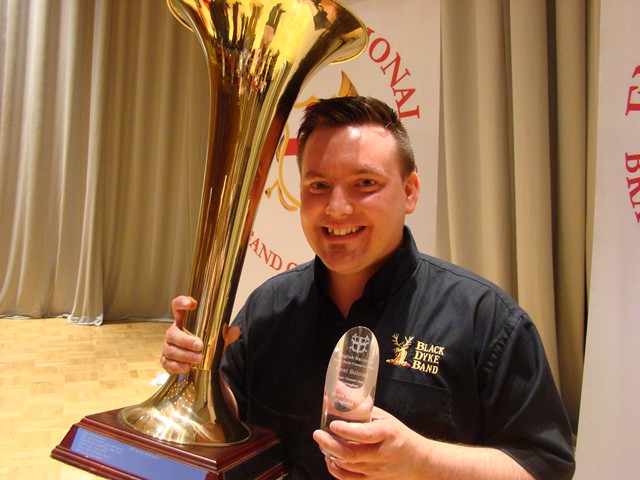 Best Soloist winner: Black Dyke's euph star Gary Curtin

Realism

A palpable feeling of inherent realism permeated the performances of Black Dyke's rivals: All really accepting they were playing for second place.
Virtuosi GUS though will be well pleased that they were able to provide further evidence of their increasingly impressive contesting credentials.
A brace of consistent high class performances under the perpetually energetic John Berryman ensured they picked up the £3,000 prize as runner-up in some comfort; although the possibility of claiming the title was never effectively within their grasp.
Clear margin

They were though a clear margin ahead of the other challengers, despite unluckily failing to find complete favour with Philip Harper and Paul Norley for their perfectly paced set work as they did with Alan Morrison and Steve Sykes for their well shaped rendition of 'Contest Music'.
Whoever takes over from their popular MD, who will surely depart on a high on this form after the National Finals, will inherit a band that has once again become a significant contender at major championships.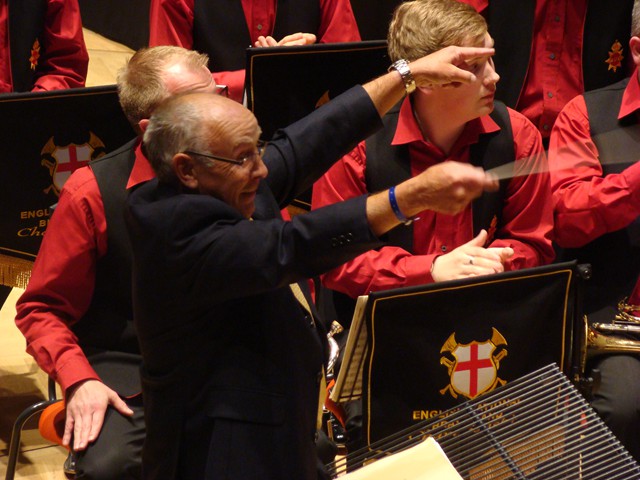 Pointing towards further success: John Berryman and Virtuosi GUS

Fantasy
Meanwhile, contest realism is currently touched by fantasy for Milnrow.

Third overall signalled another startling achievement for the Grand Shield winners following their National and British Open qualification.
As the lactic acid burned away their stamina reserves on a frustratingly inconsistent rendition of 'Music for Battle Creek', MD Marieka Gray may have suspected their chances of a podium place had slipped away.

However, thanks to their solidly delivered rendition of the set work (which was placed second) they just held on to pip Hepworth.
Critics still sneer that they are a band enjoying a hefty slice of good fortune, but the evidence of not one, not two, but three consecutive podium finishes against top flight opposition suggests otherwise.

Just the one look behind for rivals: Milnrow's Marieka Gray in action

Arrival

Michael Fowles certainly had plenty to celebrate following a new family arrival a couple of days before the contest, so it was perhaps understandable that Hepworth couldn't quite add a podium clinching sheen of sparkle to their brace of solid, workmanlike performances.
The MDs foundation work had certainly been put in place on the set work and 'Titan's Progress', but in the end they sounded just a couple of rehearsals away from fully ripped contest conditioning.

It may be a slightly different story come the British Open.
Spot on

The four judges were spot on in their assessments (and in their welcome remarks prior to the results) that the bands were easily placed in defined layers of quality in each discipline.
Overall, Black Dyke was a class apart with GUS a clear couple of lengths ahead of a neck and neck battle between Milnrow and Hepworth.

In their collective opinion, the rest rather scrambled to the finishing line.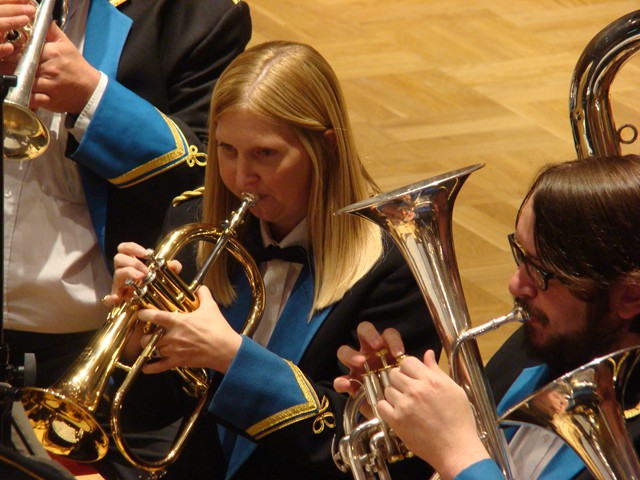 Not quite letting rip for Hepworth in fourth

Glimpses

Reg Vardy, showed tantalising glimpses of a return to form under Russell Gray to end fifth.
A solidly delivered 'Spiriti' (despite the obvious use of the principal cornet to play much of the melodic soprano solo) couldn't make up the lost ground of seventh place on 'Diversions', which was blemished by far too many lapses in concentration.
Sapped

Meanwhile, Pemberton Old Wigan won the triptych battle for sixth, despite an underwhelming rendition of 'Blitz', which never quite exploded into life.
Stig Maersk (who conducted the National Anthem with a touch of flamboyance) shaped a purposeful account of 'Diversions' to end the morning in fifth, although tiredness sapped stamina and menace from the Bourgeois; the final terminal thud of destruction more a misfiring mortar than a ten tonne Nazi V2.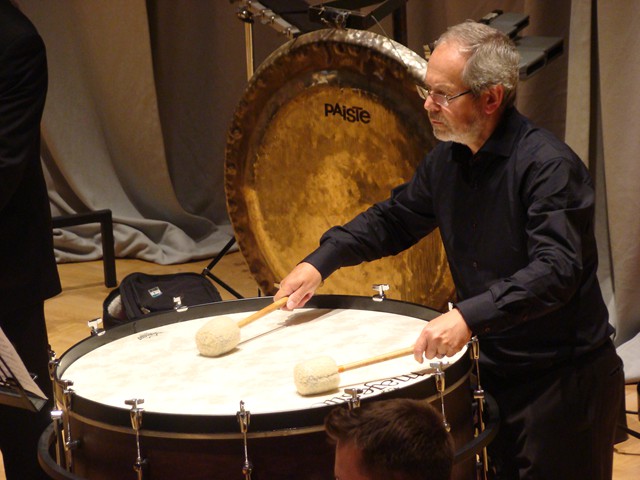 Seeking the right beat: Redbridge's contest woes continue

Woes

It still consigned Redbridge to further contesting woes.
An elegant, if rather ragged set work highlighted too many ensemble frailties, whilst an uncomfortable rendition of 'On the Shoulders of Giants', played with some ambitious tempo choices never sounded at ease either in style or execution.
Jeremy Wise and his band remain in need of a hefty dose of good fortune.
Brave

For Hammonds, a brave and unconventional own choice selection of 'Pursuing Horizons' didn't have enough technical meat on the bone to mix it with the heavyweight choices of their rivals, or to help overcome a rather bland rendition of the set work earlier in the day.
Although subtly shaped by MD Morgan Griffiths and tastefully delivered by his young players, its obvious Salvation Army construction sounded more suited to the concert than contest stage.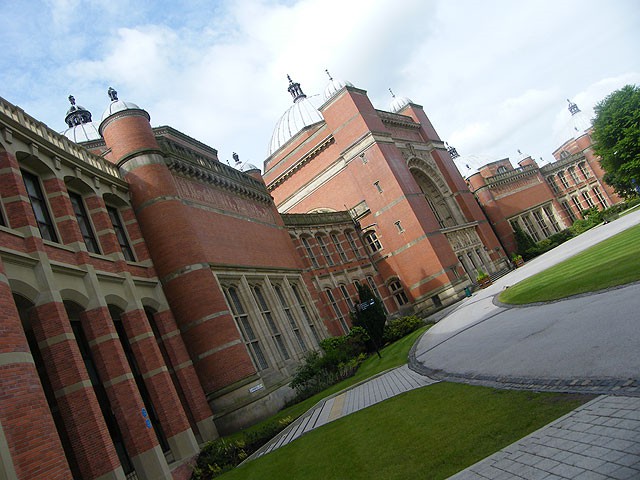 Seeking out an impressive new venue in Birmingham

Justified

For Brass Bands England, the result perhaps justified the means in taking the contest to a new home.
Despite the small audience (not helped by a lack of clear road signage to the venue) the hard work of the organisers in securing an excellent, compact hall with a fine acoustic (it sits around 400) may just have secured a feasible future for the event.
Pride

Encouragingly for BBE, there was also a great deal of pride on show from Black Dyke that they will be representing their country at the European Championships in Perth next year.
If they can now gain a pledge of support and commitment from more English bands to what needs to be a more democratically defined qualification structure, then Black Dyke may well find it a bit harder in future to fill a space on that Queensbury wall with another English National hat-trick picture.
Iwan Fox