A young George Lloyd

Bill Lloyd is celebrating a very particular and personal 100th anniversary this year.
He was for many years the business manager of the composer George Lloyd who was born in St Ives in Cornwall on 28th June 1913.
He was also his much loved nephew.
Complex life

George Lloyd's complex life is one that combines emotional highs and lows; early and late compositional recognition and critical acclaim bookending years of isolation and at times, overt ignorance of his musical output.
Bill champions his uncle's cause with affectionate realism.
"I'm still amazed at the renaissance in interest in his music," he tells 4BR.
"There has of course been a greater degree of interest this year because of the centenary, but the resurgence has been building for some time now.

This year, his works will be performed at the Proms at the Royal Albert Hall as well as on the BBC and in concerts in Switzerland, America and Australia by orchestras and ensembles – and of course by brass bands."
War time experiences

It has been argued that Lloyd was a victim not just of his traumatic war time experiences, which took years to recover from (and only through the patient help and love of his devoted wife Nancy), but also by the seminal change of musical attitudes that prevailed in institutions such as the BBC from the 1950's onwards.
Bill certainly agrees with the former, but not wholly with the latter.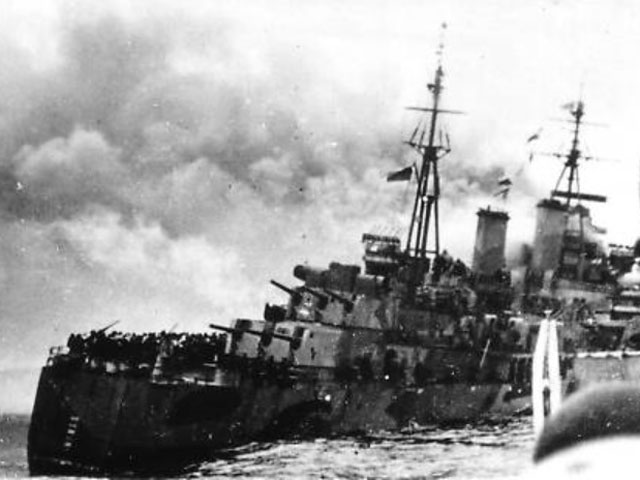 HMS Trinidad - struck by its own torpedo

Devotion
"Nancy managed to reconstitute George's life," he recalls. "The devotion and commitment they gave to each other ensured that he was able to make a recovery from the terrible effects of what is now called post traumatic stress following the sinking of HMS Trinidad in 1942.
It certainly took years – leading him to abandon his full time compositional life in 1952 and only returning to it again twenty years later."
BBC attitudes

He added: "Much has been made of the attitude towards his compositions by the BBC musical hierarchy, but the reality was that George was a moderately successful composer and the BBC in fact was very good to him over the years.
Much has also been made of articles that suggested he was shunned, but my research and firsthand knowledge leads to a slightly different conclusion.

There was a time when his music – much like that of others who wrote in the same melodic style, was not fashionable, but when George returned to full time composing in the early 1970's the BBC was very supportive – especially after they broadcast his 'Eighth Symphony' in 1976."
Support

That support continues he adds – with him featured as 'Composer of the Week' on Radio 3 the week before his centenary birthday and with a major feature on his output as part of the flagship 'Music Matters' programme.
In addition, the British Library has now acquired over 130 original manuscripts on behalf of the nation.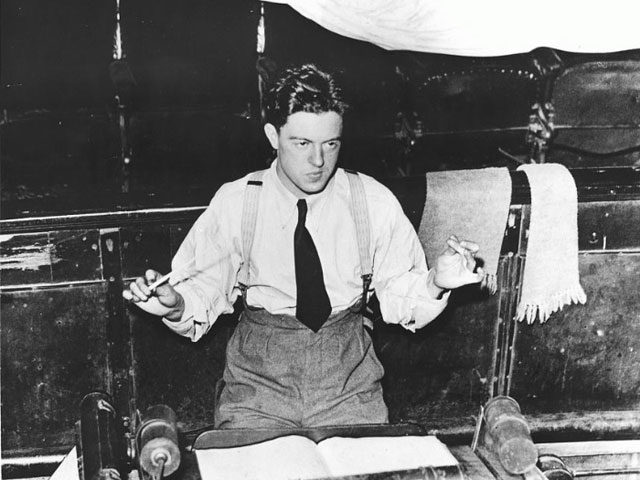 A young George Lloyd at the helm

Restored

It seems his reputation has been restored in full, especially when you consider that his march 'HMS Trinidad', scored for string orchestra will be played at the 'Last Night of the Proms' at the Albert Hall instead of the traditional 'Fantasia on British Sea Songs'.
Bill also revealed that the composer was immensely fond of brass bands – although not particularly of brass band contesting.
"It's wonderful that his works are being played so extensively at present – from the famous Bugle contest in his beloved Cornwall to the English National Championships in Birmingham this weekend and at the Dutch National Championships later this year."
Brass band approach

The initial approach to the composer from the brass band world in fact came from a competition source.
"George was delighted to be commissioned by Boosey & Hawkes to provide 'Royal Parks' for the 1985 European Brass Band Championships.

It seemed to open up other exciting opportunities as he then went on to compose works such 'Diversions on a Bass Theme', 'English Heritage' and 'King's Messenger' amongst others."
Cornet

He added: "George played the cornet in the Royal Marines and enjoyed jazz, so he knew how to score for the medium.

He loved the degree of commitment and expertise shown by brass bands in performing his works, although he didn't enjoy the competitive element of contesting – feeling it was very unfair on the bands.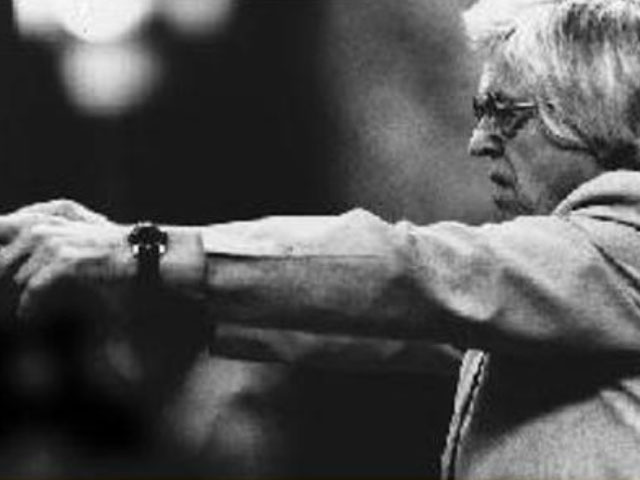 Lloyd in commanding conducting mode

Impossible to judge

Although he did adjudicate he didn't enjoy it. He felt that it was impossible to judge such high quality performances with any real degree of analyses after about an hour or so stuck in a box."
Bill tells 4BR that almost every day something new or long forgotten seems to find its way to him at the George Lloyd Society – including recently, a very moving story surrounding 'Royal Parks'.
"The new orchestral arrangement of 'HMS Trinidad' comes from documents recently discovered from his time in Switzerland, where George went with Nancy in 1945.

It was amazing when the partial arrangement turned up. Now it is being used at the Proms – and I'm sure both of them would have been delighted."
Moving story

That brings Bill to an incredibly moving story.
"The inspiration for 'Royal Parks' is well known of course, and was a very personal composition for George to write," he says.
"However, earlier this year at the Royal Northern Festival of Brass I heard a lovely performance of it played by Tredegar Band.

Psychiatrist

As I went for a cup of tea after the concert I was approached by a man who said he was a NHS psychiatrist, and that he had been treating a severely depressed woman for some time."
He added: "This woman would not speak, and so the psychiatrist tried music – and in particular the middle section of 'Royal Parks' – 'In Memoriam'.

Amazingly, she began to weep and then speak for the first time in months.
Her first words were - 'He knows'."
Chilling

It is a chilling reminder of Lloyd's own close brush with death all those years ago aboard HMS Trinidad, but also a wonderful reminder of a composer who is able to reach deep into the emotional heart of any listener with his music.

It won't be the last time for sure.
Iwan Fox

All images used with kind permission of the George Lloyd Society