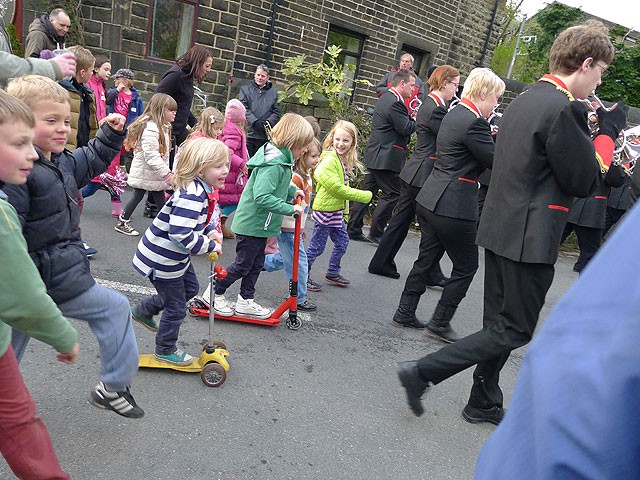 Come follow the bands....
Image: Copyright Ian Clowes

With the promise of glorious sunshine and a significant upturn in the meniscus levels of local thermometers, it came as a real disappointment that the Whit Friday contests in Tameside and Saddleworth were blighted by the vagaries of the unpredictable British weather.
Bandsmen and women may be blessed with a 'stiff upper lip' mentality that can shrug off nearly all things meteorological, but on this occasion there wasn't any need for pretence:

It was so bitter at times instruments could have frozen to embouchures.

However, it takes more than just a drop in temperature to spoil what was yet another wonderful Whit Friday experience for all concerned.
Spring wardrobe

Once again hardy players had to dig out their Spring wardrobe selections of heavy coats, gloves, thermal underwear and hip flasks to make it through the day. The effects of global warming continue to miss these parts of the UK.

It may have also accounted for the decrease in competitors, as numbers were slightly down across the 22 venues.

However, as always, it was great to see so many foreign visitors – especially with bands from Switzerland, Norway and Denmark making their annual pilgrimage.
Despite the traffic congestion in some places, the excellent work of local organisers and the Police meant that disruption was once again kept to a minimum.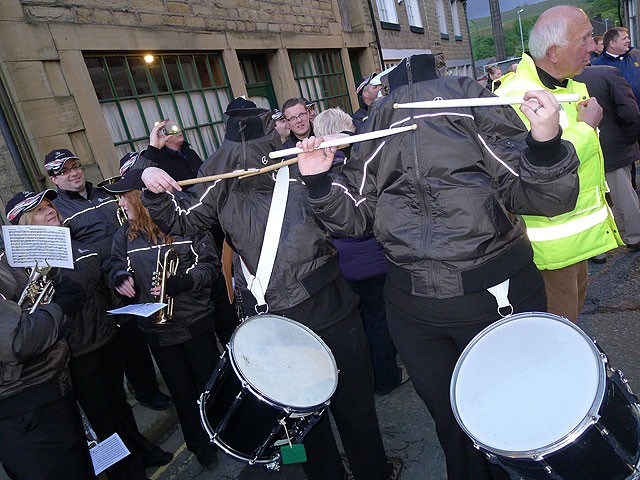 Freezing their heads off....
Image: Copyright Ian Clowes

Brighouse & Fodens take honours

There were some sunny smiles on show though, as both Brighouse & Rastrick and Foden's made sure their treasurer's faces broke into grins of warm hearted joy after bagging plenty of prize money.

With Prof David King at the helm, Brighouse regained the Saddleworth title they last held in 2011, after producing five individual winning performances of 'Knight Templar'.
The Australian certainly had a smile on his face too after his band (which included his wife Rosie on 1st horn) delivered the goods on the 'Knight'.
Third at Greenacres and fourth at Lees & Springhead meant they only missed out at Grotton.

By taking the £2,500 central prize and a host of additional sectional and solo awards, Brighouse headed back to West Riding warmed to the contesting cockles with £7,585 to their name.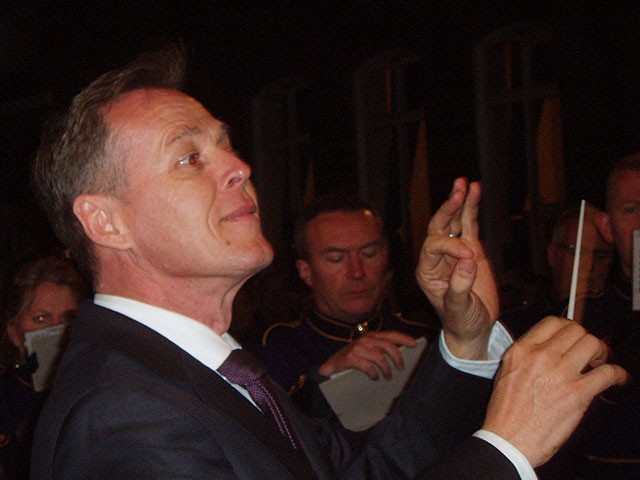 Prof David King leads Brighouse to victory

Scrap for honours

With a number of Championship bands battling it out in Saddleworth, it was always going to be a scrap for the overall cash honours - and so it proved.

Fairey, Leyland, Hepworth, Marsden Silver and the composite SHB Band, were amongst those vying for the dosh, as was Yorkshire Area champion, Carlton Main Frickley, who had too much of an inconsistent night to ring up anything significant on their cash register.

Presidents and Wizards

There was some great march playing on show at the various venues, with Fairey eventually claiming second place, with bold renditions of 'The President' under Garry Cutt to claim a victory at Lydgate and five runner-up spots.
Leyland will also have been pretty pleased that their post Oslo coffers were refilled by claiming third place thanks to solid renditions of 'The Wizard' under Andrew Warriner.
Just missing out on the overall prizes was the consistent Hepworth, who took home £2,700 – although they didn't quite thaw out in time to make any appreciable mark at the Masters in Kettering 24 hours later.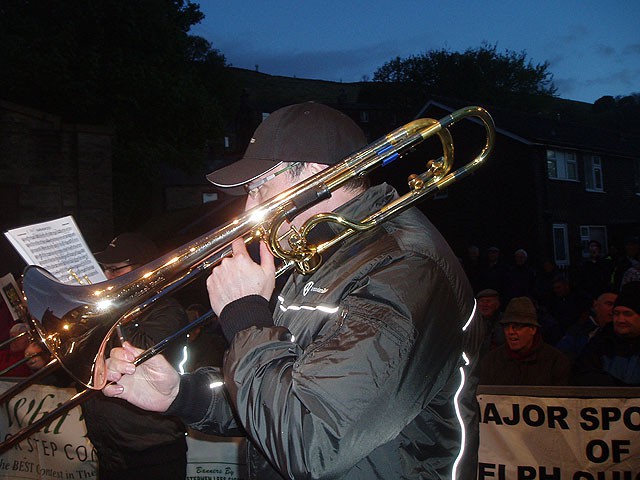 Brett Baker in disguise....

Hire Purchase

There was plenty of interest in the appearance of the composite SHB Band, which contained players from Black Dyke and Woodfalls, led by Dr Nicholas Childs.
Named after the vehicle hire company which supports the two bands, they took to the circuit in serious mood, kitted out in sponsors jackets and caps.

Some cracking performances of 'Ravenswood' bagged them a handy bit of cash too.

Sleep deprivation

It would not have been a surprise if the players of Marsden Silver had fallen asleep on the journey home from the Masters on Sunday night.

Two wonderful contesting efforts over the weekend showed a huge amount of sleep deprived commitment under the baton of Glyn Williams, as they played at ten Whit Friday venues.
The last performance of 'Knight Templar' came at just past midnight to claim the Local Championship bragging rights and beat off the challenge of Grand Shield champion Milnrow and Oldham (Lees).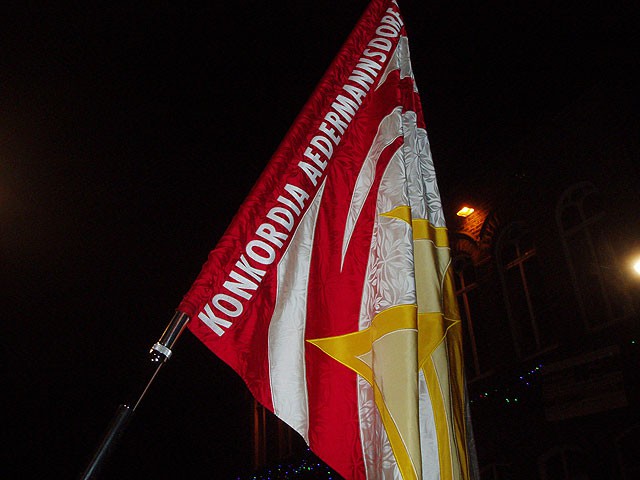 Welcome visitors once more...

Overseas challenge

As always, the overseas contingent enjoyed the privilege of taking part in the Procession of Witness on Friday morning, before competing at the various contests (and perform the odd concert) on their travels.

Finishing top of the challengers was Denmark's Concord Brass, who also took the opportunity to make a full contesting weekend of it by taking part in the Masters in Kettering.
It was also good to welcome the excellent Swiss duo of Brass Band Breitenbach and Brass Band Matzendorf, whilst European integration was shown by Black Dyke's young tenor horn star Jonathan Bates conducting the Norwegian's of Orskog Brass.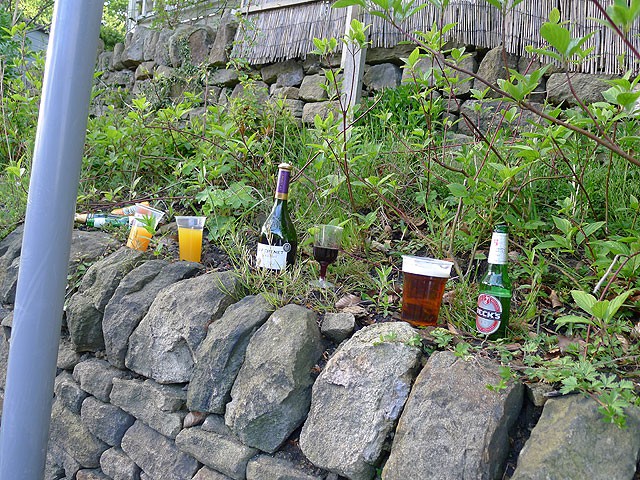 Not quite an Olympic marathon drinks stop...
Image: Copyright Ian Clowes

Foden's dominate

Over in Tameside, Foden's continued their Whit Friday domination, as Michael Fowles led the Sandbach band to their eleventh overall title in the past twelve years.
Their ultra slick organisation meant that they competed at all the individual venues; snapping up eight firsts along the way with their sparkling rendition of 'The President'.

They also picked up prizes at the remaining three contests to take home over £7,500 for their night's work.

Battle

With the 'Double Champions' on such commanding form, it left an intriguing battle for the other main prizes, which were eventually taken by a resurgent Rothwell Temperance and a very solid Ashton-under-Lyne.

Deliberately focussing their efforts on Tameside, Rothwell competed at seven venues, although they still had time to nip into Saddleworth to take the runner-up spot at Delph and a fourth at Uppermill.

Meanwhile, Ashton-under-Lyne, celebrated a fine night's work by beating off the challenge of EYMS and Northop Silver to take third place overall and bag £750 in prize money.
Playing 'Mephistopheles' under guest MD Ian Brownbill, they were also declared 'Local Champions', although with the rules stating that bands can't claim prize money in both categories, it was filtered down to those in second, third and fourth respectively - giving Mossley, Stalybridge Old and Denton Brass a nice pay out.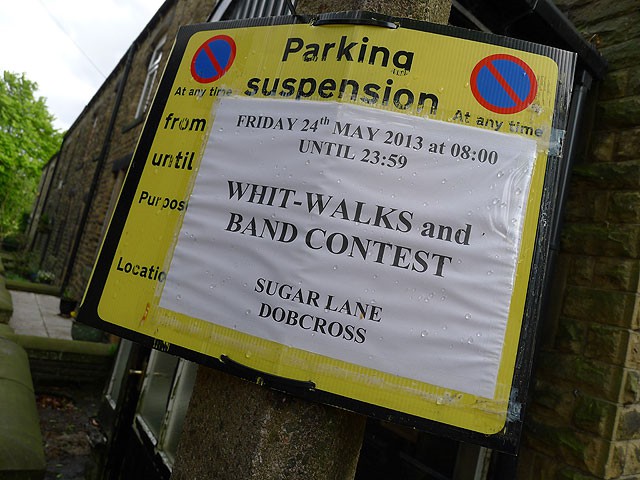 No parking tickets in Dobcross for the day...
Image: Copyright Ian Clowes

Blue Peter

As always there was plenty of media interest in the day, with children's television presenter Barney Harwood playing trombone (after just 2 weeks of tuition) with Northop Youth Band. He certainly had plenty of fans cheering him on too – with Blue Peter wearers seen on mass at Carrbrook and Upper Mossley.
Meanwhile, there was also an excellent response to the young debutants of Audenshaw Boys School who took part in three contests on what was their first public appearance.

Debate

With discussions continuing around both circuits over the increasing challenges (both financial and organisational) involved in running the Whit Friday contests, it was wonderful to see the hardy band of helpers and contest organisers working their socks off to make sure everybody enjoyed their contest day.
They really are an amazing bunch of people.
Some mistakes were made of course, but even when they did come to light, a sense of fair play ensued – even if some irate players seem to think it's all contesting red tape gone mad.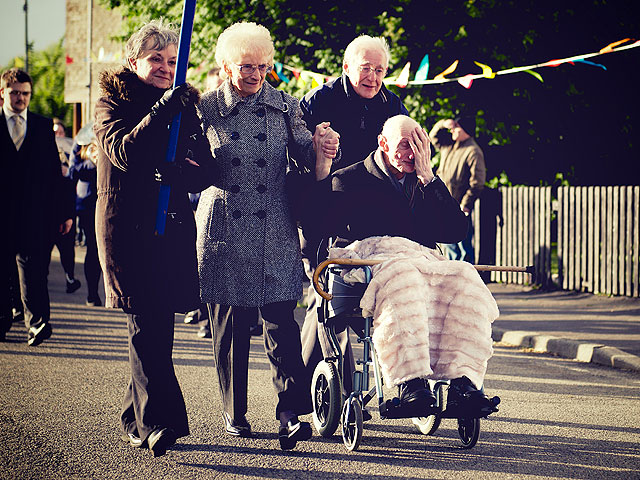 Stanley Ashworth is treated like royalty..
Image: Copyright Tameside Council

93 years of age

If only some of them offered to help rather than vent their spleens, we may get to see more heart warming appearances such as those seen at Upper Mossley, where 93 year old Stanley Ashworth, who has been involved in the contest for close on 70 years, was picked up from his care home so that he could enjoy the occasion.

He was treated like banding royalty all evening.

It's the life time dedication of people like Stanley Ashworth that ensure Whit Friday continues in the communities of Tameside and Saddleworth year in year out.
And not even a bit of unseasonal cold weather was going to stop him from doing his bit.
Next year's contest date is 13th June.

Malcolm Wood