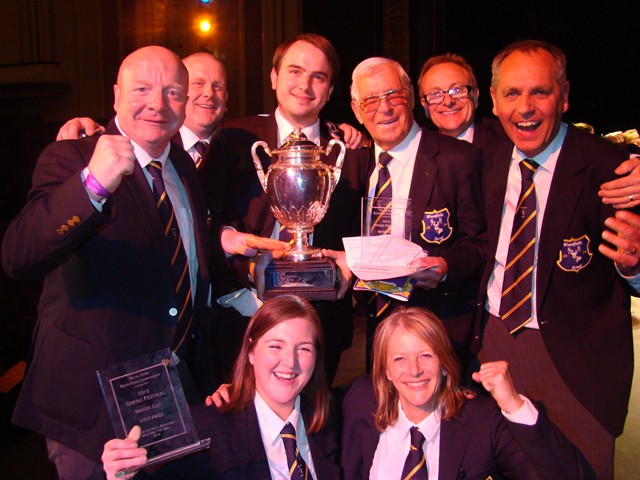 Living up to the bookies odds for champions Woodfalls

Being the bookies favourite can be both a blessing as well as a curse at a brass band contest: Just ask Dr Nicholas Childs.
Living with the expectation of winning every event you enter as MD of Black Dyke may seem like something most conductors would dream about, but it can soon turn into a bit of a Groundhog Day nightmare – especially after the type of year the Queensbury band has had to put up with so far.
Wry smile

You can therefore understand why he may have allowed himself a wry smile of self satisfaction after leading Woodfalls to victory in the Senior Cup, after they produced a performance of 'Capriccio Italien Opus 45' that fully lived up to their own pre-contest status as the bookies odds on banker.
The West of England band regained the title they also won in 2010 by confidently delivering on the type of disciplined, stylish reading from the MD that has become his successful hallmark over the years.
Classy

By the time the last chord has been delivered with a compact, balanced ensemble sound that was dynamically suited to the acoustic of the Pavilion Theatre, the destination of the trophy and their promotion to the Grand Shield was in little doubt, and the bookies were paying out despite another two bands left to play.
It was a classy, determined performance played with confidence and supple flexibility, that brought the colour and vibrancy out of the score without recourse to misplaced bombast or saccharin coated pathos.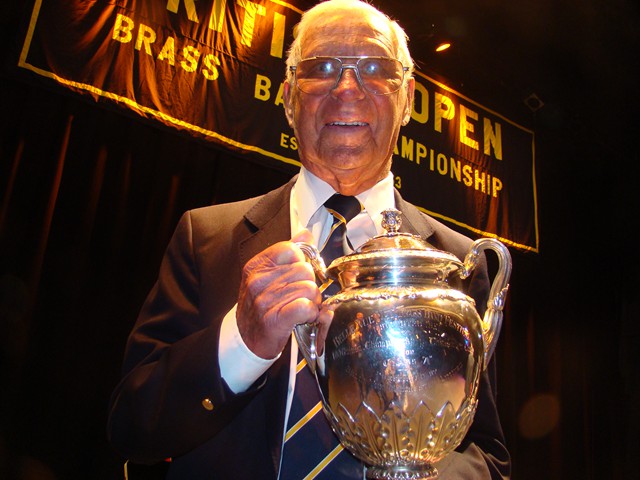 90 year old Ken Worgan enjoys getting his hands on the Senior Cup

Measured

Only East Yorkshire Motor Services came close to beating them in fact (the judges remarking later that the duo were 'a little way above' the rest of the field), although the eventual winning margin was also confirmed by David Read MBE and Adrian Morris as being clear cut.
EYMS also benefitted from a measured, well structured reading from Alan Morrison, which saw the MD elicit a tasteful measure of flexibility in his tempo choices (no markings were given in the score) that was balanced by a strict control of dynamics.
It was also aided by a wonderful display of top class soprano playing from Kevin Donaldson.

He rolled back the years with playing that tactfully topped off the ensemble colour on a day when quite a number of spirited high octane tyros were left nursing a few too many self imposed third degree burns.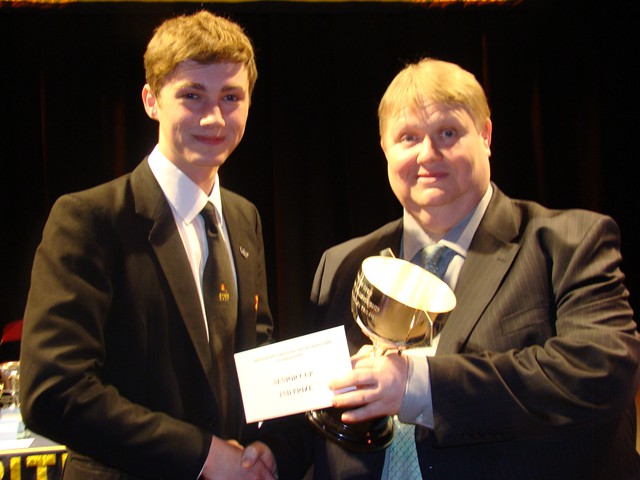 Measured return to the Grand Shield for EYMS

Battle

Behind the top two there was a battle of contrasting wills, styles and error counts as Derek Broadbent's authentically pitched arrangement of Tchaikovsky's carnival day trip caught out under-prepared, unwary and at times, unfeasible interpretations.
It was certainly a stern test – although not overtly so for bands of this supposed pedigree, and it would have been no easy ride for Grand Shield contenders.

Critics

However, it wasn't 'too difficult' as some critics of it may have said in defence of the competitors here.
For instance, although the cold temperature in the hall may have contributed to poor intonation in the opening fanfares, cornet players still had plenty of time to use their ears (and triggers), and to have been thoroughly warmed up before playing.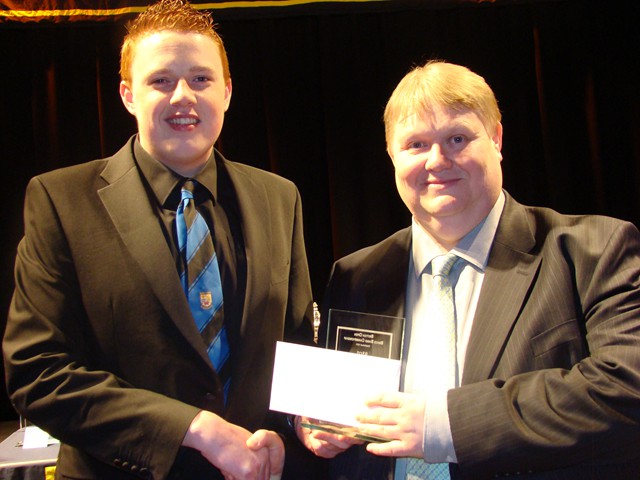 Burry Port take another step closer to the British Open

No excuse

There was simply no excuse for MDs who should have really used a more informed selection process with their tempo choices (a point not lost with the men in the box) that made some of their Roman Carnival's veer between a Benny Hill end credit scene and a Communist Party funeral cortege.
Despite the plethora of sharps in the key signature, it was the style (or lack of it) that seemed to flatten the chances of the also-rans from the main contenders – with many MDs simply choosing tempos that were either over ambitious or over indulgent.
Wry

David Read's wry pre-results comment about the matter was met with an uncomfortable, yet knowing degree of chuckling acceptance. As a result, those conductors who had a more realistic grasp on their band's technical limitations instead of their own lofty ambitions invariably ended up higher in the results table.

The battle for the final two promotion places was eventually won by a delighted Burry Port Town, with Nigel Seaman bringing all his years of orchestral experience to bear with his elegantly styled approach to the music.

Meanwhile, Derek Renshaw also used his considerable top level experience to draw out a solidly portrayed rendition from Unite the Union (City of Sheffield) that was testament to a band that responded to the MDs desire to keep both dynamics and tempo under firm control.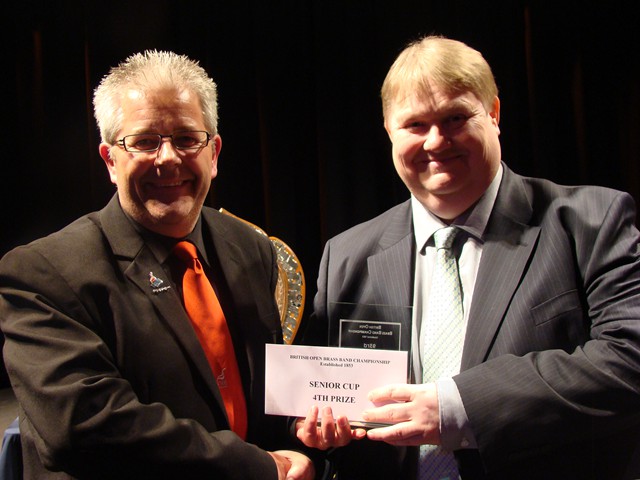 Unite the Union (City of Sheffield) gain their promotion to the Grand Shield

Erratic

Behind the qualifiers renditions became a little more erratic in execution, although the experience of Melvin White was certainly brought to bear with Aveley & Newham's breezy performance in coming fifth whilst Staffordshire's bold confidence under Steve Walsh helped them very nearly overcome a nagging minor error count in sixth.
Further down the field and the more obvious fault lines began to appear on a much more regular basis – although there was plenty to enjoy in the approaches of Felling, Ratby Co-operative, NASUWT Riverside and Skelmanthorpe and the solid purposefulness of the likes of Kingdom, Tylorstown and Blackburn & Darwen.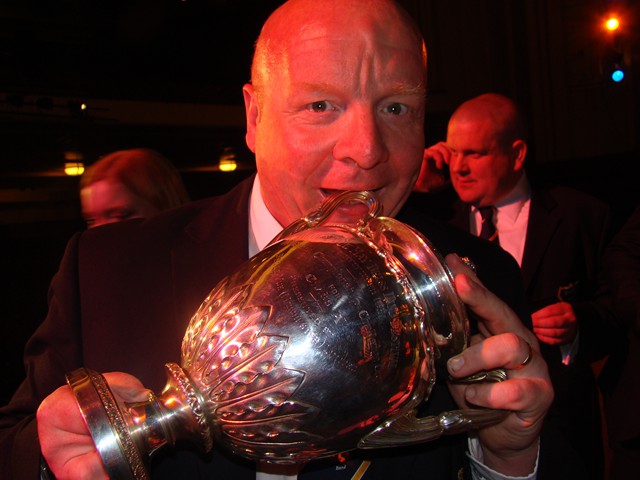 Not quite Rafa Nadal but John Starkes enjoys the taste of success...

Remember

Overall though, it was a contest of variable quality at times, with the bottom two bands falling without too much complaint through the trap door to the Senior Trophy for 2014.
For Woodfalls, 2013 is turning into a year to remember.
No wonder Dr Childs says he enjoys his trips down from Yorkshire: If they carry on in this form he will have plenty more days like this to give a wry smile about too.
Malcolm Wood