Grand Shield
Opera House
Test Piece: Red Priest – Concerto after Vivaldi (Philip Wilby)
First Prize: £800 and Grand Shield
Second Prize: £600
Third Prize: £400
Fourth Prize: £300
Draws: 9.30am & 1.00pm
Commence: 10.30am
---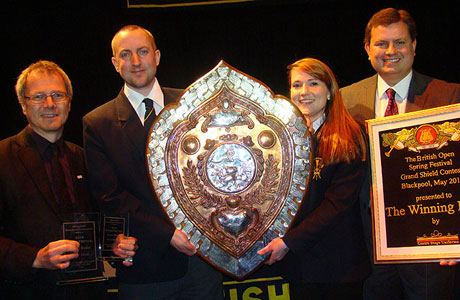 2012 Champions: Hepworth

Forget the European Championship, Nationals or British Open: The Grand Shield remains the toughest contest in the banding world to win.
That's because it's rarely won solely by artistic excellence or musical brilliance: Getting to Symphony Hall is all about beating your opponents by just about any means possible.
Dog fight

This is a dog fight of a brass band contest: Hunger, desire and an all encompassing will to qualify (not just win) ensures that the form book is invariably ripped up in shreds.
Come 7.00pm, two bands will be jumping for joy at the prospect of leaving Blackpool behind; 18 will be cursing their luck that they will have to return.
With the familiar set work rotation policy ('Electra' should be next in 2014) the 20 competitors know well in advance what test awaits them at the Winter Gardens.

Playing these major compositions so soon after they were first used at the premier event is a deliberate show of intent from Karyn and Martin Mortimer.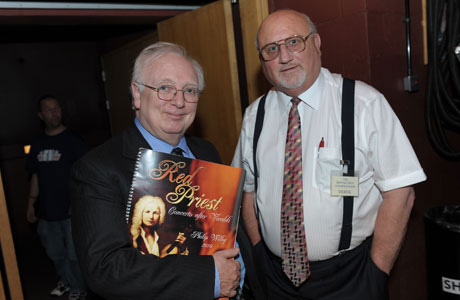 The composer and his priest (not Derek Atkinson on the right...)

On the horizon

As a result, there should no excuses about being underprepared: Philip Wilby's 'Red Priest' has been on the horizon for some time now.
An appearance at the British Open is hard earned not easily given, and any illusions bands may have about just how good they think they are can be cruelly exposed. 'Red Priest' is also the type of piece that punishes musical hubris as well as lack of technique.
Highly choreographed it quotes freely from some of Vivaldi's most popular works – most notably 'Winter' from the 'Four Seasons', the Motet, 'Nisi Dominus', 'Gloria' and the fugue from his D Minor Concerto Grosso from 'L'estro Armonico'.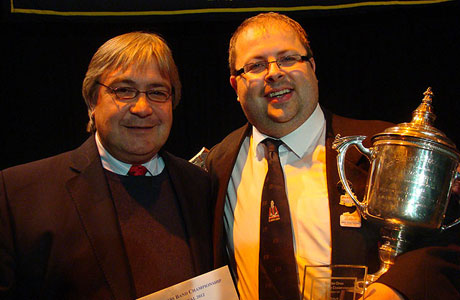 Can Flowers go from third to first this time around to get the British Open?

Weaver

However, as with much of Wilby's musical associations with great composers, he also weaves his own personality into the music – with the familiar detailed scoring, extensive use of mutes and spotlight solo lines.
It's a work that reminds you of a weekend away trip to take in the more familiar sights of Venice: Take off, arrival, gander around the tourist spots, a bit of romance, a Sunday morning stroll and back to the airport for the flight home.
Bands will be hoping it mirrors their trip to Blackpool.
Contest passports

Seven contenders land on the Golden Mile with an appearance at the Royal Albert Hall already stamped in their contest passports.
Flowers, Jaguar Land Rover, Kirkintilloch, Milnrow, Northop Silver, Tongwynlais Temperance and Whitburn, will all be making their journeys confident of leaving 24 hours later with a priceless one-way qualification ticket in their grasp.
All are more than capable of winning this contest and winning it well, but even though four of them are Area champions, and two will play in the European Championships next year (adding greater pressure to their appearances here), any thoughts of an easy ride to Birmingham will be the last thing on their minds.
Close

Rothwell Temperance certainly won't need any reminder of just how hard it is to actually remain at Symphony Hall after winning here in the last few years, whilst Redbridge has been frustratingly within touching distance of qualification more times than they care to think about.
Solid banding credentials are also on view from the promoted Senior Cup bands of Aldbourne, Hammonds Saltaire and Co-operative Funeralcare North West, as well as those with decent records over the past few years such as Marsden, Pemberton Old Wigan DW, Wingates, BTM, Mount Charles and Thorseby Colliery.
Emerging contenders such as Yorkshire Imperial Urquhart and Newstead Brass make up the rest of a highly competitive, well matched field.
Malcolm Wood
---
As for a winner?
Predictions don't come any tougher, although a couple of bands do stand out for us, with Flowers the pick.
If they show the solid no nonsense form of recent outings then it will take a good band to deny them their place at Symphony Hall, whilst either Tongwynlais or Whitburn seem the best bet to join them there.
Rothwell is sure to be right in the mix if they repeat the form shown at Bradford earlier this year, as should Milnrow and Jaguar Land Rover. Our dark horse is Kirkintilloch.
4BR Prediction:
1. Flowers
2. Tongwynlais Temperance
3. Whitburn
4. Rothwell Temperance
5. Milnrow
6. Jaguar Land Rover
Dark Horse: Kirkintilloch