Senior Trophy:
Spanish Hall
Test Piece: Journey into Freedom (Eric Ball)
First Prize: £600 and Senior Trophy
Second Prize: £400
Third Prize: £300
Fourth Prize: £200
Draws: 10.15 & 1.30pm
Commence: 11.15am
---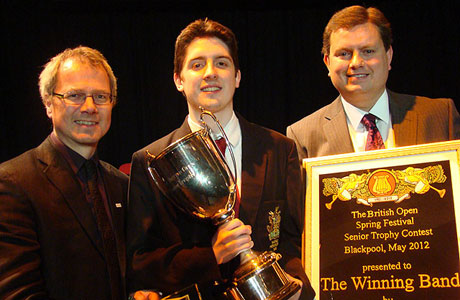 2012 Champions: Wakefield Metropolitan

The final contest to get under way on Saturday will be The Senior Trophy which takes place amid the ornate splendour of the Spanish Hall.
Just three steps from glory and the British Open itself, the choice of Eric Ball's classic, 'Journey into Freedom' seems particularly appropriate.
Commissioned for the National Championships in 1967, it remains the crowning glory of Ball as a mature composer.
Human condition

A musical rhapsody on the theme of the human condition (one that resonates rather peculiarly with the antics of a Friday night on the Golden Mile), the composer poses all the big questions – from the inbuilt adherence to violence and materialism to the subconscious desire for true transcending love.
Unlike his later National works such as 'Kensington Concerto', which are more nostalgic and meandering, 'Journey into Freedom' is crafted without a spare ounce of wasted musical flesh, each of the six sections set out with clearly defined intent.
Better journey

Conductors who succeed in capturing the essence of the work may only find themselves back here in a higher section next year with their bands – but in doing so they well surely have become better musicians for the musical journey undertaken in doing so.
There is an evenly matched field of 20 bands of Championship and First Section status who will all fancy their chances of claiming a top four promotion finish.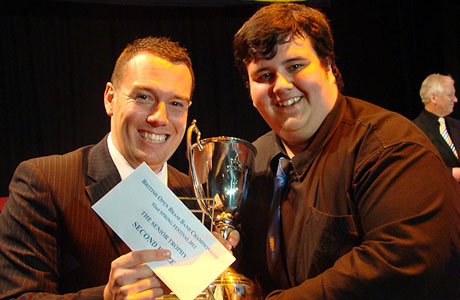 Welsh promotion for second placed Burry Port

Experience

Camborne (who have enlisted the experienced John Berryman to lead their challenge) and St Dennis make the longest journey up the M5 and M6 to compete this year, closely followed by the South Wales duo of City of Cardiff (Melingriffith) and Pontardulais Town.
It's also great to see Laganvale (Metal Technology) make the trip across the Irish Sea.
Pride

Scottish pride comes in the form of Damellington and Unison Kinneil, whilst First Section National Finalists Newtongrange will surely be a band to watch out for under the baton of Lee Skipsey.
The emerging strength of London banding is shown with purposeful trio of East London Brass, Friary Guildford and Wantage Silver 'A', whilst Yorkshire also sends a strong looking hunting pack led by Drighlington, Hade Edge, Hatfield Colliery and Meltham & Meltham Mills.
Each way bets

Easington Colliery is the sole North of England representative, whilst the Midlanders of Jackfield Elcock Reisen and Sovereign Brass (who just missed out on promotion last year) look decent each way bets for a possible top six finish.
Last but not least, plenty of eyes will be on the intriguing combination of Russell Gray and Oldham (Lees) Band - with the MD just back from one heck of a journey of his own from Japan.
Malcolm Wood
---
As for a winner?
A good working knowledge of Eric Ball will surely come on handy this weekend – as the great composer's works are fast becoming a lost art form for the younger generation to understand and even perform.
Look out for Camborne, Drighlington, Friary Guildford and Oldham (Lees) then for possible top four qualification places, closely followed by City of Cardiff (Melingriffith) and Newtongrange. Our dark horse is Sovereign Brass.
4BR Prediction:
1. Camborne
2. Friary Guildford
3. Drighlington
4. Oldham (Lees)
5. City of Cardiff (Melingriffith)
6. Newtongrange
Dark Horse: Sovereign Brass