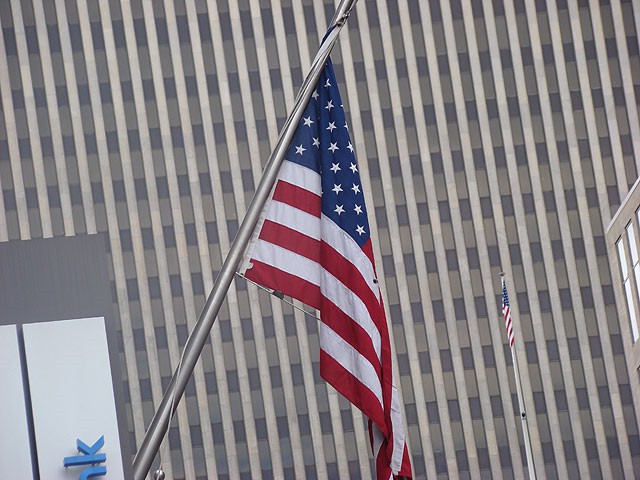 Forever flying proudly

The emotional feelings borne of victory and defeat were placed into stark context just 48 hours or so after the end of the North American National Championships.
The horrific scenes witnessed at the Boston Marathon ensured that the winning and losing of a brass band contest mattered little in the greater scheme of things:

It provided a chilling coda to what had been a wonderfully uplifting weekend of inclusive competitiveness at the Masonic Centre in Cincinnati.
Rose as one

Keenly fought rivalries had been played out in an atmosphere of supportive collectiveness – with the most visible example shown when the audience seated amid the bizarre splendour of the temple auditorium rose as one to show their appreciation of the Triangle Youth Band.
Their performance under the baton of Tony Granados included a lyrical rendition of 'Resurgam'.

It was music that had even greater resonance a few days later.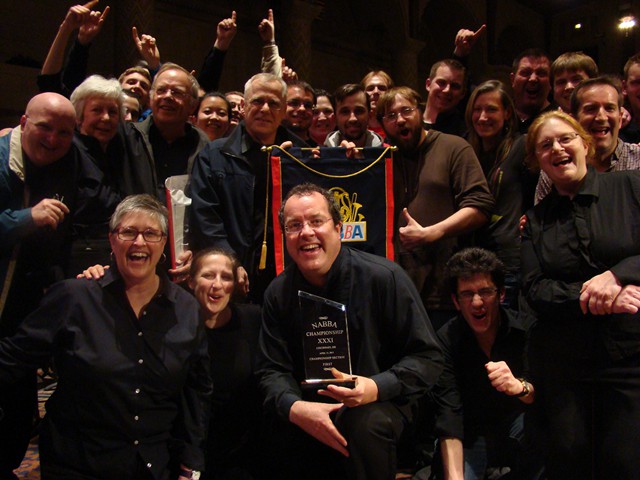 2013 champions: Princetown Brass Band

Engrossing

It was also a performance that rounded off an engrossing championship – with a top section result that had a degree of statistical incomprehension every bit as mystifying as the architecturally inspired numbers, angles and measurements the local Masons have celebrated here over the years.
You really did need the wisdom of King Solomon to work out an equitable explanation of how the winners came to be declared.
Diluted

The system of weighting the set work/own choice disciplines in a 60:40 ratio seemed eminently sensible, although it meant that with six independent judges, with all marks taken into account, any consensus of opinion was somewhat diluted.
The actual spread of marks also seemed as puzzling as a Mason's handshake too; especially given the overall standard of playing on show.

One judge gave 99 points out of 100 for a workmanlike performance of 'Audivi Media Nocte', with another awarding the same band just 77 points for an equally artisan rendition of 'Elgar Variations'.
It certainly meant that the best band did not win the title - although the two best performances perhaps did, thanks to judges that rewarded inspired style rather more than hard grafted substance.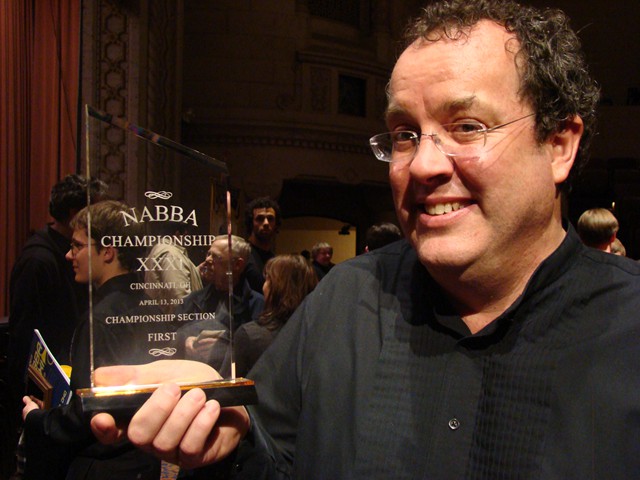 An Englishman abroad: Winning MD, Dr Stephen Allen

English

Princeton's victory owed much to the intuitively 'English' interpretations of the set work and own selection of 'Rococo Variations' of MD, Dr Stephen Allen; both of which were rather scruffily executed without losing their inherent sense of stylish musicality.
The MD shaped the music with an excitable elegance; full of warmth and nuance, despite the occasional rough edges.

It was as if Elgar hadn't quite kept up with the daily topiary of his famous moustache, whilst Gregson's affectionate collection of test piece quotes was occasionally enunciated like Derek Jacobi in 'I Claudius'.
Assisted

If they had been able to rid themselves of the annoying errors they may have won at a canter, as victory was certainly assisted by the pre-contest favourites of Fountain City and Brass Band of Central Florida handicapping themselves with own choice selections that certainly left question marks over their musical savoir-faire.
PLCs 'Breath of Souls' and Bertrand Moren's 'Dreams' are polarizing works; flashy and rather inconsequential. Audiences love them for their cartoon excitement – but behind the kaleidoscopic musical celluloid the primary colour artifice is all too obvious - especially to experienced judges.
As well delivered as they were, you couldn't help but feel that two very good bands (and especially conductors) should have shown off their considerable skills sets with music that asked more of their cerebral thought processes.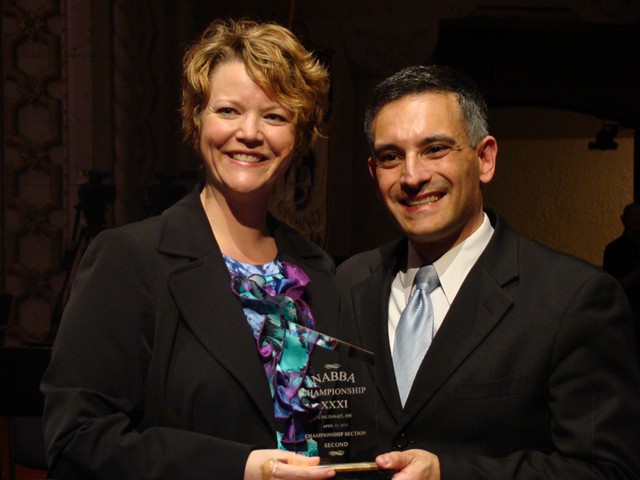 2013 Runner-up: Fountain City

Too much ground

Meanwhile, Atlantic Brass scuppered their chances of retaining their title with an unforced error count that tarnished two engagingly nuanced readings from MD, Salvatore Scarpa.

They had too much ground to make after the set work, despite delivering a thoroughly engaging rendition of 'English Heritage'.
Ambitious

Elsewhere, the emerging strength of top level American banding was revealed through ambitious own choice repertoire – some of which worked better than others.
That said, it did take a brave judge (Stephen Lytle) to award 'Audivi Media Nocte', 'Montage' and 'Titan's Progress', 99, 98 and 97 marks respectively.

All were decent efforts – but nowhere near that class.
Overall though, Championship Section banding appears to be growing in strength in depth, although much like their counterparts in Australia, the lack of regular high quality competition means that any collective improvement is built on a patchwork foundation of individual ambition.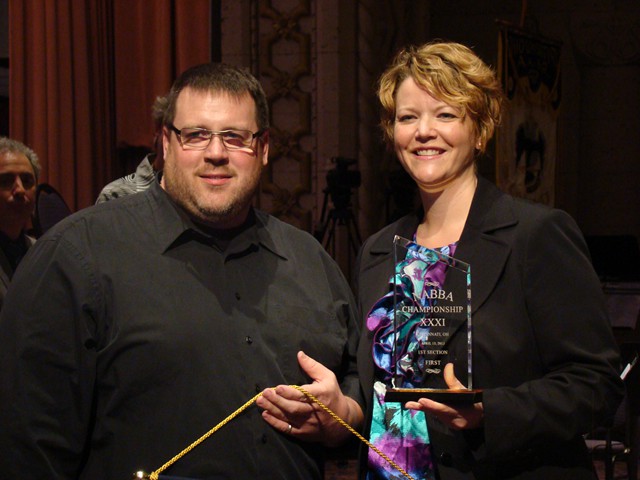 2013 First Section champions: Five Lakes Silver

Compete

That was also seen in the other sections too.
Five Lakes Silver Band certainly showed they could compete at elite level by winning the First Section with a brace of competently delivered renditions of 'Four Dances from Checkmate' and 'Harmony Music' – the latter which would have held its own in many a top section Area contest in the UK.
Podium finishers Central Ohio Brass and Oakland meanwhile sounded at very different levels of development:

The former giving a decent run through 'Year of the Dragon' (helped by an exceptional young trombone soloist) whilst the latter produced a solid reading of Simon Dobson's 'Lyonesse'.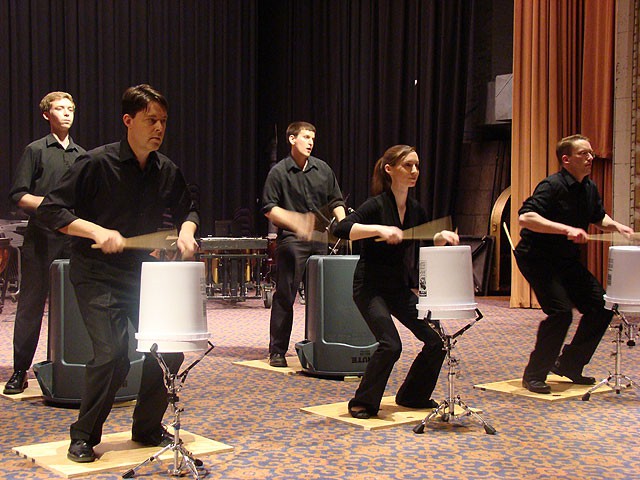 Percussion excellence on show

Way ahead

Chesapeake Silver also showed that they were some way ahead of their rivals with solid renditions of 'Labour & Love' and 'The Plantagenets' in taking the Second Section title, whilst Dr Keith Wilkinson used all his experience to mould two super performances from Chapel Brass on 'Saint Saens Variations' and 'Dark Side of the Moon' to take the Third Section honours.
With excellent individual and group performances to enjoy in the solo and ensemble contests (especially with the percussion), there was something to savour just about every minute of the day at the Cincinnati Masonic Centre, which proved to be one of the most surreal, yet welcoming venues (very well run by the NABBC organisers) for any contest.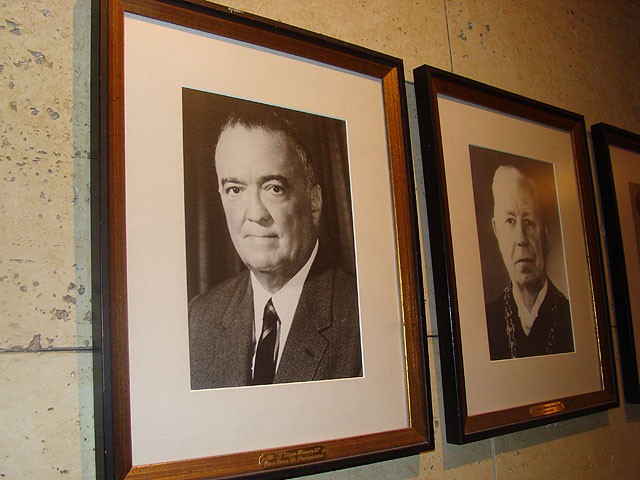 A certain famous all seeing alumni....

All seeing eye

It's not often you get to hear bands play in a mock set up of King Solomon's temple – complete with pillars, banners, heraldic shields and Knight's Templar clothing – all under the all seeing eye of a certain J Edgar Hoover.
That though was just an immensely enjoyable side show thanks to the warm welcome and genuine delight that was shown in friendly competition:

It also confirmed that North American brass banding is growing with an ethos that the terrible events of Boston will never defeat.
Iwan Fox