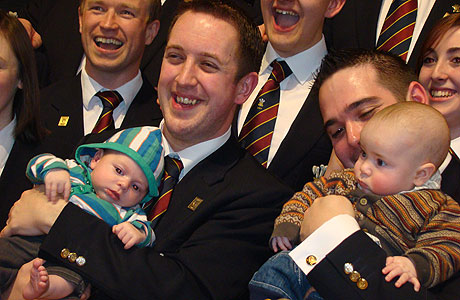 It's rugby not baby talk in Wales this weekend...

There is one heck of a battle in store in Wales on the weekend – with two great heavyweight rivals locking horns in the hope of lifting a trophy in triumph that will mean more to them than anything else.
So never mind the fancied bands in the top section – all eyes will be on the Grand Slam rugby as contesting day rivalries in Swansea are put to one side for an afternoon at least, and all attention is geared towards the action on a very different type of stage, a few miles up the road in Cardiff.
All hell

If Wales win then all celebratory hell will break loose: Lose to England, and a stygian gloom as black as the cover of an old Bible will descend like a volcanic ash cloud over proceedings in the Brangwyn Hall – for a few hours at least.
The Welsh always know how to put brass band contesting into the right perspective, although don't be surprised to see adjudicators Paul Cosh and Kevin Wadsworth wear something with just a hint of red in their attire when they take to the stage to give their pre-results talks to keep patriotic punters smiling.
Mouth watering

Despite the oval ball distractions there are also some mouth-watering head to head battles to savour in Swansea over the two days - from the cracking fights to gain a place at Cheltenham to the leviathan scrap in the Championship Section, where Wales will send no fewer than four bands to the Royal Albert Hall.
Norwegian fans

With a slick organisation meaning that the action on both days will be finished in plenty of time to get home and watch the highlights from the Millennium Stadium, and with a bus load of welcome Norwegian visitors also making the trip over the North Sea to enjoy the atmosphere, it could be a weekend to remember – as long as we beat those Grand Slam seeking English.....
---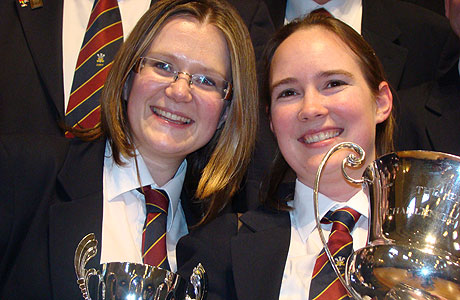 2012 Champions: Cory

Championship Section:
Sunday 17th March
Starts: Following the results of the Fourth Section
Adjudicator: Paul Cosh
Just the nine contenders; four of which will head to the Royal Albert Hall in October.
The excellent form shown in Kensington over the past decade has been remarkable – although only in the Millennium year, when Cory claimed their historic 'Double' has a Welsh representative returned home with the famous old pot tucked into the boot of the band bus.
Added pinch

With Cory and Tongwynlais already pre-qualified, there is an added pinch of competitive spice thrown into the 'Harmony Music' mix with the additional bonus of 2014 European representation for the band that eventually gets their hands on the Welsh Regional Trophy.
Plenty to play for then – with over half of these rivals in with a real chance of booking B&B in either Kensington or Perth – or even both.
They are headed by reigning champion Cory, who will defend their title for the first time under the baton of Philip Harper.
Keenly felt

With a proud record second to none, the pressure to retain the domestic bragging rights before heading to Australia later this year on tour is perhaps more keenly felt than ever before.
Behind them comes the chasing pack; with 2010 champion Tredegar determined to show that they remain Cory's nearest rivals, whilst Tongwynlais, free of the pressure to qualify, will surely be giving it their all as they seek their first ever top section title after coming runner-up last year.
Classy

It will be great to see Beaumaris MD, Gwyn Evans back in action after his recent health scare, as he leads his classy troops down from North Wales, whilst the mercurial talents of BTM will be headed by David Maplestone.
Seasoned observers of Welsh banding may believe that the destination of the title and the two additional Albert Hall qualification places lies within the grasp of these bands, but it would be foolish to write off the chances of Northop, who continue to prosper in top grade company under Thomas Wyss, and the emerging strength of Welsh League champions Burry Port.
With City of Cardiff also continuing to improve rapidly under Gareth Ritter and Pontardulais starting to make a top section mark with Paul Jenkins, this could be a contest with a twist or two in the tail.
4BR Prediction:
There is a sense that the contest shackles will be off on Sunday afternoon, and as a result we could be in for a great battle for the places up for grabs for Kensington and Perth.
Cory is still the band to beat and will be determined to retain their title, although they will surely come under pressure from Tredegar, Tongwynlais and Beaumaris for the trip to Scotland in 2014.
BTM and Northop will also be confident of being in the mix for the Albert Hall qualification places, with our dark horse of Burry Port.
1. Cory
2. Tredegar
3. Tongwynlais Temperance
4. Beaumaris
5. BTM
6. Northop
Dark Horse: Burry Port
---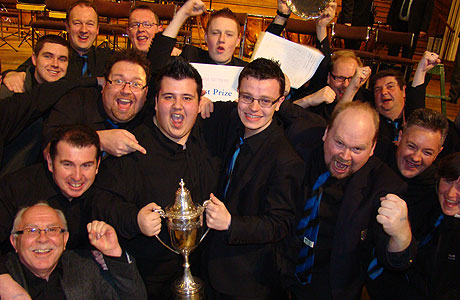 2012 Champions: Burry Port

First Section:
Saturday 16th March
Starts: After the Second Section
Adjudicator: Kevin Wadsworth
Although only one band will leave the Brangwyn Hall on Saturday evening feeling truly 'Brass Triumphant', all nine competitors should take to the contest stage with a real chance of claiming a Cheltenham qualification place.
No excuses

There can be no excuses about inspiration with the score of Gareth Wood's work either – be it the opening fanfares which give a reminder of his 'Five Blooms in a Welsh Garden', to the Prokofiev/ABBA Workingmen's Club tribute act to follow, the misty beauty of the 'Afon Forest' and the clever twists of the old Methodist hymn tune, 'O Jesu Mawr' to close.
Get them all right technically and the MDs could conduct a winning performance with a limp daffodil let alone a baton, especially as they all have the experience to add that extra sheen of tasteful interpretation to the mix.
Well matched

The well matched bands come from the North, East and West; with Deiniolen and promoted Llanrug making the trip south under the talented duo of Gavin Saynor and Paul Hughes.
Meanwhile, Penclawdd makes the short trip along the M4 under the experienced and wonderfully evergreen Tony Small, whilst the valley bands of Abergavenny, Lewis Merthyr, Llywdcoed, Markham, Rogerstone and Tylorstown head down the A470 headed by conductors with bags of experience under the belts.
4BR Prediction:
A hard one to call given the close matched quality of the field.
Tylorstown certainly enjoyed their recent contest appearance at the Welsh Open where they showed their emerging top section credentials, whilst Lewis Merthyr will be keen to return to Cheltenham for a second successive year.
Promoted Llwydcoed is another band that enjoyed their day out at Porthcawl, whilst the two North Walian challengers should be confident of making a mark on the prize list along with Markham.
Our dark horse is Penclawdd.
1. Tylorstown
2. Lewis Merthyr
3. Abergavenny
4. Llanrug
5. Deiniolen
6. Markham & District
Dark Horse: Penclawdd
---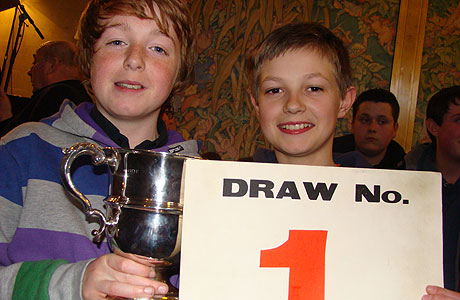 2012 Champions: Goodwick

Second Section:
Saturday 16th March
Starts: After the Third Section
Adjudicator: Paul Cosh
The Welsh have always rather enjoyed being crafty participants in monarchic battles over the years - from lining for Henry V at Agincourt against the French, to providing an explosive distraction at the Investiture of old Charlie Boy as Prince of Wales in 1969.
It's not surprising then that the Machiavellian intrigue and seething distrust of Richard III and his Plantagenet clan seems to suit the Welsh disposition better than most
No different

It really is no different from most family feuds that play out their rich pageant in Swansea pubs on a Friday night – although to be fair, not all end up with the last of the line being buried under a NCP Car Park.
There are eight well matched pretenders to the Welsh throne, all hoping to be crowned Second Section champion and head off for a National battle at Cheltenham later in the year.
What shape

What shape they get there in after coming up against Edward Gregson's fearsome test of technique and musicality is anyone's guess, and there may be a few causalities taken if the historical record of the other regional contests has been anything to go by.
The contenders are headed by the Welsh League winners and reigning champions of Goodwick, who continue to impress under the direction of Matthew Jenkins, whilst the same can also be said of City of Cardiff (Melingriffth) 2, who has continued to grow in maturity under Dewi Griffiths since winning the National Fourth Section title a couple of years ago.
Impress

Royal Buckley is another band on the up and will be keen to impress after coming fourth last year, whilst both Crwbin and Gwaun Cae Gurwen are bands with emerging potential.
Great to see the old name of Parc & Dare back in the contest fold once more, whilst there should be a strong challenge from the heritage valley band of Blaenavon Town and the solid Mid Wales contenders of Newtown.
4BR Prediction:

The continued upwardly rise of Goodwick shows no sign of stopping, and if they have been able to get to grips with what is perhaps their hardest challenge yet, then we think they may be the band to beat.
Who will join them in Cheltenham though?
If Parc & Dare has been able to recruit some old familiar faces then they could be in with a shout, although we think both Royal Buckley and M2 will not give an inch in their attempts to at least claim a podium finish.
Newtown and Gwaun Cae Gurwen should fill the remaining top six places ahead of our dark horses of Blaenavon Town and Crwbin.
1. Goodwick
2. Parc & Dare
3. City of Cardiff (Melingriffith) 2
4. Royal Buckley
5. Newtown
6. Gwaun Cae Gurwen
Dark Horse: Blaenavon Town & Crwbin
---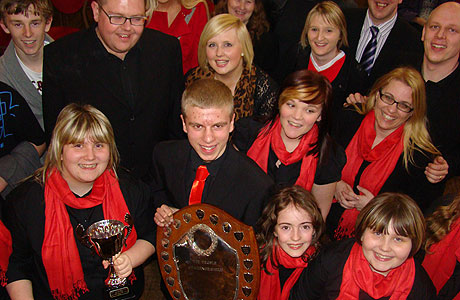 2012 Champions: Pontypool

Third Section:
Saturday 16th March
Starts: 11.00am
Adjudicator: Kevin Wadsworth
There have been quite a few Hollywood screen stars from these parts over the years – and you only have to go up the road a few miles and you come to the thespian hot spot of Port Talbot – home to the likes of Richard Burton, Anthony Hopkins and Michael Sheen.
Thespians

Not a bad list that in anyone's book – and they could be joined by a couple of 'Best Directors' on Saturday when 10 bands line up to bring the glitz and glamour of Tinsel Town to the refined surroundings of the Brangwyn Hall.
Goff Richards' set work has been a joy – full of fun and games, sleazy blues and more bells and whistles than can be found in a rugby ref's sports bag.
It may be a work more suited to the concert rather than contesting stage in purist terms, but performing music for purists at Third Section level can be a downright chore: Playing music like this is anything but.
Revelled

The bands have revelled in it, producing scene stealing solo lines and epic ensemble productions up and down the country, every bit as good as Ben Hur.
Lots to look forward to then for Kevin Wadsworth in the box, although it will be interesting to hear if the MDs have taken note of what he has had to say about style and substance on this piece.
There have been a few Welsh faces spotted on secret reconnaissance missions in Yorkshire and Midlands in the past two weeks.
Solid bands

Nine solid looking bands line up for action (TATA Steel have pulled out) with last year's champion Pontypool back to see if they can retain their title under the baton of Owen Farr.
They are joined by Cheltenham finalists Ogmore (who may take to the stage in best 'Braveheart' inspired tartan) as well as 2012 Welsh League First Section runner-up RAF St Athan.
There will be a lot of interest surrounding the experienced line up at Thomas Coaches Mid Rhondda, and the returning Cross Keys.

Add into the mix the competitive duo of Briton Ferry and Severn Tunnel and the growing contest presence of Newport Borough and Ynyshir, and there could be a few surprises in store when the golden envelope of Cheltenham glory is opened.
4BR Prediction:
The rumour mill in South Wales says that Thomas Coaches could be the band to beat and they could well be joined in Cheltenham by RAF St Athan.
Pontypool may have to be content with a podium finish this time around, with top six finishes for Cross Keys, Ynyshir and Ogmore. Our dark horse is Briton Ferry.
1. Thomas Coaches Mid Rhondda
2. RAF St Athan
3. Pontypool
4. Cross Keys
5. Ynyshir
6. Ogmore Valley
Dark Horse: Briton Ferry
---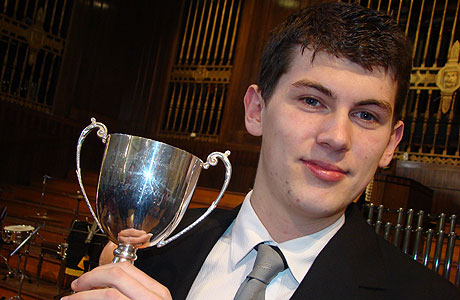 2012 Champions: Severn Tunnel

Fourth Section:
Sunday 17th March
Starts: 11.00am
Adjudicator: Kevin Wadsworth
The contesting aperitif ahead of the Championship Section is provided by a dozen well matched bands who will hope to bring a touch of 'Devon Fantasy' to the shores of Swansea Bay.
Day trip

The Welsh enjoy the odd day trip over the Severn Bridge and the guest houses of Torquay and Torbay do have a twang of the occasional valley's accent when the sun shines.
Who it will shine on here though is just about anyone's guess, with some cracking ensembles and talented MDs from just about every part of the Principality hoping to catch the ear of Kevin Wadsworth in the box.
Best out

Eric Ball's piece has brought the best out of players and conductors alike around the country, and we could be in for a bit of a tasty treat before the intense battle for Championship Section honour takes place later in the day.
Ammanford, Cwmtawe Youth, Upper Rhondda and Ystradgynlais are three strong contenders from the western valleys of South Wales, whilst Deeside, Holywell, Oakeley and Rhyl provide equally as impressive contest credentials as they make the trip down from the North.
Meanwhile, Abertillery Youth, Ebbw Valley, Oakdale and Usk uphold the honour of the South East Wales banding fraternity.
4BR Prediction:
Another hard one to call, but we think Ebbw Valley Brass could be the band to beat, and could well be joined in Cheltenham once again by Rhyl Silver. Holywell and Oakeley will push hard for a possible podium finish, with Cwmtawe Youth and Deeside making up our top six.
Our dark horse is Upper Rhondda.
1. Ebbw Valley Brass
2. Rhyl Silver
3. Holywell
4. Oakeley
5. Cwmtawe Youth
6. Deeside
Dark Horse: Upper Rhondda