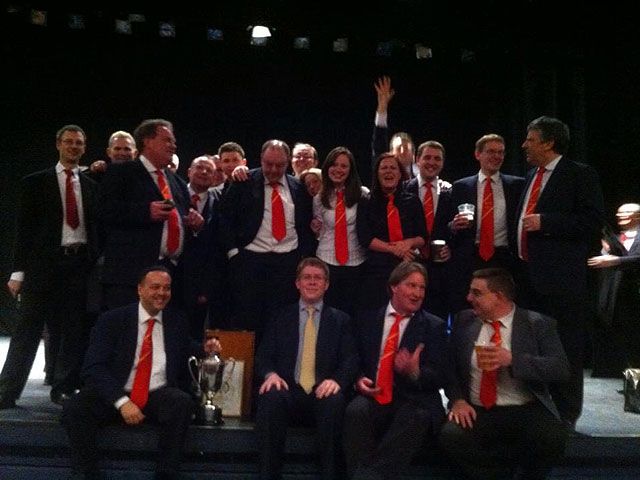 2013 Champions: Regent Brass

In his brief address before the results, adjudicator John Berryman spoke of players probably being initially taken aback by the number of notes they faced playing in 'Harmony Music'.
He felt however, that most of these problems would have been overcome with practice, and that it was actually the slower music that would have presented them with the greatest problems.
On side

'Harmony Music' did not offer a great deal of scope for the conductors in the way of interpretation, he added, lacking as it does the overtly complex rhythmical and metrical challenges of many recent works.
Until that point Mr Berryman had the vast majority of the audience, packed into the Gordon Craig Theatre well on his side –especially as he went on to state that in his view there were three bands which stood out from the rest.
Un-Ravel

The knowing nods of self congratulation and even the odd furtive glance from a nervous player or two looking for confirmation from their peers, seemed to bear out the sense of common agreement: Until the result was actually announced.
Then things started to unravel – or as one wag put it, 'un-Ravel'.
The draw had thrown up some interesting possibilities, with several of the pre-contest favourites playing early on.
Big two

The 'Big Two' were drawn first and second, with Redbridge under Jeremy Wise and Zone One Brass conducted by Richard Ward, producing commanding performances full of character and purpose that had many neutrals in the hall tipping them for qualification success from the start.
Not everything quite came off at times with both, but with the maturity of Redbridge's sound, allied to the quality of their soloists and the general solidity of their technical execution, they seemed to have provided Mr Berryman with a high class marker that would take some beating.
Their position if anything seemed strengthened by Zone One's exciting, if occasionally scrappy account immediately after, and appeared to be just about set in stone by the time Regent Brass took to the stage as the tenth of the twelve contenders.
Unexpected

Then, the contest took an unexpected change of direction, as Alan Duguid provided a crowd pleasing rendition, that despite containing noticeable minor errors and slips, also had at its core a central 'Homage' that was perhaps the most authentically Ravellian of the day – full of longing and detached melancholia.
It was a musical approach that was very different from anything heard until that point – and immediately caught the ear in the box, especially with Barbara King's outstanding cornet work in the fearsome cadenza.
Question marks

The question marks over its sensitively polished, but pockmarked veneer, led many to believe that it was a potential top six, rather than podium finisher, with rather less feeling that it was destined to be a championship winner.
However, one person who certainly did was in the box.
Tasteful

With Friary Guildford under Chris King rounding off the contest with a well worked performance full of tasteful nuance that was hewn from the same musical bedrock initially laid down by Redbridge/Zone One, it appeared that the general consensus had a top three of these rivals.
It wasn't to be and the audible gasps that greeted the announcement of Redbridge in third were followed less asthmatically by the acceptance of Friary as runner-up.
Stunned

The declaration of Regent Brass as London & Southern Counties champion for 2013 rather stunned the hall, with the glorious exception of the Regent players who soon scrambled onto the stage to celebrate their victory in raucous fashion.
As they thoroughly enjoyed themselves, the composition of the results table started to sink in.
The admirably consistent Medway claimed fourth place - their sixth consecutive top six finish after Melvin White had used all his years of experience to craft an account of musical clarity, whilst Wantage Silver A ended fifth after Philip Bailey had also allowed the music to be revealed at a well worked tempo and dynamic balance.
With Zone One's error count consigning them to a disappointing sixth, the rest of the field rather predictably fell into place, led by another emerging performance of championship quality from East London Brass in seventh and a misfiring Aveley & Newham in eighth.
Hubbub

Behind them, the noticeable struggles led to questions about true championship section quality as Egham, Clacton, Staines and Bedford struggled to meet the basic technical demands of a demanding set work.
And after all the hubbub had finally died away, you were left to reflect on a decent standard contest with a breathtaking result.
Peter Bale (with thaks to David Ruel)