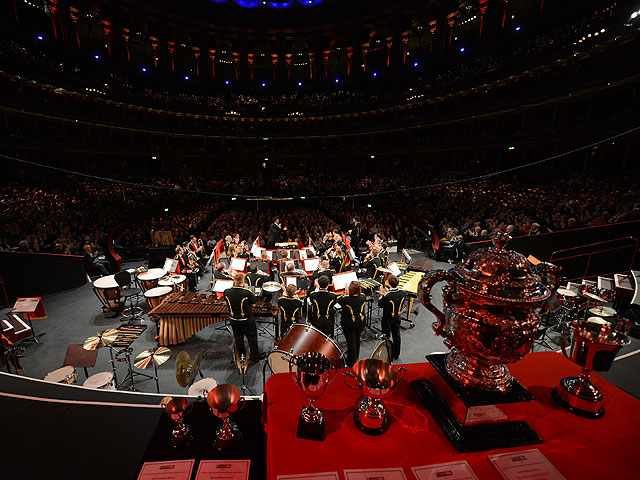 Can London bands make an impression at the Albert Hall this year?

The London & Southern Counties Championship in Stevenage continues to provide one of the most enjoyable contesting atmospheres of the entire Regional series.
Expertly run and organised by Dave Hobbs and his team, 79 bands will be accommodated in the Stevenage Arts and Leisure Centre, which although not the most aesthetically pleasing monument to the design capabilities of local government architecture, does provide a great hub for intense but friendly contesting rivalry under one big roof.
National titles

The bands that meet here continue to defy the critics, with excellent returns at the National Finals in Cheltenham last year (although not so grand at the Albert Hall), where Hitchin and Norfolk Wherry Brass claimed the Third and Fourth Section titles respectively, with decent returns for the other qualifiers.
With growing confidence and emerging conducting and playing talent, the Area will be hoping to build on those achievements this year – especially in the top section, where a keenly fought contest should provide a cracking climax to what promises to be a fine weekend.
---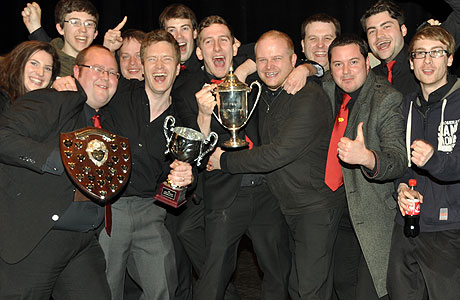 2012 Champions: Zone One Brass

Championship Section:
Gordon Craig Theatre
Sunday 17th March
Starts: After the Fourth Section results
Adjudicator: John Berryman
There were all sorts of misplaced rumours flying around the bars in Stevenage last year after Frank Renton put through Zone One Brass and Staines as the qualifiers for the Albert Hall, so there will be a great deal of pressure on the single man in the box to get it right in the eyes (if not ears) of fans of some of the more fancied runners on Sunday evening.
However, the vastly experienced John Berryman is not a man to bow to undue pressure, and if any band is to tickle his fancy in the box, then they had better be thoroughly well prepared and playing to the top of their form on 'Harmony Music'.
Emulate

With the lower section bands showing that they can certainly mix it in national company, the contenders will want to emulate them if they get through to Kensington, especially as last year's qualifiers ended up in the bottom three.
The favourites are sure to be Redbridge once more, although the pressure is also on them after a disappointing result at Butlins. For the first time in a while, expectations of yet another title success will be couched with some degree of apprehension, although if they really do play to form they should still be the band to beat.
Dichotomy

It's a bit of a dichotomy with the reigning champions Zone One, who return full of expectation and little apprehension after finally claiming the Area title with such vibrancy last year.

If they hit top form, another local Kensington appearance may well be on the cards.
The bookies are not usually wrong two years in a row here, but they will be hedging their bets a little with the likes of in-form Friary Guildford, fresh from their second place at Yeovil, and East London Brass who impressed on their debuts at Butlins.
Rarefied

Former champions Aveley & Newham is starting to return to the type of form which made them perennial Stevenage challengers, whilst Staines Brass will certainly want to make it two qualifications in a row after tasting the rarefied atmosphere of the Albert Hall last October.
Wantage A and the emerging Regent Brass could well be outside bets for a possible podium finish, with the rest of the field in a battle to see if they can claim a top six mention from the stage.
4BR Prediction:
Redbridge will be determined not to fall prey to any qualification anomalies and should be the band to beat – although they will have to up their game from Butlins if they are to once again claim the domestic bragging rights.
Zone One and Friary Guildford should push them all the way, with East London Brass, Aveley & Newham and Staines close behind. Our dark horse is Wantage A.
1. Redbridge
2. Zone One
3. Friary Guildford
4. East London Brass
5. Aveley & Newham
6. Staines
Dark Horse: Wantage A
---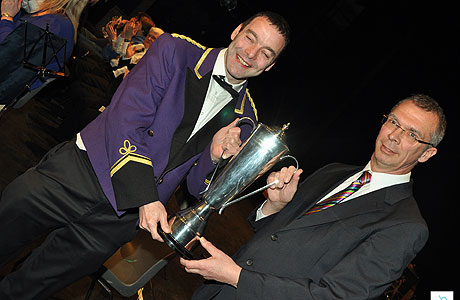 2012 Champions: Becontree Brass

First Section:
Main Concert Hall
Saturday 16th March
Starts: After Third Section results
Adjudicator: Chris Davis
There should be a keen battle for the qualification places in the First Section for Chris Davis to sort out, with 16 well matched contenders tackling Gareth Wood's set work, which has proven to be a bit of a crafty choice by the Music Panel.
Although it may not be the ideal work to prepare any band for future Championship Section test pieces, 'Brass Triumphant' certainly allows their MDs to show off their interpretations aided by players more than capable of meeting its technical challenges.
Style not substance

Considered style if not considerable substance then for Chris Davis in the box – with the hope that the bands won't be fooled by the deceptive writing to try and hang their qualification credentials on the hook of misplaced volume and artifice excitement.
With two solid looking bands coming down from the Championship Section, joined by two ambitious promoted ones for the Second, this has all the makings of a contest which could end in a photo finish.
Of the fancied runners, the local spivs outside the Stevenage branch of William Hill seem to be pointing in the direction Thundersley Brass after their solid performance at Butlins, whilst other Skegness challengers such as Haverhill and Soham may come into the reckoning too.
Short priced odds

Last year's champion Becontree is sure to be found at short priced odds, as is Jersey Premier Brass who is overdue a return to a top six finish.
Sandhurst Silver and Kidlington are two strong looking contenders, and that is not forgetting the likes of City of Cambridge, Alder Valley Brass, Horsham and last year's runner up, Milton Keynes Brass.
No wonder it's a contest to look forward to.
4BR Prediction:
Not quite stick a pin in and hope (when have we ever done that?) but not far off given the well matched rivals that will take to the stage on Saturday afternoon.
That said, Becontree sounded a very classy First Section outfit at Butlins, whilst Thundersley looked as if they had really made the step up in class and should fancy their chances of a return trip to Cheltenham.
Possible podium finishers come in the shape of Sandhurst, Alder Valley, Kidlington and Haverhill, with our dark horse of our comrades in arms at Soham.

1. Becontree Brass
2. Thundersley Brass
3. Sandhurst Silver
4. Alder Valley Brass
5. Kidlington Concert
6. Haverhill
Dark Horse: Soham Comrades
---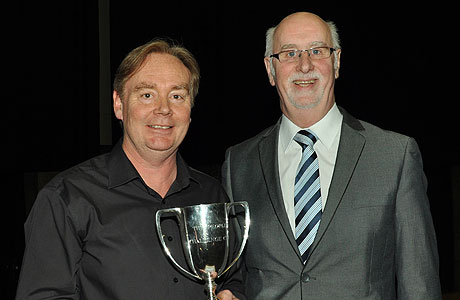 2012 Champions: Thundersley Brass

Second Section:
Main Concert Hall
Sunday 17th March
Starts: 11.00am
Adjudicator: Paul Holland
They do enjoy a good old knees up in these parts every time there is a Monarch to crown – but given the severity of the test that awaits 18 bands on 'The Plantagenets', any title ceremony may have the pomp and circumstance of a Pearly King & Queen sing song at the Dog & Duck in Brick Lane.
Overwhelming

That will be no fault of the contenders taking part – but the evidence so far around the country has been pretty overwhelming:

It is a test piece that is far too difficult to be performed in considered comfort or control by the majority bands at this level.
Hopefully, Paul Holland won't have the grisly task of picking his way through the battlefield looking for survivors fit enough to make it to Cheltenham, but you suspect he may have to employ his best sympathetic bedside manner when addressing the audience before the results.
4BR Prediction:
A handful of bands took the opportunity to have an early season run out at Butlins, with Northfleet coming away with sixth place and Fulham ending seventh.
If both have been able to build on that form they could fancy their chances of making it to Cheltenham, although last year's runner-up Chalgrove, Hungerford and Colchester could well stop them.
The band to possibly make a dark horse impression though could be 2012 Third Section National Champion Hitchin, although this is some baptism of fire in the higher section, whilst Welwyn Garden City who comes from the First Section and Ware Brass could be in the mix come the announcement of the results.
1. Northfleet Brass
2. Fulham Brass
3. Chalgrove
4. WareBrass
5. Colchester
6. Welwyn Garden City
Dark Horse: Hitchin
---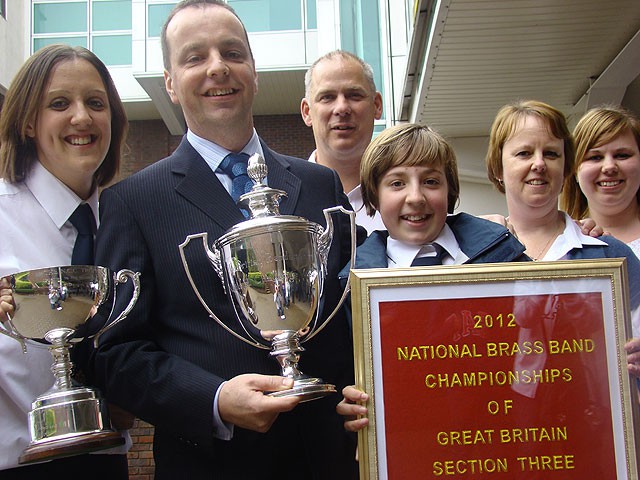 2012 Third Section National Champions: Hitchin

Third Section:
Main Concert Hall
Saturday 16th March
Starts: 10.00am
Adjudicator: Paul Holland
If the bands here can't get into the Hollywood Award winning mind set then who can?
Everything and everyone from Big Brother contenders to the BAFTA winners enjoy a walk up a red carpet in these parts – so there shouldn't be too many nerves on show when the action starts and the first bands make their way onto the Main Concert hall playing area (there's not usually a stage)
Cecil B De Mille

The set work by Goff Richards has been a delight for competitors around the country so far, with a cast the size of a Cecil B De Mille epic delivering their award winning lines with considerable artistic aplomb.
We are sure it is a piece these 15 bands have enjoyed working on too, so there could be plenty of possible qualification standard performances on show for Paul Holland to consider for Cheltenham Oscars.
Impressive contenders

There are some pretty impressive contenders, headed by the promoted duo of current National Fourth Section champion Norfolk Wherry Brass and Area champion Amersham.
Then there are the fancied runners from last year, such as LGB Brass and Battle Town, as well as the rising stars of Wantage Silver B, Waterbeach and Brighton & Hove who enjoyed an early season run out at Skegness.
The bookies fancy Olney Brass under the experienced Paul Fensom as a good value each way bet, whilst there are sure to be backers for Crystal Palace and Cold Ash Brass who came fifth last year.
4BR Prediction:
A real hard one to call, with no Daniel Day Lewis hot favourite to put your life savings on for a dead cert gong.
That said, we opt for LGB Brass and Olney Brass to come through the mix and claim their Cheltenham places, closely followed by Norfolk Wherry.
Wantage B, Waterbeach and Brighton & Hove should make it into the top six with our dark horses of Cold Ash Brass

1. LGB Brass
2. Olney Brass
3. Norfolk Wherry Brass
4. Wantage B
5. Waterbeach
6. Brighton & Hove
Dark Horse: Cold Ash Brass
---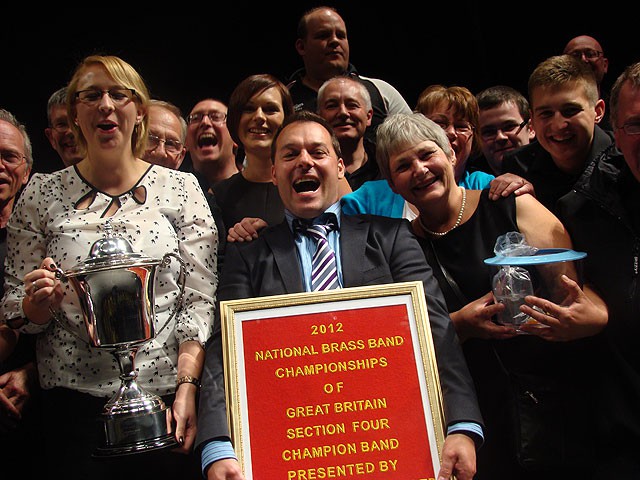 2012 Fourth Section National Champions: Norfolk Wherry Brass

Fourth Section:
Gordon Craig Theatre
Sunday 17th March
Starts: 11.00am
Adjudicator: Chris Davis

There is usually a great atmosphere to be found in the Fourth Section, and we suspect it won't be any different this year as 18 bands line up to perform Eric Ball's 'A Devon Fantasy'.
Cracking choice

It has proven to be a cracking choice, enabling all the competitors to bring more than just note bashing technique to the contest platform, as well as allowing the MDs enough leeway to impose a tastefully refined sense of lyricism to the music.
Much then for Chris Davis to enjoy in the box, in what should be an enjoyable contest made up of well matched bands.
4BR Prediction:
Three of the contenders took the opportunity to have an early season run out at Skegness, with Great Yarmouth claiming a top six finish, whilst the form book from last year suggests that the likes of Bletchington, Simon Langton Brass and Letchworth Garden City may be in with a shout too.
The bookies also feel an each way bet could be worth a few quid on the likes of Tadley and Woodbridge Excelsior, with a possible dark horse in Regent Community Brass.
1. Bletchington Silver
2. Great Yarmouth Brass
3. Tadley
4. Simon Langton Brass
5. Letchworth Garden City
6. Woodbridge Excelsior
Dark Horse: Regent Community Brass