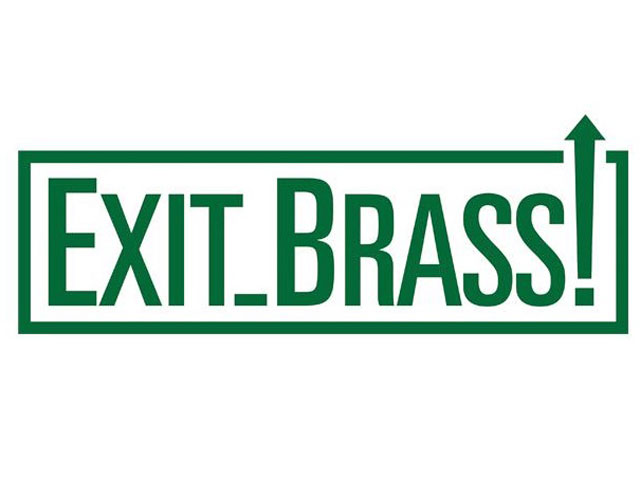 4BR's Malcolm Wood catches up with Exit Brass! – Artiste's in Residence at the recent RNCM Festival of Brass to find out about more about the talented Belgian quartet of Harmen Vanhoorne, Glenn Van Looy, Stan Nieuwenhuis and Tim de Maeseneer.
Malcolm Wood: Tell us about yourselves. How did Exit Brass! come about?
Exit Brass! We are four best friends who happen to be musicians, who love to play music together.
We consider it our mission to introduce young people to music and to make our kind of music – both classical and brass band, fun and attractive to experience.

We just wanted to reinvent quartet playing, with much more of a performance mode, greater audience interaction and plenty of serious out of the box thinking!
---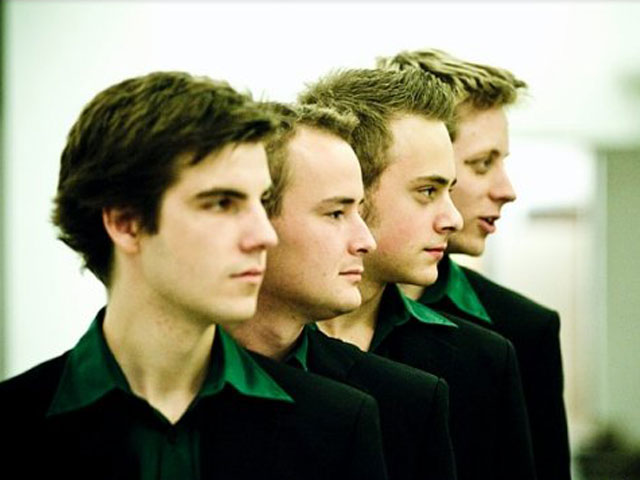 Malcolm Wood; How long have you been together?

Exit Brass! We played our first concert in autumn 2009. In 2010 we became the last British Open Quartet Champions and we won the 4Barsrest Award for Newcomer of the Year.

Since then we have performed in China, Lithuania, Holland and Switzerland. More recently we started doing concerts for Jeunesse Musicale Internationale.

Malcolm Wood: As you play in different bands, is it challenging to find the time to rehearse and maintain the standards you set yourselves?

Exit Brass! It is challenging as we all have busy schedules.

However, we rehearse at least once a week, even if that means meeting in the middle of the night or on New Year's Eve!
As for playing in different bands?

We don't consider that a problem, it's more of a strength. We get to play regularly and at a very good level.
---
Malcolm Wood: So how did the RNCM Festival of Brass invite come about?

Exit Brass! We managed to put ourselves in the spotlight because of our style, our British Open victory and because we play internationally a lot.

Paul Hindmarsh was very supportive, especially as we also work together with young composers on new repertoire for brass quartet.

In that way we think we fitted well into the festival.
---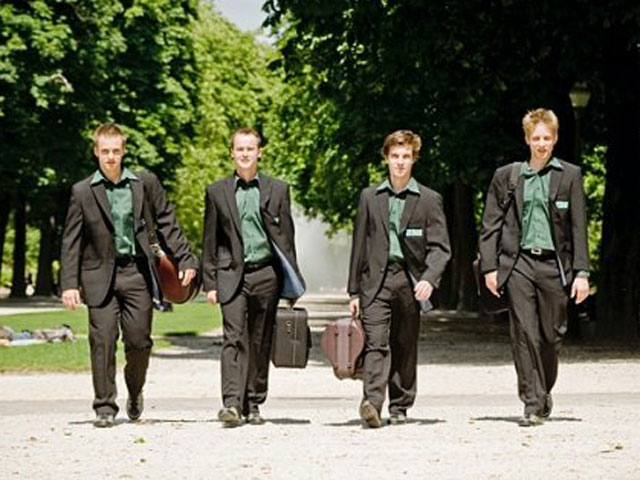 Malcolm Wood: How did you decide on the repertoire you were going to play this year?

Exit Brass! During our different concerts at the RNCM we played a representative selection from our current repertoire.
At the festival opening we played a light, entertaining programme with a premiere of Lucy Pankhurst's wonderful new piece 'Atomic Plumage' at its centre.
For our recital we wanted to show our serious side, so we started with new music by Pete Meechan called 'Autumn Falling' followed by Simon Dobson's 'Riot' and our cornet player Stan Nieuwenhuis's 'The Arrival'.
The second half of the recital saw us perform our instrumental musical 'Mafia' - a crazy story about a young guy who wants to be part of the criminal underworld.
For our concert for the BBC broadcast we moved from the visual performance experience to the aural and had to think 'radio-minded'.
It wasn't easy because there are a lot of visual clues to our playing!
We chose 'Bohemian Rhapsody' and wired up Harmen's cornet to resemble an electric guitar. We also played a new 7-part suite by Stan and to finish the great march 'Liberty Bell'.
---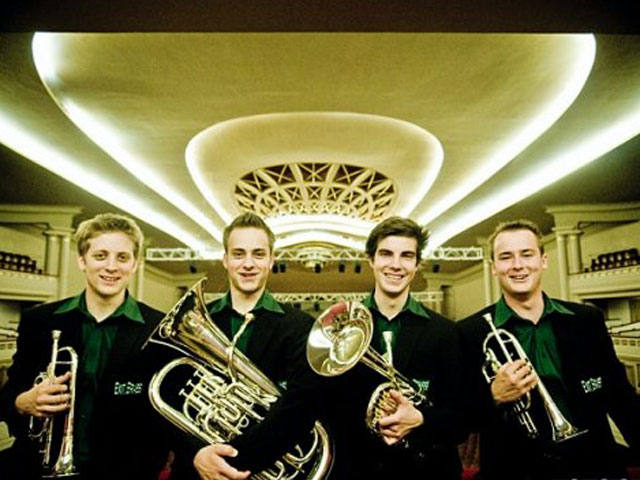 Malcolm Wood: Harmen - you also played as a featured soloist too – so what was it like performing Nigel Clarke's 'Mysteries of the Horizon' with Tredegar?

Harmen Vanhoorne: I was thrilled to have the opportunity to perform the concerto live, especially with such a fantastic band.
Nigel and I have spent a great amount of time collaborating on the work and I'm so pleased with the result: I think it might be one of the greatest concertos I have ever played!
Playing it along with Tredegar under the direction of Ian Porthouse, who I admire, made it an event I'm not going to forget.

I'd also like to add that Nigel had a great deal of influence in the development of my cornet playing and I'm so pleased to get the chance to thank him for all his work through this performance.
---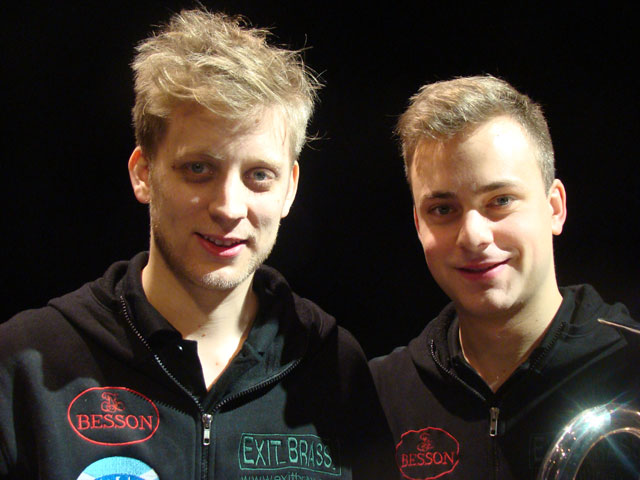 Malcolm Wood: And a similar question to you Glenn: Can you describe the experience of performing 'Uphill' written by your great friend, Stan?

Glenn Van Looy: It was a very satisfying experience!
I think Stan is a very talented composer and I'm glad he wants to work with me, because he knows what I can do as a performer and can therefore really write a piece for me and no one else.

He knows how to challenge me as a performer - and makes me work very hard!
I was really pleased he was there with the band to rehearse the piece.
---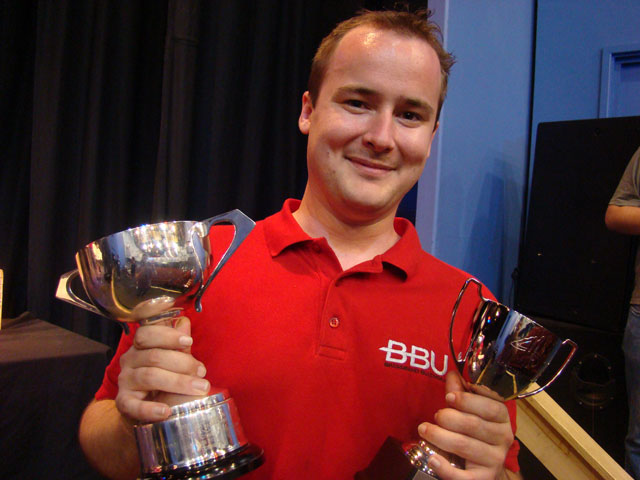 Malcolm Wood: And for you Stan? What was it like hearing Glenn perform the concerto for the first time?

Stan Nieuwenhuis: It was very exciting and a bit nerve racking!
Premieres are always stressful - for the composer as well. You open up to an audience.

I felt honoured to work with Glenn and with the Leyland Band.
As for writing the piece for Glenn - I know him so well, so I could write the piece in a way that fitted his strengths perfectly, even though he can really play anything!
From the moment the piece is officially published, you can give it a try yourself; just download the solo part from stannieuwenhuis.be, for free!
---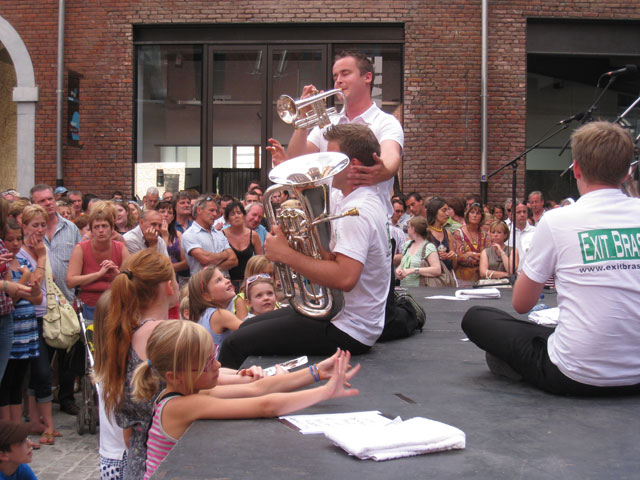 Malcolm Wood: So what's next on the agenda for Exit Brass?

Exit Brass! Right after the Festival of Brass we went to Birmingham to give a masterclass and we opened the Geneva Brass Festival.
Our next challenge is recording and releasing an album consisting of new pieces written for brass quartet.

We've got plenty of talented young composers lined up to work with us on this project.
We're also working a new show, so we can't tell you anything about it yet - that would ruin the surprise!
Expect some great music, great stories and a lots of entertainment though!
---
Malcolm Wood: What did you think of the RNCM Festival?

Exit Brass! It was an amazing experience – a real honour to be invited and to be able to play at the Festival alongside such great bands and soloists.
It was hard work for us though; playing three concerts, giving a masterclass and performing solo pieces as well, but it was worth it.
There just isn't any festival or occasion you can compare it to in Belgium.

This is a brilliant event, in a great location and with a very refreshing attitude and approach to new music
---
Malcolm Wood: Gentlemen, thank you for your time....
To find out more about Exit Brass!

Go to: www.exitbrass.com