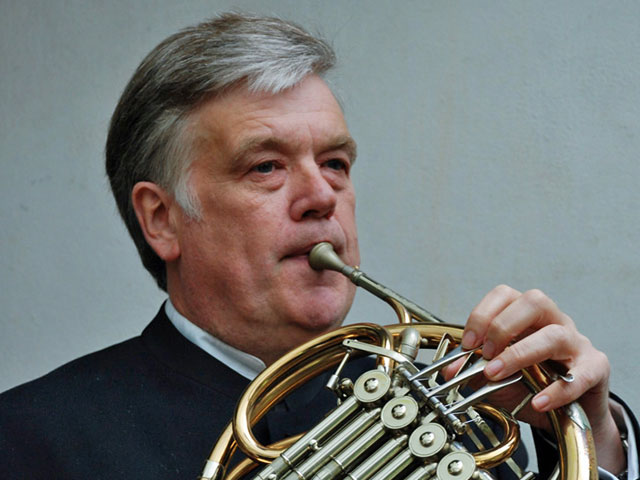 Chris Thomas: Given that your choice of horn is French rather than tenor, did you have any contact with brass bands during your youth, or were your formative playing years spent in orchestral and chamber groups?

Stephen Roberts: My musical upbringing was strictly chamber and orchestral and I started playing professionally at the age of 17. The first time I heard a brass band, aside from in parks, was at the 1977 British Open.
It was while I was in the BBC Northern Radio Orchestra and another horn playing colleague suggested we go along.

The test piece was 'Diadem of Gold' and I remember being rather pleased that I placed the first five bands accurately!
---
Chris Thomas: You studied at the Royal College of Music with Alan Civil, one of the great French horn players.

What are your recollections of him?

Stephen Roberts: Alan's idea of a perfect lesson was a session in the '99' - the Queen's Arms pub by the Royal College and Albert Hall. In the old days there were 98 practice rooms in the College.
He was a bit of a hero because he had sat next to Dennis Brain. He was my ultimate player and I still think of him as the best brass player I ever heard.

Alan was also a great player's player – he went for it and had little truck with second-rate conductors. He would tell great stories, and although he was not an analytical teacher he would enjoy playing duets, which I learnt a lot from.

I think Alan epitomized the Strauss and Wagner's notions of the horn as a hero's instrument.
---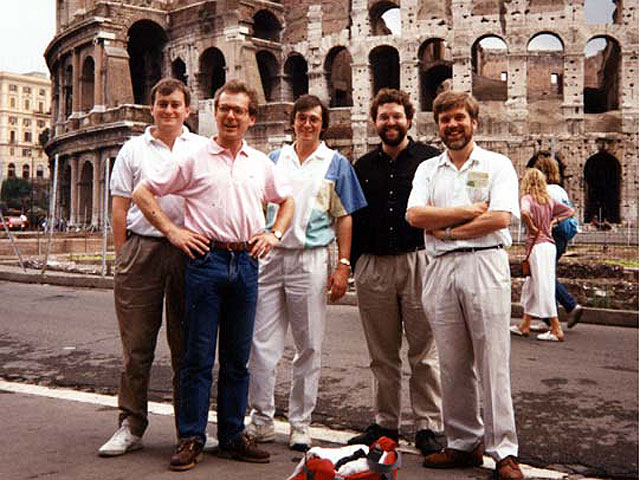 Chris Thomas: You formed the Fine Arts Brass Ensemble whilst you were still at college. What motivated you?

Stephen Roberts: I went back to university after holding a few playing jobs. I decided I wanted to do more than just play so went to Birmingham University to study composition.

I would probably have gone down an academic route but for the fact that we started the quintet. It was Bryan Allen's idea and it just clicked.

Because I had been in the business for a few years, I had quite a lot of contacts at the BBC where I played on sessions and did commercial arrangements. We got a couple of TV gigs and I did the arrangements for them.
This gave us some 'pedigree' and helped to sell the group, but our real reason for forming the quintet was to play contemporary music.

So that was the way it went – new commissions coupled with a new repertoire of arrangements. We wanted to put our own stamp on the genre, which in those days was regarded as something of a curiosity.

For the first seven years we had no 'deps'. It was always the same five: Andy Culshaw, Bryan Allen, Simon Hogg, Owen Slade and myself.
We started by playing at music clubs and making appearances on BBC TV's 'Pebble Mill at One'.

It wasn't long before we were regularly touring the world and even had our own radio series for the BBC.
---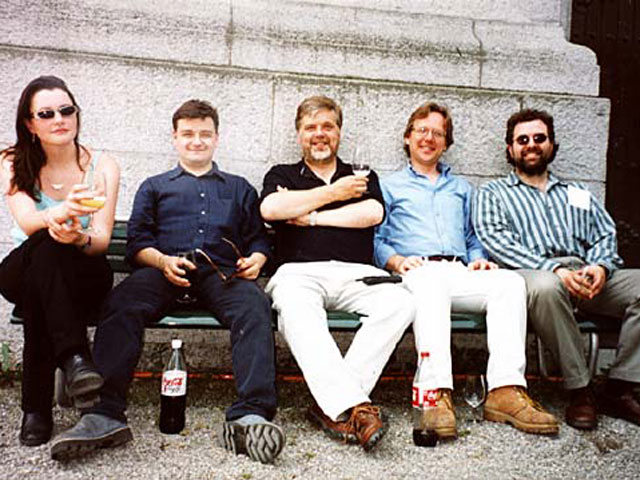 Chris Thomas: For many years you combined the Fine Arts with a hectic life as a freelance orchestral player.

That must have been a tricky balancing act at times?

Stephen Roberts: It was hectic, but that's what you want when you're young. The worst thing for a freelance player is a diary that looks like a snowstorm!
I was virtually full time with the CBSO or BBC National Orchestra of Wales, first call for BBC sessions at Pebble Mill as well as other commercial TV stations, and we all played with the English Symphony Orchestra.

I also did a fair bit with the London orchestras and taught at Birmingham University and the Conservatoire.

The Fine Arts gigs were usually in the evenings so it was possible to slot daytime sessions in if the concert wasn't too far away.
One excellent bit of 'slotting' I did was after a quintet concert in Vancouver. I flew home and fitted in an afternoon/evening session for 'Mahler 2', then caught a plane the next morning for a concert in Cairo.

Sometimes we would do crazy schedules; three early morning schools concerts, a lunchtime recital, followed by an evening concert and an appearance on 'Round Midnight' in one day and in different towns.
The quintet also did a lot of overseas work, especially for the British Council, and that was a fantastic way to see the world.
We did some amusing publicity shots in front of the Taj Mahal, on camels in front of the Pyramids, or 'falling over' Victoria Falls. We played at the Bagamoyo Jazz Festival in Tanzania and in Zanzibar Spice market. It was great fun.

One particularly poignant memory though is coming back from Beirut where we had the same bodyguards as Terry Waite who was kidnapped just a couple of weeks later (the bodyguards ran away, apparently).
That same year my eldest son was born and when he was four, Terry Waite was released. It really brought home the horror of his captivity.
---


Chris Thomas: You have always been a tireless supporter of contemporary music.

How many new works did you commission with the Fine Arts and which were the most memorable?

Stephen Roberts: I think the tally now stands at just under 100 - which is pretty remarkable and of those I played in about half.
Many are memorable for different reasons, often to do with the character of the composer!
We had some good fun with Malcolm Arnold and the '2nd Quintet'. A TV documentary was made about it and there were some entertaining moments that I can't really talk about here!

Unfortunately the piece did not live up to the excellence of the '1st Quintet'.
Musically I think the one that best pleased both players and audiences alike was 'Classic Images' by Philip Wilby.
As band enthusiasts know, he has that knack of being original and good to listen to.

After the premiere we asked him how he thought it went to which he replied: "I don't know - I haven't heard it before," before presenting us with a splendid bottle of single malt whisky!
Another premiere I remember for very different reasons was Salzedo's 'Toccata'.
We were playing it live from BBC Broadcasting House on Lunchtime Concert. We were on air at 1.05pm after the news, but I got lost and ended up in a boiler room.
I heard the news live via a tannoy and had to frantically rush around looking for my clothes. I eventually ran on stage with my tie round my forehead and had to immediately go into the Salzedo completely out of breath.
Unfortunately, although it's a short piece of about 3 minutes, the horn part has not one single rest in it and it is not an experience I want to repeat!

Tim Souster's 'La Marche' is another one.
We each had to dress up as famous characters with poor Andy having to be Margaret Thatcher.
During a 'dress rehearsal' Andy got fed up with being ribbed about his handbag and dress so he stormed out of the rehearsal, slamming the door behind him.
Unfortunately he had entered a broom cupboard and re-emerged rather sheepishly covered in cleaning utensils, which spoiled the look of his lovely blue dress.

I hope he won't mind my recalling that story!
---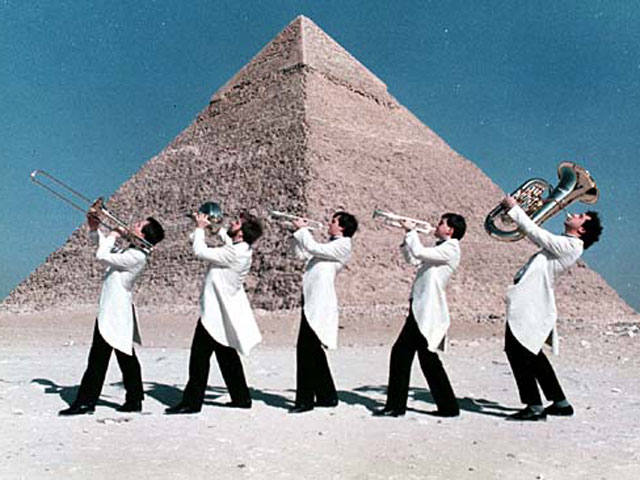 Chris Thomas: You also developed a wide repertoire of what Philip Jones might have called 'lollipops' during the Fine Arts years.

Was that your first experience of arranging?

Stephen Roberts: I started arranging when I was a junior school. I seem to remember arranging part of 'Dvorak's Ninth' for trumpet, recorder and guitar!
It's just something I have always done. My first music teacher was Harrison Birtwistle and he used to write me trumpet pieces during my lessons.

I think that encouraged me to compose as well but I never thought of myself as arranger or composer because everyone knew me as a horn player.
The horn was the instrument I wanted to and it was a natural thing to carry on doing it.

It wasn't until later that I realised I had another need to express myself as a composer or arranger.
People tend to get typecast and I suppose that also influences what you do. That is one of the reasons I developed my composing career so late.
Before I went back to university I spent three years in Manchester playing in the BBC Northern Radio Orchestra and I learnt a lot about light music arranging there. I used to write all sorts: radio jingles, lift music, pop arrangements for groups, music for BBC plays etc.
I even had my own orchestra: The Steve Roberts Orchestra, which broadcast on BBC Radio 2.

That said, I did have an embarrassing experience in a New York store lift with several other musicians.
There was some extra-bland lift music coming out of the speakers and I realised with horror that it was by me, with myself on horn and a lush string background.

I kept it to myself, but in my defence I did have a family to feed!
---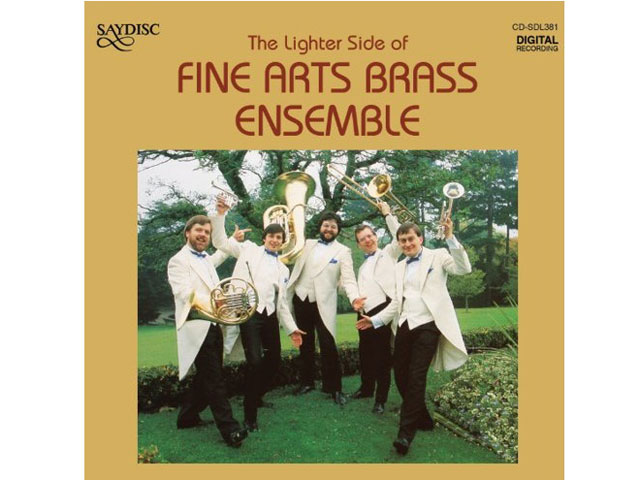 Chris Thomas: Was the decision to leave a difficult one or was it time for pastures new? It must be gratifying that the ensemble is still so successful with its new members so many years on?

Stephen Roberts: I played with the Fine Arts for 20 years and felt it was time to move on.

I really enjoyed it, but it was a big commitment and as we all know what goes around comes around and I wanted to search for new horizons.
I had won a few competitions as a composer and that encouraged me to break out into pastures new.

The group has continued to thrive and that is wonderful. They are all splendid players and seem to be able to play just about anything.

We recorded the Malcolm Arnold 'Symphony for 10-piece Brass' a couple of years back and I must say I was glad I was only conducting!