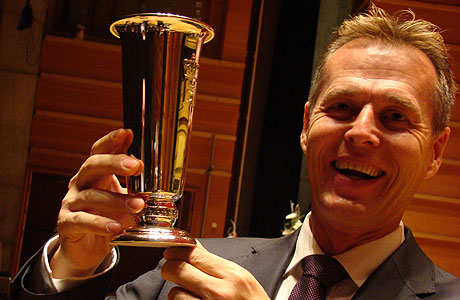 Last man standing: David King was the champion once again in 2012...

Elite Section:
Set Work: A Tale As Yet Untold (Philip Sparke)
Friday 8th February (16.30)
Adjudicators: Alan Fernie, Jan Van der Roost, Philip Harper
Own Choice:
Saturday 9th February (14.45)
Adjudicators: Erik Janssen, Robert Childs, Sheona White
The most visceral, blood bubbling, adrenaline junkie fuelled brass band contest in the world takes place over two days at the Grieghallen in Bergen this weekend, as 10 rivals pummel each other into submission in pursuit of a King's ransom of a first prize.
Not only does the last band standing get to claim the domestic bragging rights (plus KR65,000) as the undisputed Norwegian champion, but they are also bestowed with the honour of representing their homeland at the European Championship in 2014.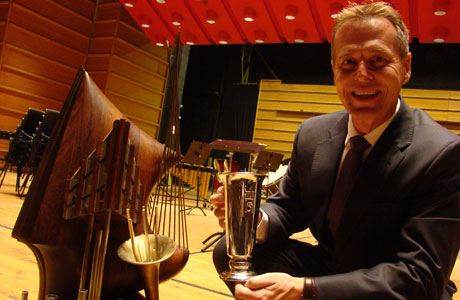 David King with the spoils of victory...

Leviathan

That's one heck of an incentive in anyone's book: No wonder the MDs will be trying to pump more musical electricity into the veins of their players than Dr Frankenstein could manage with his glowering leviathan.
Not that these bands need any additional high octane stimulus to do battle: The Elite Division is contesting in the elemental raw.

Those with dodgy tickers better stay away.
Burke and Hare

The bands want it this way: Forget all those little stories about consensus musical politics when the NMF decided not to go ahead with a trio of set works that included 'Resurgam' and the wonderfully inappropriately named 'In Perfect Piece'.
Norwegians like the contesting gods to have their fair share of spilt blood and guts:

Eric Ball's poetic piece of resurrectionism would only have been appropriate if it had been played by a band that had the body snatchers Burke and Hare in their ranks.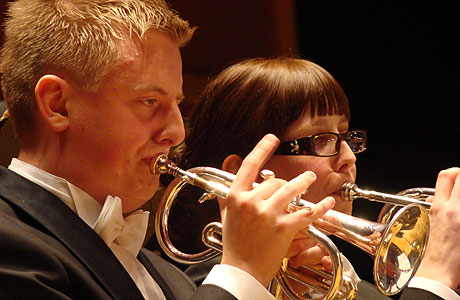 Determined champions - Eikanger are the band to beat

Ouija board

Therefore, good pagan face saving sense prevailed, and instead the contenders will have to get to grips with Philip Sparke's personal take on the big questions of the human condition, instead of Eric's rather dated Ouija board sentimentalism.
'A Tale as Yet Untold' is a very difficult work that takes some playing and understanding, as despite the more obvious aggressive elements, at its core is a deeply authentic sense of reflective repose:

The flash, bang, wallop is there all right, but it takes its time to ultimately reveal itself in all its glory.
Adrenaline rising

Much then for the judges, Alan Fernie, Jan Van der Roost and Philip Harper to ponder (although oddly Dr Robert Childs, who knows this piece better than just about anyone else, is judging the own choice discipline the following day with Erik Janssen and Sheona White)
If the thought of ten cracking set work performance gets the meniscus of adrenaline rising in the veins on the Friday, then heaven help the temperature gauge come Saturday afternoon:

Then the MDs employ the nuclear turbo boosters.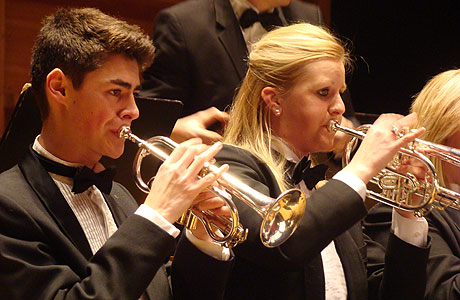 Ready for a battle - Stavanger's corent section in full flow

X rated pugilism

This when all hell breaks loose – with performances of showcase blockbusters that at times would need Cecil B De Mille to control the marauding hordes that seem to charge off the stage to smash you senseless.
And that is just what this contest, unlike any other in the word is all about – sheer unadulterated, X rated brass band pugilism.
The audience in the Grieghallen goes feral, the bands have more curtain calls than Dame Nelly Melba, and the judges are left with an almost impossible task of separating out the simply stunning from the merely breathtaking.
You simply can't get this level of climatic excitement by entering your credit card number on a dodgy internet website...

Runners
The wonderfully composed and solid Molde will open and close the proceedings in search of their first ever Elite title.
They will be armed with Kenneth Downie's 'St Magnus' as their own choice selection, whilst the confident Sola follows on the Friday and plays early again on the Saturday packed to the gunnels with Ian Porthouse's good musical sense and the pagan delights of Arthur Butteworth's 'Odin' to inspire them.
Meanwhile, that most ferocious of champions Eikanger Bjorsvik will look to retain its title and claim an unprecedented 14th victory under the Antipodean genius of David King – with a return to the ectoplasmic brilliance of 'Spiriti' by Thomas Doss (last used in 2011) to help them on their way to Oslo.
Elegant

The elegant musical presence of Howard Evans will prove invaluable to Jaren Hornmusikkforening as they follow the champion on the Friday and place their bets on the Mahleresque fantasy that is 'Titan's Progress', whilst Russell Gray takes control of Stavanger's bid to win their Elite title since 2007.
They have opted for an assault of Belgian trebuchet muscularity with Jan Van der Roost's epic 'From Ancient Times', whilst Tertnes not unsurprisingly have placed their bets on Torstein Aagaard-Nilsen's wonderfully dark and menacing 'Seid' – which served them so well in subduing the Brits at the Scottish Open a few months back.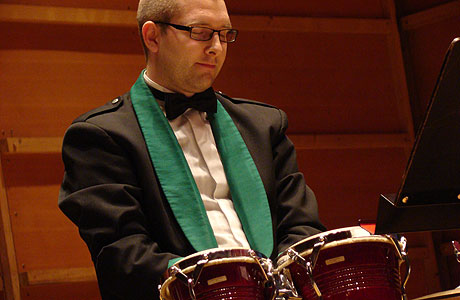 A silent prayer for Manger this year...

Gothic

Manger Musikklag has also returned to former Aagaard-Nilsen inspiration as they reprise the immense 'Cantigus' (last used by them in 2006) – a piece that is built with the ornate brilliance of a gothic cathedral allied to the power of a nuclear submarine.

Peter Sebastian Szilvay could well be like a cross between a Borgia Pope and Captain Nemo on this one.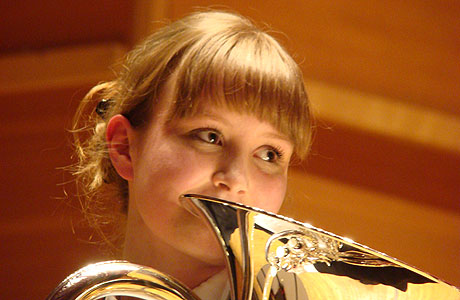 Even pretty girls like a fight...

High flyer

The purposeful Krohnengen gets the own choice free for all off to literally a flying start on the Saturday, with Ludovic Neurohr's stratospheric '31342 feet' as they seek reclaim the form that saw them post podium finishes not so long ago.
Ila meanwhile will most probably go about their business with the understated excellence that has been their hallmark at this contest now for the past four years – helped by a dose of Pallhuber blockbuster magic in 'Titan's Progress'.
That just leaves Oslo Brass, who round off the Friday under Bjorn Sagstad and return the next day with the opportunity to see if it is they who laughs last with their own choice selection of 'Masquerade'.
We will see.

Iwan Fox
---
Who will win?
A difficult one in anyone's book, but if we are still standing and haven't been reduced to a spent husk then we think it could well be Manger who just pip Eikanger to the title. If these two hit form then all hell could break loose in terms of musical pandemonium.
Stavanger should be close behind if they have continued to build on the form of the past year or so, whilst Ila, Molde and Tertnes could make up the top six.
Our dark horse is Sola.
4BR Prediction:
1. Manger Musikklag
2. Eikanger Bjorsvik
3. Stavanger
4. Ila Brass
5. Molde Brass
6. Tertnes
Dark Horse: Sola Brass
2012 Result:
1. Eikanger-Bjørsvik Musikklag
2. Manger Musikklag
3. Stavanger
4. Molde Brass
5. Ila Brass
6. Sola Brass
7. Oslo Brass
8. Krohnengen
9. Kleppe Musikklag
10. Jaren Hornmusikkforening
Last five winners:
2012: Eikanger-Bjørsvik Musikklag
2011: Eikanger-Bjørsvik Musikklag
2010: Manger Musikklag
2009: Eikanger-Bjørsvik Musikklag
2008: Eikanger-Bjørsvik Musikklag