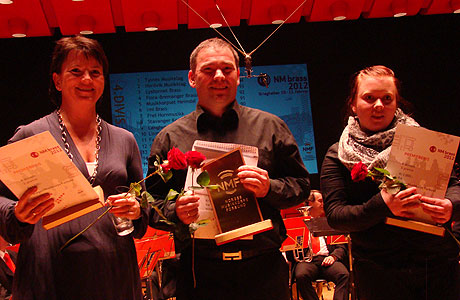 2012 Fourth Division prize winners

Fourth Division:
Adjudicators: Alan Fernie & Jan Ven der Roost
Saturday 9th February (11.00am)

When the Fourth Division was set up at these championships in 2003, no one would have suspected that ten years later it would have developed in such a vibrant way.
Perhaps the signs were there in the very first place though – as the inaugural winners Tertnes Amatorkorps showed the type of dare devil ambition with their own choice selection of Gilbert Vinter's 'Entertainments' that has become the hallmark of the contest ever since.
Boundaries

Since then we have had winners performing everything from 'Journey into Freedom' to 'A Breathless Gnu Kiss!' – but most of all we have had countless bands, pushing their musical boundaries under the most experienced MDs to newcomers taking their first competitive steps with the baton.
This year is no exception either – with 15 well matched bands presenting music as diverse as Gordon Jacob and Leslie Condon to Philip Sparke and Simon Dobson.
Ex pats

There is a strong UK ex-pat contingent too – with Nigel Fielding and David Morton (former Grimethorpe and Foden's stars) locking horns with the returning Marieka Gray and the debutant Richard Ward, who has made his name with Zone One Brass in London.
It should make for a great contest for adjudicators Alan Fernie and Jan Van der Roost to enjoy in the Peer Gynt Hall on Saturday morning, with a host of bands more than capable of taking home the KR14000 first prize.
Seven of the contenders played at the Siddis Entertainment contest last November - although not all in the same section, so using that as a form guide may be a little misleading.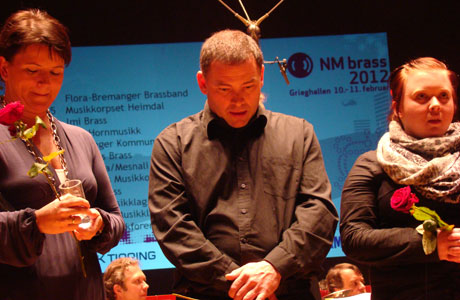 Waiting, waiting, waiting...

Runners

Tysvaer Brass kick off on the stroke of 11.00am looking to make an impression following their promotion from the Fifth Division and coming 14th in the Second Division at Siddis.

They have opted for Anders Beijier's, 'Heart of a Salvationist' to see if they can claim the title under Londoner Richard Ward.
Skeie Brass certainly enjoyed their Siddis appearance as they came 2nd in the Third Division, so Nigel Fielding will be looking to build on that result with their own choice of 'Triptych' as they aim to push up the results table after last year's 12th place.
Thy name

IMI Brass didn't so well at Stavanger in ending 11th – although they were playing in the Second Division.

Not too much should be written into that as they seek to improve on last year's sixth place with their Salvationist selection of 'The Music of Thy Name'. They could be the band to beat.
Sotra Brass will make the short journey to Bergen boosted by their podium promotion from the Fifth Division and their fine second place at Siddis as they opt for 'The Present Age' as their selection.

Stavanger Kommunes Korps meanwhile is another band which brings good form from Siddis as they seek to claim the title with their selection of 'Variations on Laudate Dominum'.
Evocative

Lismarka/Mesnali have opted for Simon Dobson's evocative 'Penlee' as their own choice as they look to move up the results table from last year's 10th place, whilst 2012 Fifth Division champions Bertnes Brass will seek to claim a second successive National title with their own choice of 'Variations on a Chord' by Jan de Haan.
Fraena Musikkorps will look to bounce straight back after their relegation from the Third Division with 'A Malvern Suite' under the baton of David Morton, whilst 2005 champion Fagernes Musikkorps will also be looking for a better return with their choice of 'Firestorm' after coming 11th last year.
Strong contender

Floro Hornmusikk is a possible strong contender after last year's 4th place, as they opt for Gordon Jacob's beautifully constructed 'Little Suite in Bb', whilst newly promoted Filadelfia Hornorkester has out its faith in the powerful 'Turris Fortissima' by Steven Ponsford.
Triptych and faith

Flora-Bremanger opts for Philip Sparke's popular 'Triptych' as they look to claim a podium spot or better after coming 4th last year.
Frei Hornmusikk is one of many bands this weekend to place its contesting faith in Leslie Condon's 'The Present Age' as they seek to improve on 7th place last year, whilst Randaberg under Marieka Gray is another that opts for Sparke's 'Triptych' as they look to show form after Third Division relegation and a lowly finish at Siddis.
That just leaves 2007 champion Langhus Brass who opt for 'Purcell Variations' as they choice as they hope to capture some decent form after lowly finishes both here and at Siddis.

Iwan Fox
---
Picking a winner?
Hard to say there was a clear favourite in this field, but we think it may be the right time for IMI Brass to make their mark – although we did day that last year too!
Pushing them all the way should be Skeie, Floro Hornmusikk, Bertnes, Flora-Bremanger and Filadelfia Hornorkester.
Our dark horse is Sotra Brass
4BR Prediction:

1. IMI Brass
2. Skeie Brass
3. Bertnes Brass
4. Floro Hornmusikk
5. Flora-Bremanger
6. Filadelfi Hornokester
Dark Horse: Sotra Brass
---
2012 Result:
1. Tysnes Musikklag
2. Hordvik Musikklag
3. Lyshornet Brass
4. Flora-Bremanger Brassband
5. Musikkorpset Heimdal
6. IMI Brass
7. Frei Hornmusikk
8. Stavanger Kommunes Korps
9. Langhus Brass
10. Lismarka/Mesnali Brass
11. Fagernes Musikkorps
12. Skeie Brass
13. Salhus Musikklag
14. Rosendal Musikklag
15. Moen Musikkforening
Last five winners:
2012: Tysnes Musikklag
2011: Bergen Brass Band
2010: Fla Musikkorps
2009: Bjorsvik Brass
2008: Torskangerpoll Musikklag
---
Tysvaer Brass
Conductor: Richard Ward

2013 Draw: 1
Own Choice Selection: Heart of a Salvationist (Anders Beijer)
National Record:
2012: 5th in Fifth Division (Clive James Zwanswiniski) (prom)
Last Year: 5th in Fifth Division (prom)
Own Choice Selection:
2012: The Saga of Tyrfing
---
Skeie GladBrass
Conductor: Nigel Fielding
2013 Draw: 2
Own Choice Selection: Triptych (Philip Sparke)
National Record:
2012: 12th (Nigel Fielding)
2011: =10th (Nigel Fielding)
2010: 11th (Espen Westbye)
2009: =12th (Espen Westbye)
2008: =9th (Einar Mæland)
2007: 10th (Einar Mæland)
2006: =6th (Einar Mæland)
2005: =6th (Einar Mæland)
2004: 5th (Einar Mæland)
2003: 12th in Third Division
2002: 8th
Last Year: 12th
Own Choice Selection:
2012: Labour & Love
2011: Saint-Saens Variations
2010: Laudate Dominum
2009: The Talisman
2008: Reflections
2007: A Celtic Suite
2006: Kaleidoscope (Five Variations on the Brugg Song) - Philip Sparke
---
IMI Brass
Conductor: Per-Erik Petersen
2013 Draw: 3
Own Choice Selection: The Music of Thy Name (Brian Hogg)
National Record:
2012: 6th (Per-Erik Petersen)
2011: 15th (Per-Erik Petersen)
2010: 12th (Per-Erik Petersen)
2009: 15th (Per-Erik Petersen)
2008: 13th in Third Division (Per-Erik Petersen) (rel)
2007: 12th (Per-Erik Petersen)
2006: 2nd in Fourth Division (Per-Erik Petersen) (prom)
Last Year: 6th
Own Choice Selection:
2012: Acolastus
2011: Variations on Repton
2010: Aspects of Praise
2009: Tone Poem: Joshua
2008: A Pastoral Symphony
2007: Romans 8
2006: To Serve and to Save
---
Sotra Brass
Conductor: Thor Arne Pedersen
2013 Draw: 4
Own Choice Selection: The Present Age (Leslie Condon)
National Record:
2012: 3rd in Fifth Division (Thor Arne Pedersen) (prom)
2011: DNC
2010: 23rd (Espen Selvik)
Last Year: 3rd in Fifth Division (prom)
Own Choice Selection:
2012: A Celtic Suite
2011: DNC
2010: Laudate Dominum
---
Stavanger Kommunes Korps
Conductor: Morten Ovrebekk
2013 Draw: 5
Own Choice Selection: Variations on Laudate Dominum (Edward Gregson)
National Record
2012: 8th (Geir Karlson)
2011: 5th (Geir Karlson)
2010: 9th (Morten Ovrebekk)
2009: =12th (Morten Ovrebekk)
2008: =9th (Morten Ovrebekk)
2007: 11th (Morten Ovrebekk)
2006: DNC
Last Year: 8th
Own Choice Selection:
2012: Music for the Common Man
2011: The Four Noble Truths
2010: Five Blooms in a Welsh Garden
2009: The Dark Side of the Moon
2008: To Serve and to Save
2007: A Saddleworth Festival Overture
2006: DNC
---
Lismarka/Mesnalia Brass
Conductor: Morten Fagerjord
2013 Draw: 6
Own Choice Selection: Penlee (Simon Dobson)
National Record:
2012: 10th (Morten Fagerjord)
2011: 16th (Morten Fagerjord)
2010: 5th (Morten Fagerjord)
2009: 4th (Morten Fagerjord)
2008: 14th in Third Division (Morten Fagerjord ) (rel)
2007: 3rd in Fourth Division (Morten Fagerjord) (prom)
2006: =10th (Morten Fagerjord)
2005: 10th
2004: 5th (Erling Myrseth)
2003: 4th
2002: =16th
2001: 13th
2000: 16th
Last Year: 10th
Own Choice Selection:
2012: Henry the Fifth
2011: Galdhopiggen
2010: Terra Decora
2009: Music for Thanksgiving
2008: Northern Landscapes
2007: Images for Brass
2006: A Celtic Suite - Philip Sparke
---
Bertnes Brass
Conductor: Borre Birkeland
2013 Draw: 7
Own Choice Selection: Variations on a Chord (Jan de Haan)
National Record:
2012: Winner of Fifth Section (Borre Birkeland) (prom)
Last Year: Winner of Fifth Section (prom)
Overall Record:
Fifth Section champions: 2012
Own Choice Selection:
2012: Laudate Dominum
---
Fræna Musikkorps
Conductor: David Morton
2013 Draw: 8
Own Choice Selection: A Malvern Suite (Philip Sparke)
National Record:
2012: 14th in Third Division (David Morton) (rel)
2011: 4th in Fourth Division (Jens Kristian Mordal) (prom)
2010: 14th in Third Division (Jens Kristian Mordal) (rel)
2009: 4th (Jens Kristian Mordal)
2008: =8th (Jens Kristian Mordal)
2007: =7th (Jens Kristian Mordal)
2006: 11th in Second Division (Jens Kristian Mordal) (rel)
2005: 11th (Jens Kristian Mordal)
2004: 6th (Jens Kristian Mordal)
2003: Winners Third Division (Jens Kristian Mordal) (prom)
2002: 9th
2001: DNC
2000: DNC
Overall Record:
Third Division Champions: 2003
Last Year: 14th in Third Division (rel)
Own Choice Selections:
2012: Lyonesse
2011: Purcell Variations
2010: Trittico for Brass Band
2009: The Present Age
2008: Prillar –Guri – The Voice of the Valley
2007: Royal Parks
2006: Firestorm
2005: Oceans
---
Fagernes Musikkorps
Conductor: John Philip Hannevik
2013 Draw: 9
Own Choice Selection: Firestorm (Stephen Bulla)
National Record:
2012: 11th (Freddy Haug)
2011: 7th (Jon Henning Lien)
2010: =21st (Jon Henning Lien)
2009: =5th (Odd Arne Erlandsen)
2008: =15th (Odd Arne Erlandsen)
2007: =8th (Tor Arthur Hagen)
2006: 7th in Third Section (Tor Arthur Hagen) (rel)
2005: Winners of Fourth Division (Tor Arthur Hagen)
2004: 13th in Third Division
Overall Record:
Fourth Division Champions: 2005
Third Division Champions: 1986
Last Year: 11th
Own Choice Selections:
2012: The Eternal Presence
2011: A Celtic Suite
2010: Sword, Jewel and Mirror
2009: Kaleidoscope
2008: The Kingdom Triumphant
2007: Music for a Festival
2006: The Plantagenets
2005: Triptych
---
Floro Hornmusikk
Conductor: Torgeir Halvorsen
2013 Draw: 10
Own Choice Selection: Suite in B Flat (Gordon Jacob)
National Record:
2012: 7th in Fifth Division (Jason Burn) (prom)
2011: 18th (Jason Burn)
2010: =21st (Kjetil Hoidal)
2009: =19th (Kjell Erik Husom)
2008: =7th (Kjell Erik Husom)
Last Year: 7th in Fifth Division (prom)
Own Choice:
2012: Purcell Variations
2011: Music for a Festival
2010: Symphonic Suite for Brass Band
2009: Connotations
2008: Rhapsody in Brass
---
Filadelfia Hornorkester Drammen
Conductor: Thor Willy Karlsen
2013 Draw: 11
Own Choice Selection: Turris Fortissima (Steven Ponsford)
National Record:
2012: 2nd in Fifth Division (Thor Willy Karlsen) (prom)
Last Year: 2nd in Fifth Division (prom)
Own Choice Selection:
2012: New Waves
---
Flora-Bremanger Brass Band
Conductor: Johnny Saelemyr
2013 Draw: 12
Own Choice Selection: Triptych (Philip Sparke)
National Record:
2012: 4th (Johnny Saelemyr)
2011: =13th in Third Division (Johnny Saelemyr) (rel)
2010: 7th (Johnny Saelemyr)
2009: 2nd in 4th Division (Johnny Saelemyr) (prom)
2008: =15th (Johnny Saelemyr)
Last Year: 4th
Own Choice Selections:
2012: The Dark Side of the Moon
2011: A Salford Sinfonietta
2010: Kaleidoscope
2009: Triptych
2008: Partita
---
Frei Hornmusikk
Conductor: Jens Kritian Mordal
2013 Draw: 13
Own Choice Selection: The Present Age (Leslie Condon)
National Record:
2012: 7th (Tor Age Schunemann)
2011: =13th in Third Division (Kim Lofthouse) (rel)
2010: 11th in Second Division (Kim Lofthouse) (rel)
2009: 2nd in 3rd Division (Kim Lofthouse) (prom)
2008: 4th in Fourth Division (Stein Åge Sørlie) (prom)
2007: 14th in Third Division (Stein Åge Sørlie/ John Hudson) (rel)
2006: 4th in Fourth Division (Stein Åge Sørlie) (prom)
Overall Record:
Third Division Champions: 2001
Last Year: 7th
Own Choice Selection:
2012: Labour & Love
2011: The Plantagenets
2010: My Strength, My Tower
2009: Song of the Eternal
2008: The Saga of Haakon the Good
2007: Laudate Dominum
2006: Inspiration - Jan de Haan
---
Randaberg Musikkorps
Conductor: Marieka Gray
2013 Draw: 14
Own Choice Selection: Triptych (Philip Sparke)
National Record:
2012: 15th in Third Division (Benjamin Wiame) (rel)
2011: 2nd in Fourth Division (Tarjei Gilbrabt) (prom)
2010: =19th (Selmer Simonsen)
2009: =9th (Selmer Simonsen)
2008: 6th (Marcel Sorin Totolici)
Last Year: 15th in Third Division (rel)
Own Choice Selection:
2012: Labour & Love
2011: Dimensions
2010: Gothic Dances
2009: Concert Overture
2008: Anglian Dances
---
Langhus Brass
Conductor: Tarjei Gilbrant
2013 Draw: 15
Own Choice Selection: Purcell Variations (Kenneth Downie)
National Record:
2012: 9th (Tarjei Gilbrant )
2011: 6th (Idar Toskangerpoll)
2010: 8th (Idar Toskangerpoll)
2009: =9th (Idar Toskangerpoll)
2008: 15th in Third Division (Idar Toskangerpoll) (rel)
2007: Winners of Fourth Division (Idar Toskangerpoll) (prom)
2006: DNC
Overall Record:
Fourth Division Champions: 2007
Last Year: 9th
Own Choice Selection:
2012: Dimensions
2011: Psalms & Alleluias
2010: Kaleidoscope
2009: Festivity
2008: Songar fra Fysjenes
2007: A Breathless Gnu Kiss!
2006: DNC