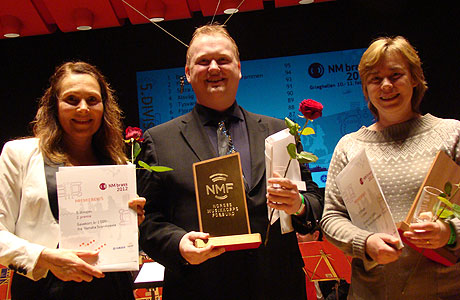 The 2012 Fifth Division prize winners

Fifth Division:
Adjudicators: Elisabeth Fossan & Kim Lofthouse
Friday 8th February (10.30am)

The first building block of progress will be placed upon the Fifth Division foundation stone laid by the Norwegian Music Federation last year, when 10 bands compete in the Peer Gynt Hall on Friday morning.
The success of the entry level contest has been self evident and has added another colourful, inclusive step to the well designed contesting structure of the championships.
Top three promoted

The top three bands of inaugural champions Bertnes, Filadelfia Hornokester Drammen and Sotra (plus fifth placed Tysvaer Brass) gained immediate promotion, with two coming in the opposite direction from the Fourth Division.
Meanwhile, two new participants in Nordlys XO from Hordaland and Bjorvika Brass from Oslo make their debuts, in what looks like an intriguing contest to pick a winner from for adjudicators Elisabeth Fossan and Kim Lofthouse.
As always, it is that sense of joyful inclusiveness that earmarks the competition at this level, with each of the bands introduced to the enthusiastic audience before they play a note, with a potted history and a few jokes to put them at their ease.
There is real competitive encouragement on show too – with some intriguing and ambitious choices of repertoire.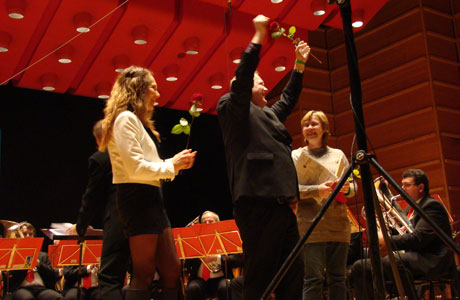 Overjoyed for Bertnes

This year we have one band playing the former European Championship test piece, 'Tallis Variations' by Philip Sparke, as well as a new work from Swiss composer Etienne Crausaz, who wrote the top section work 'Rush Hour' for the 2012 Swiss National Championship (which will also be heard in the First Division).
Plenty then for everyone to enjoy as the bands battle for the KR8,000 prize money as 2013 champion.
As to who will eventually stand alone on the main Grieg Hall stage on Saturday night clutching a red rose and a smile as wide as the Bergen fjord is anyone's guess, as there are plenty of worthy contenders amongst the ten rivals.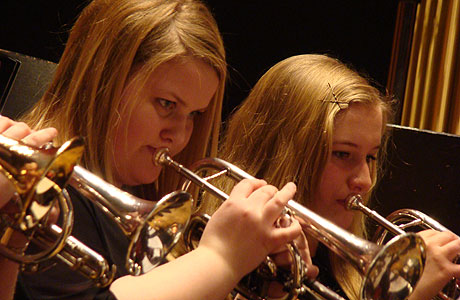 Lots and lots of young players...

Runners

Salhus Musikklag will open the contest with 'Princethorpe Variations', boosted by their podium finish at Siddis last November, whilst Alvik Musikklag and Saksumdal Musikkforening who follow with 'Little Suite for Brass' and 'Valerius Variations' will be looking to push their way up the results table after coming 12th and 11th last year.
Debutants Nordlys X0 may be a bit of a dark horse under the vastly experienced Reid Gilje, as they look to live up to their own choice selection of 'The Prizewinners', whilst Brumunddal Brass will be another band hoping to build on their debut performance last year with their choice of 'Images for Brass'.
Debut

After the mid contest break comes the other debutants of Bjorvika Brass under Robert Solberg Nilsen.

They have certainly shown plenty of ambition with their choice of 'Tallis Variations', so could be a band to watch out for, whilst Hetlevik Musikklag look to build on last year' 9th place finish with 'Legends in Brass'.
Meanwhile, Rosendal Musikklag opt for some Swiss help with Etienne Crausaz's, 'Symphonic Contrasts' as they seek to make it a National/Siddis double under MD, Petro Romanyshyn following their win at the premier entertainment contest in Stavanger late last year.
That just leaves Rudsbygd Brass (8th last year) who opt for 'Portrait of a City' and Moen Musikkfprening who will look to bounce back after their relegation from the Fourth Division with their selection of 'Dimensions' by Philip Sparke.

Iwan Fox
---
As to a winner?
Now you are asking.
We are going to plumb for a bit of a dog fight between double seeking Rosendal Musikklag and debutants Bjorvika Brass Band, with the first timers just getting the nod for us.
Salhaus Musikklag and the other debutants of Nordlys XO may well push them close with Rudsbygd Brass and Moen Musikkforening making up the top six.
Our dark horse is Hetlevik Musikklag.
4BR Prediction:
1. Bjorvika Brass
2. Rosendal Musikklag
3. Salhaus Musikklag
4. Nordlys XO
5. Rudsbygd Brass
6. Moen Musikkforening
Dark Horse: Hetlevik Musikklag
---
2012 Result:
1. Bertnes Brass
2. Filadelfia Hornorkester Drammen
3. Sotra Brass
4. Alsvåg Brass
5. Tysvær Brass
6. Fjordbrass Lavik
7. Florø Hornmusikk
8. Rudsbygd Brass
9. Hetlevik Musikklag
10. Brumunddal Brass
11. Saksumdal Musikkforening
12. Ålvik Musikklag
Last five winners:
2012: Bertnes Brass
---
Salhus Musikklag
Conductor: Sindre Dalhaug
2013 Draw: 1
Own Choice Selection: Princethorpe Variations (Kenneth Downie)
National Record:
2012: 13th in Fourth Division (Knut Emil Mjos) (rel)
2011: 13th (Knut Emil Mjos)
2010: =15th (Tom Eide Osa)
2009: =12th (Sindre Dalhaug)
Last Year: 13th in Fourth Division (rel)
Own Choice Selection:
2012: A Celtic Suite
2011: Saint-Saens Variations
2010: Northern Landscapes
2009: Lydian Pictures
---
Alvik Musikklag
Conductor: Torbjorn Dagestad Jr
2013 Draw: 2
Own Choice Selection: Little Suite for Brass (Malcolm Arnold)
National Record:
2012: 12th (Torbjorn Dagestad Jr)
Last Year: 12th
Own Choice Selection:
2012: St Michael's Mount
---
Saksumdal Musikkforening
Conductor: Andreas Halla
2013 Draw: 3
Own Choice Selection: Valerius Variations (Philip Sparke)
National Record:
2012: 11th (Erik Sorlien)
Last Year: 11th
Own Choice Selection:
2012: Prelude, Song & Dance
---
Nordlys XO
Conductor: Reid Gilje
2013 Draw: 4
Own Choice Selection: The Prizewinners (Philip Sparke)
National Record:
Debut this year
Last Year: DNC
Own Choice Selection: n/a
---
Brummundal (Nordaasen Musikkforening)
Conductor: Martin Schadlich
2013 Draw: 5
Own Choice Selection: Images for Brass (Stephen Bulla)
National Record:
2012: 10th (Martin Schadlich)
2011: 21st (Morten Sanner)
2010: 13th (Morten Sanner)
2009: =21st (Morten Sanner)
2008: =13th (Karsten Dalsrud)
2007: 4th (Karsten Dalsrud)
2006: DNC
2005: 8th (Botolv Gjeldaker)
2004: 9th (Botolv Gjeldaker)
2003: 10th
2002: 13th
2001: DNC
2000: DNC
Last Year: 10th
Own Choice Selections:
2012: Toccata Festiva
2011: The Dark Side of the Moon
2010: Tamarn & The Armed Man: Time for Peace
2009: Inspiration
2008: Anglian Dances
2007: Chorale and Variations
2006: DNC
2005: Inspiration
---
Bjorvika Brass Band
Conductor: Robert Solberg Nilsen
2013 Draw: 6
Own Choice Selection: Tallis Variations (Philip Sparke)
National Record:
Debut this year
Last Year: DNC
Own Choice Selection: n/a
---
Hetlevik Musikklag
Conductor: Einar Gjelsvek
2013 Draw: 7
Own Choice Selection: Legend in Brass (James Curnow)
National Record:
2012: 9th (Einar Gjelsvek)
2011: 19th (Einar Gjelsvek)
2010: 10th (Egil Magnussen)
2009: =16th (Oyvind Nikolaisen)
2008: =13th (Jan Arne Pupe)
2007: 13th (Jan Arne Pupe)
2006: 12th (Jan Arne Pupe)
Last Year: 9th
Own Choice Selection:
2012: Haslemere Suite
2011: Anglian Dances
2010: Music for a Festival
2009: Second Suite in F Major
2008: Partita for Brass
2007: Triptych
2006: A Malvern Suite - Philip Sparke
---
Rosendal Musikklag
Conductor: Petro Romanyshyn
2013 Draw: 8
Own Choice Selection: Symphonic Contrasts (Etienne Crausaz)
National Record:
2012: 14th in Fourth Division (Torstein Hatlevik) (rel)
2011: 9th (Torstein Hatlevik)
2010: 14th (Torstein Hatlevik)
2009: =5th (Torstein Hatlevik)
2008: =11th
2007: 15th in Third Division (Jan Magne Olsen) (rel)
2006: 3rd in Fourth Division (Jan Magne Olsen) (prom)
2005: 14th (Michael Antrobus) (rel)
2004: Winners of Fourth Division (Yngve Nikolaisen) (prom)
Overall Record:
Fourth Division Champions: 2004
Last Year: 14th in Fourth Division (rel)
Own Choice Selection:
2012: A Scots Miscellany
2011: Royal Parks
2010: Glorifico Aeternum
2009: Dimensions
2008: Call of the Cossacks
2007: Sunset Rhapsody
2006: Essay for Brass Band
2005: Main Street
---
Rudsbygd Brass
Conductor: Per Kristian O Syversen
2013 Draw: 9
Own Choice Selection: Portrait of a City (Philip Sparke)
National Record:
2012: 8th (Per Kristian O Syversen)
2011: 20th (Per Kristian O Syversen)
2010: =17th (Botolv Gjeldaker)
2009: =21st (Morten Fagerjord)
2008: =17th (Grethe Berntsen)
2007: =6th (Botolv Gjeldaker)
2006: =12th (Grethe Berntsen)
2005: =12th (Grethe Berntsen)
2004: =13th (Grethe Berntsen)
Last Year: 8th
Own Choice Selection:
2012: Arkansas
2011: Four Cities Symphony
2010: Labour and Love
2009: A Gallimaufry Suite
2008: Laudate Dominum
2007: Anglian Dances
2006: Schattdorf Impressions / Country Scenes
---
Moen Musikkkforening
Conductor: Thomas Petersen
2013 Draw: 10
Own Choice Selection: Dimensions (Peter Graham)
National Record:
2012: 15th in Fourth Division (Thomas Petersen) (rel)
2011: =10th (Thomas Petersen)
2010: = 19th (Thomas Petersen)
Last Year: 15th in Fourth Division (rel)
Own Choice Selection:
2012: Occasion
2011: Dimensions
2010: Legend in Brass