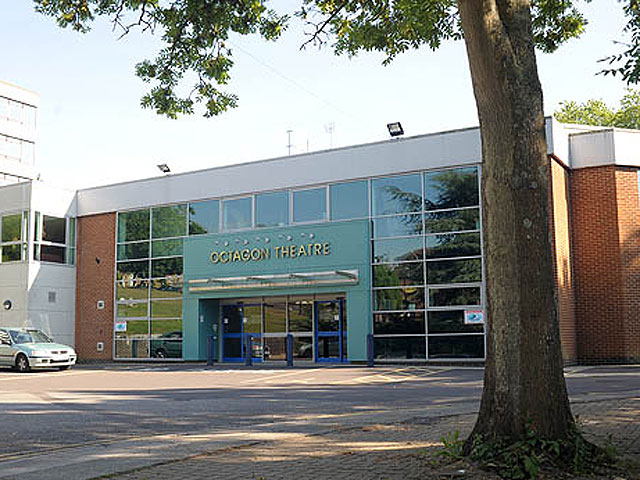 Cool and crisp... The Octagon awaited just eight bands this year

As a cool crisp February morning dawned brightly over the Octagon Theatre in Yeovil, the crowds began to stream in seemingly unperturbed by the downturn in competitive numbers at the event.
Despite this, the feeling of a possible close contest was tangible – although the common consensus was that if Flowers could replicate their recent Butlins form then the title would be theirs to lose.
Correct predictions

The predictions were correct, as a dominant display saw the West of England champion comprehensively retain their crown and claim the £2,000 first prize and Chris Palmer Shield for a record seventh time.

It was a commanding performance, featuring David Childs on solo euphonium in a trio of Cory 'deps'.
That said, one of the highlight of the day was the opening 'Ride' which displayed an ensemble sound different from any other: It was a major contributing factor to their dominance.
Excellent

An excellent rendition of 'Wild Horses' by principal cornet player Andrew Smith was backed by ensemble playing of the highest degree that maintained a solid platform for the soloist.
Paul Holland led a pulsating rendition of 'Concertino Catalonia' in which the reason for Dave Childs' appearance became apparent.

The former Cory man demonstrated his immeasurable skill by dispatching the rapid, flying euphonium line with consummate ease.

'Family Portraits' from 'A Lowry Sketchbook', complete with video accompaniment, provided the opportunity to demonstrate a gorgeous ensemble sound, with good dynamic contrast and excellent expressive, emotive playing.
Giant leap

It was a shame however that as boiling point was being reached the atmosphere in the auditorium was shredded as an audience member received a text message.

The band took one final giant leap towards the winners shield with Andrew Duncan's 'One Small Step', featuring a selection of additional contributions from none other than John F Kennedy and Neil Armstrong.
The countdown began and once more they delivered a superb demonstration of what a high quality brass band should sound like.

Blast away

With touches of Hollywood, take off was successful as a surge of dynamics lifted them into a crescendo of fire and rocket fuel.
Despite one or two slight errors in the inner parts they sealed victory in the style of true champions - blasting away from their rivals.

American march to second place

Chris King's Friary Guildford went 'All American' and marched on to 'Seventy Six Trombones', featuring cameo appearances from other American classics and providing a good solid start to the programme.
There was real high class technique and sweeping sounds in the 'Overture to Candide', featuring some exquisite euphonium and baritone playing, before principal cornet Richard Straker delivered a high class 'Saturday Serenade' showing off a melodious cornet sound and sitting nicely into the groove set by the band.
Excellent programme

A quick percussion driven flash round 'Sing, Sang, Sung' led into 'An American Tale' to complete an excellent programme featuring impressive solo playing and showing off the band's compact ensemble sound to fine effect.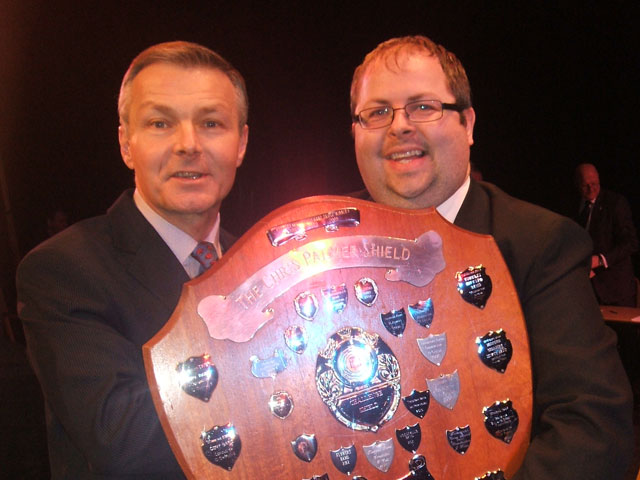 Another victory for Flowers to celebrate...

Tight band

Eventual third place Mount Charles had earlier opened the day with the 'Fanfare' from 'Carmina Burana', featuring a tight band sound and good balance, before Richard Evans led them in yet another perfect example of a swagger march in 'Pride of the Wolverines'.
Principal cornet Ian Thomas brought a more relaxed feel to proceedings with a solid rendition 'People', before, 'Got to get you back Into my life' featuring trumpets and trombones really woke the audience up as Mount Charles grew in confidence.
An excellent arrangement of 'Melita' allowed further contrast before the rousing finale from Tchaikovsky's 'Francesca De Rimini' demonstrated a good solid bass and bass trombone sound to round off an purposeful, encouraging display from a young band.

Activate

Meanwhile, debutants Jackfield Elcock Riesen opened their set with 'Activate', which had a real drive and purpose before they segued into 'All Night Long' complete with excellent harmonised signing.
Principal euphonium Peter Woodley has been a member of the band for 31 years and was (apparently) making his solo debut with his rendition of 'Rhapsody for Euphonium' – which was well worth the wait!
Matt Hall's 'The Smile' featuring hymn tunes with soprano, solo cornet and solo trombone soloists placed around the hall was a lovely contrast, before a high tempo blast through 'Ol' Man River' showed off some exemplary drum kit playing and finished the programme well.

Not on form

Many people fancied Woodfalls to take the title for a second time in three years before a note was blown, but unfortunately they were not on good form on this occasion.
'You've been Warned' with a big sound and good solo lines set out their stall, but trombone soloist Scott Stuart wasn't on his very best form with 'We've Only Just Begun', whilst 'O Magnum Mysterium' never quite sounded at ease either.
Peter Graham's 'Renaissance' provided the requisite big finish, but it was all too little too late for a band that seemed tired and uninspired.
Push for prizes

Major David Barringer's Bournemouth Concert began with a tightly played 'Bolero', kept in immaculate time by the snare drum which was then utilised again in the march 'Keighley Moor'.

A beautiful rendition of 'Ave Maria' on flugel from Rachael Bartlett seemed to have set them up to push for the prizes, but a messy and perhaps messed up 'Sing, Sing, Sing' and an untidy 'Finale from Symphonic Dances op. 45' by Rachmaninov undermined what could have been a possible podium finisher.
Unsettled

The same applied to Camborne, who started brilliantly with 'Blackbird Special' before progressing through a colourful 'Wedding Dance' which featured strong middle of the band sounds.
However, the soprano solo was a real let down – especially as Les Kneebone is usually such a solid performer, whilst his discomfort seemed to unsettle the whole ensemble in 'The Bonnie Bryher Bush'.

The wonderful Charlie Hodge sewed up the soloist prize with a near perfect performance of 'Helter Skelter', but a tired old pot boiler of 'McArthur Park' left any hopes of a possible podium finisher as a long shot at best.
Credit

Brunel Brass under John Winterflood may have ended eighth overall, but emerged from their debuts with a great deal of credit.
'Congalella' was a whippy opener, whilst the day's Soprano Award was won by Paul Richards with his delightful rendition of 'Greensleeves'.
'America' was upbeat, although the percussion at times seemed laboured, whilst the atmosphere intended for the 'Witch of the Westmorelands' was totally lost by a misfiring smoke machine and out of focus screen.
The bold 'Nightingale Dances' rounded things off with style, and despite the obvious shortcomings the performance hinted at a band moving very much in the right direction.
Special

Adjudicator Dr Chris Davis OBE expressed his disappointment following the announcement of the results that so few bands had attended this year's contest, but there was no such disappointment for Flowers.
Dr Davis said, 'each band had something special in each of their programmes, but the winners had something special about their entire programme'.
He wasn't wrong.

Daniel Wilmott