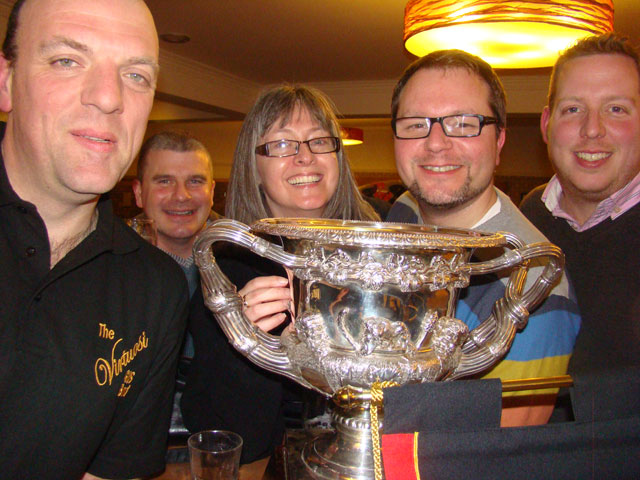 Dusting off old memories for Virtuosi GUS

Living up to a historic banding reputation is difficult enough at the best of times – especially when it still retains a competitive resonance in the modern contesting world.

It's a situation Virtuosi GUS has found itself in for the past 20 years or so – with the memories of their 1988 British Open win beginning to display a dusty veneer of nostalgia that was starting to be recalled with a degree well meaning frustration by the current crop of players as they sought to add further major titles to the band's CV.
Not now.
Worth every penny

Winning the Butlins Mineworkers Championship may not have the cache of another Open victory quite yet, but on this form Virtuosi GUS have shown they are now serious contenders for the major prizes once again.
This was a win worth every penny of the massive £10,000 first prize that came with it.
Over two days on the set test and entertainment disciplines they were a class part; delivering performances of maturity and precision that would have pushed for top six finishes at both Symphony Hall and even Brass in Concert.
It has been some time coming – but the ensemble fragility that in the past cracked under intense pressure has seemingly been confined to the history books too: The 2013 Virtuosi GUS Band is very much the complete contesting package.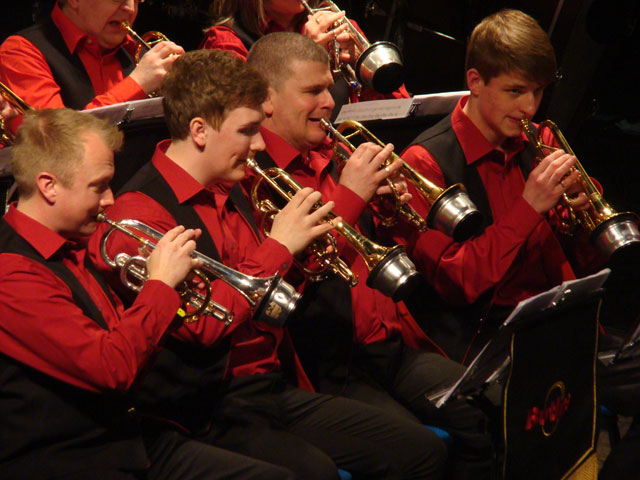 Confidence and clarity for the Virtuosi GUS cornets

Breathing space

John Berryman's superb direction and innate ability to reveal the elegant musicality of 'A Tale As Yet Untold' on the Saturday set his band up for overall victory with just enough clear breathing space over nearest rivals Flowers.
Backed by some wonderful individual solo contributions and a balanced ensemble that was richly textured yet clearly layered, the more emotive aspects of Philip Sparke's test piece were brought into clear focus.
Although they only ended one place ahead of the defending champion, in reality the contest was theirs to lose.
Powerful

Flower's 'Tale' was a more powerful interpretation – with a darker touch of the Brothers Grimm in comparison to the Hoffmanesque elegance of GUS.

Confident and full of intent, all that it lacked was the more refined, less robust textures the leaders were able to so clearly define.
A few lengths behind came contrasting accounts from Woodfalls and Carlton Main; the former benefitting from a malleable appreciation of phrasing under Paul Lovatt-Cooper, whilst Leigh Baker placed his trust in an almost forensic portrayal of the detail contained within the score.
These were the only bands in with a realistic shout of claiming the ten grand first prize come Sunday night: Bob Childs and David Read MBE separating the rest of the contenders out with a clear indication of their likes and dislikes.
As a result, Thoresby's engaging delicacy was rewarded in fifth, with Desford's broad brushed stroked account in sixth.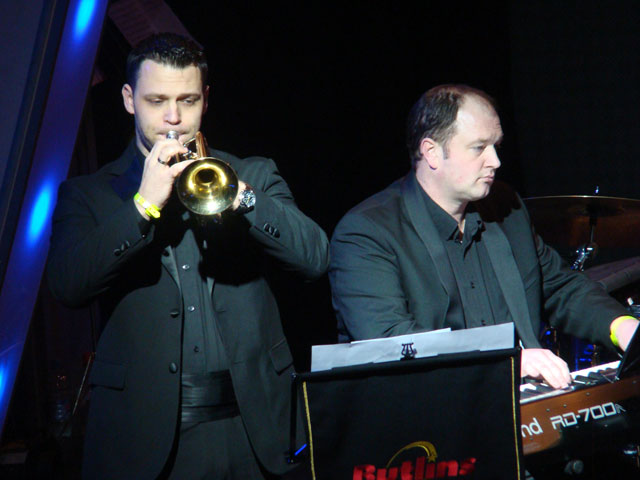 A lovely touch of delicacy from Flowers principal cornet Andrew Smith

Outside chance

The rest were playing for an outside chance of a podium place, with Marsden and Redbridge perhaps considering themselves a little unlucky they didn't end Saturday higher.

The remaining contenders were some way off the prize winning pace, with varying combinations of nerves, unforced errors, sloppy ensemble and misplaced endeavour undermining efforts.
9 hour marathon

Sunday's 9 hour marathon provided plenty of musical variety; the majority of bands displaying a welcome laissez-faire approach to inventiveness that broached both ends of the entertainment spectrum.
Chief amongst them was Wingates under Andrew Berryman, who produced the stand out programme with Paul McGhee's dark and witty evocation of youthful musical endeavour; 'Episodes, Occurrences and Interludes' - subtitled - 'a journal of memories, mishaps, adventures and escapades!!'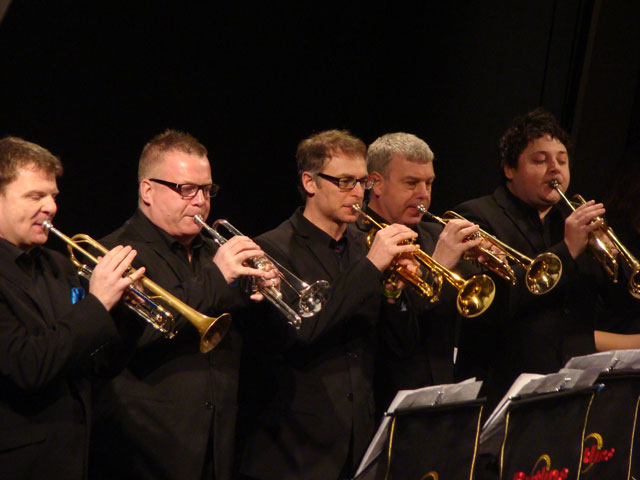 United we stand - Unite the Union in trumpet harmony

Brave

This was brave progressiveness – and whilst it was not to everyone's taste as Butlins entertainment, it certainly got people thinking about a musical landscape that engaged the intellect rather than appealing to more Pavlovian instincts.
On the face of it, it was perhaps not a surprise that it ended in 10th place on the day, but in retrospect it was hampered more by a last minute soprano substitution (despite the excellent effort of Redbridge's brave dep) and some noticeable losses of ensemble and individual concentration that were certainly apparent to David Read and Mike Fowles who had the complex score to peruse.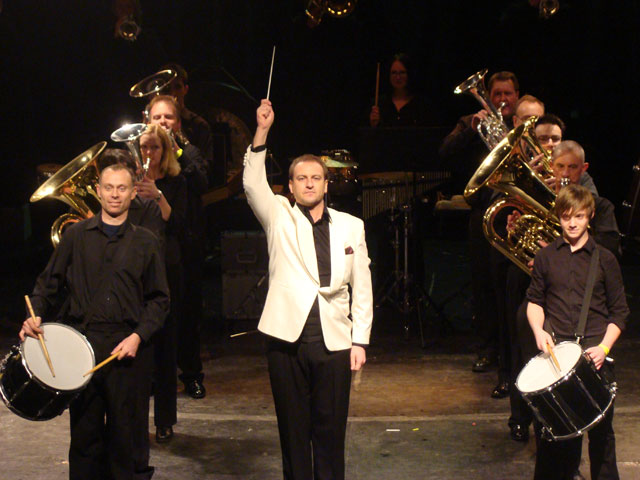 Black and white minstrels for Woodfalls?

Woodfalls contrast

The contrast with Woodfalls programme of sugar coated bon-bons was huge – yet the end result was very much the same.

They ended the day in 11th place, scuppering any hopes of claiming a second successive podium finish, and in the opinion of 'X Factor' judge Chad Shoopman, of retaining their 'Most Entertaining Band' title.
For all the clever, interactive presentation, the judges were far too world weary to fall for the old Wizard of Oz trickery. Once they pulled back the curtain, they found the actual mechanics were more than a little prosaic and disappointing in their execution.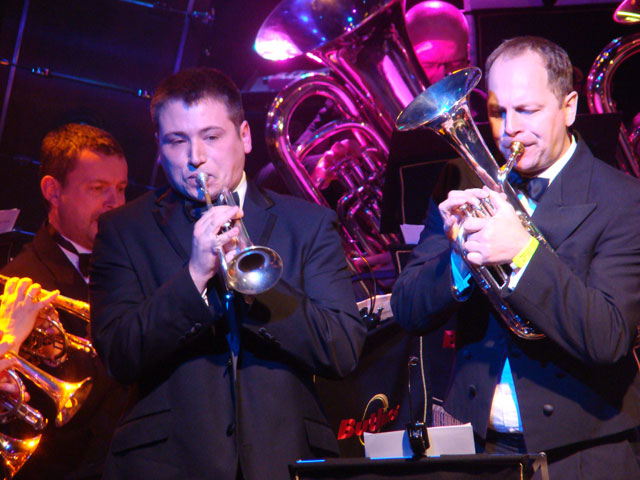 Finally finding form for Desford on Sunday...

Appeal

What did appeal however was the way in which Virtuosi GUS, Flowers, Desford and Carlton Main were able to construct programmes of musical substance – aided by the occasional bit of ephemeral glitterball sparkle.
Leigh Baker again intelligently relied on expressing solid banding virtues with Carlton Main; aided by a stunning piece of sublime musicality from 'Best Soloist' award winner Kirsty Abbotts.

It gave a second fourth place finish to enable them to secure a well deserved third overall - made more impressive in that they played off the number 1 draw both days.
The Yorkshire band continues to punch impressively above it financial, but not musical, weight.
Frustrating

Desford meanwhile finally found form to end third – although the overwhelming impression they left you with on the weekend was of frustration: They are so rarely the sum of their talented parts.
Fourth place overall summed it up. If they had really done some detailed work on the set work, they would have been in the big money.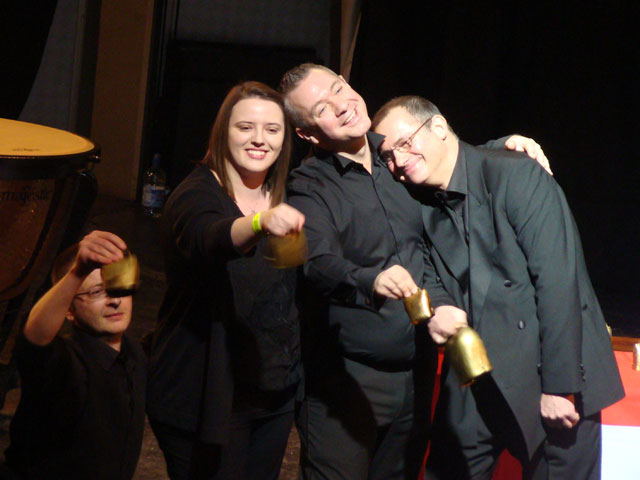 The bells are ringing for me and my girl....

Red in tooth and claw

Flowers blazingly confident Sunday programme was perhaps a touch too red in tooth and claw at times, although Paul Holland was able to occasionally show that underneath the sheer weight of ensemble volume was a band of impressive contesting credentials.
Although even being able to reveal their lighter side more often wouldn't have given them the Butlins title for a third year, it should provide them with a National Finals return and even British Open qualification in the coming months.

Artisan values

With Woodfalls chances blown by their desire to dazzle, both Thoresby and Marsden were able to overtake them in the overall standings by concentrating on core artisan values and simply playing to strengths.
Although neither entertainment set was the most innovative, the judges were impressed by the attention to detail, the balance of the programme content and the solid execution.
Despite ending a good few lengths behind the top four, there was enough evidence on show from both that they could well enjoy impressive contesting seasons ahead.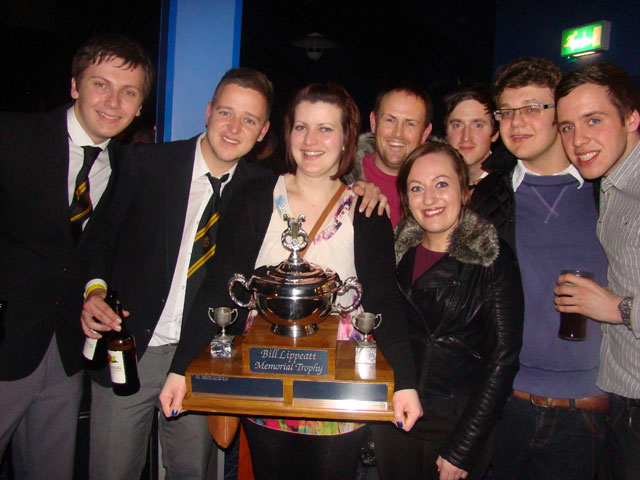 Top mining band Carlton Main Frickley Colliery

Hard crumb

You also suspect Redbridge will enjoy better contest luck throughout the coming year too – although that may be a hard crumb of comfort to take back to London for Jeremy Wise and his band.
Not for the first time, their more considered approach to the entertainment genre found little reward.
That was a pity, as they were the only band to successfully employ genuine wit with their humorous alpine cow bell version of 'The Swan', although it was balanced by a swing insert and Russian finale that didn't work as well. To end seventh on the day and eighth overall still seemed a tad unlucky though.
London Calling

As on the Saturday, the remainder of the field fell into place – although East London's excellent 'London Calling' musical set was one of the real highlights.

They had obviously worked their thermal socks off all weekend, and even though they eventually came 12th overall, the 8th place finish on the Sunday showed their growing potential.
EYMS too had their moments but lacked overall consistency in their big band set to end 10th and 9th overall, whilst Unite and Yorkshire Imperial will have taken more plus points than minus ones home with them as they showed they had made the step up to top level contesting with confidence.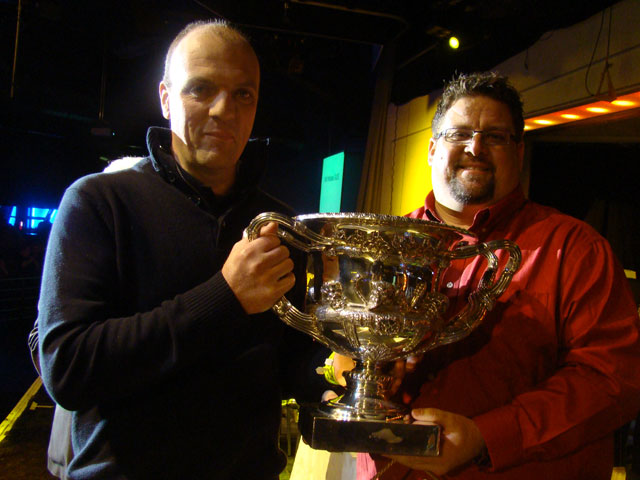 A new Virtuosi GUS chapter begins...

Ink

That is something Virtuosi GUS will certainly not now lack for the coming year or more.
At last a line can be drawn under the last major contest victory in what was becoming a dusty chapter in a proud history book.

On this form they may be inking in a few more entries in the years to come.

Iwan Fox