Championship Section:

Venue: Centre Stage
Saturday 19th & Sunday 20th January

Draw: 8.15am
Commences 9.30am (Saturday); 9.00am (Sunday)

Test Piece: A Tale as Yet Untold (Philip Sparke)
Adjudicators: David Read & Dr. Robert Childs (Set Work); David Read & Michael Fowles (Entertainment)

Section Controller: Mick Veasey
Compere: Frank Renton
---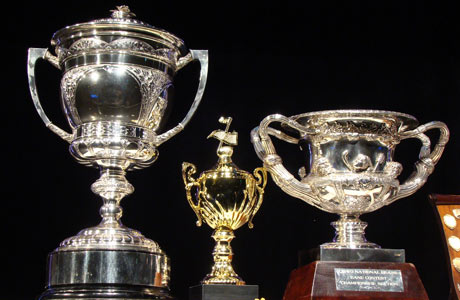 The silverware awaits...

Money may not be able to buy you happiness, but it can't half put a pretty wide smirk on the face.

Ronnie Biggs

And as the lovely Caro Emerald once sang – one band will be 'as smug a robber the cops can't catch' come Sunday night: The prospect of ten grand for two days work would make Ronnie Biggs consider coming out of retirement.
Butlins has certainly put its money where its mouth is – with £5,000 for the runner-up as well as hefty wodges of cash for the other prize winners.

The Best Soloist walks away with £300, whilst the band providing the 'X Factor' entertainment can pocket an extra thousand quid too.
No wonder most of the 14 contenders have been putting in the hard graft over Christmas.
Mohs scale

The organisers haven't made it easy though; with a set work that is certainly pitched at the very top end of the Mohs scale of contesting hardness.
Written to display the pyrotechnic talents of Cory under Dr Robert Childs at the European Championship in 2010 (and by heck they lit up the Linz sky that night) 'A Tale as Yet Untold' is Philip Sparke at his most demanding – and personal.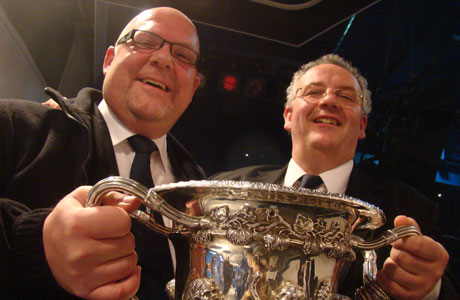 Smile please lads: Flowers celebrate with the silverware

Tale

The 'tale' is autobiographical, but one which the composer feels need not be divulged to explain a much more general human condition.
The first movement is full of nervous flickerings and repetitive, sometimes aggressive elements that float above an impassioned theme.
The second symbolises the ability of the human soul to overcome the 'Sturm und Drang' with an indomitable sense of optimism, whilst the third responds to the questions posed before ending triumphantly in a salute to the power of the human spirit.
No bluff room

There is no room to bluff, no easily manipulated camouflage trick to hide weaknesses, no cut and paste safety plasters to suture self inflicted wounds: This is a very, very hard piece of music to play – an even more difficult one to adequately perform.
And with Dr Robert Childs in the box with David Read MBE – each of the competitors will know that any mistakes will be noticed and noted for reference.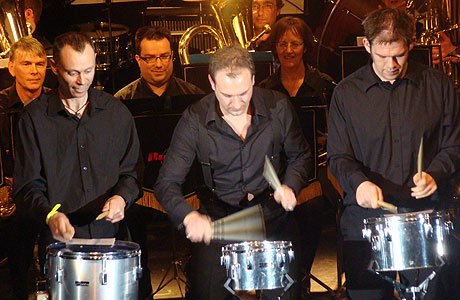 Can PLC inspire Woodfalls once again?

With the set work out of the way, Sunday's fun and games will perhaps decide which band's bank account will be boosted by £10,000 come Monday morning.
Interestingly, David Read set the agenda on entertainment programming at this event a few years ago when he suggested that it was about time bands started to employ a greater degree of innovation in their contest sets.
Left field

Thankfully, many top bands now do just that, and a host of these contenders have also gained well respected reputations for trying something a little 'left field'.

There is bound to be the usual mix of flashy openers and classy soloists, clever arrangements, visual humour and blockbuster finishes– but nowadays the judges are looking for much, much more - with a sense of balance, thematic line, originality and inventive musicality.

David Read and Michael Fowles will surely want to compare 23 minute programmes that are professional in both construction as well as execution.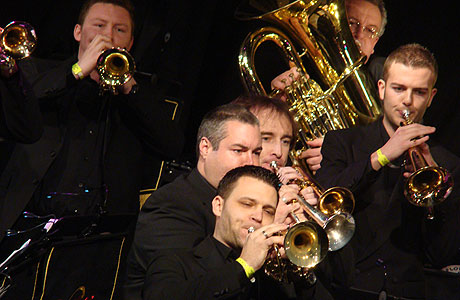 Pointing towards a possible hat trick for Flowers?

Tough ask

That's a tough ask so early in a contesting season, so it will be interesting to see how bands balance the demands of a rock hard set work with the need to portray something new and different in the entertainment field.
Favourites

Flowers is looking to make it a hat-trick of wins, and on the form they showed in 2012, they head to Skegness as favourites.

Paul Holland has a high class outfit under his command – and although they are not yet competing at the British Open, the performances they gave last year showed that they are very much at home amid the best bands in the UK.
With a solid, powerful ensemble and excellent solo leads, the only question mark over a third win may be with their entertainment approach, which hasn't quite hit the mark with the judges even in the past two years.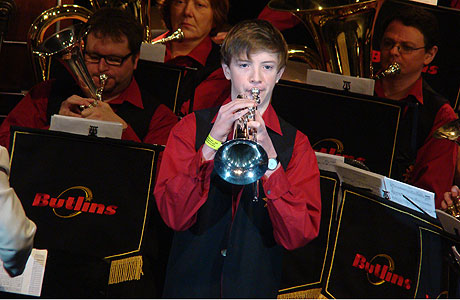 Thomas Fountain with Virtuosi GUS

Consistency

Consistency has been the key to Virtuosi GUS's success here, although overall, 2012 was a little more hit and miss.

John Berryman also has a high class ensemble under his command, and star solo performers to call on when required.
A combination of purposeful test piece virtues allied to a solid Brass in Concert programme that can be tweaked if necessary to add a touch more presentation spice, should make them confident of at least claiming a third successive podium finish.
Spice

Talking of spice – what level of chilli powder will PLC bring to the show with the entertainment specialists of Woodfalls?
Their third place finish last year was built on a fizz bomb programme that had the audience watering at the mouth. However, a repeat dose may not have the same effect and the conductor's approach with Co-operative Funeralcare at Brass in Concert was a touch too frothy and insubstantial.
If the band can deliver a solid test piece performance though (they were 6th last year) they should be confident of being in with a decent shout of a podium place once more.
Taste

It is also a question of taste with Redbridge too – as their elegant musical approach can sometimes fail to resonate with the baser contest winning instincts of critics in and out of the box.
The 2009 winner is always an interesting band to listen too (and has shown the quality to make an impression on the prizes in the last three years) – with MD Jeremy Wise's ability to trigger a response in the intellectual synapses giving them opportunity to shine.

Expect the unexpected.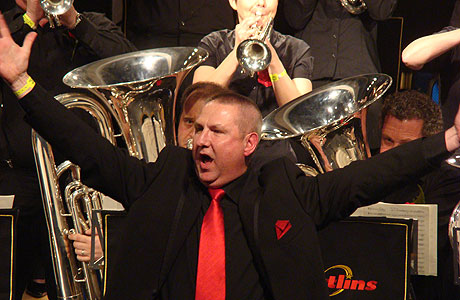 Unexpected size? Alan Morrison tells the tale...

Impressive

There was something a little unexpected about EYMS last year as they bounced back from a lowly 10th place on the set work to come runner-up on entertainment with an eclectic mix and match programme under the baton of Alan Morrison.
The tail end of the year saw further impressive performances – especially at the Scottish Open, where they took an innovative option that showcased their growing ensemble and solo strengths.

If they have built on that then a fourth top six finish in the last five years may be within their grasp again.
Stage

David Purkiss takes over from Birmingham Conservatoire colleague Ian Porthouse to lead Thorseby, and after coming 6th last time round they will be keen to claim another mention from the stage come the results.
2012 was a decent year and with a well worked entertainment set on show at the Bolsover contest they should have plenty of material to work on aided by a solid stable of quality soloists and ensemble.
Two bands that will be certainly looking for a return to Butlins form will be four time former champion Desford and Carlton Main Frickley Colliery.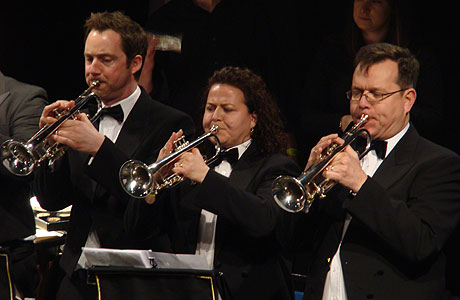 A bit of Desford polish is needed this year

Inventive

Much depends on Desford's preparation – especially on such a difficult set work, whilst they will also have to polish up a truly inventive entertainment programme if they are to make it win number five.
Both were lacking last year – so they won't want to make the same mistake twice. On their day (such as the National Finals), they are a band that could win this contest by more than a few lengths.
Carlton Main Frickley were a bit hit and miss last year too, although Leigh Baker's ability to come up with a touch of inventive magic is well known and should serve the Yorkshire band well.
They have plenty of quality in the ranks to make a mark on the set work, whilst there was some interesting left field stuff on show with a well worked programme at Brass in Concert too.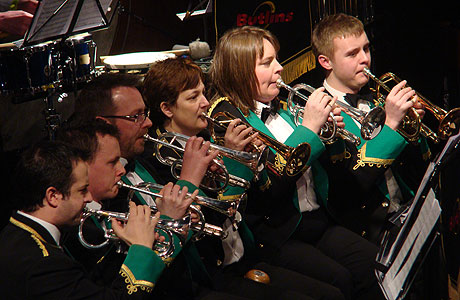 Disappointed in 2012 - Marsden look for better this time round

Gave it their all

Two contenders that left Skegness disappointed last year were Marsden Silver and Wingates - so both will be looking to make much more of a mark this time around.

Marsden gave it their all on the set work as Glyn Williams inspired his band to perform to their very best – although the effort seemed to have left them drained the following day as they rather limped through a rather non descript entertainment programme.
If they can get the balance right this time around (and they already have a classy account of the set work under the belt from the Scottish Open) they could be pushing for a top six finish.
Underwhelming

Wingates meanwhile will want to forget their rather underwhelming effort when they seemed devoid of confidence on both contest elements.

Andy Berryman has been working hard to recover lost ground since his return home and this weekend could provide a morale boosting springboard for what could be a very important season ahead for a talented outfit.
Debutants

Meanwhile, the two top section debutants in East London Brass and Jackfield (Elcock Reisen) couldn't have asked for a more demanding curtain call.
However, both are ambitious outfits very much on the up, and headed by talented MDs in Jayne Murrill and Simon Platford.
East London had a taste of real top section banding at the ill fated IBBC Contest in Belgium last year and will have learned a great deal from the experience, whilst Jackfield won the First Section here a few years ago and has continued to build steadily ever since (and released a very enjoyable CD late last year).
Both are rank outsiders, but with inventive entertainment programmes to fall back on they could well frighten a few rivals.
Yorkshire duo

Finally, the Yorkshire contesting twins of First Section National Champions, Unite the Union (City of Sheffield) and Yorkshire Imperial Urquhart Travel.

We have heard these two bands slug it out against each other over the past year or so, and both fully deserve the opportunity to showcase their ensemble and solo strengths this weekend.
It is a step up in class, but as was shown with Unite at Cheltenham (where they were a class apart) and Imps at the Scottish Open (where they delivered a persuasive rendition of this set work), they now seem more than comfortable in elite company.
Iwan Fox
---
4BR Prediction:
14 bands makes for a long and much more involved contest this weekend than has been the case in the past.
Real contest winning quality should be clearly defined on the set work, whilst the bands who have been able to work on innovative programmes should feature on the Sunday too.

Overall though, a determined and classy Flowers may just have enough about them to pip the likes of Desford and Virtuosi GUS, with Carlton Main, Redbridge and Woodfalls filling the top six places.

Our dark horse is Marsden.

1. Flowers
2. Desford
3. Virtuosi GUS
4. Redbridge
5. Carlton Main Frickley
6. Woodfalls
Dark Horse: Marsden