Junior Ensembles:

Venue: Reds
Sunday 20th January
Draw: pre-drawn

Commences: 10.00am

Adjudicator: Gordon Higginbottom
Section Controllers: Mr & Mrs Ian Beckett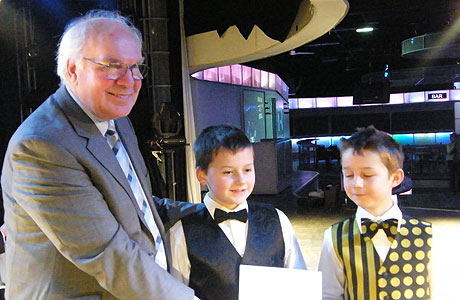 From little acorns grow - 2012 Ensemble champions Youth Brass 1000

Butlins commitment to encouraging a new generation of brass band competitors sees seven junior ensembles take to the stage at the Reds venue on Sunday morning.
Each will have to provide a 10 minute programme of music, with the only stipulation that it must include one of the basic building blocks of good brass band playing at any level – a warmly balanced rendition of a hymn tune.
Adjudicator Gordon Higginbottom should have a wonderful time whilst the audience will have plenty to sit back and savour too. In addition there is also a 'Best Soloist' prize on offer thanks to the generosity of former Grimethorpe flugel star Mark Walters who has donated the Brian Walters Trophy in memory of his father.
Ethos

The ethos behind the contest is of inclusiveness and encouragement – with the organisers allowing adult learners to take part as well as young players up to the age of 19.

The winners will be able to celebrate with pop, crisps and the odd half pint Top Deck shandy in the Reds bar then!
Champions

Reigning champions Youth Brass 1000 return under the baton of Adele Hudson, whilst last year's podium finishers Shirland Training and Wigston Enterprise will be looking to see if they can claim the £200 first prize under Dave Harvey and Pat Allsop respectively.
It's great to see the youngsters of Coleshill Beginners making the trip up from the West of England, as well as Wardle High School from the North West.

There sure to be plenty of support too for local debutants Thurcroft Welfare Training conducted by Ken Vernon and Silver Sounds from Lincolnshire, directed by Roy Duncan.
4BR Prediction:
Although this section is all about enjoyment – there is a competitive element too, with the battle for the honours we think between Youth Brass 1000, Wardle High School and Shirland Training.
1. Wardle High School
2. Youth Brass 1000
3. Shirland Training
---
Youth Section:

Venue: Reds
Sunday 20th January
Draw: pre-drawn

Commences: after Junior Ensembles

Adjudicator: Gordon Higginbottom
Section Controllers: Mr & Mrs Ian Beckett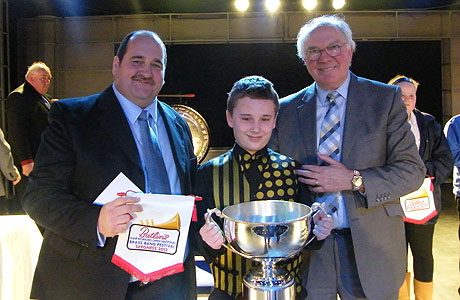 Champions: Youth Brass 2000

After what is sure to be a highly enjoyable musical aperitif comes a pretty substantial main course, with eight Youth bands locking horns to try and claim the Keith Wardle Memorial Trophy and £1,000 first prize.
Excellent standard

The standard of playing is invariably excellent in each of the 20 minute entertainment programmes, whilst Butlins have ensured that good brass band foundations are enhanced by stipulating that each competitor include a traditional march and hymn tune.
As a result, there is a keen, but friendly edge to the competition, with the chance for talented youngsters to really shine thanks to the additional award of the Brian Jones Memorial Trophy to the best soloist.
Champions

Last year's winners and current Intermediate Youth Champions of Great Britain, Youth Brass 2000 return under the baton of inspirational MD Chris Jeans, although they will know they will have to be on tip top form if they are to see off the challenge of a strong batch of rivals.
These include last year's podium finishers Wardle High School, who rang them so close at the RNCM National Youth event under the baton of MD, Lee Rigg and the formidable St Helen's Youth Band conducted by Anna Hughes-Williams.
In addition there are the rising stars of Shirland Training, Enderby Youth, Croft Youth and Coleshill Youth, all of whom produced excellent performance here last year, and the emerging talents of Grelsey Colliery Youth.
4BR Prediction:

This could well turn out to be a cracking contest with eight excellent bands all more than capable of putting on a performance that could claim the Keith Wardle Memorial Trophy.
It's going to be close at the top though, but we just think Youth Brass 2000 will pip Wardle High School with St Helen's Youth close behind.
1. Youth Brass 2000
2. Wardle High School
3. St Helen's Youth
---
---