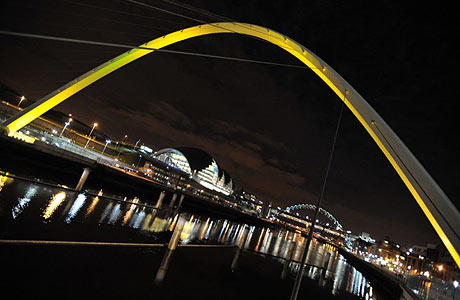 Lean lines will be on view at Brass in Concert this year..

In an age when a few jabs of Botox and a bit of nip and tuck surgery are used in the entertainment game as an easy fix to camouflage the first signs of mid-30s wrinkle lines and sagging middle age spread, it's good to see Brass in Concert securing its future good looks by employing a much more sensible overhaul of its health needs.
And on the stroke of 9.00am on Sunday morning those new changes to the 36 year old contest's lifestyle choices will be put into practice.
New era

It heralds an exciting new era for the banding world's leading entertainment contest – one that Jackie and Paul Beere and the rest of the BiC organisers should take a huge deal of credit for.
If any of the 11 contenders wants to be in with a chance of pocketing the £4,000 first prize then they will have had to cut down on the flimsy sugar coated treats and high fat stodge that for far too long has been a staple part of their dietary excesses here too:

Brass in Concert has gone all wholemeal, fruit and fibre.
Heart trouble

The 'naughty but nice lollipops' and melt in the mouth swagger sweeties will still be on the menu of course, but now they can no longer be dished out to the audience in family sized jumbo packs that can induce musical coronary heart disease – not without a price to be paid.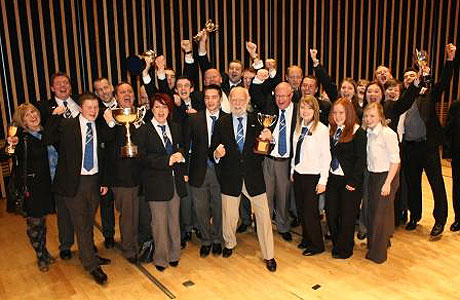 Last year's winners - Leyland

New ethos

The new ethos is based on a mission statement that, '...strives to provide a platform for the finest brass bands in the world to display, free of artistic restriction, their excellence as performers of high-quality original and arranged brass band music, through programmes and presentation reflecting the most current and progressive form of the genre and designed to appeal to both the general listener and aficionados of the discipline.'
New system

That may sound a bit of an indigestible mouthful, but not when it's backed up by a new scoring system that is clearly designed to reflect the benefits to competitors of a balanced diet.
New Brass in Concert Scoring System

| | | | | | |
| --- | --- | --- | --- | --- | --- |
| Position | Quality of Performance | Quality of Performance | Programme Content | Entertainment and Presentation | Maximum Total |
| 1 | 60 | 60 | 40 | 40 | 200 |
| 2 | 57 | 57 | 38 | 38 | 190 |
| 3 | 54 | 54 | 36 | 36 | 180 |
| 4 | 51 | 51 | 34 | 34 | 170 |
| 5 | 48 | 48 | 32 | 32 | 160 |
| 6 | 45 | 45 | 30 | 30 | 150 |
| 7 | 42 | 42 | 28 | 28 | 140 |
| 8 | 39 | 39 | 26 | 26 | 130 |
| 9 | 36 | 36 | 24 | 24 | 120 |
| 10 | 33 | 33 | 22 | 22 | 110 |
| 11 | 30 | 30 | 20 | 20 | 100 |
Quality of Performance now accounts for 60% of the total marks for each band
Programme Content and Entertainment accounts for 20% each
High fibre diet

As a result, the packed audience in the main Sage Hall should be licking their lips in hungry anticipation of what is going to be placed before them to gobble up in appreciation.

A bit more substantial high fibre music doesn't do anyone any harm.
Consultation

The new approach has come through consultation.

An advisory group made up of Malcolm Brownbill, Kenneth Crookston, Alan Morrison, Simone Rebello, Frank Renton and Stuart Bulmer have done a splendid job in overhauling the contest without losing sight of its primary objective – high class brass band entertainment.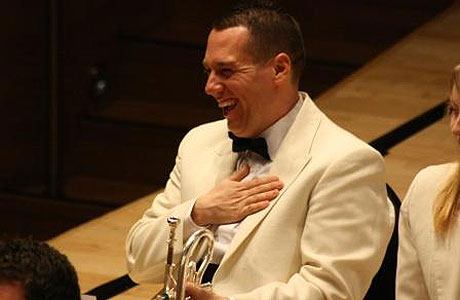 Check that healthy ticker John Boy...

Fish and chips

Now Brass in Concert is about the quality and not just the width – and it's up to the bands to deliver it through sourcing their programme ingredients without just relying on 23 minutes of music making from the local fish and chip provider.
Plenty then for the adjudication panel of Luc Vertommen and Paul Cosh (music – quality of performance), Andrew Duncan (programme content) and Steve Walker (entertainment) to ponder.
Judges sheets

The judges have also been given their diet sheets too – and know just what they can and cannot make their decisions on.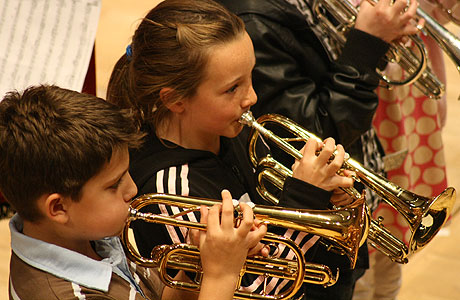 More taster sessions this year

Boost

Elsewhere, the whole event seems to have been given a health conscious boost too, with the traditional Saturday night concert showcasing the talents of the National Youth Band of Great Britain, who team up with Cory and Black Dyke to provide a tasty pre-contest aperitif.

Elland Silver Youth will showcase their concert talents on the Saturday afternoon and before the announcement of the results, whilst the next generation of Brass in Concert performers will be given plenty of fun packed tips at the appropriately entitled, 'Taster Sessions' led by the stars of Black Dyke under the baton of MD Dr Nicholas Childs.
Frank Renton, who is as lean as a butcher's dog will be the irrepressible master of ceremonies and compere extraordinaire.
New healthy champions

So which band will become the first champion of the new health conscious Brass in Concert event?
No double champions of Foden's or Black Dyke in the mix this year, but there are still seven of the top ten ranked bands in the world.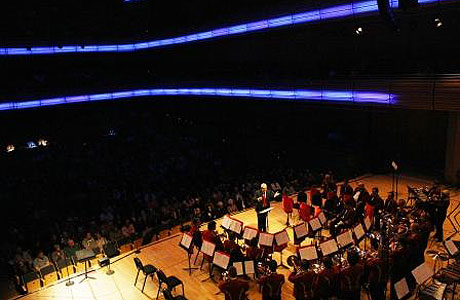 No more post contest blues?

Popular opener

The ever popular Brighouse & Rastrick kick off the action under the baton of Scotsman Allan Ramsay looking to see if they can regain the title they last won in 2007, whilst a trio of strong Celtic challengers follow with Whitburn, Co-operative Funeralcare and Tredegar.
Both the Scots are in excellent contest form and led by two inventive musical free-thinkers in Simon Dobson and Paul Lovatt-Cooper, whilst Tredegar under Ian Porthouse may just reflect that their healthy diet was started too soon after they claimed the quality of performance award last year with 198 points and still only ended third overall.
Crowd pleasers

The perennial crowd pleasers and 15 time winners of Grimethorpe Colliery will round off the first half entertainment under Garry Cutt (who is looking for a record equally eighth win), whilst reigning champion Leyland will open up the second half (after a half hour break for lunch) under the swagger of Richard Evans – a conductor who knows better than most just what it takes to tickle the taste buds of a Brass in Concert audience.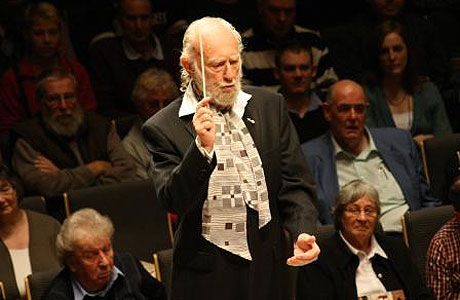 The master at work...

Welcome return

Paul Andrews makes a welcome return appearance with the ever inventive Carlton Main Frickley with Philip Harper making his first Brass in Concert appearance with 2008 champions and bookies favourites Cory to follow.
Reg Vardy will have had time to polish up their challenge under Stephen Roberts, whilst Fairey opt for the Nordic brilliance of the great Reid Gilje who has masterminded many an Eikanger-Bjorsvik victory at the Siddis 'Brass in Concert' contest in Stavanger over the years.
Rounded off

Virtuosi GUS makes a welcome return to the event for the first time since 2000 to round off what promises to be an intriguing, and highly entertaining contest.
4BR will be there of course to bring you our live coverage of the action as it unfolds through our Twitter, Tracker and performance comments, with plenty of little snippets of news and comments, interviews and those retrospectives to come too.
All we have to do now is sort out our own diets....
Iwan Fox
---
4BR Prediction:
A bit more difficult to call this year than you may suspect, but we're opting for a bit of a three way battle with Cory, Fairey and Leyland just ahead of Grimethorpe, Brighouse and Co-operative Funeralcare.
The dark horse could well be Tredegar.
1. Cory
2. Fairey
3. Leyland
4. Grimethorpe
5. Brighouse & Rastrick
6. Co-operative Funeralcare
Dark Horse: Tredegar