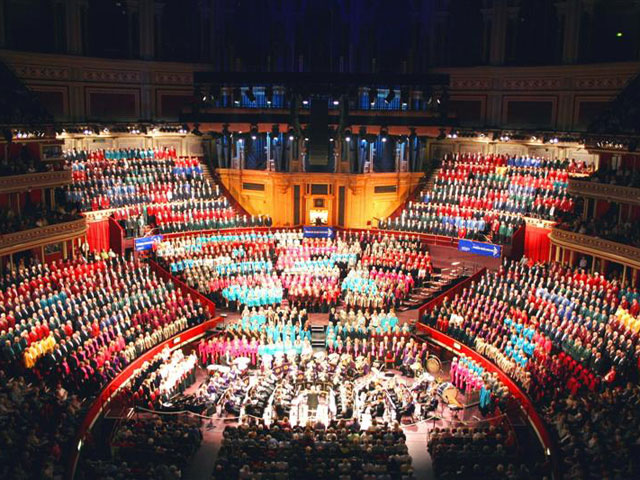 The numbers game - even at the Royal Albert Hall...

As someone who has been involved in directing choral ensembles over the last thirty years, it has always amazed me that joint repertoire for choir and brass band seems so limited.

The fact that many choirs (especially male voices) have their heartland in the same parts of the country means that they frequently share a concert platform, and on these occasions it invariably means that there will be at least one joint item, often as a finale.

Planning

This should involve the conductors of the respective groups putting their heads together in advance to see what is available in their respective libraries – although I am reliably informed that this isn't always the case!
It's not surprising then given a top class band's busy contest schedule that this aspect will not always be high on the list of priorities for their MDs: A good old rousing choral finisher can usually be brushed up to an acceptable standard without too much fuss for the best bands.
Some will even consider it an irritation that distracts from their normal rehearsal schedule, as fitting in a male voice choir of around 80 voices into a bandroom can be a bit of a logistical nightmare.
Animosity

At worst I have experienced an air of musical animosity between ensembles - especially as it can sometimes be exacerbated by the thorny issue of staging, as they vie for the limited space available on the concert platform.
As a choral conductor I have often arrived at a venue to find that the band has spread itself out in the expectation that the choir (often with three times as many members) will squeeze in at the back –next to a barrage of percussion that will leave them unable to hear what they are singing anyway!
Rehearsals can also be prickly too as die-hard choir members complain that the band is too loud (probably expressed in more colourful terms!) whilst the band retorts in similar vein that the choir is not in tune anyway. Happy days!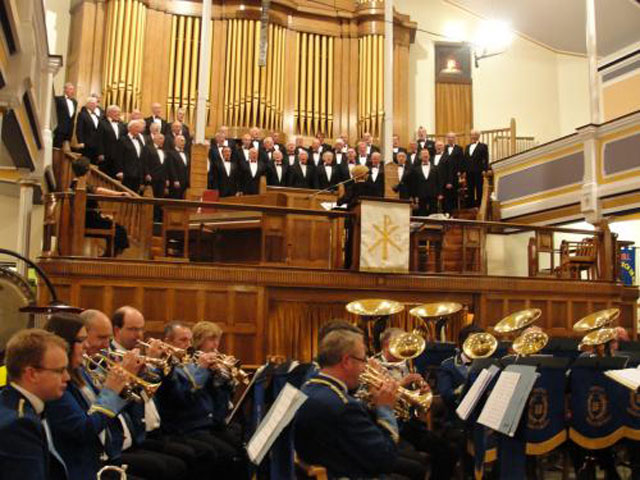 Making the most of the space - North West Co-op Band find a vocal solution...

Damage limitation

A hurried pre-concert rehearsal is usually an exercise in potential damage limitation - the main aim to avoid any major catastrophes rather than any attempt to produce a polished final product.
As a result, the actual performance can too often be rather perfunctory - in contrast to what may be an otherwise excellent concert.

Professional

Thankfully, these are issues that a good, professional working relationship between MDs can resolve without too much of a problem.
The best 'joint' concerts are usually the ones that are planned out in plenty of time and not left to the night itself.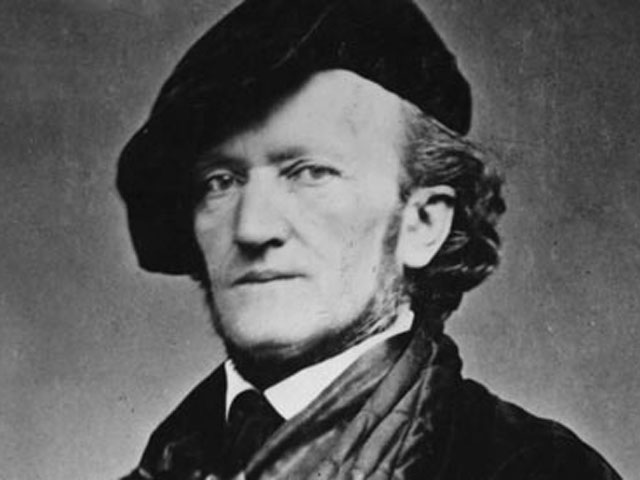 The usual suspect - Mr Wagner...

Repertoire hurdle

However, it is the matter of repertoire that can be an even greater musical hurdle to overcome even when you have given yourself time to explore the possibilities.
There appears to be a very limited stock of music that can be utilised off the top of a conductor's head – perhaps no more than half a dozen possible pieces that will have been the same ones used year after year.
Usual suspects

These usually consist of old hymn tune arrangements; probably 'Morte Christe' or 'Llanfair', or maybe 'Bryn Calfaria'. The rest will be made up of well-known rousing opera choruses.
These usual suspects come from Wagner; most commonly 'The Roman War Song' from 'Rienzi' and 'The Priests Chorus' from 'Tannhauser', or Verdi – with the ubiquitous 'Chorus of Hebrew Slaves' from 'Nabucco', (below) or 'The Anvil Chorus' from 'Il Travatore'.
Sometimes Gilbert & Sullivan will make an appearance.

'The March of the Peers' from 'Iolanthe' is always an effective choice – although I was once persuaded not to use it with a band as the concert was in the backyard of the local Labour MP well known for his desire to rid Parliament of their Lordships!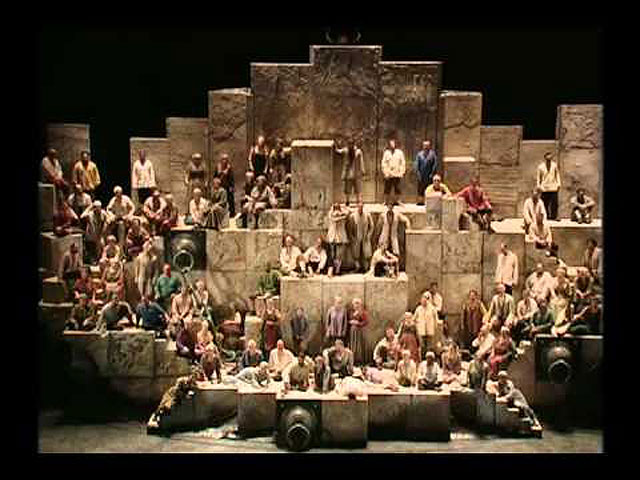 Using a bit of slavish imagination can help...

Imagination

Some of the most innovative concert programmes are also often let down by a lack of imagination when it comes to joining forces.
Surely it doesn't need to be like this – just look at the choral group 'Only Men Aloud' – and think what musical possibilities could be explored successfully with their media profile to back a venture.

The limited material available is to some extent surprising.
Compliment

Male choirs and brass bands would seem to compliment each other well in terms of timbre and dynamic range, and you would have thought that it was a natural a combination that many composers would have explored.
There would also seem to be considerable opportunity to hear new works too, thus addressing what is a huge issue for so many hard pressed composers.

The pieces that are successful are almost guaranteed repeated performances given the limited alternatives available.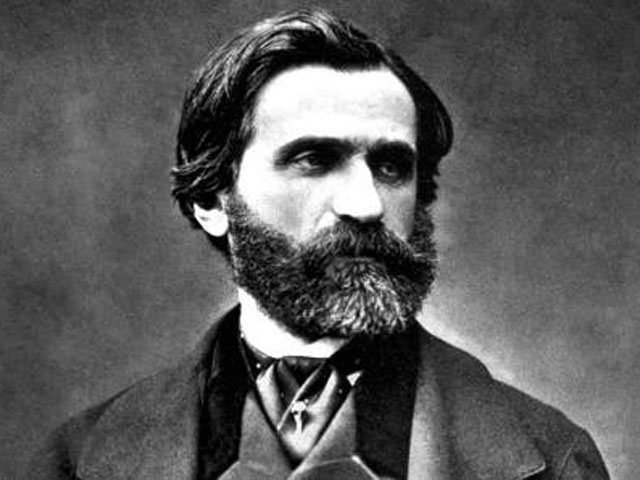 Always a good bet - Mr Verdi...

Market gap

Does this represent a gap in the market for composers and arrangers then?

This is not to say that some of the best known band arrangers have not gone in this direction: There are pieces by Alan Fernie, Howard Lorriman, William Relton and a number of others available.
However you only need to look through the available repertoire to see that it is rather thin on the ground.
A few conductors have spent time on their own arrangements, but there is not always time for this and they can be wary of a musical ensemble with which they are unfamiliar. There is clearly a need for more though.
Paucity

Many popular theatrical chorus items would seem to be obvious candidates – say from the world of musical theatre. The 'Anthem' from 'Chess' would seem ideal, or some of the music from the popular choral works of Karl Jenkins.
However, it is in the field of original music for that there is a particular paucity.
Voices with brass accompaniment were once seen as a natural combination.

In the late Renaissance music of Gabrieli, Schutz and others, brass instruments would often be used to increase the splendour and sonority of their sacred choral compositions.
Innovative mind

This 16th century 'cori spezzati' style – grand, large-scale pieces scored for antiphonal choirs and brass – are an area of repertoire that could provide an arranger with an imaginative mind and an innovative approach to scoring with a veritable goldmine of possibilities.
There are also some later pieces by the masters that combine brass and voices too – notably Bruckner's motet 'Inveni David' which uses trombones and male voices.
A number of contemporary composers have continued the tradition for writing for a brass ensemble with choir, but few seem to have fully embraced the possibilities of brass band and choir.

Rare

More substantial works – ones that can stand alone as a joint concert item in their own right are perhaps even rarer.
Historically brass bands did team up with huge choral societies for the spectaculars of 'The Messiah' or 'Elijah'.
Putting on something like that may be asking a bit too much nowadays, but there some great examples of pioneering male choirs and brass bands premiering new music in the last 20 years or so.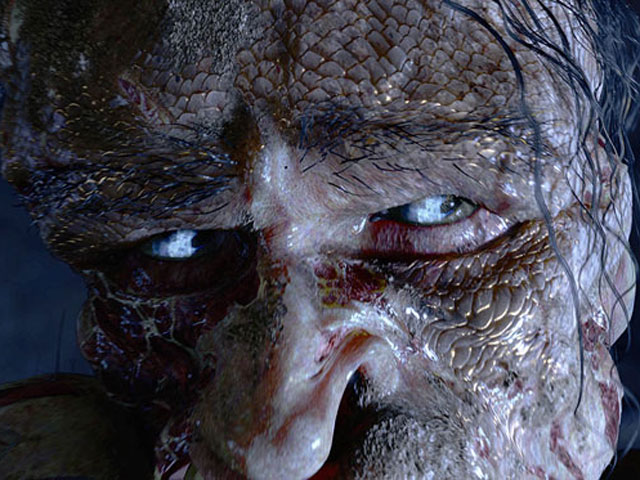 Sending a shiver down the spine...

Beowulf & Grendel

Two come from the Welsh composer Mervyn Burch and are well worth exploring: His magnificently scary 'Beowulf & Grendel' is a great piece (Grendel above) that can be tailored for family entertainment especially with effective use of a narrator to tell the grisly tale complimented by atmospheric lightening, dry ice and added special effects.
It is guaranteed to send a shiver down an audience's spine.
Revolting

Then there is the more overtly political 'Revolt in the Valleys' – a work inspired by the 1839 Chartist's march on Newport, which was premiered with the great Michael Foot MP as the narrator (and which encompasses a children's choir too).
It's a piece that can be tailored to get the fervent revolutionary blood boiling in even the most middle class of veins!!!
Welcome addition

In a welcome new addition, it is also good to see that the Foden's Band is to premiere a substantial new arrangement of Faure's 'Requiem' by Dr Peter Meechan in Manchester: Bold, imaginative and well worth making the trip to go and hear in a brilliant surrounding.
Such works (and I am sure there a few more gathering dust in band and choir library cupboards) are unusual to say the least, but with a bit of imagination and quite a bit of rehearsal time, can be used to attract a brand new audience to joint brass and voice music making.
It would certainly be better than having to dust off the same old tired stuff again and again....
Geraint Davies
---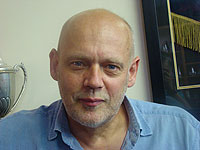 The Author: Geraint Davies

As Head of the Music Department and Arts Faculty of Llantarnam Comprehensive School in South Wales for 27 years, Geraint has been fully involved in all aspects of music education.
He has been particularly involved in training choirs, both in school with a highly successful choir over 20 years, and as Musical Director of Tredegar Orpheus, Caerphilly and Beaufort Male Choirs, and Newport Operatic Society.

He has recently been increasingly busy as a composer and was a prizewinner at the National Eisteddfod in 2010 and 2011 and runner- up in The Times Carol writing competition in 2011.