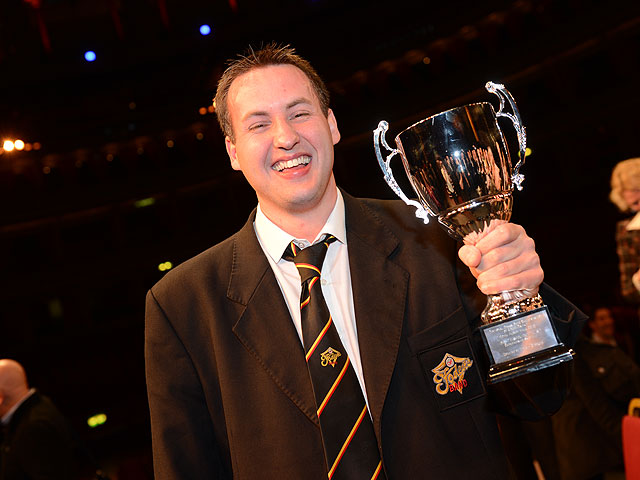 Poole champion: Richard Poole with the Best Instrumentalist Trophy at the Albert Hall

Malcolm Wood: What it's like to be a 'Double' champion then – has it sunk in?
Richard Poole: No - not really, but I suppose the band was expecting me to say things like, 'The best thing ever!' etc on the 4BR interview you did with me at the Albert Hall.

I couldn't think of much more to say at the time – I was still in shock!

It's still an amazing achievement for Foden's. Despite being a relatively young bandsman, I always felt the Nationals would be the one trophy that would elude me.

Thankfully that won't be the case now.
---
Malcolm Wood: You've been at Foden's 10 years, but only took over the soprano seat in 2010?
Richard Poole: Yes. I've always dabbled with the instrument over the years but finally took the plunge in April 2010 following Alan Wycherley's departure.
---
Malcolm Wood: How different was it going from Bb to Eb?
Richard Poole: It was a bit of a mixed bag really. I didn't find going from Bb to Eb 'pitch wise' too much of an issue, but going from bumper up to soprano 'seat wise' was a bit trickier.
On bumper up all you generally get to do is all the donkey work for the pretty boy (sorry Wilky!) on the end, and if you have an off day you can usually get away with it.
On soprano everyone knows if you had a good, bad or indifferent day that's for sure! It's also a different style of playing too.

I have to say a massive thank you to the band for the support they gave me when I switched, and the belief that they had in me to do the job.
---
Malcolm Wood: They say that soprano players need to be a touch eccentric to be succesful? Does that apply to you then?
Richard Poole: You'll have to ask my friends that! I've been called many things in my time as a player, but I don't think eccentric has been one of them.
---
Malcolm Wood: When you first saw the part for Daphnis, what did you think?
Richard Poole: Firstly - this is going to hurt. Secondly - I need to do some serious practice!
I think I knew the piece was going to be a test straight away, and when hearing it you could see just how skilful the arrangement was and why the soprano was used so extensively by Howard Snell.
My main concern wasn't for the solos or the high passages, but more for the lightening fast mute changes and trying to add different textures to my sound.
---


Malcolm Wood: Did you have any discussions with Mike Fowles and Allan Withington to how you approached the part, or were you just left alone?
Richard Poole: The biggest challenge was stamina, so I discussed with Mike and Allan that I would give more at the start of the final week and then start to tail off towards the end so my lip was ok for the day itself.
I've had times when I first started on sop where I wore myself out the week before, leaving me with nothing in the tank for the big day – so that's something I've really learned to manage.
Mike and Allan were really positive throughout the week, and it helps when you've got a band like Foden's to back you too. Their support was essential.
---
Malcolm Wood: Did you feel the pressure to perform on the day at the Albert Hall?
Richard Poole: The one thing I'm terrible for is putting more pressure on myself than is really necessary.
It's difficult when you know that on occasions your part is of real significance, and that the difference between success and failure at the very top level is now so small between the best bands.
With experience I can put things into perspective more, but you still don't want to let your friends down.

So yes – there were a few sleepless nights and plenty of headaches!
---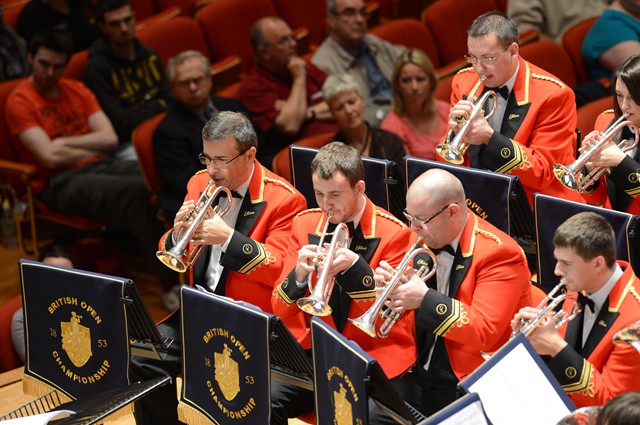 Malcolm Wood: Having won the Open, did the band feel any extra pressure with the opportunity of doing 'Double' and creating banding history?
Richard Poole: I think all Open winners get this pressure if they qualify for London – just look at Cory, Black Dyke or YBS over the last decade.
For Foden's players who had won the Nationals in 1999, I think it was definitely on their minds, but for a lot of us it was about winning at London for the first time.
We were very confident though after Birmingham, especially on a piece on which we knew Allan's interpretation would be very special.

We just felt this was something that had been coming for a long time.
The band has consistently put in fantastic performances for the last few years but never really quite clicked on the contest stage – but after the Open it all fell into place.
We now feel like a band that has moved up another level – with more to come.
---
Malcolm Wood: Foden's had a late draw on the day? Could you relax?
Richard Poole: We were very fortunate that the rehearsal room was close to our hotel, so when we got the news we had a light rehearsal and were able to go back to the hotel and take our time.
I think it was one of the most relaxed contest days ever. Nothing fazed us.

The band is an incredibly social unit – so our growing confidence just fed off each other.
---
Malcolm Wood: Were you happy with your performance then?
Richard Poole: My first feeling was definitely relief. I was really pleased with my own performance, but you could sense the band knew we had played brilliantly as a unit too.
Strangely I had real fun in the last movement – everything just went right on the day.
---


Malcolm Wood: Was the individual award a shock?
Richard Poole: Totally! I don't think anyone expects to win an award like that.

I felt it could have gone to anyone in Foden's (slightly biased view!) as all the principals players were outstanding.
Lots of people commented on how the likes of Brian Winter (flugel at Desford) and Ben Richeton (sop of Fairey) were brilliant too – so to win the prize against players of that quality is a real honour.
---
Malcolm Wood: 2012 will always be a memorable year for you - especially as you are marrying fiancée Lesley Howie.
Richard Poole: 2012 will definitely be a year I will remember for a long, long time. However, the real highlight for me will be on December 30th - a perfect day to end to an amazing year.
That's if we survive the stag and hen do's!!!!
---
Malcolm Wood: Many thanks for taking the time to recall the great events – and we all wish you well for that all important performance at the end of December!