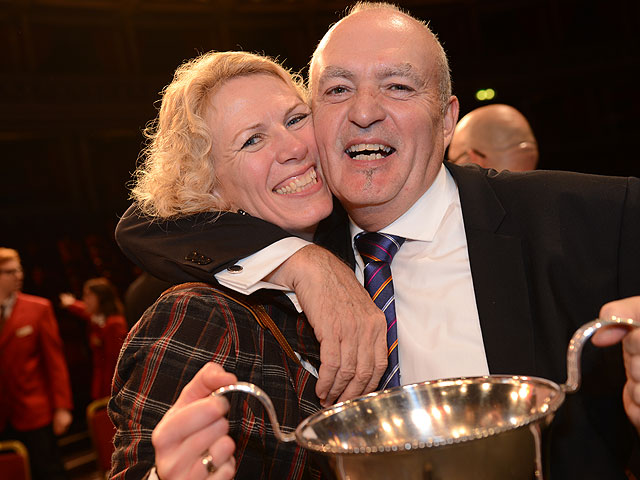 A very happy couple celebrate a seventh National success

More great images from Ian Clowes at Goldy Solutions can be found at:
www.pbase.com/troonly/2012_national_finals

Although he said there was no real secret to his success, the fact that Allan Withington was returning to his day job in the trumpet section of the Bergen Philharmonic Orchestra to tackle Shostakovich's '12th Symphony' on Monday evening perhaps revealed more than he let on.
Different level

Whereas other MDs contemplated a return to standard brass band concert fayre on their first rehearsal back from the Albert Hall, he was looking forward to sparking the synapses with repertoire that required a completely different level of musical comprehension.
It perhaps explained why his approach to 'Daphnis et Chloe' was so intuitively informed of French musical impressionism, whilst many rivals broached Howard Snell's arrangement as if blighted by a form of interpretative contest blindness.
This was a National Championship won through perceptive understanding, not token, selective appreciation.
True essence

As a result Foden's performance captured the true essence of Ravel's musical score almost to perfection; a rare balance of reserved melancholia and detached emotion, built on a compact dynamic platform coloured by sepia tinted textures.
It was also delivered with a supreme sense of ensemble confidence; aided by wonderful individual contributions (notably soprano player Richard Poole, who won the 'Best Instrumentalist Award) that never once lost focus or control.
It was Ravel's music performed by a brass band – not a brass band trying to perform music by Ravel.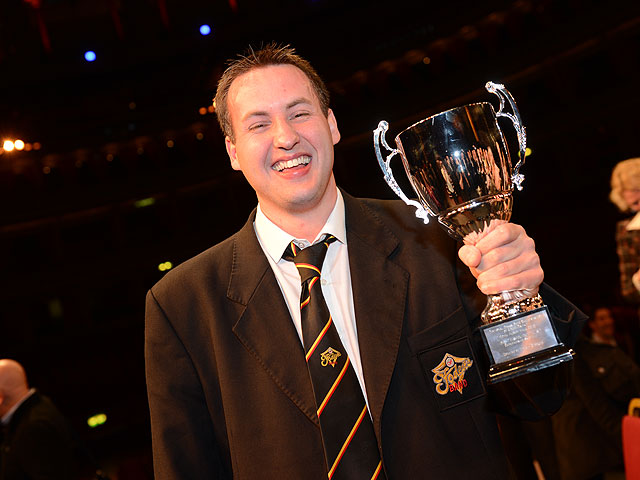 Best Instrumentalist winner Richard Poole

Two others

Only two other conductors really managed to capture the same stylistic nuance and intellectual refinement on the day; both from musicians who ply their trade in more expansive musical surroundings.
Erik Janssen's elegantly refined interpretation and Martin Winter's subtle, languid reading with Whitburn and Desford respectively were tarnished only by fragilities in execution.
Both bore the hallmarks of an almost identical clear minded stylistic understanding as well as fine solo contributions (Iain Fleming on horn with the Scots, Brian Winter on flugel with Desford) on what were readings cut from the same musical cloth as the winners.
Mayan high priest

That said; in complete, almost mesmeric contrast, came a reading from someone touched by a form of brass banding genius.
David King led Brighouse & Rastrick in pursuit of hat-trick history, delving deep into Ravel's chest cavity to literally rip out his beating heart; squeezing every last droplet of emotional lifeblood from its ventricles like a Mayan high priest on top of a Yucatan temple.
It was hard to think of a more fervently passionate interpretation led by the Australian at this or any other major contest.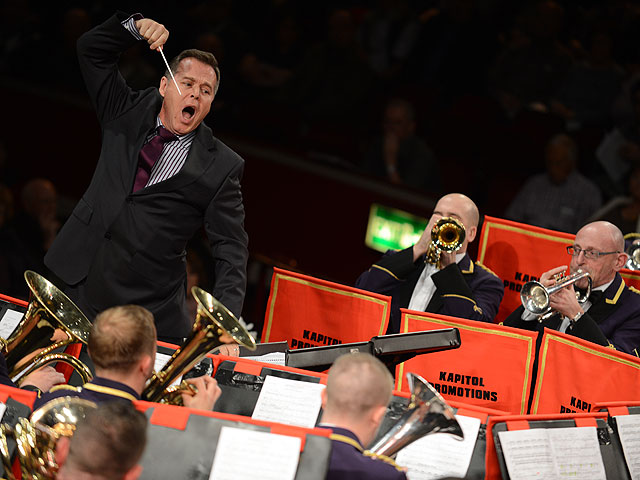 The high priest in breathtaking action with Brighouse

Awesome effort

By its close the Brighouse players were spent husks; the MD walking off the stage almost in a trance.
They could have done no more to have become National winners once again.

It was an awesome effort of collective musical willpower – although not quite good enough to beat an equally inspired Foden's according to the judges.
Varied approaches

Elsewhere the varied musical approaches brought much to ponder for the large audience that supported the competitors with knowledgeable shows of appreciation.
Cory's thrilling account under Philip Harper set the early marker that eventually ended third.
An over-excitable approach to the 'Danse Generale' just left them little room for a truly controlled build to a final climax, although once again the evidence of a growing partnership of musical substance between the MD and his band was clearly on show.

Harper and Cory continue to grow together

Excellence

So too Tongwynlais Temperance, who gave perhaps the cleanest performance of the day under Steve Sykes to push their way into the pre-qualification slots for 2013.
Aided by a trio of James family excellence of soprano (Morgan), flugel (David) and horn (Alyn), backed by some splendid ensemble work and an MD who expertly controlled the excesses of dynamics and tempi, their impressively delivered rendition certainly resonated with Messer Snell, Farr and Cosh, in the box – some achievement given that they had the difficult task of following on Foden's.
Puzzle and intrigue

The different interpretations on show from MDs at times puzzled as well as intrigued.
Howard Snell's wonderful arrangement saw pressures put on all sections of the band as well as the main solo lines (soprano in particular).
The bubbling atmosphere of the opening 'Lever du Jour' (Daybreak) with its slowly emerging feelings of exploration, led into the languid beauty of the 'Pantomime', before the final vibrancy of the 'Danse Generale'.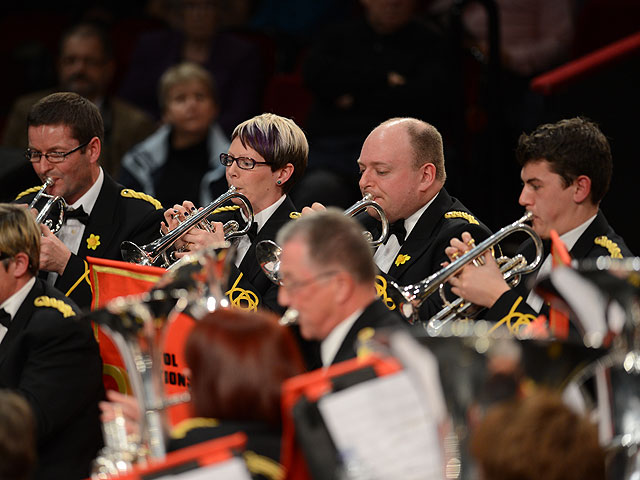 Excellence from Tongwynlais to end fourth

Precise instructions

Eight minutes of slow paced musicality (which really did require a sense of subtle viscosity) saw many MDs revert to artifice and misplaced effect to create mood and texture, where really all they had to do was follow the precise instructions (although in French) on the score.
By the time of the 'Danse Generale' (Final Dance) many contest winning aspirations were undone by either a high error count (understandable in the circumstances) or a default contest mindset that displaced refined musicality with bravura technique.
Narrowly defined

Black Dyke was a case in point – the technical precision under Dr Nicholas Childs producing a rather manufactured end product that impressed but somehow never engaged the listening mind.
Ninth may have been a bit harsh, but you could see why it's rather narrowly defined contest winning credentials did not resonate with three orchestral minded judges in the box.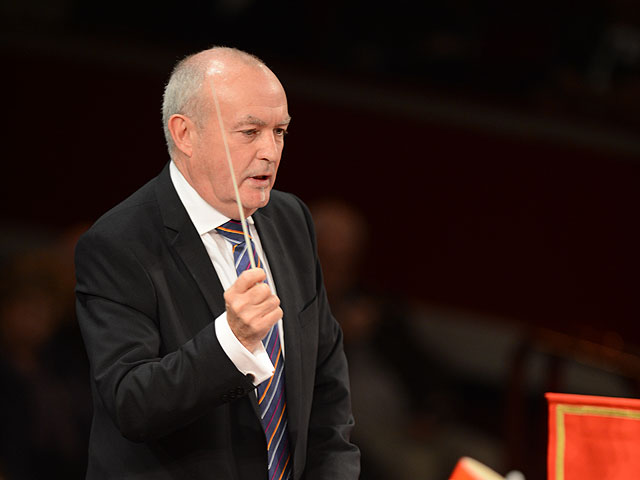 The master at work...

Cats

Russell Gray also decided to revert to a brass band contesting stereotype too – just when you felt he had shaped a potential winner with Fairey in the first two movements (with Ben Richeton on cracking soprano form).

Their 'Danse Generale' was breathless and exciting, but played at a tempo that would have had the ballet dancers leaping about like cats on a hot tin roof.
In contrast, Allan Ramsay's very deliberate interpretation with Co-operative Funeralcare just lost its focus in the central 'Pantomime', where a lack of momentum seemed to stifle the musical flow.
Top six finishes were as good as both could have expected, for solidly executed accounts that perhaps needed a little more consistency in musical approach.
Bold Flowers

Behind them came a whole batch of performances that varied in style, subtlety and execution: Whitburn's lovely approach seeing them come seventh, whilst Flowers more overt brass band boldness under Paul Holland, full of solid ensemble and individual contributions, ending eighth.
In their different ways both were just a notch or two away from being top six finishers.
Missed opportunity

Leyland will once again reflect on a missed opportunity (plus another nasty misplaced entry) as their malleable, if rather wayward account under Michael Bach ended tenth, whilst Beaumaris, Desford and Tredegar will reflect on performances that gained plaudits (Desford in particular) but not quite not the important ones they would have hoped for in the box.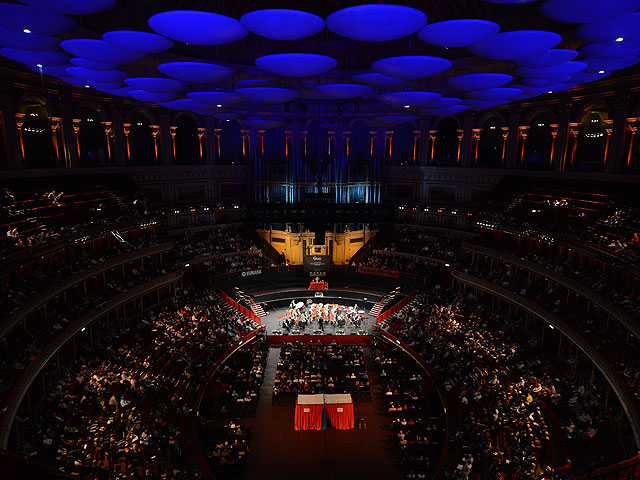 Looking down on the Albert Hall

Gap in class

Behind these there was a substantial gap in class: Bournemouth headed a list of hard grafting accounts that couldn't quite match technical execution to the musical endeavour of their MDs – although Howard Snell made the point that he felt even the lesser bands had produced performances of merit.
Although each had their extended moments when both elements locked into place, Jaguar Land Rover, Rothwell, Felling and Zone One never quite felt as if they were entirely comfortable exploring Ravel's expressionist landscape.
So too Barton Town, who performed with confidence despite obvious nerves off the number 1 draw, and Staines Brass, who benefitted from Melvin White's experience at the helm to steer themselves though some difficult moments of unease.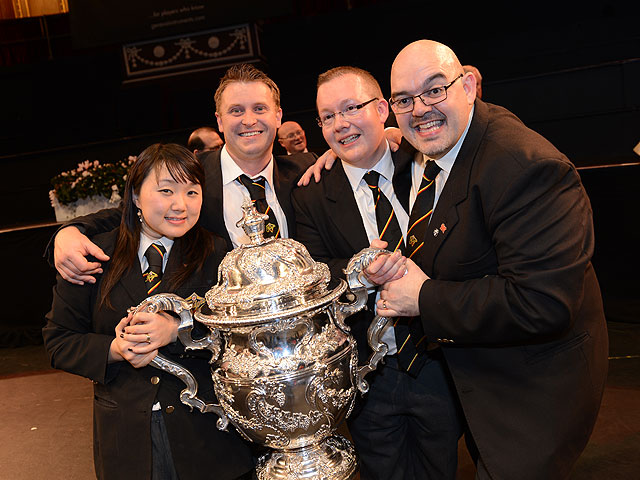 Four of a kind: Fodens euphs and baris celebrate

Musical mindset

Allan Withington had no such problems with Foden's though
As a result, a band that was in the perfect symbiotic tune with his musical mindset as he was with Howard Snell's, who in turn was with Maurice Ravel, simply produced a magical performance that deservedly claimed the National title.
There was no secret in that.
Iwan Fox