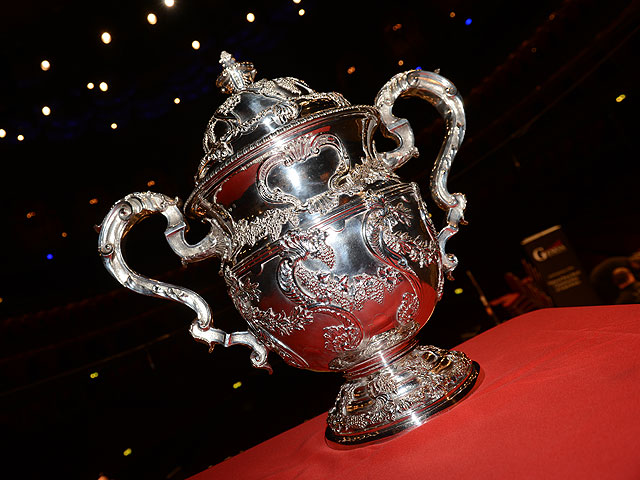 The Cup of destiny...

More great images from Ian Clowes at Goldy Solutions can be found at:
www.pbase.com/troonly/2012_national_finals

Although the roads around Kensington Gore didn't quite resemble the throbbing sea of banding humanity of 40 years ago, when Black Dyke claimed a famous 'Double', it was still heartening to see the ebb and flow of supporters waiting patiently outside the old hall to witness Foden's bit of banding history on Saturday.
Sprinkled

A combination of a superb set work and a quality line up of competitors meant that numbers were up this year, whilst a well spread draw of favourites saw the hall well sprinkled with bums on seats throughout the day too.
Much has been made of Kapitol's test piece selections in the past couple of years, but despite a few critics wondering whether Howard Snell's arrangement of 'Daphnis et Chloe' was more suitable for the concert rather contest platform, you couldn't argue that it wasn't a very popular choice.
Wrong

Those who felt it didn't quite separate the best from the rest though were in a small minority – and wrong.

This was a contest decided by making music – not making the least number of mistakes.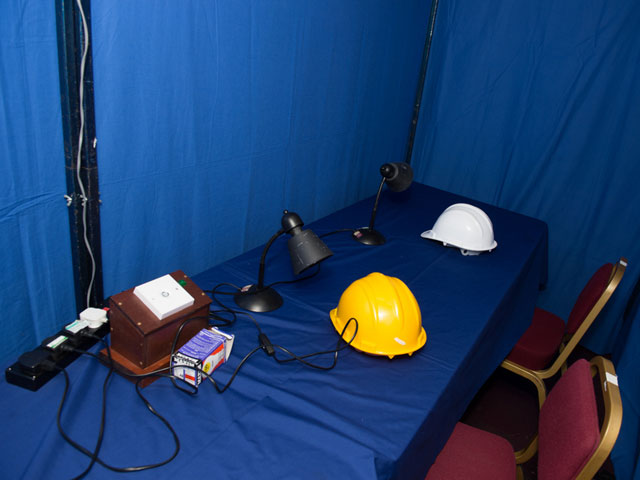 The hard hats were not needed this year thanks to Mr Snell, Farr and Cosh

Passed quickly

That said, there were more than enough technical hurdles for the performers to overcome (especially the soprano players) as well as some very difficult musical questions to be answered in terms of stylistic appreciation by the MDs.
As a result, a long but enjoyable day (starting around 10.00am and ending about 7.30pm) passed by quickly and without a hitch; from Barton Town's 107 year contest return to give the premiere performance, to the announcement of Foden's historic triumph.
High quality

In between we got plenty of high quality entertainment.
Each of the 20 contenders gave something for the excellent adjudication team of Howard Snell, Ray Farr and Paul Cosh to ponder, whilst Frank Renton did a remarkable impression of Willy Wonka by whipping the audience into a pre-results frenzy thanks to a batch of sugar coated musical gobstoppers with the Grimethorpe Re-union Band.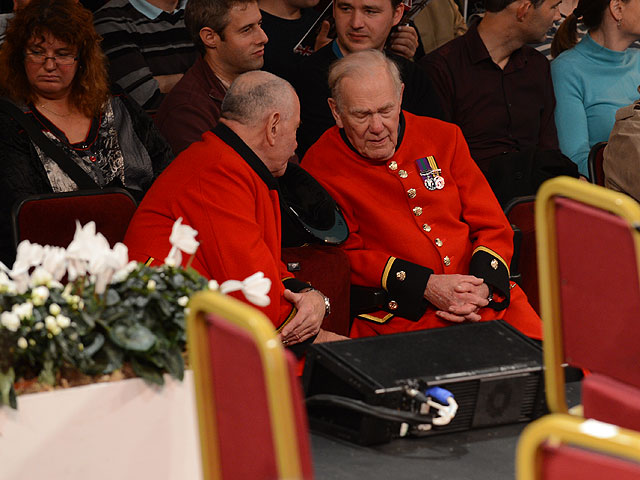 Stalwart listeners: The Chelsea Pensioners certainly enjoyed themselves

Chelsea Pensioners

Even the three splendidly jacketed Chelsea Pensioners (who showed remarkable stamina by listening to all 20 bands) loved every minute of it, whilst a well placed bit of pomp in the form of the fanfare team of the Band of the Scots Guards ensured the announcement of the 2012 winners had the appropriate level of gravitas.
Howard Snell gave a witty, slightly self deprecating pre-results speech that brought more than a few wry smiles from the knowledgeable audience who fully recognised just how much we have missed his musical genius in the past few years.
Few complaints

The duo of Paul Cosh and Ray Farr who joined him in the box was a welcome selection too - expert and knowledgeable in musical as well as contesting terms.

There will have been few complaints about their decision making capabilities in the local Mews pubs – even from Black Dyke fans.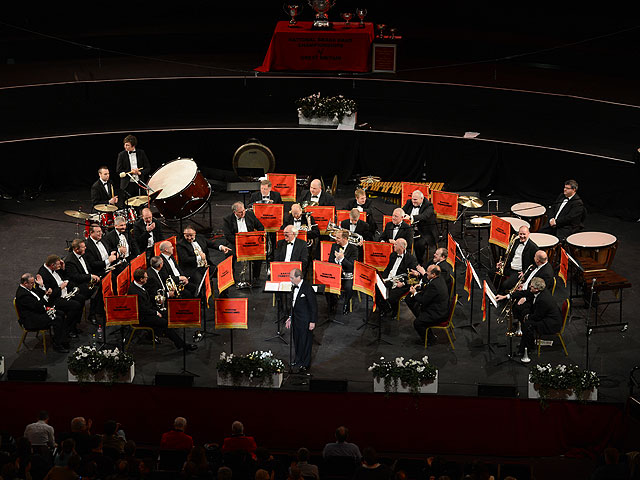 Old friends at re-union time for Frank and the Grimey lads...

Increase

This was a National that will continue to welcome an increasing audience if it builds on this inventive approach: It was hard to find many people complaining about the music, the facilities, the study scores and programmes, even the comfort break and pre-results entertainment.
The 101st Nationals was a slick, lively and thoroughly enjoyable event.

Peter Bates kept things moving along in his role as compere, the backroom staff of volunteers such David Hobbs and Peter Dalby were their usual uber-proficient selves, and the team from Eventz ensured that the menagerie of percussion exotica was moved and maintained at speed between bands.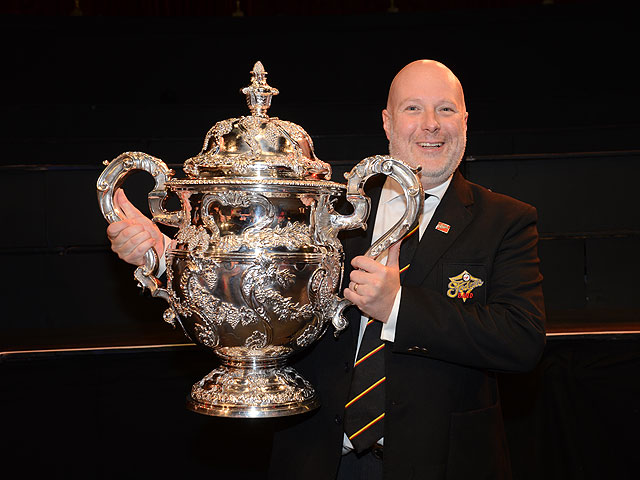 Phil Green enjoys his moment with a bit of silverware...

Last moment

All that and the eventual result was in the balance until the very last moment too, when Foden's name was finally announced amid a warm chorus of auditorium approval.
Then came the first ripple of Foden's players racing to clamber onto the stage and join their MD Allan Withington in celebrating a magnificent 'Double' triumph.
It rounded off a 2012 National Finals that had produced a memorable climax as good as any that has been witnessed at the Royal Albert Hall in those past 40 years or more.
Iwan Fox