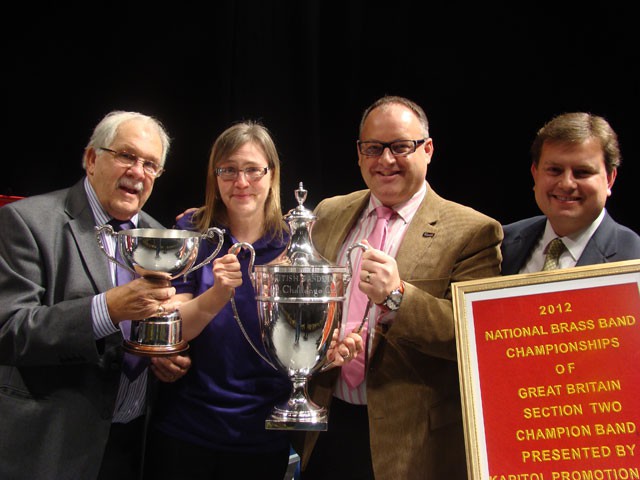 The winners ready to celebrate: South Milford take the honours

It's debatable whether the joyous feeling of being crowned Second Section Champion Band of Great Britain has finally abated for the players and supporters of South Milford Band.
Euro millions

A week after claiming the title in remarkable fashion in Cheltenham, you suspect most of them were still walking around the North of England reliving the memories of their historic achievement, accompanied by a smile of smug self satisfaction beaming across their faces.

Work colleagues must have wondered if they'd already guessed the winning numbers for this weekend's Euro Millions Lottery.
The odds on them making it a double by bagging a winning ticket will have been considerably longer than those given by the bookies before they took to the stage last Saturday morning; but in retrospect, perhaps not by much.
No Foinavon

As racing analogies go, this was no Foinavon victory, where a whole bunch of rivals came a cropper on a horrendously difficult 'Academic Festival Overture' test piece fence.
No. South Milford was more like Red Rum overtaking poor old Crisp in the last furlong after a race when rest of the field ran out of steam trying to brow beat the musical course into submission.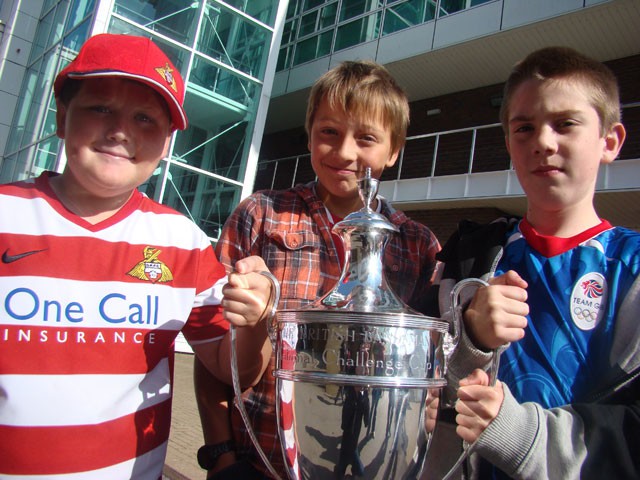 Ready to party: Some of South Milford's younger supporters

Pots of glue

In what was an enjoyable contest, a rather decrepit test piece still contained enough tricky hurdles to turn the unwary, unwilling and sometimes unhinged contenders into pots of knackers' yard contesting glue.
The crumbling yellow edged band parts also inflicted their share of near fatal paper cuts on the fingers of MDs who fiddled like Nero with the basics of tempi, dynamics and style.
Dog food

In the minds of adjudicators Melvin White and John Maines, aggression, speed and a misinformed appreciation of musical gait put paid to many chances of success.

MDs who they felt opted to produce renditions that were too loud, too fast and played in a style that saw Brahms' collection of ribald old drinking songs delivered in 6/8 time, ended up as contest dog food.
Morecambe and Mills

To be fair, there were some odd takes on Brahms – a mix of Eric Morecambe and Mrs Mills bumping out the 'Grieg Piano Concerto' on the old joanna: all the rights notes, not necessarily in the right order – or the right style.
Mind you – there were also a few that seemed to have got everything bang to rights too.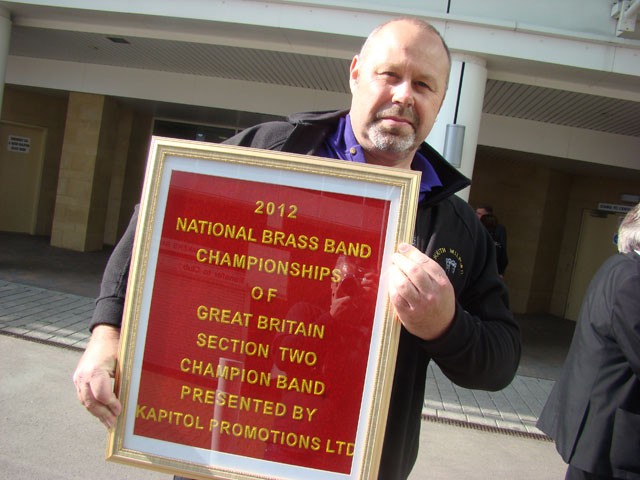 Certified winners...

Clear opinion

However, John and Melvin were clear in their opinion – and stuck to it.

They also said as much in their cogent précis before the announcement of the results; John talking of aggression and technique, Melvin detailing appreciation of style and tempo.
Between them they covered all the bases. Three bands stood out and one band gave them just what they were looking for – 'a wonderfully musical performance that gave the music time and space'.
Never mind the pre-contest odds: That for them came from the one band that measured their run to the finishing line to perfection: And that band was South Milford conducted by Martin Hall.
Long time to come

The judges also waited a long time for it to come too - the North of England band taking to the stage as the penultimate contender of the contest.
After they had performed they topped the results table with only the fancied City of Bradford left to beat them. They could only come sixth.
Calculated approach

A calculated approach that asked his band to strictly adhere to the confines of the monochrome score proved to be the winning ticket formula for MD Martin Hall.

Neat, accurate and only slightly blemished by small pock mark errors, it gave the judges their winner: The long odds outsider had claimed the title.
It may not have been the most memorable National winning performance, but the South Milford celebrations that followed it certainly were.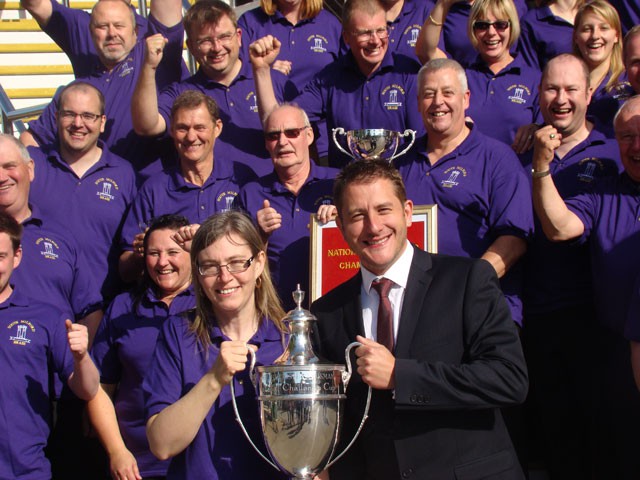 Sunshine celebrations for MD Martin Hall and his band

Early marker

Of the other two runners that found favour in the tent, the first came with the early marker of Haslingden & Helmshore.

They just lost impetus at times, but it was still a well constructed and delivered performance by David Holland and his band to eventually come third.

The other came at the contest mid-point with Bilton Silver (Rugby) under David Stowell, who produced a rendition full of flow and musicality (especially from a fine horn section led by Paul Bennett who took the 'Best Instrumentalist' prize).
Ensemble tuning at times just grated, but the style and the technical execution was right up the judge's street to come runner-up.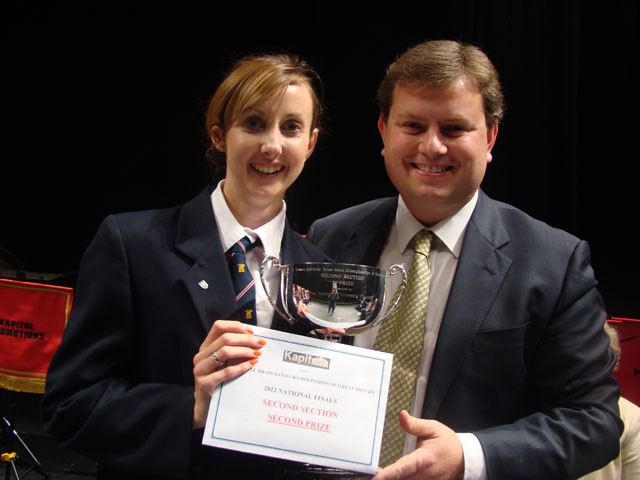 Second place for Bilton Silver (Rugby)

Elasticised

The trio of bands that filled the remaining top six places certainly caught the ear with their bold, imaginative approaches – none more so than City of Bradford's 'Morecambe/Mills' account in sixth:

It was the most engaging, if elasticised rendition of the day.
Meanwhile, the Welsh contenders of Llwydcoed certainly benefitted from having the experienced Nigel Seaman at the helm as their orchestral approach just faltered in the last furlong as stamina waned to end fifth.
In contrast, Mossley's much more traditional approach – full of solid brass band virtues seemed to have ticked all the right boxes with the neutrals in the hall, but Duncan Byers interpretation may just have been a touch too robust for the liking of the judges. Fourth place seemed a tad unlucky.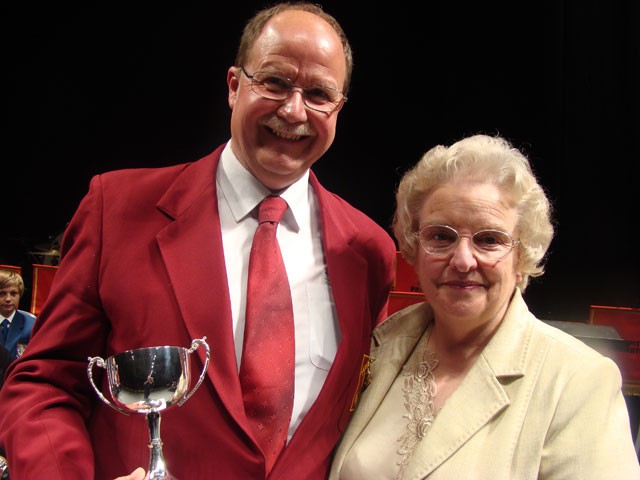 Third place for Haslingden & Helmshore

Midfield finishers

The midfield finishers will have left Cheltenham knowing that they never quite did enough to have really made a stronger case for inclusion in the top six.

The Scots of Coalburn and Croy were a bit too scratchy despite the persuasive musical approached by the MDs, whilst Shirebrook and Goodwick came close to producing performances that could have been contenders if they had just kept a tighter lid on the error count.
Contrasting styles

Interestingly, the contrasting stylistic approaches of a high octane Lympstone, a considered Thundersley and a lyrical Otterbourne failed to find favour too.

All three MD's produced engaging, if widely contrasting readings of the score, but not one resonated in the box. It perhaps explained why contesting isn't an exact science.

If the judges liked any of them in even a small way they would have surely ended up in the prizes.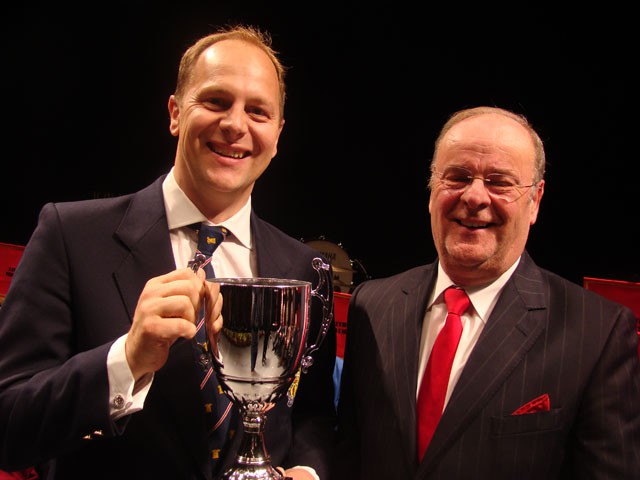 Best Soloist: Paul Bennett of Bilton Silver (Rugby)

Nervous

A nervous Chalgrove, and the light sounding trio of Clifton & Lightcliffe, Littleport and York Railway Institute all offered musical interest too, but also found their takes on Brahms a little too academic perhaps for John and Melvin's taste.
Endure

Strange then that a performance that certainly eschewed the more enthusiastic jollities of the score found so much favour in the box – not that the supporters of South Milford will worry about that now.
Their post contest celebrations more than made up for any prohibition tendencies they had to endure to win the National title.
Iwan Fox